* You know the drill. Here's the press release…
The Democratic Congressional Campaign Committee is launching a new television ad in Illinois' 17th Congressional District, highlighting how former Congressman Bobby Schilling voted to protect tax breaks for companies that ship jobs overseas. The ad comes just over two years after Bobby Schilling turned his back on the 170 Sensata workers who had their jobs outsourced. The ad starts running today.
* The TV ad…
* The script…
[Narrator] Thousands of Illinois jobs…gone.

(News Audio) "the plant is shutting down"

(News Audio) "170 jobs to China"

[Narrator] While in Congress, Bobby Schilling voted to protect tax breaks for corporations that send jobs overseas and let them keep their government contracts.

(News Audio) "losing these jobs would devastate this community"

[Narrator] The policies Schilling supports devastated Illinois. We can't afford any more politicians like Bobby Schilling.

The Democratic Congressional Campaign Committee is responsible for the content of this advertising.
* Meanwhile, Roll Call blogged about some potential problems for the Schilling campaign because it appeared to violate some technical advertising requirements…
On Sept. 16, former Rep. Bobby Schilling, R-Ill., aired a 30-second ad titled, "How Could You?" that accused Democratic Rep. Cheri Bustos of cutting benefits for military veterans. Democrats promptly sent a letter to television stations in Illinois' 17th District, taking issue with the disclaimer on Schilling's ad and arguing the Republican forfeited his right to the lowest unit charge for the remainder of the race. […]

"The bottom line is that, at the time of the complaint, the ad was going off the air anyway," said Rex Elsass, whose firm, The Strategy Group for Media, produced the spot. In the middle of last week, the Schilling campaign "switched traffic," the campaign term for changing ads, and the disclaimer on the new ad, "Spin," was slightly different. The written disclaimer at the end is accompanied by a "postage stamp" photo of the candidate.

So what's the big deal? This particular disclaimer issue has the potential for serious financial consequences for Schilling because it occurred within the 60-day window before the election.

"[B]obby Schilling has forfeited his entitlement to the lowest unit charge for the duration of the campaign," attorney Mike Halpin wrote in a Sept. 17 letter to station managers on behalf of the Bustos campaign. "From now through the day of the general election, your station must charge Bobby Schilling and Bobby Schilling for Congress the same rate for broadcast time that it charges non-political advertisers for comparable use."
The local paper put the story on its front page today…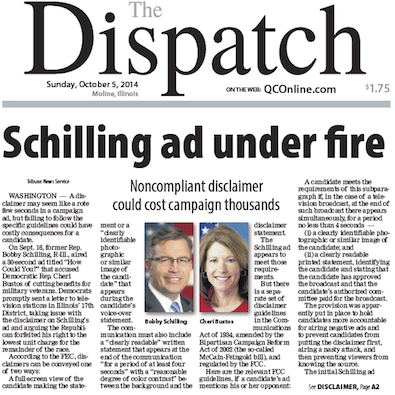 * If Schilling is forced to pay the higher amount, that could hurt him even more because he's being outraised by Bustos…
Today, Cheri Bustos for Congress announced it raised $683,000 in the third fundraising quarter of 2014, a new record for Illinois' 17th Congressional District. The campaign has raised just under $2.7 million during this election cycle, another record for Illinois' 17th Congressional District, and enters the final month of the campaign with $987,000 cash-on-hand.

"Our campaign is humbled to have the strong support of so many across our region who know that Cheri Bustos is the candidate with the right priorities for Illinois," said Bustos' Campaign Manager Jeremy Jansen. "Cheri is running to continue her fight to bring middle class values and common sense back to Washington. That means putting job-creation and our economy first, reducing the deficit in a balanced way, while protecting Medicare and Social Security, and standing up for America's veterans."

This record-breaking quarter follows Cheri out-raising ex-Congressman Bobby Schilling every fundraising quarter of this election cycle.
…Adding… From the Schilling campaign…
"Congresswoman Bustos is a trade denier, and that's a problem in a trade-dependent district like Illinois 17. Her thinking is completely backwards, it's anti-worker, and it shows that Congresswoman Bustos doesn't fully understand how the 21st century American economy works.

"It's time for some evidence from Congresswoman Bustos to back up these silly claims based on flawed logic and misinformation. Trade creates jobs. It benefits the American worker. It's absolutely vital to our district's economy.

"If Congresswoman Bustos had it her way, there would be no trade with foreign nations. She would tell our manufacturers to close up and go home. Our farmers would be done—it would end American agriculture as we know it. We would stop putting our crops, our products, and our innovative ideas on the global market.

"Millions of jobs exist in this country solely because of trade. If Congresswoman Bustos had it her way, we would lose all of them. Our economy would come to a screeching halt, and the middle class would be caught in the crossfire.

"Congresswoman Bustos has no right to talk about shipping jobs overseas. Her policies are directly responsible for us losing American jobs to China. She supports the bring-back tax, which is preventing more than $2 trillion sitting overseas from being re-shored back to the United States. She supports keeping the highest corporate tax rate in the world. She supports further penalizing small businesses and preventing them from expanding into global markets.

"And what has Congresswoman Bustos done for our economy in this district? We're losing Robertshaw in Hanover. We're losing All Feed in Woodhull. We're losing MetLife in Freeport. Where was Congresswoman Bustos?

"Maybe while she was spending millions on air talking about imaginary 'tax breaks for corporations that ship jobs overseas,' she should have been doing her job and fighting to protect our jobs. Now, for far too many workers in Hanover, Woodhull, and Freeport, it's too late."
7 Comments




















Sorry, comments for this post are now closed.