* ZOMG…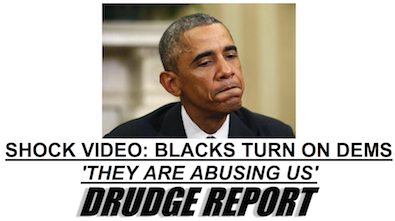 * The perpetually hyper master of the Internet hyperlinks to a YouTube video as proof…
* OK, one of the main participants in that video is Paul McKinley, who got 4 percent of the vote in Chicago running as a Republican against Robin Kelley during the 2013 special election.
Another is Harold "Noonie" Ward, who ran unsuccessfully for MWRD in 2012 and once claimed that the city and state governments "allow" Mexican drug cartels to distribute drugs in Chicago.
Another is Mark Carter, who appeared in yet another of these "Rebel Pundit" videos last January saying the president should resign.
In other words, this isn't new. Many of the same folks did mainly the same video back in January. Why this is all of a sudden "news" is known only to the meltdown king and, perhaps, CBS 2…
Long considered stalwarts for Democratic candidates in Illinois, are African Americans now turning on the party?

GOP Governor candidate Bruce Rauner is touting his support among influential black pastors in Chicago–including Corey Brooks and James Meeks–against Democrat Pat Quinn.

Now a video on You Tube appears to illustrate growing anger with Democrats at the state, local and national levels.
19 Comments
























































Sorry, comments for this post are now closed.