* Press release…
Illinois Senate President John J. Cullerton announced Tuesday that Kristin Richards will be his new chief of staff.

Richards, who had served as Cullerton's Budget and Policy Director since he became Senate President in 2009, will assume the new duties beginning Feb. 1.

"There is no one in this operation whose insights I trust more than Kristin's. She's been invaluable to my office and to the Senate Democratic Caucus from day 1. She'll provide the leadership we need going forward," said Cullerton.

Richards, a Belleville native and graduate of Millikin University in Decatur, replaces Dave Gross, who announced his pending departure earlier this month.

"I'm honored to have the opportunity to lead a dedicated group of professionals who work every day to address problems and improve the lives of the people of the great state of Illinois," Richards said.
I can't say enough good things about her. She'll do well.
- Posted by Rich Miller 17 Comments


* Doubek…
A profound absence of trust is what led to dueling press statements and disagreement about possible pension legislation last week and what has underscored the many months of state budget impasse that continues to endanger Illinoisans.
That's true. The governor got way out over his skis and described an agreement he never made with Senate President Cullerton, and because there was such a lack of trust, Cullerton thought Rauner had reneged on the deal.
* Pantagraph…
It's clear that Rauner bungled the announcement and spent a lot of time back-pedaling. There is little trust between the state's leaders and missteps like this make the situation worse.
That's exactly right.
* The Tribune editorial badly bungled the setup…
But then the meltdown began. Rauner misspoke at the news conference announcing the deal — or shall we say, he said too much. Too many verbal grenades that angered organized labor. Too much anti-union rhetoric that gave Madigan reason to slam the governor as anti-middle class. Like clockwork, Cullerton immediately backed away. He got spooked. Madigan had pulled the leash. End of short-lived pension deal.
Total malarkey. Rauner described a deal that didn't exist. He then tossed in the verbal grenades, which only made it worse.
But the Trib did get this part mostly right…
The pension deal could be a bipartisan, trust-building exercise that leads to more agreement on the state budget and more resources for human services.
That's true, no matter if the actual proposal is constitutional or not. So, save your comments on that topic. It's not really that important. The courts will decide one way or another.
* The goal here is to get everybody pulling in the same direction. That hasn't happened in a very long time. Rauner just about blew it, but he recovered.
We'll see if the governor can continue this momentum during his State of the State Address tomorrow. Stay tuned.
- Posted by Rich Miller 41 Comments


* I watched part of the new Godfather epic (arranged in chronological order with previously unseen scenes) on the teevee the other day with a friend of mine who now works for Gov. Rauner. And since Abe Vigoda passed away today, I thought I'd share this story.
Remember that scene when the young Vito Corleone is stalking the mobster Don Fanucci during the big carnival just before he kills the old man? Here's a photo of Fanucci to refresh your memory…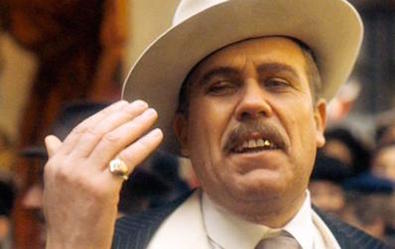 I had a sudden revelation.
"Hey, I get it now. Don Fanucci is Madigan to you guys!"
He flatly denied it, but if you listen to the governor talk about Madigan's alleged corruption, and you read the Dan Proft/Brendan Reilly exchange, and then listen to him throw me under the bus by falsely claiming I once worked for MJM, and any random Chicago Tribune editorial, and we may be onto something here.
* From Wikipedia…
Fanucci is a Black Hand extortionist in Little Italy. Fanucci demands protection money from neighborhood businesses. Vito Corleone (Robert De Niro) witnesses Fanucci threatening to disfigure a young girl when her father refuses to pay him, and almost intervenes but is stopped by his friend, Genco Abbandando, who tells him who Fanucci really is. Vito also loses his job when Fanucci demands that Genco's father provide employment for his nephew, Sandiago.

In the novel and in the chronological film version re-edited for TV (The Godfather Saga), Vito witnesses an attack on Fanucci by two youths of the neighborhood who are tired of Fanucci's oppression over the neighborhood. Although Fanucci screams for help, nobody comes to his rescue and the attack ends only when the youths have robbed him, cut his throat, and run away. Vito knows from his own experiences that a real Don would probably be escorted by bodyguards, and that anybody who dared attack him would be dealt with severely and publicly. Vito begins to suspect that Fanucci's power comes from the threat of force rather than force itself.
They're the good guys, with a dark side.
OK, we already know they think of themselves this way. And we know that they despise Madigan. But check out the Tribune today…
Madigan's chronic refusal to compromise — his devotion to politics rather than governance — has led to tragic service cuts for the state's most vulnerable citizens. Lutheran Social Services of Illinois announced it would cut 750 positions and slash programs because the state owes it $6 million.
If they could just get rid of this guy like Corleone did to Fanucci, then all would be right in the world.
Except life isn't a movie.
- Posted by Rich Miller 68 Comments


* Ugh…
Civil forfeiture is basically a money grab by government.

Under these laws, cops can seize property that they say is being used to commit a crime or was purchased with money they say came from doing something illegal.

The problem: The person doesn't even have to be convicted of a crime in order for the government to confiscate the property.

Instead of seizing the yachts of drug kingpins, too often cops are nabbing the cars from little old ladies.

Don't think so? Ask Judy Wiese of Moline.

She is a 70-year-old woman who cleaned houses and lived on $730 a month.

As first reported by the The Dispatch and Rock Island Argus, she lent her 2009 Jeep Compass to a grandson so he could drive to work.

The car was seized by police because the grandson's driver's license was revoked.

She told the newspaper that her grandson had told her otherwise.

Regardless, Judy hadn't broken any laws. She was just a grandma helping out a grandson.

That was back in August. And this month she was still fighting to get the car back.

It seems that even though she did not commit a crime, she had to go to court and prove that her car was not connected to a crime nor was it the proceeds of crime.

She couldn't afford a lawyer, struggled to write legal motions and was scolded by a judge for not having something notarized.

When her case ended up in the newspaper, a lawyer volunteered his services and her car was returned after being held for months.
You gotta be kidding me.
* But it's all too real…
* Forfeiture law means woman paying for grandson's crime

* Woman's Jeep seized for grandson's crime to be returned

* Editorial: Join chorus, demand due process in forfeiture laws

* Editorial: Let Wiese case spark reexamination of Illinois' forfeiture laws: Equally importantly, we urge all who were moved by Ms. Wiese's case to be energized and involved in demanding a reexamination of unfair forfeiture laws that allow governments to take the property of Illinois citizens without ever convicting them of a crime.
- Posted by Rich Miller 62 Comments


* Mark Brown…
On Monday, Cullerton clarified to reporters that he and Gov. Bruce Rauner really do have a verbal agreement on a pension reform proposal along the lines Cullerton has long advocated. He also said he is willing to negotiate changes to the state's collective bargaining laws for public employees, just nothing as drastic as what Rauner has sought.

Some insist Cullerton is just there to do House Speaker Mike Madigan's bidding, and it's true that he can't get too far out in front of his fellow Democrat without running the risk of getting the rug pulled out from under him.

But Cullerton thinks for himself, even if he doesn't quite have Madigan's power to impose his ideas.

I appreciate his efforts.
He does, indeed, get a bad rap from those who don't pay much attention to the Statehouse or who already have their minds made up because… Madigan! But, agree with him or not, Cullerton usually acts like the only adult in the room.
- Posted by Rich Miller 38 Comments


* From John Bouman, President of the Shriver Center and head of the Responsible Budget Coalition, with emphasis added…
Like most hostage-takers, Governor Rauner knew that if his demands were not met, at some point the hostages would have to begin to die, literally or figuratively. And, sure enough, the dying is underway.

For months now, thousands of service-providers have been making layoffs and reducing services because of the state not paying them for services rendered. Last week the situation went to another level. Lutheran Social Services of Illinois (LSSI) announced late last week that, due solely to the state's failure to pay over $6 million for services LSSI has rendered since last July, it is laying off 750 workers—43% of its workforce—and shutting down vital services for almost 5,000 people. The termination of these services—including residential drug and alcohol rehabilitation, mental health counseling, and help for homebound senior citizens—is not a consequence of a budget cut or a policy change; it is simply caused by the state's failure to pay for services already rendered—one side keeping a contract, the other welching.

LSSI, by all accounts, is an exemplary, responsible, low-overhead, values-driven provider of essential services to people deeply in need. LSSI partners with the state to implement state policies. But LSSI's "partner" turned it into a hostage and let LSSI and the people it serves be casualties of the hostage stand-off. […]

In our form of government, the executive branch, led by the Governor, has the duty to "execute" state laws and policies—to govern. The Governor has decided instead that those laws and policies and the people they are meant to serve should be hostages.

Governor Rauner has every right to pursue a policy agenda, which he can do without abdicating his constitutional duty to govern. He can push his agenda through the legislative process. If he is forced to compromise because of political realities, then he can work to win more elections for people who agree with him. Through it all, however, he should have the sense of duty to govern. It is time to end the hostage stand-off and return to responsible governance.
The Responsible Budget Coalition has been pretty diplomatic before now. And Bouman is not known for being a hothead - just the opposite. Apparently, the gloves are now off.
As Wordslinger has mentioned in comments a lot lately, what if Gov. Pat Quinn had refused to sign a budget until the minimum wage (his main campaign promise) was increased or a millionaire's surtax was passed? The howls from the Tribune and others would've certainly been deafening, even if he'd stood firm and refused to sign a budget until issues the newspaper (and now Rauner) supports, like term limits and redistricting reform.
I have said for years that we need to be more pro-business in this state, but we don't have to do this by thrashing labor unions. He needs to find another way.
- Posted by Rich Miller 51 Comments


* WalletHub…
In light of back-to-school season, WalletHub compared the quality of education in the 50 U.S. states and the District of Columbia by analyzing 13 key metrics that range from student-teacher ratios to standardized-test scores to dropout rates. By shining the spotlight on top-performing school systems, we aim to encourage parents to help their children realize their maximum potential and to call the attention of lawmakers on the work that remains to be done to improve America's schools.
Illinois' overall ranking was 10 out of 51, with a "School-System Quality" ranking of 8th in the nation.
This despite the fact that Illinois is at or near the bottom of every state funding ranking I've ever seen, and despite the inherent inequities in the system, as Senate President John Cullerton talked about yesterday.
* And speaking of those inequities…
Cullerton said he would find a sponsor to introduce school funding legislation this year, and noted that while changing the funding formula would mean some districts — affluent ones — would lose out on some state funding, districts from Springfield to Cairo would stand to gain extra cash. Illinois ranks last among the 50 states in "funding equity" for public schools, leaving districts in poor areas with less money for special education and other programs that impoverished students are more likely to need, Cullerton said.

Cullerton, a Lincoln Park Democrat, noted that the current funding formula sends relatively less money to Chicago schools for student funding and pension funds, echoing recent statements by CPS chief Forrest Claypool.

Still, similar school funding legislation has failed to gain traction in the past two years when faced with opposition from suburban districts that faced the loss of millions in state funding. Monday afternoon, the top Republican in Cullerton's chamber, Sen. Christine Radogno (R-Lemont), issued a statement that slammed the suggestion of changing the funding formula as a "special deal" to benefit Chicago.

"Senate President Cullerton's remarks today will strike fear in the hearts of families and schools across the state. He's threatening the opening of schools next fall," Radogno said.

"The Democrat majority controlled state government for more than ten years and ignored school funding reform – other than to create special deals for Chicago Public Schools. The most recent proposal again advantaged Chicago — at the expense of suburban school districts.

"We are willing to tackle school funding reform – but it's not the only place in Illinois ripe for reform."
* They will obviously have to come up with a way to hold suburban schools harmless, but that's going to require more money, and more money likely means a tax hike……
"If the majority party in the General Assembly thought that just raising taxes to fund those services, they could do it. They haven't moved a finger to go do that," Rauner said. "They are very comfortable not having a budget and letting those services go away. To me, that's an outrage."

Cullerton said Democrats won't try to raise taxes on their own.

"There are not enough Democrats willing to do that," Cullerton said. "We're not going to have any tax increase unless Bruce Rauner agrees to it. And if he agrees to it, the amount of the increase is going to be up to him. So that requires compromise."

For his part, Rauner has said he would be open to raising taxes, but only if his changes are adopted first.
So, the gauntlet has been thrown. Cullerton will demand that Rauner wear the jacket for any tax hike by personally choosing the increased taxation levels.
Could be a while.
- Posted by Rich Miller 28 Comments


* Interesting…
The saving grace for getting a $100 ticket from a red-light camera is the belief that the expensive fine could reduce crashes and even save lives.

But that's not always what happens, a Daily Herald analysis of 55 intersections across 29 suburbs shows. Instead of declining, crashes — and especially more serious collisions — increased or stayed the same at some intersections after cameras were installed.

For example, crashes involving injuries went up or stayed the same at nearly half the intersections where that data was reported.

And crashes considered hazardous by transportation experts remained constant or increased at one-quarter of intersections where that data was reported.
* And then there's this little twist…
Red-light cameras began proliferating at suburban intersections in 2009 with the justification that they would prevent crashes.

The same year, the Illinois Department of Transportation raised the dollar threshold necessary to report property damage crashes from $500 to $1,500.

In one fell swoop, reported crashes shrank statewide by 30 percent — from an average of 413,235 a year to an average of 287,718, IDOT officials said. […]

At first glance, the data shows crashes decreased at 85.5 percent of suburban intersections after red-light cameras were installed.

But a closer look at cameras installed after 2009 at 14 suburban intersections shows their success rate is much lower. In the majority of cases, crashes dropped before the cameras were put up, coinciding with the 2009 IDOT change, and then rose after the cameras were installed.
You can't help but wonder whether the red light cam bill and the IDOT recalibration were connected. So far, the Daily Herald hasn't connected those dots. We'll see.
- Posted by Rich Miller 30 Comments


* Tribune…
Cullerton's election-year focus on education funding comes as Rauner has been taking credit for the recent increase in state spending on K-12 schools after Rauner signed an education portion of the Democrats' spending plan while vetoing the rest of the budget.

"I fought hard and we won an increase in state support for all schools," Rauner said.

Cullerton on Monday noted that it was Democrats who passed that bill — not a single Republican voted for it.
Cullerton is right. And not mentioned is that Rauner pushed House and Senate Republicans to vote against the bill he eventually signed into law.
So, I'm not sure who Rauner "fought," except for members of his own party, many of whom wanted to vote for the K-12 approp bill.
- Posted by Rich Miller 42 Comments


* Press release from Auditor General Frank Mautino's non-governmental spokesman…
Frank Mautino served his north-central district with distinction in the Illinois House for 24 years, where he held a number of leadership positions, provided exemplary service to his communities and built a record of a number of legislative accomplishments.

During his legislative career, Frank ran for re-election every two years. His campaign committee, Committee for Frank J. Mautino, fully disclosed and reported all spending by the campaign in compliance with Illinois campaign finance and disclosure laws. His reports fully detail campaign expenditures that were made to help defray the standard, reasonable expenses incurred while Frank performed the governmental and public service duties of serving as state representative of his large, mostly rural district.

Upon his nomination as Auditor General, Frank's career in elected office ended and he closed out his campaign committee at the end of December 2015.
* As we discussed yesterday, his main problem is explaining $213,338.31 in gas and auto repair bills between March of 2005 and December of 2015.
I searched the State Board of Elections' expenditure category for the word "repair" - not car repair, or auto repair, but just the word repair, which could be anything - for all campaign committees during the entire online era. I came up with $1,507,091.40 in expenditures since October of 1999. Mautino actually has the first disclosure of "repair" on the searched list.
Now, do the same "repair" search for all of Mautino's expenditures and you end up with $262,067.52 since 1999.
That means Mautino's share of all repair expenditures for all candidates and committees over more than 16 years is a whopping 17.4 percent.
I don't know if his repair bills were "reasonable," but they clearly weren't "standard."
* Also, this…
In the weeks leading up to the general election of 2010, Mautino spent $8,000 on poll watchers, plus $2,750 for precinct walkers plus an additional $2,050 for precinct workers. Quite a chunk of change, considering that Mautino was unopposed at the ballot box that fall.

It wasn't the first time that Mautino shelled out thousands for poll watchers and precinct workers while running unopposed. In the general election of 2008, he spent $10,000 on poll watchers, even though he didn't have an opponent, according to his campaign finance reports.

The money, all paid out in round figures, was received by Spring Valley City Bank, according to Mautino's campaign reports. It's not clear why the bank reportedly got money for work unrelated to banking. A source at the Illinois State Board of Elections said that campaigns must accurately identify the recipient of campaign funds in the event a recipient receives more than $150. If a recipient receives less in a reporting period, the expense need not be itemized.

A woman at the bank said that there was no one available to discuss the institution's relationship with Mautino, which dates back more than a decade, with Mautino receiving both loans and campaign contributions, according to records at the state elections board. Mautino could not be reached for comment. He did not return a phone call last week to answer questions surrounding his campaign spending ("Questionable Campaign Spending," Jan. 22, 2016).

Mautino's campaign routinely reported giving money to the bank for expenses unrelated to banking, and the money often came in round figures. Since 2012, Mautino's campaign reported giving more than $56,600 to the bank in dozens of expenditures. At least 41 of those disbursements were in round figures, according to campaign reports.

The campaign reported giving the bank money for travel expenses, parking and meeting expenses. Consider a stretch in 2014, when the campaign reported giving $750 in five round-figure expenditures to Spring Valley City Bank between May 5 and June 28 for expenses that had nothing to do with banking. According to campaign reports, the money was used for "Chicago meeting traveling expenses," "traveling expenses," "Chicago meeting parking expenses" and "Springfield meeting." The records don't indicate who attended meetings or what, specifically, was included in travel expenses.
Mautino had one major campaign this century, in 2014. He is a major Democratic player in that area, though, so he could've been subsidizing other campaigns.
Either way, he needs to clear this up. Right now.
- Posted by Rich Miller 40 Comments


* Heh…
Rich

I guess one can't believe everything that's on the Internet. I now know you didn't become a spokesman for Speaker Madigan until AFTER you were a page. But, seriously, come on over to the mansion after the State of the State, let's have a beer and have one of our classic battles about the future of Illinois. If there's one thing that you and I have in common it's that we care deeply about the future of our state. See you Wednesday.

Governor Rauner
How cute.
Mrs. Rauner will also be there, but I told the governor's guys that she might not want to be in the room for the first 20 minutes or so.
- Posted by Rich Miller 215 Comments


* Press release…
Since September 28, 2015, Illinois Area Agencies on Aging have been providing a weekly alert addressing the impact of the budget Impasse. I4A is chronicling the erosion of services to seniors in the State of Illinois. Given that we are in late January and there is no visible effort to address and resolve the budget crisis, we are now projecting an Illinois that does not support older people who are in greatest need (or who can avoid unnecessary incapacitation with minimal assistance within their communities).

Last week I4A reported on the number of older people this year who have been denied meals and supportive assistance because of the budget Impasse. With major cash flow delays, no compensation under the Prompt Payment Act (meals and supportive services are distributed as grants - not eligible for interest when payment is delayed), expensive lines of credit and exhausted reserves, of course people have not been served.

The following itemizes the number of people who will be abandoned if state support for Planning and Service Grants and Community Based Services funding are forever gone:

Annual number of people served by the Illinois Aging Network (federal and state support): 484,000
Annual number of people served if only federal funding is received: 338,559
Number of people who are abandoned under the current budget impasse: 145,441

Represented within your 145,441 older citizens/constituents affected by the loss of funding are a minimum of:

1,621 people forced to enter nursing homes instead of exploring options for care
206 people no longer able to receive door-to-door assistance with transportation – doctor appointments missed
9,356 people literally missing the bus because of other lost transportation services
105,973 people without information assistance, resulting in missed benefits and financial assistance
4,067 people not receiving outreach to tell them that they can and should receive help
387 people without a functioning home environment due to lost chore/housekeeping
114 people facing added caregiver strain or leaving their loved ones alone because of denied respite
163 people risking falls and other household injuries because no one can change a light bulb, etc.
77 people left alone without a call from a concerned organization's telephone reassurance
303 people not understanding how they can survive with lost counseling services
962 people not attending life enriching education classes
516 people with undetected health issues because of lost health screening
257 people unable to locate suitable housing, leaving them at risk of homelessness
2,257 people without legal assistance to advocate for them to receive benefits they're entitled to
13,400 people locked out of senior centers
6,525 people without recreational activity and often without a purpose to keep going

We are facing a projected loss of $5,417,708 of GRF normally supporting senior services in Illinois. Each of the 13 Illinois Area Agencies on Aging listens to their communities to assure that services of the highest priority are supported, thus these projections show the potential impact but will be adjusted based on planning principles and needs throughout the state. The bottom line is that nothing is self-supporting – the Illinois Aging Network is a balance of state, federal and local funding that provides the most responsive and important service network for older people in Illinois (and the nation). Thus home delivered meals are similarly lost when supportive services are not part of the community agency's budget. It is time to resolve the budget impasse and identify the resources and priorities for Illinois spending based on the dignity and importance of every Illinois citizen.

Distributed for I4A by:
Jonathan Lavin
Chief Executive Officer
AgeOptions
- Posted by Rich Miller 41 Comments


* Illinois Leaks took a look at Auditor General Frank Mautino's campaign finance reports from when he was a legislator and found something that at least on the surface looks pretty odd. Over an approximately ten-year period, then-Rep. Mautino spent over $200,000 on gas and (mostly) car repairs at the same gas station in his home town of Spring Valley…
Mautino spent $213,338.31 on fuel and repairs for his campaign vehicle between March of 2005 and December 2015. Even more if you go back a few more years. His campaign itemized expenditure reporting indicates $20,914.20 of the $213 thousand was used specifically for gas purchases during that same time frame, all at the same gas station, Happy's Super Service Station.

Using the very figures from his itemized expenditures covering ten years and nine months, Mautino's expenditures average approximately $54.42 of campaign money every day during that time frame for gas and repairs to his campaign vehicle.
There's a whole lot of hyperbole and speculation in the piece. And $21K over more than ten years on gas is about five bucks a day. But over $20K a year in car repairs?
So, I checked with Mautino, who said that it wasn't just one car, but several which received repairs and gas.
They weren't necessarily his cars, Mautino said, but were owned by people who did campaign work.
* But then there's this…
Out of 387 itemized entries in the time frame referenced, 35% of them were whole numbers. Most accountant's would look at that as entries that deserve more attention. Having been a mechanic my whole life as well as an FAA licensed Air-frame & Power plant mechanic, I have seen my share of repair bills and let's just say I have rarely seen any that were round numbers like those we see in the itemized listings. I found 137 such entries out of 387 since March of 2005. I would bet if every one of our readers were to go back and look at their own repair bills there would be fewer than 1% that could find one that was a perfectly round number.

For example:

3/29/2005 – $1,200.00
4/11/2005 – $300.00
6/13/2005 – $1,500.00
4/13/2007 – $1,200.00
6/12/2007 – $1,200.00
12/06/2007 -$1,500.00
1/18/2008 – $1,100.00
2/08/2008 – $1,000.00
6/16/2008 – $3000.00
11/10/2008 -$1,100.00
9/11/2008 – $2,100.00
12/16/2008 -$1,00.00
2/26/2009 – $851.00
3/24/2009 – $600.00
5/08/2009 – $1500.00
6/16/2009 – $800.00
10/06/2009 – $1,000.00
12/03/2009 – $925.00
2/10/2010 – $1,500.00
Mautino said over the weekend that he was putting some info together, but I haven't heard back. This is a small town shop, so maybe they were just sloppy.
I've known Frank Mautino since the day he got to town, and I don't even want to think about the possibility that something might be hinky. But, he really should get in front of this sooner rather than later.
…Adding… Illinois Times…
Susan Garrett, a former Democratic state senator and representative who now chairs the board of directors for the Illinois Campaign for Political Reform, said that both an investigation and an explanation from Mautino is in order.

"I think there needs to be an investigation," Garrett said. "I think that Mr. Mautino needs to explain to the public how his campaign funds have been spent. … He needs to explain this, especially because of his new position as auditor general of Illinois. The highest ethical standards are required to hold that position."

It's not clear who would conduct an investigation. The General Assembly is supposed to have an inspector general tasked with investigating allegations of wrongdoing by legislators, but that position has been vacant for more than a year.

"Unfortunately, there isn't anybody who can conduct, as far as I know, right now, because of the vacancy, there's nobody who can conduct the type of investigation that needs to be done," Garrett said. "What can easily happen is, Mr. Mautino can come forward and answer some of these questions."
- Posted by Rich Miller 46 Comments


* Forwarded by a reader…
Dear Campus Community,

As we begin our spring semester, it is important that I update you on the financial position of the university. Incredibly, the state's legislature and governor have yet to approve a state budget for FY16. This unprecedented action means that EIU has not received any of our annual appropriation (typically around $40 million), nor MAP reimbursement for EIU students (approximately $9 million). Our state government is literally starving its public universities.

The difficult budget adjustments that were made this past fall equating to reductions of roughly $10 million accomplished our goal of moving us toward a balanced budget for FY16. However, our budget was predicated (as are all state universities' budgets) on receiving our state appropriation and MAP reimbursements, and that has unfortunately not happened.

As I have told our lawmakers, in higher education we operate in semesters, rather than weeks or months. Our budgets are formulated on an annual basis and in accordance with the academic calendar.

We will continue to provide our students excellent learning, service and research opportunities without diminishing academic excellence during the current semester and for many years to come. EIU is ranked the top regional public university in Illinois by U.S. News and World Report and we are committed to maintaining the focus on student success that earned us that spot.

I am hopeful that a state budget or higher education appropriation soon will be finally enacted. However, we cannot rely on optimism alone and must begin unfailingly to preserve our funds for instruction and employee payroll in the case our appropriation is further delayed or not received at all.

During the first half of FY16, we carefully managed our operating expenses using tuition revenue and cash flow reserves to move us well into the spring semester. Now, we have identified specific measures that will need to be executed to allow us to operate through to the completion of the semester while ensuring our educational mission and preserving funds to meet payroll.

Beginning immediately, we will implement the actions of halting all non-instructional capital equipment purchases; delaying all deferred maintenance and repairs that are either unrelated to safety and security or already paid for; delaying all non-instructional capital projects; halting all non-instructional supply purchases without vice presidential approval; freezing employee-reimbursed travel with minimal exception such as for required federal or governmental purposes; and freezing all hiring that involves FY16 funding. Any exception will need presidential approval.

If an appropriation continues to be delayed further into the semester, we will need to temporarily and/or permanently lay off hundreds of non-instructional employees and mandate unpaid furlough days to others beginning in March. Call backs will occur immediately after an appropriation is enacted and funds have begun to be received by the university.

The actions of the budgetary impasse in Springfield are testing our resolve and fortitude to meet the needs of our students. I call upon everyone's cooperation to remain strong and positive in attitude for our students and our beloved university as we await our lawmakers and governor to authorize state support for public higher education. Together, we will get through this challenging time and after which, return to our pathway to success.

Sincerely,

David M. Glassman
President, Eastern Illinois University
*** UPDATE *** From the Western Illinois University student newspaper Facebook page…
In a 5-1-1 vote this morning, the Western Illinois University Board of Trustees (BOT) is in favor of the execution of staff reductions. According to resolution No. 16.1/1, reduced enrollment is partially responsible for the staff reduction. "Western Illinois University seeks to implement staff reduction as outlined in Article 24, Article 40 and all additional articles referenced therein," reads a clause on the resolution. The BOT has officially given the administration authorization to lay off where necessary.
- Posted by Rich Miller 82 Comments


* Good stuff in here. Too much to excerpt. But they go back a long way…
MODERATOR DAVID KAHNWEILER: Do you mind talking about Rahm a little bit?

RAUNER: OK.

KAHNWEILER: I've known you for a very long time. Rahm's been at all the family events, the bat matzvahs and, I mean, I remember at, I think, at Meg's bat mitzvah where you were in private equity and he was in Congress and you're paying for dinner and he's razzing you about threatening, you know, to raise taxes on your, uh…

RAUNER: On capital gains, yeah. Yeah.

KAHNWEILER: On capital gains. And your relationship has always been one of just needling each other. So is this just more needling going on in the last few weeks or is it getting to be a little sharper than needles?

RAUNER: No. It's way more sharper than – there's really a lot on the line.
- Posted by Rich Miller 15 Comments


* I watched part of this go down in real time. Oof.
And no bad language in comments, please, even if you are just "quoting" somebody.
…Adding… DNAinfo Chicago did a story…
"It's a street fight, and sometimes it gets a little messy, and that's OK, because street fights are long overdue in Chicago," Proft said Monday. "I'm sick of the deference that is given and politicians in the city and state think they deserve. They don't deserve it."

Reilly, by contrast, called the exchange "unfortunate," but quickly added, "I take my record on fiscal reform seriously," pointing to how he voted against Emanuel's 2016 budget and its record tax increase.

"Dan took some shots at me because I had the audacity to label the governor's CPS takeover as the sham that it is," Reilly said.
- Posted by Rich Miller 37 Comments


* Senate President John Cullerton talked at length today about the state's broken school funding formula. From a press release…
Illinois has not updated its school funding formula since 1997. The system has resulted in striking inequities across Illinois' school districts, rewarding wealthier communities and penalizing impoverished communities where students need more resources to succeed.

In addition, Illinois covers barely a third of the total cost of public education, while most states cover half.

As a result, the performance gap that divides rich and poor students, as well as students of color, ranks among the worst in the nation. Illinois is 42nd in terms of the gap in reading scores among these students, and it falls among the bottom 10 in the achievement gap between black and white students.

Cullerton said Illinois leaders must ask themselves two questions: How much are we going to spend on education, and how are we going to spend it?

"If the money isn't going to help students in need, it doesn't really matter how much we spend," he said. "That's why our funding formula needs to be overhauled."

To level the playing field among schools, Cullerton said a new funding approach must include some key principles:

State resources should go to school districts based on the needs of students, with more funds to support children who need extra support – those who live in poverty, have special learning needs and who are English language learners.

There should be a single, straightforward funding model and no more special deals for some districts.

The formula must account for a district's ability to support local schools with local dollars, and accountability must follow those dollars.

Cullerton noted that no one wants any school district to lose money. But in Illinois' system of winning and losing school districts, there are far too many losers.

"There's a reason why the current school funding formula has been in place for two decades. It's hard to change an entrenched status quo. It requires true, dedicated leadership," Cullerton said. "The question is whether today's leaders are up to the task."
* And then he said this…
The governor has linked things together. We don't have a budget because he's got his Turnaround Agenda.

So I can link things together, too.

This is a Turnaround Agenda. We gotta change the school funding formula.

Before we appropriate money for education for next [fiscal] year, which starts July 1st, we have to fix this formula.
* The Question: Do you agree with the Senate President that there should be no approps for K-12 until the funding formula is changed? Take the poll and then explain your answer in comments, please.
survey services
*** UPDATE *** House GOP Leader Jim Durkin…
"As a suburban legislator, I remain open to working with the Democrats to fix our archaic school funding formula. At the same time, I hope this means Democratic leadership is now ready to work with us on other structural reforms to put Illinoisans back to work and to bring the budget impasse to a close."
- Posted by Rich Miller 114 Comments


* From my intervew with Gov. Bruce Rauner…
"(I)f we can get business regulatory change so I can recruit manufacturer's here and more transportation companies here, and more businesses here, we can generate billions of new revenue without raising tax rates. That's directly tied to the budget."
* As you already know, I asked for proof of this. He had his staff send me a memo and chart that he distributed to legislators last September. I quoted from his own documentation that he projected increased revenues of $510 million.
That came from this particular page…
Economic Growth

• Personal Income Tax Savings by Ending Out-
Migration: $140 million

• Revenue Growth by Making Illinois "Average" in Unemployment: $150 Million

• Revenue Growth if Average Gross State Product: $220 Million
* But then on the very next page, the governor's own analysis only used one of those numbers…
Net State Financial Impact from Reforms

• Savings: $1.8 billion

• Revenue from Economic Growth: $220+ million

• Total Net State Financial Impact: More than $2 billion
So, $220+ million in "net" revenues from economic growth.
Those are the governor's own numbers that he sent to legislators last fall to justify holding out for a better deal and shutting down part of the government in the process.
Hey, maybe the numbers are very conservative. Maybe they're even wrong. But they're not my numbers, they're Rauner's numbers.
The point is, why send this to legislators if it was a wild low-ball? Why then send those very same numbers to me? And then after sending it to me, why whine that I got the numbers wrong when they were his own numbers?
Sheesh.
- Posted by Rich Miller 39 Comments


* After what just happened to me this morning, I can most certainly relate…
Mayor Rahm Emanuel on Friday said Gov. Bruce Rauner's public scolding of him — and other politicians — gets in the way of solving already challenging issues.

"The governor can be his own worst enemy and can't seem to get out of his own way, as yesterday showed as it relates to the pension," Emanuel told reporters at a breakfast event downtown. […]

"I wish he had as much energy . . . in challenging the problems that face the state as he does challenging people in calling them names," Emanuel said.

Emanuel praised the governor for trying to "move something forward" on pension reform but said he needs to do a better job of building relationships if he wants to have success on "serious issues."

"You can call me names all you want and you attack me, but attack the problems of Illinois, which would be a better idea," Emanuel said.
- Posted by Rich Miller 20 Comments


* People get all upset about this, perhaps because it's easy to understand. But I really don't think it's such a big dealio…
An associate counsel in Gov. Bruce Rauner's office and a school board member in the a Chicago suburb has been named chief of staff for First Lady Diana Rauner.

The governor's office said Emily Bastedo will assist with "agency transformation" and act "as a liaison for the First Lady across the state. She will also have an active role in the restoration of the Executive Mansion."

As an associate counsel, Bastedo was the legal liaison for 10 state agencies, boards and commissions. She also is a member of the Elmhurst Community Unit School District 205 School Board.

She is a graduate of the University of Notre Dame and earned her law degree from DePaul University. She and her husband Brian live in Elmhurst with their sons Charlie and Elliott.
Our last governor wasn't married, so he didn't have a first lady. I don't ever recall this topic being such a huge story before that.
Mrs. Rauner has taken on the huge responsibility of rehabbing the governor's mansion, which Pat Quinn and Rod Blagojevich had allowed to badly deteriorate. I can definitely see the need for a chief of staff to handle this project.
Also, much of the social media criticism of this hire is coming from the left side of the spectrum. But Mrs. Rauner is probably the best friend they have. Why go after her? Her chief can be another voice in the mix for Mrs. Rauner's positions - and there aren't many over there right now.
And, finally, complaining about funding this position during the governmental impasse is like saying we can solve all of our fiscal problems by cutting waste. It's empty rhetoric.
But, hey, I'm sure many of you want to vent. It won't make a bit of difference and it's silly and maybe even counter-productive, but feel free.
- Posted by Rich Miller 61 Comments


* A letter to pastors and church members from the state's Lutheran Bishops…
Dear Sisters and Brothers in Christ,

Grace to you and peace from God our Father and our Lord and Savior, Jesus Christ.

As you may know by now, Lutheran Social Services of Illinois (LSSI) has announced a very significant reduction in both its workforce and its program portfolio for the delivery of essential human services to the people of Illinois. The cuts will eliminate 758 jobs, and a number of ministry programs, including those that serve senior adults, prisoner and family ministries, drug and alcohol rehabilitation, and community counseling services.

The announcement issued directly by LSSI does an excellent job of describing the nature of these reductions and the reasons for them. As your bishops, however, we felt it necessary to address you from a pastoral perspective and to emphasize several important points.

To begin, we can reassure you, as members of the LSSI board, that the process of evaluation, planning, praying and listening, though painful, was extraordinarily careful, considerate, and responsible. As with many expressions of the common good in Illinois, we have been placed in an untenable position by the paralysis of state government. Our Christian faith commitment to providing the highest quality of care to the state's neediest citizens at the lowest possible cost also makes us vulnerable and highly dependent upon the reliability of our partners in civic leadership. That reliability has failed. We are owed more than $6 million by the state for services already delivered, with no foreseeable prospect of prompt reimbursement. We have exhausted all credit options available to us to sustain our ministries. The costs of these programs far exceed our current donative capacity to absorb the losses and continue the work. And even with frugal and expert stewardship, the financial margins in providing these services are far too thin to sustain us over long periods of uncertainty and non-payment. To continue without adjustment would threaten the security and well-being of all our employees, and might ultimately endanger the future of all our ministries.

Secondly, we want to emphasize our continued confidence and commitment with respect to the mission that remains strong–providing mental health services, affordable senior housing, services for at-risk families, residential support for adults with developmental disabilities, foster care, home care, and programs that help children maintain connections with incarcerated parents.

These services continue to be exemplary expressions of our common call to serve our neighbor in need, in Christ's name and on Christ's behalf.

Finally we encourage everyone to work and to pray in response to these developments. We ask you to work in your local communities and in the general society for justice, for responsible and compassionate government, and for fair and universal access to health and opportunity. And we ask you to pray, now, for the dedicated staff of LSSI who are losing their jobs, for courage and joy among those who continue to work, for wisdom among the board and the executive staff entrusted with the stewardship of this mission, for clarity and courage among our political leaders caught in the deadlock of the state's financial crisis, and above all we ask you to pray for consolation and hope among the thousands upon thousands of children, families, vulnerable and invisible individuals who will be deeply affected by these changes.

It is a hard time for us. But we continue, as we always have, with complete confidence in the promise that God's grace is sufficient for us, and that we will be restored and lifted up again to share Christ's abundant love with even greater joy.

In Christ,

Bishop S. John Roth, Central Southern Illinois Synod
Bishop Gary Wollersheim, Northern Illinois Synod
Bishop Wayne N. Miller, Metropolitan Chicago Synod
- Posted by Rich Miller 40 Comments


* Gov. Bruce Rauner just told reporters that I used to work for Speaker Madigan.
I have no idea where he got that, but I did work as a House page for less than a month back in 1985. Perhaps that's what he's talking about. I have no idea.
Lee Daniels tried this dirty trick on me back in the day. It didn't work then because it wasn't true.
…Adding… This became a topic during the Q&A when somebody asked Rauner about my column based on revenue growth numbers that Rauner himself supplied to members of the General Assembly. He said the numbers were "way" off, even though they were his own numbers, then went on his false tirade about me having worked for Madigan.
…Adding More… From "walker" in comments…
This isn't some kind of looping tactical misdirection. Rauner simply doesn't know any better. He heard someone say it, and it fits into what he wants to believe.

Rauner didn't lie about the Cullerton pension deal — he actually believed it said what he said about it. He just doesn't pay attention to any details that don't support his overall narrative.
- Posted by Rich Miller 198 Comments


* My Crain's Chicago Business column…
I was a truly lousy basketball player in elementary school. I just didn't have the skills, and it frustrated me to no end because I wasn't horrible at other sports I tried.

After another embarrassing performance during a weekend morning "B-team" game, my dad offered some gentle advice. He noticed that I didn't commit a single foul and said I could improve by getting more aggressive on the court.

Tired and humiliated, I burst into tears. "But I don't want to foul out!" I cried.

I hate that story because it makes me look like a big baby, but I learned from it and found that a few sharp elbows helped me play better.

So what do we take away from this story? I'm certainly not advocating that Gov. Bruce Rauner and House Speaker Michael Madigan get more aggressive with each other. Just the opposite.
Click here to read the rest before commenting, please. Thanks.
- Posted by Rich Miller 28 Comments


* With more than 200 Chicago shootings since the year began, this is very bad news, indeed…
The mounting toll from the Illinois budget impasse is now reaching vital programs that effectively keep youth out of the juvenile justice and child welfare systems. On Feb. 15, Children's Home + Aid will suspend crisis intervention services for runaways and youth at risk of delinquency in Englewood and West Englewood.

The services are delivered through the state-mandated Comprehensive Community-Based Youth Services (CCBYS) program, which has been operating without payment since July 1. Children's Home + Aid was on track to serve an estimated 70 youth this year through the CCBYS program on the South Side of Chicago. The suspension follows months of CCBYS program reductions by providers across the state, a direct result of the budget impasse.

"This is the first of many program suspensions we are forecasting around the state," said Andrea Durbin, CEO of Illinois Collaboration on Youth, a statewide network of organizations delivering programs, services and advocacy for at-risk youth and families. "Providers tell us they are expecting to make significant cuts in services and staff in February and March. These are the same providers who have been working in good faith since July 1 to meet the needs of kids and families in crisis in every county in Illinois. But without a budget or the possibility of payment any time soon, we will see more and more of these program suspensions and eventually every CCBYS program will close."

The consequences of the suspension of the CCBYS program in Englewood and West Englewood – communities in Chicago marked by unemployment and violence – are significant and sharply undercut commitments from Gov. Rauner and the General Assembly to increase community-based services. Youth will be turned away from successful, low-cost community programs, and increase the pressure on already strained and expensive systems such as the justice system, schools and child welfare.

CCBYS provides crisis intervention and family reunification services for almost 7,000 youth, aged 10-17, statewide, roughly 3,000 of whom are runaways, locked out of their homes, or otherwise at-risk. These mandated services are provided through CCBYS at an average cost of $1,883 per youth, per year, far less than foster care. As programs suspend operations due to lack of funding, those youth served by CCBYS will be referred directly to DCFS, and many will be pulled into the foster care system.

"DCFS only has about 2,350 youth, aged 10-17, in out-of-home care now," said Durbin. "The child welfare system is simply not equipped with enough hotline workers, investigators, case managers, or foster homes to respond to an influx of adolescents coming from the CCBYS program. The lives and safety of children and youth will be at risk."

The fallout from the budget impasse is growing, according to an ICOY survey of CCBYS and Homeless Youth providers across the state carried out at the beginning of January. Forty percent of those CCBYS providers responding have reduced staff and decreased or restricted services since July 1. Among Homeless Youth providers responding, 50% have cut staff and 36% have decreased or restricted services; one program has closed. Based on the survey, ICOY projects significantly more cutbacks, including closings, as soon as February and March.

The likely damage to the most vulnerable youth and families, while actually increasing long-term financial costs to the state and local communities, comes as Gov. Rauner has pledged to reduce the Illinois prison population by 12,000 men and women over the next decade, focusing on rehabilitation programs rather than incarceration.

The budget stalemate also threatens new legislation that went into effect Jan. 1 designed to support at- risk youth with services that can keep them out of the juvenile justice system. Under P.A. 99-254, alleged delinquent minors under 13 are meant to be provided CCBYS services, rather than be held in a detention center. Another new law, P.A. 99-456, calls on community providers to assist schools with interventions to minimize student suspensions and expulsions. Now, with resources squeezed, there are questions about whether the legislation can be effectively implemented.

"The Governor and the General Assembly have had some great ideas about shifting youth from high-end care to community-based services," said Durbin. "But the lack of a state budget is placing children and youth at risk, starving community-based providers, and haphazardly forcing program closures and suspensions. It's difficult to see how we make progress as a state under these circumstances," she added.
Like I said earlier today, you also gotta walk the walk.
…Adding… From Emily Miller…
Hi Rich.

The bevy of press conferences held by the governor and minority leaders last week addressing issues ranging from government takeovers of CPS to public pension reform gave the press a chance to forget the ongoing damage the budget impasse continues to have on real people across Illinois.

Friday, Lutheran Social Services of Illinois closed 30 programs, cutting off services for 4,700 Illinoisans, and laying off 750 staff. In response, the governor said he was "frustrated," but did not seem any more willing to make getting to a fully funded budget his number one priority.

Without a budget, Illinois continues to operate like a plane on autopilot running on fumes, and children and families are the ones getting shoved off to lighten the load.

Here's this morning's dose of devastation: by now you've probably seen the press release from ICOY announcing the suspension of a program called CCBYS that provides crisis-intervention for at-risk youth on Chicago's south side. These are kids who have been locked out of their houses, who have fled dangerous homes, or who are at risk for being placed into the juvenile justice system.

This is not a "Chicago issue." CCBYS programs exist in every county in this state. Each day the governor and lawmakers fail to agree on a budget, children in every house and senate district come one step closer to being left alone with no one to help them. By February and March, the program will be a shell of what it was, and eventually, without funding, every CCBYS program will close.

Until now, CCBYS providers have been able to step in and advocate for the safety and well-being of those children. Children in immediate physical danger received compassionate, professional and immediate care that kept the number of CCBYS cases referred to DCFS for further intervention down to about 11 per month. There's no immediate formal plan in place to deal with those children, but ultimately it's a DCFS issue, and the program closure will increase the referral of these types of cases by 2,200%, according to a memo ICOY released earlier this year. In case people need reminding, that hotline referral number is 1-800-25-ABUSE.

And here's the thing- it's not rocket science. This is what happens when you don't have a budget for seven months. We were warned that children would be hurt if a budget was not prioritized. We knew that the children abandoned when CCBYS programs closed would end up costing the state even more when they're placed in foster homes or institutional settings.

In fact, ICOY issued a memo in September, during our third month without a budget, warning that children would be hurt, citing not only the financial cost of this program suspension, but also the dangerous physical and psychological cost to Illinois children closing these programs would have.

But instead of passing a budget, the governor and leaders continue to sit back and play games that, for them, have only political ramifications. For Illinois children, the games grown-ups are playing are life-threatening.

Last Friday Illinois walked away from 4,700 vulnerable Illinoisans. This morning, Illinois abandoned 34 children in one neighborhood. Anyone who doesn't get that the children and families in their neighborhood are next isn't paying attention.

Emily Miller
Policy and Advocacy Director, Voices for Illinois Children
Co-Coordinator, Responsible Budget Coalition
- Posted by Rich Miller 43 Comments


* My weekly syndicated newspaper column…
Gov. Bruce Rauner blew a perfect opportunity last week to finally drive a public wedge between Senate President John Cullerton and House Speaker Michael Madigan, clearly put Madigan on the defensive and maybe finally make progress on an important issue which might save the state a billion dollars a year.

But he badly bungled the rollout of a deal with Cullerton on pension reform. Instead of describing the agreement for what it really was, Rauner greatly exaggerated its scope and portrayed it as a big defeat for AFSCME and other unions.

In reality, the deal with Cullerton (and there is still a deal with Cullerton, despite what you may be reading elsewhere) is narrow in scope and elegantly designed to put Madigan in a truly tough position.

The plan, negotiated over months, is to use most of Cullerton's bill to offer employees a choice. If they want to keep their compounded 3 percent annual cost of living increase, then their pay hikes going forward won't be pensionable. If they want their raises to be pensionable going forward, then those raises would be subjected to the "Tier 2″ pension law – annual simple interest pension increases which are either half the Consumer Price Index or 3 percent, whichever is less.

Cullerton has long maintained that if employees are offered a legitimate choice then the state's constitutional pension contract language would be satisfied. Others note that the constitution also declares that pension benefits cannot be diminished or impaired.

To maybe make this work, however, the law would have to be changed to forbid public employee unions from negotiating on this particular, narrow topic. Pension rights are individual legal rights, so only individuals can make the choice about whether to apply their pay raises to their pensions or not.

And in a brilliant move, the Cullerton and Rauner negotiators deliberately included some important language from Speaker Madigan's own pension proposal on this very topic: "Employers shall not be required to bargain over matters affected by the changes, the impact of changes, and the implementation of changes" made to state pension law.

So, Rauner had Cullerton on board and Madigan in a tight box. Not a bad day's work.

But when he explained it to reporters, Rauner went way over his skis. To be constitutional, he said, "salary increases have to be taken out of collective bargaining."

"This is a key point," Rauner wrongly continued. "Salary increases come out of collective bargaining. So the union has nothing to do with it in the future."

That's just not even close to being true. Under this proposal, the unions can still negotiate salary increases, they just can't negotiate over what part of those salary increases are pensionable.

And Rauner just couldn't resist taking another shot. "What we'd like to do in the future is to take other things out of collective bargaining at the state and at the city levels."

As if things aren't already on edge during this aggravating months-long impasse, Rauner let his longtime hatred of unions get in the way of what could've been a triumphant day. Everything quickly blew up, with Speaker Madigan shooting down the whole idea and a confused Cullerton (who had prepared a supportive, bipartisan press release in advance) claiming "It's not my plan."

The problem here is that trust is almost nonexistent. Nobody at the top trusts anybody else. So, Cullerton immediately assumed that Rauner had double-crossed him.

Later, staff members from the governor's office explained what the governor actually meant, and Cullerton's people said they were still backing the deal they had made with Rauner – but only that deal.

If the governor had quickly corrected his obvious error, this whole thing would've been easily cleared up. But no way would Rauner's people even consider admitting a problem with what the boss said, instead blaming it all on Cullerton and claiming the press coverage was clearly going their way. And then late in the evening, with the media coverage going against them, Rauner's office finally, grudgingly admitted that "Perhaps the governor was not as precise in his word selection as the Democrats would have liked."

Even so, last week marked an important turning point.

Rauner finally got Cullerton to triangulate Madigan. Once the craziness dies down a bit, Madigan will be forced to take sides. Will he back language his own staff wrote for another bill, or will he just say "No" and begin fighting with Cullerton?

Forget the temporary blowup. That's the real thing to watch here.
Cullerton will hopefully clear up this mess during a lunchtime address to the City Club of Chicago. We'll have live coverage.
* Related…
* Senate President John Cullerton: School funding reform must be top priority for 2016
- Posted by Rich Miller 39 Comments


* Press release…
Champaign County Clerk Gordy Hulten announced today that ongoing objections to several Presidential Candidates are not anticipated to be resolved by the State Board of Elections in time for ballots to be prepared and voting tabulators to be programmed for the opening of By Mail and Early Voting on February 4, 2016. The ballots and machines will be available no later than February 17, 2016 – the beginning of Grace Period Registration and Voting – by which time most challenges seeking to remove candidates from the ballot should have been decided and final ballot certifications issued by the State Board of Elections.

"It is possible that ballots may be available prior to February 17, and if so, we will notify the media and voters through a release, on our website and social media," said Hulten. "It's unfortunate that the compressed filing calendar for Presidential candidates and the circumstances of these objections will likely delay our receiving final certifications from the State Board of Elections and affect the opening of voting statewide. Once final certifications are received, we will move as quickly as possible to finalize ballots, program machines and open for voting."

Voters attempting to vote early during the period when ballots are unavailable will be offered an application to vote by mail, or the opportunity to vote early when ballots are available.
*** UPDATE *** Maybe not…
Objections were withdrawn Monday to nominating petitions of four presidential candidates in Illinois' March 15 primaries, leaving three candidates — Republicans Ted Cruz and Marco Rubio and Democrat Hillary Clinton — who still must overcome ballot access questions.

Those questions might be answered by next week, said Bernadette Harrington, deputy general counsel to the State Board of Elections. Because there are fewer objections to deal with, Harrington said, an earlier-than-expected meeting of members of the state board could be scheduled for next week to rule on the pending objections. Then, the ballot could be certified, which would allow election authorities statewide to print ballots in time for the planned Feb. 4 start of early voting.
"The hope is to have the certification early next week so that it does not impact the start of early voting," Harrington said.

Sangamon County Clerk Don Gray had issued a news release earlier Monday saying that the start of early voting could be delayed until mid-February because of the many objections to presidential candidacies the state had to resolve. Gray said state elections officials made it clear at a clerks' conference in Champaign last week that the start of early voting would have to be pushed back.

But Gray said he would now wait for more guidance from the state board.
And…
If SBE can meet and certify early next week, we *may* be able to open for Early Voting on 2/4 as scheduled. https://t.co/ZYDPePDosE

— ChampaignCountyClerk (@ChampCtyClerk) January 25, 2016
- Posted by Rich Miller 9 Comments


* AP…
Gov. Bruce Rauner wants to reduce the number of inmates in Illinois' overcrowded prison system over the next decade — and he's willing to devote money to do so at a time when he's urging lawmakers to be prudent with spending in other areas.
* ABC 7…
Cook County Sheriff Tom Dart and the National Alliance on Mental Illness slammed Illinois governor Bruce Rauner after Luther Social Services of Illinois had to lay off workers and close programs due to the state budget impasse.

LSSI announced the impending layoffs and closures on Jan. 21. LSSI President and CEO Mark Studrud said the organization, which is the largest statewide provider of social services, is owed $6 million by the state for services it has continued to perform since the impasse began. The organization reports that 4,700 people will lose access to care due to the cuts.

Sheriff Dart said the closures are of particular concern for him because the Cook County Jail has emerged as Illinois's largest mental health provider after the statewide cuts to mental health funding.

"Our Governor frequently touts his business acumen and data-driven approach to public policy. I would love for him to show me the data proving that his stubborn refusal to consider the interests of the most vulnerable among us does anything other than destroy lives and swell our criminal justice system," said Sheriff Dart in a statement.

Dart says 25 to 35 percent of inmates in the jail suffer from mental illness at any given time.
* More from Dart's press release, with emphasis added…
"[LSSI] provides essential services to the very people government is supposed to care for in times of distress. For the Governor to allow these programs to whither way is simply deplorable. Without Lutheran's diversion programs, my Cook County Jail population will rise, costing taxpayers significantly more in both the short-term and long-term."
- Posted by Rich Miller 13 Comments


* What a messed up week this was. And it ain't gonna get much better, I'm afraid. Stuff is falling apart everywhere. I really don't know what to say right now, so I'll just play some music for a while and try to soothe my soul…
- Posted by Rich Miller Comments Off


* From the twitters…
Gov on @LuthSocServIL: frustrated, ready to "pass structural reforms along with a balanced budget so we can adequately fund social services"

— Amanda Vinicky (@AmandaVinicky) January 22, 2016
I'm done for the day. Not gonna turn comments on because I'm shutting the blog down soon. Just thought you'd want to see his comment.
- Posted by Rich Miller Comments Off


* I heard this was coming, but there was literally nothing I could do about it. LSSI is one of the finest social service groups in this state and I've helped them raise money for years. Their overhead costs are a lean 7.3 percent. They serve people that nobody else wants. I just cannot find the words to describe what a loss this is for Illinois. This impasse has to end. This state is wrecking a cherished organization over a paltry 1.4 percent revenue growth projection. I'm literally sick to my stomach about this…
Lutheran Social Services of Illinois (LSSI), the largest statewide provider of social services, today announced program closures and staff cuts throughout Illinois due to the state's inability to pass a budget for the past seven months.

"The state's budget deadlock has severely challenged LSSI's ability to provide services to those in need," said Mark A. Stutrud, LSSI President and CEO. "Over the past months, LSSI has relied on a bank line of credit and available resources from our foundation to compensate for the state's inability to pay its bills. Currently, we are owed more than $6 million by the state for services delivered. After seven months, we can no longer provide services for which we aren't being paid."

The seven-month-long-and-counting budget impasse forced the organization to cut back programs and restructure services as LSSI seeks to bolster resources for the 149-year-old faith-based nonprofit's continued viability. In consultation with LSSI's Board of Directors and an independent advisory group, LSSI created a plan to restructure its services and shore up resources for the viability and continuation of the organization.

In all, over 30 programs are closing, and more than 750 positions are being eliminated, or 43 percent of LSSI's total employees. As a result of these closures, approximately 4,700 people will no longer be receiving services from LSSI.

"We are eliminating spending that is most linked to non-payment of services and redesigning our administrative support around a newly restructured organization," said Stutrud. "Our plans respond to this year's budget impasse and an anticipated lingering state financial crisis over the next several years. We're doing this at a great cost to LSSI and those affected by our services. It has been an agonizing process, particularly its impact on our clients and their families who depend on us for their care, as well as our employees whose jobs were eliminated. Many of our employees are direct care personnel who have built relationships and strong trust with the people they serve."

The programs that saw the largest cuts were those helping seniors, including home care. Programs eliminated were case management for seniors, adult protective services, and LSSI's Adult Day Care Center in Moline. Although LSSI is receiving some payment through Medicaid, the organization has been accruing several hundred thousand dollars a month in unpaid bills for home care services since July 2015, when the state's budget cycle normally would have begun.

LSSI also has not received payment for programs reimbursed through the state's general revenue fund and other state agencies. These include residential rehabilitation for adult drug and alcohol treatment in Chicago and Elgin, community counseling services, and prisoner and family programs at several locations.

LSSI is grateful for the support of ELCA churches statewide, other faith communities, and donors. LSSI is committed to continuing services that include: mental health, alcohol and drug treatment; Head Start; services for at-risk families; residential programs for adults with developmental disabilities, foster care, affordable senior housing; home care, and programs that help children maintain connections to their incarcerated parent.

"These decisions were the result of a thorough and painful process," said Stutrud. "We know this will impact clients, their families, our employees, and communities throughout Illinois. We made these choices with a long-term view of the organization and its mission, and ultimately the ability to continue serving people."
* Here are the program cuts…
About Lutheran Social Services of Illinois
Founded in 1867, Lutheran Social Services of Illinois (LSSI) is a statewide, nonprofit social service agency of the three Illinois synods of the Evangelical Lutheran Church in America (ELCA). For more information, visit LSSI.org and LSSI's Facebook page.

Programs Affected

Residential Rehabilitation for alcohol and drug treatment
Behavioral Health Housing Opportunities, Chicago
Elgin Residential Rehab, Elgin
Men's Residence North, Chicago
Men's Residence West, Elgin
Social Detox, Chicago
Women's Residence, Chicago

Mental Health Counseling for children, youth, adults and families
Community-based Counseling, Berwyn
Community-based Counseling, Des Plaines
Community-based Counseling, Downers Grove
Community-based Counseling, Elmhurst
Community-based Counseling, Mendota
Community-based Counseling, Prospect Heights
Community-based Counseling, Wheaton
Dixon General Counseling, Dixon
West/Northwest Suburban Counseling, Villa Park

Youth Services
School-Based Counseling Services, Sterling
Youth Emergency Shelter, Nachusa

Re-entry Services for former prisoners and their families
Connections, Chicago
Employment Skills School, East St. Louis
Homeward Bound Supportive Housing, East St. Louis
River Bend Re-entry, Alton

In-home Support Services for seniors
Intouch Home Care, Canton (serving Fulton County)
Intouch Home Care, Chicago (serving Chicago South and Southern Cook County)
Intouch Home Care, DeKalb (serving DeKalb, Kendall, La Salle Counties)
Intouch Home Care, Freeport (serving Stephenson, Jo Daviess Counties)
Intouch Home Care, Moline (serving Rock Island, Henry, Mercer Counties)
Intouch Home Care, Peoria (serving Peoria, Marshall, Stark, Tazewell, Woodford Counties)
Intouch Home Care, Rockford (serving Winnebago, Boone, Ogle Counties)

Respite Services supporting veterans and their families
Legacy Corps, Rockford
Legacy Corps, Streamwood

Adult Day Care for seniors and adults 18+ with disabilities
Intouch Adult Day, Moline

Comprehensive Case Management and Protective Services for seniors
Case Coordination, Sterling
Adult Protective Services, Sterling
I'm done posting for a while today. I'm just too disgusted to go on right now.
- Posted by Rich Miller 138 Comments


* For years while the legislative Republicans sat on their hands except to vote "No," Democrats demanded that they produce their own plan. Whatever the topic of the day was, the GOP was way too often content to just sit back and lob rhetorical grenades.
And that brings us to today's Eric Zorn column…
Illinois Democrats don't seem to have a plan or a vision for the state that goes much beyond thwarting Rauner and preserving the dismal status quo. […]

But at least Rauner has a plan — a list of aspirational bullet points that he calls the "turnaround agenda," and that others have taken to calling the "runaground agenda."

What's on a similar list for the Democrats, who control both chambers of the General Assembly? What are their bold counterproposals for getting the state budget and pension problems squared away and boosting the economy?
* Spokesmen for Cullerton and Madigan basically said they're just trying to solve problems…
State Senate Democrats "try to be more collaborative than combative," said John Patterson, spokesman for Senate President John Cullerton. He ticked off a list of Democratic priorities and accomplishments — including marriage equality, the abolition of the death penalty and child care for working families — and noted that Cullerton and his caucus are "focused on trying to find lasting, practical solutions to real-world problems rather than coming up with catch slogans."

"We don't have a big, glossy title for what we want to do," said Steve Brown, spokesman for Democratic House Speaker Michael Madigan. "We're trying get a budget, work on a plan to pay down the bills and come up with a pension fix that complies with court rulings. To do that we hope to work co-operatively and professionally with this governor."
* The Question: Should the Democrats produce their own version of the Turnaround Agenda? Take the poll and then explain your answer in comments, please, including what you think the Democrats should do, if anything.
online surveys
- Posted by Rich Miller 86 Comments


* Greg Hinz…
After a day of furious damage control, the Rauner administration is hoping that it's put back together a $1-billion-a-year state pension reform plan that would be passed by Senate President John Cullerton, with the governor's help.

Rauner might get what he wants. Or not. It's going to take a few days for the dust to settle. As Cullerton put it in a statement today, "Given the confusion, the best thing to do at this point is to get a proposal drafted so we know for sure what we all agree on. It's important to make sure we're all on the same page."

Cullerton is being nice.

Reviving the deal that Illinois' rookie governor blew up yesterday with his own rookie mistakes is going to require patience, persistence and tact. And even then, the deal likely faces opposition from House Speaker Mike Madigan, and a near certain challenge in court on constitutional grounds.
* Our resident pension expert RNUG agrees that it'll face a stiff challenge based on prior cases…
This Cullerton proposal, to rephrase it, is capping the pensionable salary. The IL SC said in the SB-1 decision (as a footnote, I think) that you can't impose a salary cap. They've also said it previously. Don't think this will fly but we'll have to wait for the court to say so.
Among many other things, the court also said this…
Accordingly, once an individual begins work and becomes a member of a public retirement system, any subsequent changes to the Pension Code that would diminish the benefits conferred by membership in the retirement system cannot be applied to that individual.
And this…
Additional benefits may always be added, of course (see Kraus v. Board of Trustees of the Police Pension Fund , 72 Ill. App. 3d at 849), and the State may require additional employee contributions or other consideration in exchange (see Gualano v. City of Des Plaines , 139 Ill. App. 3d 456, 459 (1985)). However, once the additional benefits are in place and the employee continues to work, remains a member of a covered retirement system, and complies with any qualifications imposed when the additional benefits were first offered, the additional benefits cannot be unilaterally diminished or eliminated.
- Posted by Rich Miller 84 Comments


* Our old friend Scott Kennedy ran some campaign money numbers. Here are the dollars raised (including in-kinds) for just the fourth quarter. Notice the huge total for Democratic House candidates. Wow…
Democratic Party of Illinois $1,786,444.01
Friends of Michael J. Madigan $1,747,639.53
Democratic Majority $1,632,063.67
13th Ward Democratic Org $638,950.00
Citizens for John Cullerton for State Senate $884,520.00
Senate Democratic Victory Fund $1,554,358.12
Committee to Support John Cullerton for State Central Committeeman $476,011.73
Dem Senators Not On Ballot This Cycle $637,882.30
Dem Senate Candidates $1,792,328.42
Dem House Candidates $7,190,292.50
Total $18,340,490.28
* On the GOP side…
Citizens for Rauner, Inc $4,199.00
Turnaround Illinois $1,320.78
Illinois Republican Party $179,912.70
Citizens for Durkin $344,572.77
House Republican Organization $282,875.47
Citizens for Christine Radogno $303,275.39
Republican State Senate Campaign Committee $306,385.96
Rep Senators Not On Ballot This Cycle $259,036.64
Rep Senate Candidates $705,473.89
Rep House Candidates $1,185,456.33
Total $3,572,508.93
* And then he added in cash on hand and A-1's from this year to date, subtracted out money already spent and came up with these numbers for the Democrats…
Democratic Party of Illinois $2,865,324.67
Friends of Michael J. Madigan $2,756,209.71
Democratic Majority $3,063,478.46
13th Ward Democratic Org $1,491,009.03
Citizens for John Cullerton for State Senate $2,080,723.82
Senate Democratic Victory Fund $3,616,883.51
Committee to Support John Cullerton
for State Central Committeeman $738,523.74
Dem Senators Not On Ballot This Cycle $5,066,601.70
Dem Senate Candidates $7,912,107.69
Dem House Candidates $19,537,947.24
Total $49,128,809.57
* And the GOP…
Citizens for Rauner, Inc $20,927,593.93
Turnaround Illinois $4,254,601.97
Illinois Republican Party $1,074,787.88
Citizens for Durkin $1,188,319.11
House Republican Organization $732,881.13
Citizens for Christine Radogno $676,277.00
Republican State Senate Campaign Committee $1,064,260.18
Rep Senators Not On Ballot This Cycle $1,402,724.95
Rep Senate Candidates $2,576,200.65
Rep House Candidates $5,611,413.41
Total $39,509,060.21
And don't forget the $9 million in IllinoisGO's account and $4.5 million in Dan Proft's Liberty Principles PAC, along with various other groups that you can see by clicking here.
* Scott's conclusion…
The battle for the State House in 2016 is going to be intense. There is already almost $90 million in play, it will certainly eclipse the $100 million mark and may push to $150 million.
And his conclusion in an e-mail to me…
This is some unprecedented [stuff]. Your standard targeted races could all be $5 million contests this cycle. That's crazy.
- Posted by Rich Miller 31 Comments


* AFSCME Council 31 has responded to the governor's letter to state workers last week. Have a look…
To me, anyway, the bargaining comparison comes as little surprise. Rauner wants the world and AFSCME wants to hold on to what it has and even expand it. They're asking for a $1,000 pensionable bonus in the first year and a 2.25 percent raise in the second year, with 3 percent raises in years three and four.
…Adding… From Anders Lindall at AFSCME…
Rich – So you're aware, the documents you obtained and published are two of three emailed yesterday to AFSCME-represented state employees. With respect to the Bargaining Comparison, I'd emphasize that the union's very modest proposals described here (agreeing to the governor's bonus framework in year 1, reasonable wage increases in the out years, a willingness to pay a little more for health care, etc) reflect our latest positions, but these are NOT final offers. We've consistently indicated that we want to continue the negotiating process to find common ground. – Anders
* Meanwhile, here's an e-mail from a reader…
Hi Rich,

Didn't necessarily want to put this on a blog post and you probably know already, but my husband, a state police retiree, has been contacted about "exciting opportunities" to come back and work temporarily for the state. He was also told to let others know about it.
* She asked that her name not be used, but she transcribed the message the person left on her home voicemail. I've changed her husband's name here…
"Hi Joe, this is Lydia from Premiere Staffing Services. Please call about a great opportunity I'm working on for the State of Illinois."
* The reader suggested that "Joe" call Lydia back…
She told him if he knows of "anyone looking for work, Premier is lining up lots of folks." She didn't say for a lock-out, my husband said she seemed to indicate the need if there was a strike.

Joe did tell me that many times in the past, agencies would be required to hurry up and put together plans for different situations that never came to fruition.
That's true.
- Posted by Rich Miller 80 Comments


* From Cassy Dowell at Revolution Cannabis…
Good morning!

Any day now Gov. Bruce Rauner's administration will decide whether to reject or add 8 conditions, recommended by the state's own advisory board, to the medical cannabis pilot program.

The latest patient count shows that there are 4,000 medical cannabis patients in Illinois — adding these 8 conditions (including PTSD, pain, etc.) would help to bolster this new Illinois industry. Expanding the program would not only help more Illinoisans, but would help create new sources of revenue this state desperately needs.

And a new poll reveals that the general public is in support of this program.

The facts at a glance are:

· Nearly 70% (69%) of Illinois voters support expanding Illinois' medical cannabis program to allow more patients with debilitating conditions to enroll, including military veterans who suffer from post-traumatic stress disorder
· 80% of Illinois voters support allowing patients in Illinois to legally use medical cannabis if their doctor recommends it.
· Almost three-in-four likely voters say the benefits of medical cannabis outweigh the potential risks

The findings are from a Harper Polling poll conducted Jan. 12-13, 2016, for Medical Cannabis Alliance of Illinois. Source: http://www.harperpolling.com/polls/illinois-statewide-poll–medical-marijuana

Best regards,
Cassy
* More results are here…
Q: Do you support or oppose allowing patients in Illinois to legally use medical marijuana if their doctor recommends it?

Republicans: 66% Support/29% Oppose

Democrats: 87% Support/9% Oppose

Independents: 82% Support/12% Oppose

City of Chicago: 84% Support/11 % Oppose
Suburbs of Chicago: 82% Support/14 % Oppose
Rest of State: 76% Support/19 % Oppose

Q: Currently, the medical marijuana pilot program is limited to only a few different diseases. For example, military veterans who suffer from Post - Traumatic Stress Disorder cannot get medical marijuana even if their doctor recommends it. Do you support or opp ose expanding Illinois' medical marijuana program so that more people are eligible for it like veterans suffering from PTSD?

White: 69% Support/21% Oppose
African - American: 73% Support/15 % Oppose
Hispanic: 69% Support/31 % Oppose

City of Chicago: 75% Support/13% Oppose
Suburbs of Chicago: 69% Support/20 % Oppose
Rest of State: 66% Support/24 % Oppose
Not coincidentally, the industry is saying it needs more patients if it hopes to survive.
Thoughts?
- Posted by Rich Miller 38 Comments


* Sun-Times…
A swath of Democratic representatives joined Majority Leader Barbara Flynn Currie on Thursday morning in asking that the extra TIF money — an estimated $150 million to $350 million — go toward helping CPS plug its $480 million budget hole.
But…
Budget Director Alex Holt said using TIF surplus is a "great idea." That's why the mayor has been "aggressively" doing just that — to the tune of $700 million since 2011 and $113 million this year alone, she said. Roughly $60 million of that money is earmarked for CPS.

"We froze downtown TIFs. We declared an aggressive surplus. There's not a whole lot left to surplus. At this point, we probably need to look at canceling current or future projects to generate more money," Holt said.

"To the extent that any elected officials want to cancel projects in their community, we would be more than happy to work with them and send additional surplus dollars to CPS. However, the amount of additional surplus is not going to be sufficient to solve the financial problem at CPS."
It would be nice to know how much excess money is in those funds, but that's a good point by CPS. Pretty much everybody screams about TIF districts, but they've funded a whole lot of projects.
* Meanwhile…
A CPS presentation to investors shows that its preliminary budget for 2016-17 — pegged at $5.7 billion — relies on $800 million in funding that the district hasn't yet secured.

The plan includes a $458 million subsidy from the state — even though lawmakers hardly considered this year's request for a similar amount. It anticipates $170 million in new tax dollars from Chicago residents to help pay pensions — something the state also would have to approve.

And CPS is expecting to net another $170 million after teachers begin paying 7 percent of their salaries toward pension costs — an expense currently covered by the district. Chicago Teachers Union Vice President Jesse Sharkey said, "There'll be a strike before that happens.
The state subsidy and the property tax hike approval aren't coming any time soon, either.
* But CTU President Karen Lewis downplayed talk of a strike yesterday and said those pension payments are on the table…
Lewis said those losses could include the end of the city's practice of picking up the bulk of teachers' required contributions to their pensions… "I think that people understand the dire straits that CPS is in and that we are willing to make certain sacrifices." […]

Lewis has described eliminating the pension pickup as "strike-worthy," though she tried Thursday to downplay and dangle the possibility of a walkout.

"People always worry about that strike — that's what happens when you don't get to an agreement. So at this point that's not the way things are looking but I'm not going to rule it out either," Lewis said. "I think people need to be prepared either way."

Lewis said talks to replace a pact that expired June 30 were "going well."
- Posted by Rich Miller 23 Comments


* This should be interesting…
President Cullerton to deliver City Club speech Monday

What: Senate President speech to City Club. Media availability following speech.
Who: Senate President John Cullerton
Where: Maggiano's Banquets 111 W. Grand Avenue, Chicago, IL
When: Speech begins at noon, Monday, Jan. 25, 2016. Media availability immediately following.
Any guesses on what he'll say?
- Posted by Rich Miller 34 Comments


* Either that, or we were way over-staffed back in the day. From Governing Magazine…
According to data from the National Association of State Budget Officers (NASBO), 33 states have fewer employees — 15 percent fewer, on average — handling the budget than they did in 2002. In 20 of those states, budget staff is down at least 20 percent. Cuts have been the worst in Illinois (51 percent), Arkansas (45 percent), and Kansas and New Jersey (44 percent).

"They have fewer people. They're swamped," said Scott Pattison, former director of NASBO and now executive director of the National Governors Association.
- Posted by Rich Miller 23 Comments


* Tribune…
Asked Thursday how he expects to get Madigan on board for anything in Springfield while blasting the powerful speaker publicly, Rauner smiled.

"He's taught us how to work with him," Rauner said. "Peace through strength."
That was Cold War doctrine. It worked, but this isn't "strength," it's rhetoric, and Madigan knows the difference.
* After saying he wouldn't budge, Rauner caved on his massive cuts to the autism program (announced on World Autism Day). He caved on money for local governments. He caved on funding the child care program. He caved on federal pass-through appropriations. He caved on paying state employees and funding schools during the impasse. He caved on judicial consent decrees for social services.
I'm sure I'm missing others.
The point is, talking big is far different than acting big, despite the oh so manly tough guy face yesterday…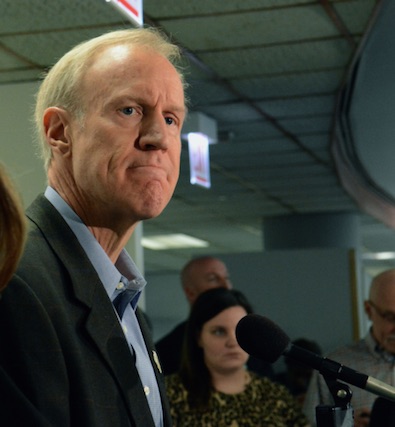 * Madigan and other Democrats look at all those flip-flops and see weakness. That could also be why Dan Proft felt he had to warn Rauner in a Tribune op-ed to not cave to AFSCME and the other public employee unions.
* Rauner is now attempting to sound as tough as possible ahead of his State of the State and budget addresses and he's making big mistakes in the process.
Not to mention that he's also ginning up a severely fact-impaired war with the state's only majority black university, which will further harm his ability to work with African-American legislators. And pitting the suburbs and Downstate against Chicago over school funding is deliberately divisive and could easily be racialized if he doesn't watch himself.
Knock off the words and get to work on moving this state - all of this state - forward, for crying out loud. Somebody doesn't agree with you? Well, OK, I feel your cosmic pain, but stop whining about it and find another way.
* Getting a deal with Cullerton (despite the governor's horrifically botched rollout) was a good start. That's strength. That's governance. Focus on that sort of thing. Madigan will respect you for that stuff because he'll have no choice.
Empty words? Not so much.
/rant
- Posted by Rich Miller 57 Comments


* Mike Schrimpf sent this out at around 5:30 yesterday…
Reporters –

To clarify a lot of misinformation that has been circulated today, below is a summary of President Cullerton's consideration model for pension reform, which the governor is supporting. If President Cullerton has specific concerns with legislative language, we are confident those can be worked out. What is imperative now is for President Cullerton to make clear whether or not he stands in support of the below consideration model, developed by his office.

Pension Plan Summary
Benefits

Tier 1 members (hired before January 1, 2011) in SERS, SURS, TRS, and GARS are provided two choices and must make an election between the two choices.

Choice 1

· COLA is the lessor of 3% OR ½ CPI, simple interest on the originally granted annuity.
In Exchange For
· Future increases in salary will count as pensionable salary.

Choice 2

· No changes to current level of pension benefits; COLA remains at 3% annually, compounded.
In Exchange For
· Future salary increases will not count as pensionable salary.​

Best,

Mike
* Any "misinformation" was solely created by Gov. Rauner himself when he told reporters…
"In order for President Cullerton's bill to be constitutional, salary increases have to be taken out of collective bargaining. This is a key point. Salary increases come out of collective bargaining. So the union has nothing to do with it in the future."
That's just not true. It's so untrue as to be ridiculous.
So, I asked Schrimpf why he didn't just admit the governor made a mistake, which would instantly clear everything up.
Somebody else from the office called and we had a bit of a shouting match. Friendly, to be sure, but quite loud and extended.
* And then Schrimpf sent an e-mail labeled "Important Update" at 8:19 pm…
Please attribute to governor's office:

"Perhaps the governor was not as precise in his word selection as the Democrats would have liked. To be clear, the governor agrees with the Senate President that the only labor law revisions that are necessary are those modest ones that ensure that employers shall not be required to bargain over compensation or benefits affected by President Cullerton's changes, the impact of those changes, or the implementation of those changes. This is what the governor was trying to say. We agree. Let's move forward to get pension reform done."
Reporters immediately raised suspicions in tweets and initial stories, wondering why Cullerton wasn't standing next to Rauner. Plus, Rauner's language was incendiary, sounding anything like someone who was trying to build bridges. He blasted Madigan, he blasted unions. Above all though, he said something Cullerton, who has courted unions, said he never would have agreed to: "Salary increases come out of collective bargaining so the union has nothing to do with it in the future. That is necessary and a requirement for this to be constitutional." Adding that his and Cullerton's lawyers agreed on this point. But, according to Cullerton, they hadn't.

Take-away: Rauner's credibility is on the line after this one. Illinois Playbook flagged earlier this week that Rauner was expected to make a series of announcements in the leadup to next week's State of the State address. If his intentions weren't questioned before. They will scrutinized closely, if not dismissed.

That said: Late Thursday, Cullerton's office seemed open to moving forward with Rauner if indeed he was not demanding a poison pill. But the whole episode reflected the deep-seated distrust among the parties. The media was not kind.
This isn't DC. But she makes a good point.
- Posted by Rich Miller 77 Comments


* As I told you the other day, Gov. Bruce Rauner's Turnaround Illinois PAC transferred $1.818 million to Dan Proft's Liberty Princples PAC. The rumor at the time was that Proft would use much of that money to defeat Sen. Sam McCann, the sole Republican to vote against Rauner on AFSCME's "no strike" bill. McCann has a GOP primary race against Bryce Benton.
Rate it.
- Posted by Rich Miller 56 Comments


* Press release…
Daily Public Schedule: Friday, January 22, 2016

Governor Bruce Rauner has no public events scheduled for Friday, January 22, 2016.
Hopefully, this means we won't have to watch the governor bungle something else today. He's been on quite a roll lately.
- Posted by Rich Miller 34 Comments