* From the governor's address…
Unfortunately, Illinois' economy has been split in two, one part with modest growth, the other in decline. There are areas within 90 minutes of O'Hare Airport that compete with other expensive mega-cities around the world. Thanks to access to global transportation infrastructure, first class universities, and world class cultural amenities, white-collar communities in the Chicago area have mostly been able to overcome the financial mismanagement that is now strangling Chicago and Cook County.

But it's difficult in the rest of the state: Harvey, Blue Island, Kankakee, Rockford, East Moline, Peoria, Decatur, Danville, Mt. Vernon, and Marion. Those communities have to compete with other states like Indiana, Wisconsin, Iowa, Tennessee, Texas and South Carolina. And too often, we've been losing.

In recent years, we've lost more than 300,000 manufacturing jobs.

Many of you have argued that we shouldn't try to compete with other states, because that would be a race to the bottom.

Well, the numbers prove otherwise.

Factory workers in Indiana, Wisconsin, Iowa, Tennessee, and South Carolina, when you adjust for the cost of living, now make more than workers in Illinois. That's unacceptable!

Factory workers in Texas are now making more than Illinois folks, even without adjusting for the cost of living.

That's outrageous! We should be kicking Texas' tail!

But the numbers don't lie. We are losing the race for good paying jobs.
* The Illinois Economic Policy Institute "fact checked" part of the governor's claim…
Since Jan 2012, hourly wages of manufacturing production (blue-collar) employees: +$1.60 in IL, +$0.34 in IN #SOSIL pic.twitter.com/tMdRJosFXN

— Illinois EPI (@IllinoisEPI) January 27, 2016
But earlier in the day, they kinda proved Rauner's point about wages adjusted for the cost of living with a tweet on property taxation…
Property taxes are high… because home values are high in Illinois. MORE: https://t.co/0StNbvyCTq #twill #SOSIL pic.twitter.com/qImGTprx80

— Illinois EPI (@IllinoisEPI) January 27, 2016
…Adding… The governor's office sent along this chart, which it says is based on U.S. Bureau of Labor Statistics - "Occupational Employment and Wage Estimates" and U.S. Bureau of Economic Analysis…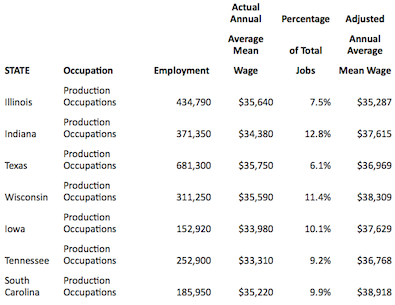 *** UPDATE *** The Tribune fact checked his numbers…
Rauner: "Our average working family is making less than they were eight years ago."

Fact check: Rauner bases this claim on the most recent U.S. Census Bureau data, but that's 2 years old: He's actually comparing 2014 with 2006. In 2014 dollars, the average Illinois household income did fall from $57,150 in 2006 to $54,916 in 2014. But take that drop with a healthy pinch of salt — it's well within the large margin of error built into the Census Bureau's calculations. It's entirely possible the average family made more in 2014 than it made in 2006 and that it's making more now than it made in 2008.

According to slightly more recent data from the Illinois Department of Employment Security, the state's average salary in early 2015 was $54,531, up from $45,961 in early 2007. Even allowing for total inflation of 15 percent over that period, that's a 3 percent increase in the average Illinois wage over the last eight years. […]

Rauner: "In many cases, people are paying more in property taxes over the course of living in their home than the original purchase price."

The right-leaning Illinois Policy Institute came up with this calculation. It adds up, if you assume the 2.32 percent effective property tax rate and, perhaps a little unrealistically in most cases, that a homebuyer will live in a home for at least 43 years
There's more at the link.
48 Comments















































































































































Sorry, comments for this post are now closed.