* Gov. Rauner is still taking heat for saying some Chicago schools resemble "crumbling prisons"…
Speaking at Crain's Future of Chicago conference, [Mayor Rahm Emanuel] said Rauner is "tearing down" school kids and teachers who have made remarkable progress turning around CPS. He went on to accuse the GOP governor of "running down" the city's economy.

In a phone call later to emphasize the point, Emanuel expressed amazement that Rauner recently likened many city schools to "crumbling prisons." Said the mayor rhetorically, "Would you refer to schools as prison?" Schools are "the city's future," Emanuel replied to his own question.
* And now this..
A new political ad from Illinois Republicans is using a photo of an abandoned building to portray Chicago Public Schools to a downstate Illinois audience.
We talked about the new ad yesterday. Here's the image in question…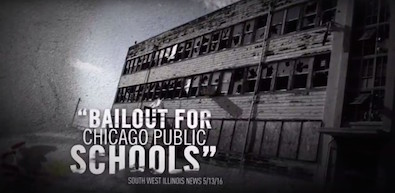 * Back to the WBEZ story…
In fact, it's on the stock photo website shutterstock.

"It's up to the individual viewer to decide how they interpret that," said Steven Yoffe, a spokesman for the Illinois Republican Party. "But the message is that these representatives and the senator say one thing when they're in their district and they do another thing in Springfield."

Yaffe said he's not sure if it's a photo of a CPS school, and classified the ad as a "substantial TV ad buy, network buy" in Southern Illinois.
Click here to see the original image, which is described as "Low-angle perspective of an abandoned office or school building with broken windows, graffiti, and debris."
* Emily Bittner at CPS…
"It's disgraceful that Governor Rauner's allies are spreading ugly distortions about Chicago Public Schools, where students are improving faster than their peers in Illinois and the nation. Schools all over Illinois need a funding system that treats students with dignity and equality, which is why so many downstate superintendents are opposed to the governor's status quo education budget. The Governor needs to unite the state to pass a budget, not divide us."
* Ah, but it gets better. Click here for another angle of the same building. Notice the mountains in the background? Last I checked, Chicago had no mountains.
During the past campaign, Rauner was criticized for using a stock photo of a mountain range in a TV ad about Illinois.
68 Comments











































































































































































































Sorry, comments for this post are now closed.