* From a press release…
U.S. Senator Mark Kirk (R-Ill.) today introduced the SEC Overpayment Credit Act (S.3461) to give the U.S. Securities and Exchange Commission (SEC) authority to credit national securities exchanges and other self-regulatory organizations for fees and assessments that have been overpaid to the regulator in the past ten years. The SEC has identified approximately $3.4 million in overpaid fees by the exchanges over the past ten years. However, they contend they do not have the authority to offset past years' overpayments against future years' payments.

"As a matter of good governance, agencies of the federal government should not keep money that does not belong to them. The exchanges play a vital role in our economy and they should be made whole. This legislation will directly impact Chicago by compelling the SEC to return $154,000 in overpaid fees to the Chicago Stock Exchange," said Senator Kirk.
I'm sure you made their day, Senator.
* In other news, here's the Tribune…
President Barack Obama will visit Chicago on Oct. 9 to raise money for Democratic U.S. Senate candidate Tammy Duckworth, a campaign official said Wednesday.

The $1,000-a-ticket fundraiser will be held at the Stony Island Arts Bank in the Grand Crossing neighborhood. The maximum donation is $12,700, which gets the donor a photo opportunity. Hosts include Obama Foundation Chairman Martin Nesbitt and wife Dr. Anita Blanchard.
* Meanwhile…
American Unity PAC, a federal super political action committee backing Republicans who support gay rights, said it's launching a digital ad buy through Google to help re-election-seeking Republican U.S. Sen. Mark Kirk.

The group said it has dedicated $125,000 to Google's online platforms, including YouTube, to run an ad about atrocities the Iranian government allows to be committed against women, Christians and gays.

The ad is based on Duckworth's support of the U.S.-led effort to reach a deal aimed at curbing Iran's ability to develop a nuclear weapon.

"Tammy Duckworth supported giving billions to that regime without concessions for human rights violations. When we had leverage, Tammy Duckworth didn't stand up for the vulnerable," a woman narrator says.
* The ad…
* Gov. Rauner took reporters' questions today on what he thinks about a possible CTU strike (see below), why he signed the ACLU-backed bill that restricted police "stop and frisk" practices (he had a pretty thoughtful response, but no mention was made of Donald Trump's criticism); his thoughts on shootings on Chicago expressways (they're spilling over, he said, from Chicago's heavy violence, and then found a way to bring it all back to his Turnaround Agenda); changes in Medicaid policy for childrens' flu shots so close to flu season (he didn't know about it); whether his work with African-American lawmakers on criminal justice reforms gives him a wedge he can use against Speaker Madigan (he repeated his claim that he's meeting with people individually and is hearing positive things); and his thoughts on Chicago State University's ouster of its president (nothing all that new).
* Raw audio…
* Related…
* Teachers Strike Would Be 'Tragic,' Gov. Rauner Says
* From the Rauner campaign…
GOV. RAUNER BLOG NOW LIVE

We launched our new blog on BruceRauner.com. This blog will keep Illinoisans up-to-date on important news and events involving Gov. Rauner. It will also feature original content from the Governor and his team. Check it out!
* The blog is here. From what appears to be its latest post…
Protecting Taxpayers

AFSCME is pushing for generous pay increases and cadillac health coverage that would cost taxpayers billions . Governor Rauner has said repeatedly that Illinois is broke and has no extra money to give AFSCME.
Commenting does not appear to be available. Bummer.
* Anyway, go take a look and report back on the governor's latest communications platform.
* Kerry Lester yesterday…
Rolling Meadows Mayor Tom Rooney will be sworn in as the state's newest senator at 7 p.m. today at Rolling Meadows City Hall with Cook County Judge Marty Kelley officiating. Rooney tells me the two have known each other through the Palatine GOP since before Kelley was a judge or Rooney was mayor. Rooney replaces Matt Murphy of Palatine, who resigned Sept. 15 to join a public affairs firm.
You'll recall that Gov. Rauner and some of his pals interviewed all the candidates for that job.
* So, let's welcome our new legislator…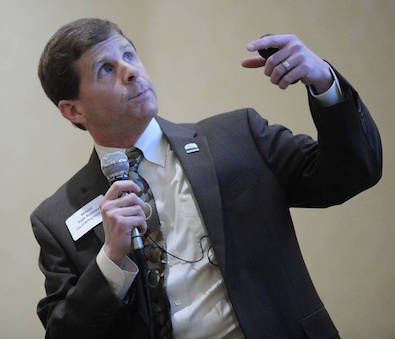 * The Question: Caption?
* AP…
A federal judge has denied an Illinois attorney general's office request for him to reverse his own decision halting same-day voter registration at polling stations.

A Thursday hearing in Chicago federal court lasted just minutes as Judge Samuel Der-Yeghiayan told lawyers the request is denied.

He ruled earlier this week that the same-day registration option as written benefited Democratic strongholds, like Chicago, and disadvantaged rural regions

Lisa Madigan's office argued that yanking the option so close to the Nov. 8 election would unfairly deny some citizens voting rights. But in a two-page written explanation Thursday explaining his latest ruling, Der-Yeghiayan says, "This court did not restrict the rights of any voters. The legislation did."
Madigan's rejected motion to stay the ruling is here. She plans to appeal. I'll post the judge's written decision as soon as I get it.
…Adding… The judge's order is here.
* We have a good example in Champaign County about how this state can enact the strongest gun-crime laws in the country and everyone can still wind up shaking their heads in disbelief when a gun offender gets out of prison and almost immediately kills somebody.
The defendant in this case is Robbie Patton, who is wanted for the murder of one person and the wounding of three others in a now infamous shooting incident near the University of Illinois campus.
Patton was sent to a boot camp instead of prison and released after serving a combined 259 days in local jail and the camp…
Although the Champaign County state's attorney's office objected to the 18-year-old being considered for the military-like alternative to imprisonment, Judge Tom Difanis recommended Patton for the program, formally known as Impact Incarceration.

"None of us have a crystal ball. By noting that we objected, I am not criticizing Judge Difanis. At this point, the responsibility for what happened Sunday is on Robbie Patton," State's Attorney Julia Rietz said. […]

Patton pleaded guilty in April before Difanis to aggravated discharge of a firearm, admitting that on Dec. 14, 2015, he fired a gun in the direction of a person in the parking lot of the Steak 'n Shake, 2010 N. Prospect Ave., C.

Probation is an option for that Class 1 felony, but Patton's eight-year prison sentence was a result of a plea agreement negotiated by Assistant State's Attorney Matt Banach and Patton's Champaign attorney, Dan Jackson.
OK, wait. Eligibility for boot camp requires that sentences be no longer than 8 years. So, while the state's attorney did publicly object to boot camp, her office negotiated a plea deal that made boot camp possible.
And, as a local article points out, "boot camp recommendations by Champaign County judges for first-time young adult offenders are common." The state's attorney's office had to know that boot camp was a likely outcome of that deal.
* OK, let's back up a second. Here's an explanation of Patton's original crime…
Patton is thought to have fired a gun at two men in the parking lot of the restaurant about 5:30 p.m. on that Monday. Police said he and Antonio Wright were inside the restaurant when they were approached by two men who asked them to step outside.

They did, and Patton retrieved a gun from a sport utility vehicle and fired it at the other men. No one was hit.
Shooting at people in a crowded public area. If that sounds familiar, it's because that's pretty much exactly what Patton is being accused of now.
* Patton was also arrested just two days after being paroled…
On Sept. 11 — two days after being granted parole — UI police arrested him for allegedly lying about his identity. A police report said Patton was a passenger in a car that police stopped about 1:15 a.m. that Sunday near Green and Locust streets for an alleged traffic violation.

Smelling cannabis emanating from the car, police had the driver, Tyren Mercier, 18, of Champaign, get out. He was later arrested and charged with possession with intent to deliver cocaine and possession of cocaine after police said they found individually wrapped packages of cocaine in his wallet. Patton was released from the county jail that same day after posting bond and was later charged with misdemeanor obstruction of identification.
Um, according to the circuit court clerk's website, Patton was released without bond (click here and input the case number of 16CM000877). But, whatever. That's neither here nor there, I suppose.
So, two weeks after he was released on parole, and days after he got out of jail for another offense, Patton allegedly killed one person and injured three more over an escalated argument about a spilled drink.
* I'm not saying we shouldn't have tougher gun-crime laws. I'm solidly on record in favor of them. They're needed. But prosecutors always have discretion to reduce charges to avoid triggering longer sentences. And they can also agree to let people out of jail without posting bond.
Changing laws won't change those facts of legal life.
REPORTER: "Did you watch last night's debate?"

RAUNER: "I did not."

Which means he didn't hear his party's nominee, Donald Trump, say this about Illinois' largest city:

"In Chicago they've had thousands of shootings — thousands - since Jan. 1. And I'm saying 'Where is this? Is this a war-torn country? What are we doing?' "

When asked about it, this was the governor's response:

"I'm not commenting on the presidential politics."
* Last week, before the debate, I asked the governor's office where Gov. Rauner stands on reinstating "stop and frisk." Trump had said that this was absolutely needed in Chicago. This was the response…
Think I will point you to SB 1304 that he signed - supported by ACLU, etc. It addresses a range of issues including the stopping issue - which requires giving a receipt to folks when stopped.

https://capitolfax.com/2015/08/13/rauner-signs-body-cam-bill/
Yep. The body cam bill did, indeed, lay down rules on stop and frisk. And the ACLU did back the proposal.
And Trump repeated his assertion during this week's debate that stop and frisk must be implemented in the city.
* Now, check out this tweet from CNN's Senior White House Correspondent Jim Acosta…
Trump talking points on taxes: "Mr. Trump complies with all applicable rules and regulations" pic.twitter.com/DeoVA6Bslw

— Jim Acosta (@Acosta) September 28, 2016
* Drill down…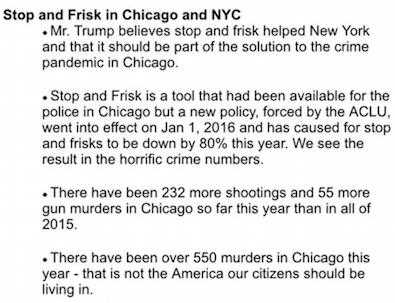 So, maybe the governor will have to answer now that the Trump campaign is blaming a bill signed into law by Rauner for the increased crime problem in Chicago. Or not. He's been awfully good at avoiding this topic.
* The Southern Illinoisan has taken a huge amount of local heat for publishing a political cartoon (click here to see it) deemed offensive to local sensibilities. The publisher apologized for publishing the cartoon…
The Southern Illinoisan regrets the editorial cartoon selected to run in Sunday's paper. The syndicated cartoon was offensive to law enforcement and those of us who support law enforcement. Though we respect diverse opinions, we do not believe this was in good taste, nor constructive for dialog at the national or local level. We value the service of law enforcement officers serving southern Illinois, who put their lives on the line every day to keep our communities safe. Though editorial cartoons are rooted in satire to provoke thought, the selection of this cartoon was not vetted through our usual editorial process. We have implemented measures to prevent this in the future.

We apologize to those we offended, communities that we serve and our local law enforcement.
* A subsequent editorial explained more…
The purpose of our Opinion page is to create a thoughtful forum for a community conversation that includes the exchange of ideas, viewpoints and emotions about difficult issues.

It's never our intention to make readers unnecessarily uncomfortable, though recent events in the world and across our country have had that effect on all of us. We do intend to provide commentary from a variety of sources that brings into a logical focus the most unsettling issues and debates.

An editorial cartoon we published Sunday on the Opinion page didn't live up to those desires nor did it advance the conversation beyond the emotion of another police-involved shooting.
Social media has exploded in anger (as usual in stuff like this), with lots of calls for boycotts.
* And now Rep. John Bradley's Republican opponent says he doesn't want the paper's endorsement…
Dave Severin, candidate for state representative in the 117th district, released the following statement today announcing his refusal to seek the endorsement of The Southern in the aftermath of their attack on law enforcement officers:

"I was scheduled to be interviewed by The Southern Illinoisan's editorial board on October 6th in the hopes of receiving their endorsement. Today I am announcing that I do not wish to receive their endorsement and will disavow it should I receive their recommendation. On Sunday, September 25th, The Southern's editorial board decided to publish an offensive and inappropriate "cartoon" attacking the men and women who serve and protect our communities every day as law enforcement officials. These brave men and women deserve our respect and our gratitude – nothing less.

I do not want The Southern's endorsement and I will not seek it."

NOTE:

The campaign does not wish to restrict access to the candidate and will make the distinction between opinion editorials and reporting. Mr. Severin will continue to provide statements and interviews to reporters from The Southern.
Thoughts?