* Lynn Sweet on President Obama's Chicago fundraising events…
The afternoon event will be at the Stony Island Arts Bank, an arts and cultural center founded by Gates, at 6760 S. Stony Island Ave, Chicago.

The price tiers start at $1,000 for an individual donation to $12,700 in a pledged contribution or a promise to raise that much from other people. Top givers and raisers get a VIP reception and a photo.

The proceeds go to the Illinois Coordinated Victory Fund 2016, a joint fundraising committee with the Democratic Party of Illinois and Tammy for Illinois.
* Speaking of DPI, the state party has started its vote by mail program this week with a letter from Secretary of State Jesse White, a form and a postage-paid return envelope…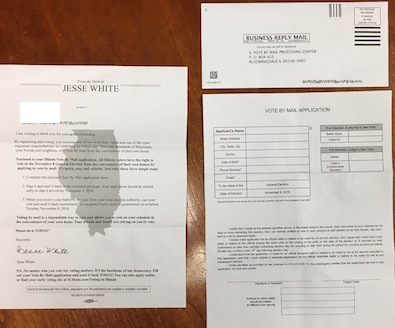 * Except the form is far too wide to fit in the envelope, because the envelope has glue strips inside that make it much smaller than it appears from the outside. The internal glue strips are highlighted for you here along with the form…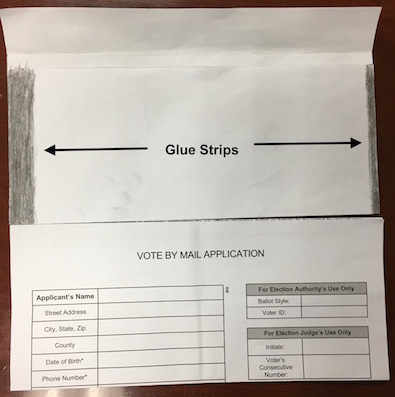 * So, the potential voter could very well wind up tossing the whole thing in the trash rather than deal with jamming the form into the too-small envelope. Or, since they've already filled out the form by then, maybe they'll just fold it again themselves, which makes the return envelope a lot thicker…
And if the resulting hand-folding winds up being more than a quarter of an inch thick, the Postal Service charges a higher price, and may not even process it.
Oops.
* Yeah, it's a little thing, but little things can matter a lot and the Democrats' coordinated campaign has had real problems with this sort of stuff in the past.
20 Comments



























































Sorry, comments for this post are now closed.