* The governor's office released a video of Gov. Rauner's morning show interviews today. From that video…
"We tried a big tax hike in 2011. They did that. Fixed nothing. Job losses accelerated and the pension liability went up."
* From the Bureau of Labor Statistics' Illinois page…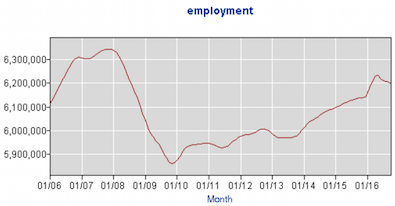 And, of course, the pension liability has continued to rise even after the tax hike partially expired, so that argument is essentially meaningless, although it does sound good to the teevee people.
…Adding… More from the governor's round of morning show appearances. This one from WGN TV…
Rauner is also pushing four key ideas that will help benefit the budget: reforms to get more jobs, bring down property tax burden, properly fund our schools and term limits on all elected officials.
More jobs would create more revenues. But how many more jobs can be created and how much additional revenues would they generate? He doesn't say. Lowering the property tax burden would conceivably free up money that could be used for job creation, but how much? Again, he doesn't say.
Also, too, properly funding schools will require more money, not less. And I'm not quite sure how term limits will "benefit the budget."
58 Comments













































































































































































Sorry, comments for this post are now closed.