* Interesting point…
The 2 years before @GovRauner: 3 credit downgrades

The 2 years since @GovRauner took office SIX credit downgrades#UnprecedentedFailure pic.twitter.com/Vy4K1leLGW

— IL Working Together (@IllinoisWorking) February 3, 2017
* The full ratings history from COGFA…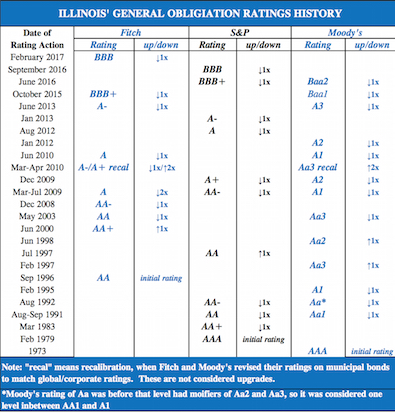 By my count, that's 12 downgrades during Pat Quinn's six years in office and two upward recalibrations. At the current rate, and if nothing changes, Gov. Rauner will surpass Quinn's downgrade numbers by the end of his first four-year term.
* With that in mind, this is what candidate Rauner said about Quinn's downgrades in 2013…
llinois' credit rating just got downgraded again, the 12th time since Pat Quinn became governor. Unacceptable.
26 Comments













































































Sorry, comments for this post are now closed.