* Gov. Rauner's Facebook Live event yesterday started late because of problems with the captioning feature. During the delay, nobody noticed that Rauner's mic was hot. The Tribune tells us what happened…
Rauner complimented the attire of an off-camera female aide, saying, "You've got that good red dress going. It's a good … very …"

The aide responded that it was "a day of love," and lamented that her boyfriend had moved to Chicago and that it would be "just me and my dog tonight."

"Are you going to wish everyone Happy Valentine's Day?" the aide asked Rauner. The governor replied, "I wasn't, but now maybe I will."

"You don't have to but," the aide said before Rauner cut her off, adding, "I think it's a good idea."

"It's humanizing," the aide responded as Rauner laughed.
Apparently, the governor needs advice on how to appear more human. /s
* And check this out from when they were testing the caption feature…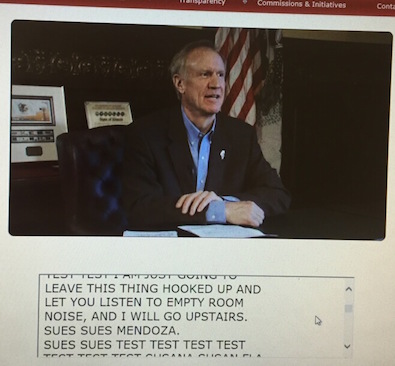 Wow. Even their techies are on-message.
24 Comments







































































Sorry, comments for this post are now closed.