* Mayor Emanuel laid out his plan today to keep the school doors open. Tribune…
The CPS board will vote on Wednesday to take out a $389 million short-term loan backed by expected state aid payments that have been delayed by the long-running budget impasse, said Carole Brown, the city's chief financial officer. […]

State block grant payments now are nine months behind schedule. City officials say the state now owes it $467 million, but Brown said the district is only allowed to borrow on 85 percent of that amount.

The new short-term borrowing, which will come at a hefty cost because of the school system's junk bond rating, will allow the district to make a required June 30 contribution to the Chicago Teachers' Pension Fund, Brown said.

The fund is owed $721 million. The borrowed money would cover the bulk of that payment, while money coming in later this summer from a first-time pension property tax levy of $250 million will cover the rest. […]

Even if Emanuel's short-term plan is implemented and carries CPS through the summer, the district would still face a massive shortfall in 2018 absent some new source of revenue or infusion of cash from the state. The mayor is expected to unveil another plan to deal with next year's finances, one that likely would include a tax hike, according to sources familiar with the mayor's plans.
* Reuters…
The grant money upon which the borrowing will be secured is part of $1.1 billion in state payments Illinois owes to more than 400 school systems. The state has been unable to distribute those grant payments because of the unrelenting budget stalemate.

The mayor's office said CPS expects to receive its allotment of state grant funds in "coming months." But Abdon Pallasch, a spokesman for Illinois Comptroller Susana Mendoza, said on Friday his office has no idea when the money will be disbursed.
The comptroller's office just made last September's quarterly grant payment in April. So, it's going to be a while before CPS gets any more of that money.
* Click here for more from CPS, including stories about other struggling schools waiting on grant money.
Attached to the press release was this map, which CPS claims shows "school districts across Illinois that are facing funding challenges because of the state's delayed payments"…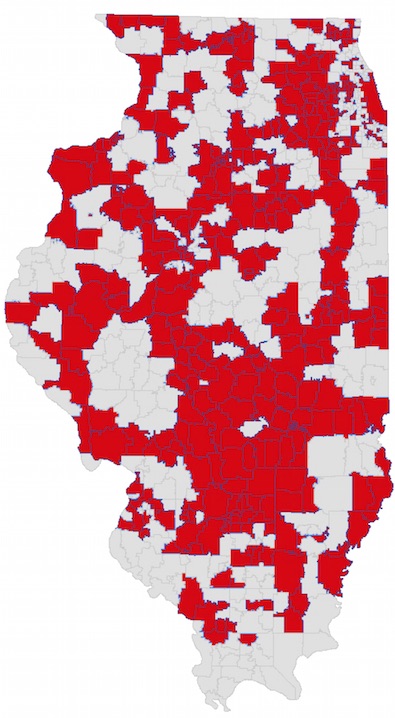 6 Comments

















Sorry, comments for this post are now closed.