* There was some question yesterday about what the loss of Powerball and Mega Millions sales would do to the state budget. Here's CBS 2…
Figures for 2016 show $99 million in Mega Millions sales and $208 million in Powerball sales in Illinois. About 40 percent of each comes back to Illinois in revenue. […]

"That's money that won't be available for helping schools," [Laurence Msall of the Civic Federation] said.
So, that's about $122 million.
* Also…
The loss of the ticket sales will also impact store owners, because lottery buyers also shop.

"I would estimate on average Powerball and Mega Millions brings in $25,000 to $30,000 a year on average," said Jigar Shah. "That would possibly lead smaller ones to go out of business."
That's a big chunk of cash.
* And there's also a bit of mystery about who is about to dump whom…
Lottery spokesman Jason Schaumburg said Powerball would be suspended after the June 28 drawing, and Mega Millions would be suspended after the June 30 drawing if a budget deal isn't reached.

He would not respond to questions about whether the decision to end sales of the popular interstate games was made by the Illinois Lottery or the organizations that administer the games.

A spokeswoman for the Multi-State Lottery Association, which runs Powerball, declined to confirm that a decision had been made to end sales of that game.

"The Multi-State Lottery Association is focused on protecting the integrity of its games and the experience of its players," association spokeswoman Anna Domoto said in a written statement to the Tribune. "We work closely with the Illinois Lottery, and all lotteries selling Powerball, to achieve those objectives. … Matters involving the Illinois Lottery should be directed to Illinois officials."
- Posted by Rich Miller 4 Comments


* Sun-Times editorial…
We're still pushing for the passage of an actual state budget between now and July 1, the beginning of the next fiscal year, because we're hopelessly naive that way. In the meantime, here are 10 bills, all largely independent of the budget stalemate, that the governor can sign into law now.
* Bob Reed…
For the second time this year, an influential group of Chicago-area business leaders is openly challenging the Trump administration's tough anti-immigration policies.

But this time around, the more than 170 corporate CEOs, midsized-business owners, neighborhood entrepreneurs and investors are pressing Gov. Bruce Rauner to join their crusade.

This week, the Illinois Business Immigration Coalition sent a letter to Rauner urging him to sign the Illinois Trust Act, which recently was passed by the General Assembly. The bipartisan measure seeks to provide increased legal protections to immigrants.

Rauner should sign this bill into law, despite the possibility of political blowback or maybe a nasty tweet from President Donald Trump. It will boost the state's economic fortunes, while enabling Illinois to chart a realistic approach to dealing with the complex issue of immigration, particularly its impact on labor and business.
* Andy Shaw…
Meanwhile, I'm pleased to report that, despite the budget blues, legislators were once again capable of getting important things done. Last year they passed 23 local government reform bills that accelerated the long march to the open, accessible, honest and efficient government taxpayers are entitled to.

Gov. Bruce Rauner signed all but one—he vetoed automatic voter registration—but this year he's promising to sign a new and improved AVR measure that could legally put thousands more Illinois residents on the voter rolls. That's a major civic engagement victory that can strengthen our fragile democracy.

We're also asking the governor to sign 11 other good-government bills making their way to his desk—measures that would give the reform fight even more momentum by increasing local government transparency and accountability, and one group of bills in particular with the potential to be game-changers:

Lawmakers finally approved "smart streamlining" proposals that, among other reforms, would enable all 102 Illinois counties to begin "consolidating"—merging or eliminating overlapping and arguably unnecessary units of government, including many of our 1,400 antiquated townships.
Further complicating the job of paying the stack of unpaid bills, which stood at $14.8 billion at this writing, is an out-dated state law which makes it impossible to be certain how many financially wounded state creditors are out there and how much the debt to them will end up costing taxpayers.

Currently, state agencies are only required "to report the aggregate dollar amount of any bills held at the state agency on the previous June 30 to the Office of the State Comptroller." As a result, often huge piles of overdue bills are dumped on the comptroller all at once.

Unfortunately, nothing can be done about our state's checkbook balance without a state budget, and we continue to urge lawmakers and Gov. Bruce Rauner to end the political gamesmanship and do their duty before the start of the July 1 fiscal year.

Fortunately, however, something can be done immediately about the comptroller's inability to accurately estimate how much the state owes and to whom. Gov. Rauner has only to sign the long-overdue Debt Transparency Act passed by the General Assembly this spring.
* Related…
* Tribune editorial: Why an elected Chicago school board is still a bad idea
- Posted by Rich Miller 1 Comment


* From a Quad Cities TV station report on the special session…
The governor says he supports a Republican budget that calls for term limits and a four-year property tax freeze.
That's one weird budget.
Also, nowhere in the story is any mention made that the governor is supporting a plan that includes an increase in income taxes and a new service tax.
…Adding… To be clear, this goofiness is on the TV station, and not on the governor's office. Rauner never said any such thing.
- Posted by Rich Miller 18 Comments


* From the ILGOP…
Morning Rich,

Take a listen to Pritzker's interview on WTTW last night when you get a chance. "Yikes" is really the operative word after watching this.

http://chicagotonight.wttw.com/2017/06/15/jb-pritzker-battles-crowded-democratic-field-rauner

Pritzker comes across terribly in this, ducking basic questions. Looks like a total insider.

For instance, Pritzker was asked three times whether he thinks we should ban property tax assessors from accepting contributions from property tax appeals attorneys. He dodged every time.

He even criticized Chris Kennedy for using property tax appeals attorneys who donated to Berrios, when Pritzker's lawyers did the same - giving six figure contributions to Berrios and his daughter.

Towards the beginning of the interview, Pritzker also said that his uninhabitable mansion was "in disrepair when we acquired it." As interior photos from when the property was sold to the Pritzkers show, the mansion was clearly liveable.

Finally, towards the end of the interview Pritzker is given two opportunities to criticize Madigan for anything and ducks the question each time.

Not a good interview for Pritzker's campaign at all.

Thanks,
Steven
* They also sent along three clips…
He'd only say that the question should be looked at in the broader context of campaign finance reform. I suppose we should give him a bit of credit for staying on message. He's almost as disciplined as Gov. Rauner in that regard.
* And…
He needs a better answer than this.
* And here's the unintentionally funny Madigan dodge…
Lots and lots and lots of words.
* On the other hand, the Pritzker folks sent along their own clips, with transcripts. Ponce asked whether Pritzker considers Chris Kennedy to be his biggest competitor right now…
* Transcript…
Ponce: By the way, do you consider Chris Kennedy to be your biggest competitor right now?

JB: My biggest competitor is Bruce Rauner. I think that us having a fight with him this Democratic primary and attacking one another is a mistake. I think that there are 8 candidates as you mentioned at the beginning of the broadcast. And the 8 candidates on the Democratic side all believe one thing, which is Bruce Rauner should not be governor and we should be focusing on the failures of this governor because he is the one who has not stepped up to the plate with a constitutionally mandated budget. I mean, a balanced budget is what is required in this state and we've now gone 716 days without a balanced budget, without even passing a budget. It's longer than any other state in the United States, in the history of the United States, so that is a massive failure and as you know, one of the challenges of that is the safety net is falling through. That people aren't able to get to a mental health facility because they're closing, they can't find a shelter because they're closed, and we've got unfortunately middle class and people who are striving to get to the middle class who are looking for jobs and this governor hasn't created any because he isn't passing a budget. Who wants to invest in jobs in this state if we don't have a budget and you don't know what the future is going to look like? He's created massive uncertainty.
* Ponce then asked how Pritzker would improve the state's fiscal problems…
* Transcript…
Ponce: As we mentioned, the state's credit worthiness is now just approaching junk status, how would you change that if you were elected governor?

JB: Well first thing that all the rating agencies have said about our state is 'Pass a budget, balance the budget,' so the first thing you've got to do is get that done. And remember the new governor doesn't come in until January of 2019, so I hope the problems don't get worse between now and then, but it does appear this governor really isn't going to get to a budget. We'll see. I hope they do get to a budget in Springfield. But in January 2019 the very first thing we are going to have to do is pass a stopgap half year balanced budget, and then we are going to have go for a full year at the same time balanced budget. And that's going to require real leadership.

Phil: JB Pritzker, so much of you is known in the public sphere, personally what do you want people to know about you and who you are as a person and your background that maybe they don't know?

JB: Maybe the most important thing to know is that my life I have tried to work hard for the social justice values that my parents stood for. The things that really matter to me are standing up for people who don't have somebody standing up for them. And in the state of Illinois that unfortunately has been middle class, people who are striving to get to the middle class, and the people dependent upon the safety net in the state. No one's really standing up for them and those are the fundamental values of the Democratic Party too. So when I become governor that's my goal, is to stand up for them, it's to make their lives easier, and you know we need a progressive income tax.

Frankly, I think we are going to need to get, to legalize marijuana so that we can get some tax revenue in there too, and also change the criminal justice system around that, make us safer. But there are a lot of things that need changing in the state especially expanding health care and not contracting it like the way Donald Trump and his local partner Bruce Rauner are trying to.
* Other stuff…
* Rep. Will Guzzardi endorses Sen. Daniel Biss

* Twitter coverage of Ameya Pawar's "virtual town hall"
- Posted by Rich Miller 22 Comments


* Ugh…
State Senator Tom Cullerton (D-Villa Park) is outraged at the latest golden parachute payout at Northern Illinois University.

News released today outlines NIU's plan to pay President Doug Baker $600,000 plus benefits when he steps down later this month in the wake of the Illinois Inspector General's investigation into illegal hires made by the university.

"As students across the state of Illinois are struggling to pay tuition and fees, our public higher education institutions are handing out golden parachutes to disgraced administrators for violating taxpayers' trust," Cullerton said. "What message are we sending? This needs to stop now. Illinois needs to get out of the business of paying university administrators off for their mismanagement and failing to comply with state laws."

Under the deal, Baker will receive a full year's salary of $450,000 and $137,000 to not serve as a member of the College of Business faculty. He also will be paid up to $30,000 for his "reasonable, unpaid expenses for legal counsel" related to his time at NIU.

"It is simple. If you mismanage state funds, you should not be rewarded," Cullerton said.

The Inspector General's report was publically released on May 31. The report details hires made by Baker and his administration that were paid contracts over $20,000, which are supposed to be subject to competitive bidding in accordance to state law. The jobs were incorrectly classified to get past the requirement according to the report.

The Chicago Tribune went on later to report that two of the nine employees involved in the hiring scandal made more than $400,000 for 15 and 18 months of work.

In the midst of the state's budget impasse, NIU announced in May they will be eliminating and reducing 150 staff positions, which included 30 active employees. The active employees will have to transition to open positions across the university, exercise their civil service employment rights within their employment classifications or have contracts that will not be renewed.

"We are in the middle of a budget impasse. Every dollar, every penny, needs to be put toward the betterment and education of our children," Cullerton said. "This deal is a betrayal of taxpayers' trust. State dollars should not be used to line the pockets of failed administrators. "

Cullerton is calling for tougher regulations to stop state universities and community colleges from paying out administrators while under investigation or found guilty of university mismanagement
- Posted by Rich Miller 27 Comments


The Senate president said he won't call a Republican spending bill without a corresponding revenue bill.

Senate Democrats already passed a revenue bill with no Republican support. And while Rauner and the Republicans say they'll now back a tax plan on their own terms, Republicans aren't on record for voting for the measure, which would hike the income tax to 4.95 percent.

"I'm not going to vote on that [spending bill] unless we have a corresponding revenue bill to vote on, and they have to introduce that. And it would be helpful if the governor would say he's for it because he's never done that," Cullerton said. "We are not going to take up any spending bills, especially since we already passed the governor's exact introduced spending bill. So it's hard to say that there's anything wrong with that if you are a Republican."

The Republican plan introduced on Wednesday is reliant upon a revenue bill, but didn't include one. The politically unpopular measure continues to be a sticking point in the budget impasse.
* Despite what the Senate President says, a new spending bill is needed because the Senate Democrats' plan didn't factor in paying off the state's mountain of past-due bills. That's a very huge problem that has to be dealt with in an honest way.
But it would be helpful if the governor and the Republicans introduced their own tax hike bill. Introducing their own bill would prove they're serious about this new "Capitol Compromise." They're going to need to at least amend the Senate's tax hike bill (SB 9) anyway to change the income tax increase from permanent to temporary and to delete the retroactive to January 1st provision.
* There's another problem with the new Rauner/Republican tax hike plan, however. A commenter reminded me earlier today of an Illinois Department of Revenue memo I published in late May about the Senate Democrats' tax hike proposal…
Service tax provisions. The bill inserts 5 discrete services in the Retailers' Occupation Tax Act (ROT) (storage; laundry and dry cleaning; private detective, private alarm, and private security service; structural pest control service; and tattooing and body piercing)… It is the Department's opinion that there is a substantial risk that the service tax components violate the uniformity clause of the Illinois Constitution […]

Entertainment Tax Fairness Act. The bill creates a new 1% tax on subscribers of entertainment (paid video programming through numerous methods including cable). It is our opinion that this tax could be challenged under the Federal Internet Tax Freedom Act (ITFA). […]

Video Service Tax Modernization Act. SB 9 creates a new 5% tax on providers of direct-to-home satellite service, direct broadcast satellite service, and digital audio-visual work. The bill does not tax cable companies. It is very likely that this tax will be challenged by satellite service providers.
If Gov. Rauner and the Republicans listen to IDOR and jettison that revenue, they'll have to find a way to fix the resulting budgetary hole. Because, according to IDOR, the Rauner/Republican budget may not actually balance the way it stands now.
Oops.
*** UPDATE ***  A commenter on another thread reminded me that the Illinois Policy Institute's Liberty Justice Center has threatened to sue if some of the Senate's tax hikes are signed into law…
These new taxes on services, satellite TV, and streaming services aren't just a nuisance; they are unlawful, according to attorneys at the Liberty Justice Center, a Chicago-based nonprofit law firm. […]

"If Senate Bill 9 becomes law, the Liberty Justice Center stands ready to immediately bring a lawsuit on taxpayers' behalf to have these unlawful taxes struck down."
The governor should address these issues.
- Posted by Rich Miller 20 Comments


* As we've already discussed a bit, the Illinois Policy Institute is promoting Facebook posts that bash the GOP's budget proposal. Here's the first one…
Illinois Republicans introduced a budget plan that hits Illinoisans in fiscal year 2018 with the same $5 billion-plus tax hike from the "grand bargain" that failed in May.
That plan starts with a 33% income tax increase, and includes questionable new taxes on services such as Netflix, dry-cleaning services and more.
* A lot of their commenters thought they'd either made a mistake or were deliberately spreading "fake news"…
No no… It's the democrats that want the 4.5 billion tax increase….. Rauner wants a 4 year property tax freeze…. The Dems …. Won't budge!!!! Fake news!!!

This is fakenews…. Rauner has stated he will veto this

The only thing Rauner has said about this is that he is calling a special session to start Jun 22 and not end until June 30. Why is this site full of bait and listen? Cite your sources.

I've been following this site for far too long. There are multiple admins with varying opinions. For the most part, they are FOR Madigan and the members are 75% against him. If whoever is answering to this post on behalf of Illinois Policy could cite their sources when they say Rauner is behind this, I'll believe them. Until then…#FAKENEWS. Every other source states nothing close…. Only that Rauner wants to "round 'em up" and get the legislators working again toward a balanced and sane budget. He has always said he'd veto overtaxation. And there isn't a single story or statement to back this post!!!! I call BS and #FAKENEWS until then.

Illinois Policy is lieing. This is bait.

FAKE NEWS…..ITS THE DEMOCRATS WANTING THIS

I think you have Republicans and democrats mixed up

I would need to hear Rauner say he supports this before I even began to believe it.

Sorry!!!! FAKE NEWS…DEMOCRAT, REPEAT, DEMOCRAT PLAN, DEMOCRAT BUDGET!!!

It is the domocraps not Republicans this site is full of it

Liar

fake news.

Fake news. It's the democrats that are bleeding we the people.

This site has to get the facts right.Your as bad as fake news
* But then during a subsequent post that asked folks to call the governor's office, the reality started to sink in amongst the faithful…
Call made. Message left. That message was this. "We are Republicans. We vote Republican. If you (Governor Rauner) sign this proposed tax hike into law, we will campaign against you".

Reject any tan increase as it's Chicagos problem not ours!

Reject it no more taxes thank you period or I will vote independent for gov

How much of this tax increase is going to bail out the CPS? The state taxpayers should not have to pay Chicago's bills.

Just made the call - the woman who answered sounded less than thrilled to take another call on this subject. But call, call, call!!

Like he cares!! Straight up peice of [expletive deleted]!! He is no better then the rest!! He will do nothing!! All he does for us is collect a pay check!! I thought Bruce would be different but surprise surprise he is worse!! Illinois sucks they are all crooked!! I'm moving after living here for 30 years!! Illinois is going no where!! Get out while you can

Gov Rauner make campaign commercials repenting tax relieve for Illinois people, yet toys with the idea to go ahead and raise taxes?

what happened to the taxes we already sent the state ?

If the governor doesn't know by now we we don't want a tax increase he should not be in office

We need a budget not a tax hike you moron. Why are You still getting a check if I don't do my job i don't get paid so why are you moron

I was a big Rauner fan, but the Clinton bail out is terrible, if he signs a $5 billion dollar tax hike, I will be done with him.

I called. She thinks I'm a flake.
* And then the group's latest post has gems like these…
Didn't that Joker say that the Democrats increase was bad??? More proof Republicans and Democrats don't give a crap about us. Wakey wakey people.

You have to wonder what all those thieves in Illinois Government think they are going to live on when they are the only ones left to pay the tax burden?

if Rauner sign's,he's capitchulated..

They all work together and then afterwards they play baseball, well, I do not think there playing baseball lately

Illinois votes crooks in all the time they are all idiots

Why are Republicans attacking Illinois families with this massive tax increase?

They screw up, mismanage, are completely incompetence and we have to pay.

Rauner is not a Republican, not sure why he ran that ticket, he's been useless, he's done no campaign against the machine, no special election, nothing, he's a puppet enriching himself for his business

Another Governor that thinks putting a bandaide on the problems that will never help anyone.

Waiting on elections won't help. The citizens have to tear it down and start over. Flee or fight. But we are happy to be fleeced instead it seems.
* But there were still plenty of dead-enders in those above posts. For instance…
Get rid of Madigan and his rules committee!

Why don't you ALL call Mike Madigan, he is at fault. He refuses to work with Rauner. Madigan controls everything, just because Rauner is Republican he won't meet with him to discuss the budget.

Good luck Madigan will never let this happen

Does this include a term limit on Madigan if so the tax hike is worth it!
- Posted by Rich Miller 67 Comments


* This is the question I asked all Democratic gubernatorial candidates early yesterday afternoon…
What are your candidate's responses to the Republican "compromise" budget/reform proposal from yesterday and the governor's special session announcement today?
They were given a hard deadline of 10 o'clock this morning. The responses are listed in the order they were received.
* JB Pritzker…
"Calling something a compromise doesn't make it a compromise. A budget deal worked out between Republicans behind closed doors isn't a great start. This is more of Bruce Rauner's my way or the highway mentality as he moves the goal post and his only commitment is to his special interest agenda.

"Illinois will now spend $40,000 a day on a special legislative session because Rauner refused to negotiate a budget during regular session. The governor should come to the table and negotiate, but after 716 days of inaction, this is likely just another political stunt from Rauner to continue the blame game as Illinois families foot the bill."
* Sen. Daniel Biss…
"As Bruce Rauner and Mike Madigan have proven over the last two years, simply being in Springfield isn't enough. The Senate worked hard to pass a balanced budget earlier this year, while Rauner, Madigan, and the Republicans refused to do their jobs. And the current Republican "compromise" isn't a compromise at all - it's simply political cover to screw over Chicago school kids.

We've seen this before: political stunts that cost taxpayers money instead of actual governing. Sitting down face-to-face, hammering out details not press releases, making compromises, not tv ads is the leadership we need."
* Rep. Scott Drury…
"Representative Drury is pleased the Governor and the General Assembly are coming around to embracing his idea of allowing pressure to build in order to arrive at a comprehensive budget. Had this been done in 2015, when Rep. Drury first pushed the idea, the pain caused to countless people as a result of the budget impasse could have been prevented. Unfortunately, Senator Biss and others kept using the "stopgap budget heroin" pushed by Speaker Madigan to make themselves feel better, while those around them suffered.

"As for the special session, Rep. Drury intends to invite Mr. Pritzker to be his honorary page-for-a-day. This assumes the Treasurer-Wannabe doesn't have any phone calls scheduled with disgraced former Governor Blagojevich. Drury looks forward to learning whether Pritzker was subpoenaed by the Blagojevich grand jury back in 2008 and, if so, whether Pritzker intends to make public all documents he turned over in response. Drury also is anxious to learn whether Pritzker ever was considered a subject or target of any federal investigation related to the corrupt former governor. If it makes Pritzker more comfortable, Drury will record the conversations. After all, he is a former federal prosecutor."
Yikes.
* Bob Daiber…
I do not support the proposed budget as it is presented for two reasons: 1) The property tax freeze will be disastrous to many school districts with no other additional state revenue. 2) The budget needs to include a funding component to help Chicago Public Schools. CPS is cash strapped just as many downstate districts.

This special session will be an additional cost to taxpayers. I believe the budget should have been finalized by May 31. The senate had passed a balanced budget that the Governor opposed. So, there is no other choice at this date but to have a special session so a budget deal can be made and the state moves forward.
* Chris Kennedy…
Here we are in the same place two weeks after session should've ended: Governor Rauner failing to pass a budget. Where were the Republicans weeks ago when the Democrats were negotiating? Democrats have compromised significantly, making a good faith effort to get a budget passed. They are making tough decisions because they know the worst thing we can do is continue operating without a budget. Credit rating agencies have given us a loud and clear warning. But for Governor Rauner, compromise isn't good enough. He wants to destroy the Democratic party and he's destroying our state in the process. The most basic part of the governor's job is introducing and signing a budget. Every other governor in our state's history has managed to do it. He hasn't.
* Ameya Pawar…
Governor Rauner's historic reign of destruction represents the consequences of electing out-of-touch billionaire businessmen with no legislative experience to political office. For 716 days, Bruce Rauner has failed the men, women and children of Illinois by refusing to do his job. No last minute sham "compromise" budget proposal or special-session announcement posturing will take a way from that.
I asked Tio Hardiman's "campaign" for a response and never heard back.
* Related…
- Posted by Rich Miller 42 Comments


* Subscribers have more background on this stuff. Tribune…
In a Thursday interview with the Chicago Tribune, Cullerton noted that his Senate Democrats are so far the only ones who've been willing to put their names on a tax hike vote. He warned that his caucus wouldn't go along with another stopgap measure that sets the tax increase issue aside for another day.

"Why would you even think about a stopgap? To continue this horror show 'til the election year when we owe $24 billion?" Cullerton said. "You think it's easier to vote for an appropriation without revenue after you've already voted for an appropriation with revenue? The Senate wouldn't do that. I'm not talking about me. I'm talking my caucus doesn't want to do that."
* Daily Herald…
"We are not going to have a stopgap budget this year," Cullerton said. "Our caucus doesn't want that."
* Back to the Tribune…
Cullerton insisted his Senate Democrats did their job in sending the House a budget plan that addressed some of Rauner's prerequisites.

"Maybe there's a need for a special session in the House because they haven't been passing bipartisan bills or budgets, so that's great," Cullerton said. "And now you need Republicans for sure over there. But I just don't know exactly what he wants us to do."

For the past week, Rauner suggested he might call a special session, an idea dismissed as a waste of time last year.
* Daily Herald…
Shortly before the interview with Cullerton began, members of the Senate could be heard phoning his office, asking when they were required to report to Springfield and for how long.

Asked whether it was pertinent for his members to be in Springfield at all, Cullerton said: "We're not going to vote on anything. … The action should be in the House. What you normally expect should come out of a special session, we've already passed that."
- Posted by Rich Miller 17 Comments


* From Rep. Elaine Nekritz…
I just sent this to the committeemen in my district.

Mr. Matt Flamm
Democratic Committeeman, Palatine Township

Mr. Michael Kreloff
Democratic Committeeman, Northfield Township

Mr. Terry Link
Democratic County Chair, Lake County

Mr. Mark Walker
Democratic Committeeman, Wheeling Township

Dear Sirs,

It has been an honor to serve as State Representative from the 57th District since 2003. I have worked diligently from the day I was elected to represent the good people of this district and this state with humility and passion. But after careful thought, it is time for me to step back and create an opportunity for a new leader who can take on our state's tremendous problems with the same mindset.

I am writing to inform you that I will not be seeking reelection to the position in the 2018 election cycle and intend to leave at the appropriate time before the end of my term. I know how important it is for this seat to continue to be represented by someone who shares our core goals and values, so I wanted to make sure you and the other members of our local Democratic Party had ample time to find the right person who will best represent our area.

Thank you again for your support in my elections and service in Springfield, and your good work for our district. I trust you will find the right candidate who will help move our state forward.

Regards,

Elaine Nekritz
Man, that's a huge loss for the House and for the state. Elaine is a quality legislator and highly respected. But she's been supremely frustrated with this impasse and I don't blame her for moving on.
I think there will be more of these, by the way. Lots more, particularly if nothing is done by the end of June.
- Posted by Rich Miller 64 Comments


[Bumped up to Friday for visibility.]
* From Sen. Toi Hutchinson, the sponsor of SB 9, which is the Senate's revenue bill…
I have been calling for urgency and pointing out the dangers of running down the clock for months now. When our Caucus passed SB9, the revenue that every single budget plan out there relies on, it was at a rate and structure that the Governor demanded.

It was interesting to see them file a new budget bill, and a new school funding bill, but no new tax increase bill. Instead, they issued a demand that SB9 be amended to be temporary, turning it into little more than a 4 year stop gap.

If they get to demand everything that is in the tax package but have yet to say who will actually vote for it, I suppose we should all anxiously await a tax increase bill filed by Republicans for the money that their Capitol Compromise requires.
- Posted by Rich Miller 35 Comments


* From a GOMB memo to state agencies…
confidential/policy formulation

This template should not be forwarded or shared with agency staff other than Director, Chief of Staff (or other comparable position), General Counsel, or Chief Financial Officer (i.e. this should only be shared with staff who may meet or discuss the contents of w/ GOMB). This is a confidential document.

Please fill out the attached template, adding pages as necessary, to provide information to GOMB on priority 'red flag' issues that may face your agency in event of a scenario where no FY18 appropriations have been enacted from any fund when the fiscal year begins (including no appropriations from other state funds or federal funds). In the template, please note to the extent these red flag issues may be addressed if state funds and federal funds outside of the general funds are appropriated.

Issues can be grouped into payment types (e.g. a grant program name, travel, utilities, rent, postage) and do not need to be listed by vendor name, although an explanation of current status and agreements with vendors for these categories will be useful for discussion. Please order the issues in order of expected priority or the agency and note the total annual cost of this service area and the estimated amount that will be unpaid as of the end of FY17. Your identification of issues should be focused on goods, services or providers that support the critical functions and operations of your agency and the agency's highest priorities.

Looking ahead to FY18, note critical dates through the end of December for the vendors, and provide a brief discussion of the expected impact at these critical dates.

Red flag issues should also include any potential issues arising from payment delays in the general funds, even for programs covered by consent decrees and court orders. Please note that even if general funds appropriations are enacted for red flag items, general funds payment delays are expected to lengthen at the Comptroller's office and are likely to be significant during the course of FY18 in the absence of a balanced budget.
Looks like they're also preparing agencies for a partly funded stopgap approp.
- Posted by Rich Miller 27 Comments


* But IDES is still bad-mouthing the economy…
The Illinois Department of Employment Security (IDES) announced today that the unemployment rate declined -0.1 percentage points to 4.6 percent in May and nonfarm payrolls increased by +2,400 jobs over-the-month, based on preliminary data provided by the U.S. Bureau of Labor Statistics (BLS) and released by IDES. April job growth was revised little to show a decrease of -7,300 jobs rather than the preliminary estimate of -7,200 jobs.

May's modest monthly payroll gain kept over-the-year job growth well below the national average. Payroll growth has been sluggish thus far this year.

"Illinois remains -23,300 jobs short of reaching its prior peak employment reached in September 2000," said IDES Director Jeff Mays. "If Illinois had grown at the National average over that time, the State would have an additional 650,000 jobs."

"We hear from companies every week that are concerned by the current business climate in Illinois," said Illinois Department of Commerce & Economic Opportunity Director Sean McCarthy. "We need to implement common sense reforms that would lead to booming job growth and expansion of opportunities across our state."

In May, the three industry sectors with the largest gains in employment were: Construction (+4,000); Education and Health Services (+3,700); and Information Services (+900). The largest payroll declines were in the following sectors: Trade, Transportation and Utilities (-3,700); Government (-2,500); and Professional and Business Services (-700).

Over-the-year, nonfarm payroll employment increased by +34,700 jobs with the largest gains in these industry sectors in May: Education and Health Services (+19,200); Professional and Business Services (+13,400); Financial Activities (+9,500). Industry sectors with the largest over-the-year declines include: Trade, Transportation and Utilities (-7,700); Manufacturing (-1,800); and Construction (-1,700). The +0.6 percent over-the-year gain in Illinois is less than one-half as strong as the +1.6 percent gain posted by the nation in May.

The state's unemployment rate is +0.3 percentage points higher than the national unemployment rate reported for May 2017, which decreased to 4.3 percent. The Illinois unemployment rate is down -1.3 percentage points from a year ago when it was 5.9 percent. At 4.6 percent, the Illinois jobless rate stands at its lowest level since February 2007, after having decreased for four consecutive months and is down -1.1 percentage points since January 2017.

The number of unemployed workers decreased -2.9 percent from the prior month to 298,100, down -23.0 percent over the same month for the prior year. This brings the number of unemployed workers to its lowest level since December 2006. The labor force decreased -0.3 percent over-the-month and declined by -0.9 percent in May over the prior year. The unemployment rate identifies those individuals who are out of work and are seeking employment. An individual who exhausts or is ineligible for benefits is still reflected in the unemployment rate if they actively seek work.
- Posted by Rich Miller 24 Comments


* From House Speaker Michael Madigan…
"We have stated unequivocally that a resolution to the governor's budget crisis—which has resulted in eight credit downgrades and tripled the state's debt—must be our top priority. Wherever we can compromise with the governor without hurting middle-class families, Democrats have worked to find common ground so we can get the governor to work with us and pass a balanced budget, but he has refused to do so. Per the governor's request, House Democrats have voted to cut property taxes, reform workers' compensation, make changes that will improve the business climate and level the playing field for small and medium-sized businesses, reform the state procurement code and sell the Thompson Center. With each attempt to meet Governor Rauner half way, we urged him to return to the table to negotiate a state budget. The governor refused.

"Since the adjournment of the spring session, Democrats have continued our work on the budget. At a budget hearing this month, legislators listened to mothers of children with developmental disabilities, including one woman whose son had to be institutionalized because the governor's crisis has blocked access to in-home care. A survivor of sexual assault called on the governor to come back to the table and end the crisis. Those who spoke were in agreement: People's lives are on the line, and it's time to act. The governor responded by calling them 'props' and dismissing the entire hearing as a 'sham.' Casting aside those most directly affected by Governor Rauner's budget crisis is no way to move forward.

"House Democrats will continue our work on the budget from Springfield, but as Governor Rauner has met each of our attempts to date with refusal, it's clear that the onus is on the governor to show that he is finally serious about working in good faith to end the crisis he has manufactured."
- Posted by Rich Miller 55 Comments


* Finally…
In the wake of a state investigation that said President Doug Baker "mismanaged" Northern Illinois University, he announced at this morning's Board of Trustees meeting that he is leaving the university.

Baker called the 56-page report from the Office of the Executive Inspector General a "distraction," and said he'd step down June 30.

The report found that NIU officials hired at least five people as though they were part-time instructors and paid them more than $1 million combined over a roughly two-year period.

The investigation found that starting when Baker took office in June 2013, university officials, under orders from Baker, improperly classified multiple high-paying consulting positions as affiliate employees to skirt state rules requiring competitive bidding.

The Board of Trustees was given the report in August, and Baker said that after its public release at the end of May, he met with board Chairman John Butler about his future.
- Posted by Rich Miller 16 Comments


* Background is here. Press release…
The Appellate Court dismissed today the Pay Now Illinois coalition suit. A statement from Pay Now Illinois Chair Andrea Durbin is just below.

We are terribly disappointed in today's ruling from the Appellate Court.

The Appellate Court has directed providers to the Court of Claims for relief. This is at best a theoretical, not a practical remedy. Even prior to the destructive budget impasse, human service providers routinely waited years for a judgement, and then had to wait for a subsequent appropriation to be paid. This process could literally take three, four, or even five years. When providers are due payment for service from an entire year or more, waiting for half a decade for payment does nothing to help providers meet payroll and pay their bills today. Further, the Court of Claims is in no way equipped to handle the massive filings that would result if all providers and vendors who are owed money from the State of Illinois sought relief through this means.

Providers contemplating contracts for FY18 should consider the state of affairs as it exists today. We have no budget for FY17 or FY18, the partisan warfare continues in Springfield, and at this point we have a total breakdown in the functioning of our state. This decision helps to remove some of the uncertainty that providers have faced over the past two years.

Pay Now Illinois still has a case pending in St. Clair County. We expect a decision shortly and certainly hope for a different outcome. We will also evaluate our next steps as a coalition; we have tried to go directly to the Illinois Supreme Court before and will consider whether to pursue that option again.

The real losers from today's decision are the children, youth, families, and communities we serve – the elderly, the disabled, the homeless, people with mental health needs, or people who are addicted, victims of sexual assault or domestic violence, youth who run away from home or who are in trouble with the law – as well as the hundreds and thousands of employees who come to work each day trying to keep people safe, healthy, and able to achieve their potential. No one should rejoice in this decision.
* The ruling is here.
…Adding… Law Bulletin…
The panel rejected the coalition's assertions that Rauner has acted beyond his gubernatorial authority by entering into contracts which weren't funded, and then vetoing the appropriations bills that would have funded them.

"The governor was not obligated to approve any or all portions of appropriations bills by the General Assembly," Justice Eileen O'Neill Burke wrote in the 35-page opinion on behalf of the three-judge panel. "Indeed, both the governor and the General Assembly are constitutionally constrained to propose or pass budgets and appropriations that do not exceed estimated available funds."
- Posted by Rich Miller 30 Comments


* Press release…
One day after House and Senate Republicans unveiled a compromise balanced budget plan to end the budget impasse, Governor Bruce Rauner today called lawmakers back to Springfield for a 10-day special session from Wednesday, June 21st through the June 30th fiscal year deadline.

"Republicans in the General Assembly have laid out a compromise budget plan that I can sign," Governor Rauner said in a video announcing special session. "It provides a true path to property tax reduction and it reforms the way our state operates to reduce wasteful spending. It will fund our schools and human services, while spurring economic growth and job creation. It is a true compromise – and one I hope the majority in the General Assembly will accept."

For two weeks, the majority in the General Assembly ignored repeated calls to return to Springfield since adjourning on May 31st without passing a full-year balanced budget. If no action is taken by the General Assembly to pass the compromise balanced budget plan by June 30th, the ramifications for our state will be devastating and long-lasting. In order to find a resolution, Governor Rauner issued 10 proclamations calling for special sessions every day starting Wednesday, June 21 at Noon. The proclamations direct the General Assembly to consider legislation that will reach a balanced budget with changes to our broken system, including property tax relief, job creation, term limits and spending caps. Should the General Assembly enact the compromise balanced budget plan prior to June 30th, the Governor will cancel any remaining special session days.

"We have tough, urgent choices to make, and the legislature must be present to make them," Governor Rauner said. "In the days ahead, let's show the people of Illinois we have their best interests in mind, not our own. And together, we will move our state forward to a better and brighter future."
The official proclamation is here.
…Adding… Rauner's official video is here.
*** UPDATE 1 *** From Leader Radogno…
"I am anxious to return to the Capitol to continue our work on a comprehensive budget solution. We have a very real deadline looming as we close yet another fiscal year without a budget in place. I hopeful we will have productive sessions, legislative leader meetings with true engagement from all four leaders, and bipartisan efforts toward compromise. I and my Caucus believe a comprehensive solution is within reach and we ought to do everything possible to achieve it before July 1. The alternative to not finding compromise will be devastating to Illinois."
*** UPDATE 2 ***   From the Democratic Governors Association…
Rauner Waits Until After Big Fundraiser to Call Special Session

Rauner Funneling Money to IL GOP To Continue Running Attack Ads During Budget Negotiations

Last week, Bruce Rauner held a memorable press conference where he attacked Democrats for holding "sham" hearings with "props" disguised as people, and threatened to "force" legislators back to Springfield for a Special Session. It was great theater.

And only that. Rauner waited two weeks to "force" legislators back because he could not call it before his big fundraiser on the 19th. That would have been bad optics.

And really his big press conference was one big play itself. The whole event came on the heels of a three-day campaign-like swing featuring the same kind of people "props" he would decry the next day.

Over the next few days Rauner will play the part of compromiser, all the while funneling millions to the Illinois GOP to continue running attack ads during budget negotiations.

The role that he was born for? "Most vulnerable incumbent in the nation."

"Bruce Rauner's decision to hold a fundraiser before calling a special session shows voters exactly what his priorities are," said DGA Illinois Communications Director Sam Salustro. "The fact is that Bruce Rauner is more interested in playing politics than getting a real deal done for the people of Illinois. Holding fundraisers and campaign-style events, and running attack ads, is exactly the theatrical politics that landed his as 'most vulnerable incumbent in the nation.'"
*** UPDATE 3 *** House Republican Leader Jim Durkin…
"With the fiscal year coming to a close and the House Democrats failure to produce a budget during session warrants the Governor's action today. We can break this impasse if the House Democrats are willing to negotiate in good faith."
*** UPDATE 4 *** This post is apparently popping up all over Facebook today…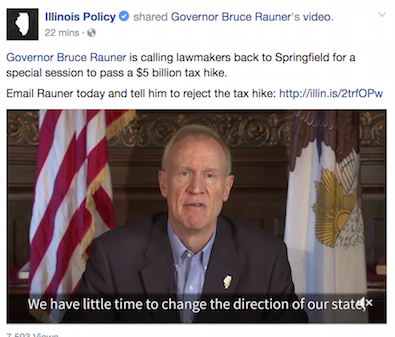 *** UPDATE 5 *** From John Patterson, spokesman for Illinois Senate President John J. Cullerton…
I will remind everyone that the Illinois Senate has been in session the last six months and produced a balanced budget plan that was approved and sent to the Illinois House.

I'm not sure where Governor Rauner was during the first half of the year, but the Senate did his work and balanced his spending plan using the numbers and tax rate he wanted.

Now that he's decided to engage, it would be helpful if he could use his influence to marshal the House Republicans to join the bipartisan coalition and support his tax increase and spending plan and get a balanced budget approved in the House. Until then, the Senate has already done the work and is waiting for the governor to finish the job.
Heh.
*** UPDATE 6 *** Sen. Bill Brady…
"It's unfortunate that we're in this situation, but I applaud Governor Rauner for doing what was necessary and calling the General Assembly back to Springfield," said Brady noting, "This week I introduced a real, full year balanced state budget that isn't another lifeline, stop gap, or band-aid budget. My budget and the compromise reform measures my colleagues have put forth this week are the real solutions that the people of this state deserve. I'm ready to roll up my sleeves and get back to work to get this done."
*** UPDATE 7 *** Sen. Kwame Raoul…
I understand the urgency of ending the budget impasse. I understood that urgency last month, when I joined my colleagues in the Senate in voting for a balanced budget. What I wonder is why Governor Rauner seems to be in such a hurry now. Where was he last month? Where were the Republicans last month when we took difficult votes to pass a budget that will allow us to pay our bills on time?

The governor's stalling on a budget deal isn't just frustrating – it's costly. The special session will cost taxpayers $64,687 a day, totaling $646,870 over the 10-day session. At a time when the state owes $15 billion in unpaid bills, this is hardly money we can afford to spend.

Again, I understand the need for immediate action. I simply wish Gov. Rauner and Republicans had been this interested in working quickly when we voted to pass a balanced budget in May.
- Posted by Rich Miller 81 Comments


* Sun-Times…
The association that runs the popular Powerball lottery and Mega Millions games will drop Illinois at the end of June without a budget agreement.

Concern over the state of Illinois' fiscal condition prompted that decision by the Multi-State Lottery Association, according to internal Illinois Lottery communications.

Illinois Lottery spokesman Jason Schaumburg on Thursday morning confirmed that the games will be dropped without a state budget. He said the association has never threatened to drop the games. […]

The state reported $99.4 million in Mega Millions sales and $208 million in Powerball sales within the 2016 budget year. It's unclear how much revenue the state got from the sale of those tickets.
Sheesh, what an embarrassment.
*** UPDATE 1 ***  Pritzker campaign…
Today, the Multi-State Lottery Association announced they voted to remove Illinois from the Powerball and Mega Millions lotteries due to Bruce Rauner's 715-day budget crisis. In response, JB Pritzker released the following statement:

"The decision by the Multi-State Lottery Association is a clear rebuke of Bruce Rauner and the 715-day budget crisis he has unleashed on our state," said JB Pritzker. "Rauner is a historic failure and bond ratings agencies, investors, and now U.S. lotteries are taking note. Under Bruce Rauner, Illinois has earned the reputation of being a bad investment and a state without stability or growth. This is what failed leadership looks like and the devastation will not stop until Bruce Rauner is out of office."
*** UPDATE 2 *** Rep. Lou Lang…
"The decision today by the Multi-State Lottery Association to remove our state from participation in these lottery games is just another example of the absolute failure by the governor to do his job and govern. Due to the impasse that he has created, other states are now recognizing the lack of leadership by the governor, and they have made the decision that Illinois under Bruce Rauner is not a reliable partner.

"Not only does this affect Illinois gamers who enjoy playing the lottery games, but this will also have enormous negative effects on our public education system. This will take away millions of dollars of state funds for our schools, which are more critical now than ever. These effects just represent a small portion of the damage that the governor has done by holding up services and programs over items that have nothing to do with our state budget.

"House Democrats have worked to meet the governor in the middle, including passing reforms to the procurement and worker's compensation systems, and working to level the playing field for small and medium-sized businesses. Yet, the governor still refuses to come back to the negotiating table. Republicans and Democrats nationwide are reacting to the complete lack of leadership under Bruce Rauner, which is leading us on the path to become a deadbeat state."
- Posted by Rich Miller 48 Comments


* Public Radio…
Dozens of Illinois social service providers asked a St.Clair County judge to make Illinois pay for work they've already done.

Gov. Bruce Rauner's administration has continued signing contracts with the groups, even as he has vetoed the General Assembly's attempts to appropriate money.

Andrea Durbin, leader of the coalition, said Illinois knows what it's doing.

"What they're doing is they're banking on — in the most cynical way — they're banking on the fact that we give a damn," she said, "and we won't turn our backs on these clients, we won't shove them out into the streets, that we won't lay off our employees until it's impossible for us to do anything else."
An appellate court ruling is expected today on this matter. It will be posted here, so keep an eye on that page.
- Posted by Rich Miller 22 Comments


With the end of the Fiscal Year only weeks away, Senate Republicans joined their House colleagues to unveil a comprehensive, balanced budget proposal this week urging Democrat leaders to come back to the negotiation table, take up bipartisan compromise once more, and pass a balanced budget before Illinois enters its third-straight year without a budget.

Senator Tom Rooney (R-Rolling Meadows) issued the following statement after the Republican's compromise package was introduced:

"Illinois' budget impasse should have been resolved before lawmakers left Springfield on May 31, but instead the Senate-majority passed an unbalanced budget that Republicans cannot support, walked away from the table and said their work was done. However, our students deserve equity, our taxpayers need relief and our businesses need our help. Our state deserves and demands better," stated Rooney.

"This budget compromise gives lawmakers a chance to come back to the table, pick up where we left off before partisan politics took control and pass a balanced budget. We have a compromise before us that provides cost saving pension reform, equitable school funding, lasting property tax relief, real workers' compensation reform, and a balanced budget plan that helps bring about the stability that has evaded our state for almost three years. The time to act is now, we just have to take the steps to work together and finish what we started months ago."
Not all Republican lawmakers were on board with the new plan. State Rep. David McSweeney said he could not support the tax increases included in the package.

"Raising taxes will kill jobs and hurt Illinois families," McSweeney said. "We should focus on cutting spending."

McSweeney, R-Barrington Hills, said Illinois will spend $4 billion more in the fiscal year that ends June 30 than it ever did under former Democratic Gov. Pat Quinn.

"We need to address the two biggest items in the budget, pensions and Medicaid," McSweeney said. "It's business as usual."
Republican state lawmakers announced the newest attempt to solve Illinois' budget crisis June 14. Gov. Bruce Rauner's office said he'd sign the plan into law if it passes unchanged.

Like the "grand bargain," the Brady plan, and Senate Democrat's budget before it, the GOP plan relies on $5 billion in new tax revenues because it includes no meaningful spending reforms.

But this new plan is even worse than previous budget proposals because, according to the math, the tax hikes aren't even necessary to balance the 2018 budget.

The Republican plan caps spending at $36 billion for the year. Compared to the latest revenue estimates from the Commission on Government Forecasting and Accountability, or COGFA, that would leave just under a $5 billion budget deficit for 2018.
- Posted by Rich Miller 24 Comments


* As expected…
Roadwork projects across Illinois could be on the chopping block as the state's historic budget impasse continues.

The Illinois Department of Transportation will shut down roadwork statewide if lawmakers don't pass a budget by the end of the month, officials announced Wednesday.

"Due to the General Assembly's refusal to pass a balanced budget, the Illinois Department of Transportation loses its ability to pay contractors starting July 1," IDOT communications director Guy Tridgell said in an email.

"While we are hopeful the situation is resolved before then, the department is notifying contractors that all construction work is to shut down on June 30. Contractors will be advised to secure work zones to ensure their safety during any potential shutdown. As always, the safety of the traveling public will be the top priority as the department works through this process​," Tridgell said.

Roadwork projects were put in jeopardy by the budget impasse last year as well, but a stopgap bill passed in the final hour secured roadwork funding.
…Adding… The contractor letter is here.
*** UPDATE ***  From an IRTBA press release…
"The impacts of a shutdown are dire," said Illinois Road and Transportation Builders Association (IRTBA) President & CEO Mike Sturino. "According to the Transportation for Illinois Coalition, the daily costs of a shutdown exceed $3 million just for direct costs associated with shutting a job down," he added. "IRTBA member firms report that layoffs of thousands of Chicago area residents are imminent. Organized labor is reporting approximately 30,000 people will be out of work statewide if this shutdown happens."
- Posted by Rich Miller 28 Comments


* Tribune…
Democrats led by House Speaker Michael Madigan contend that raising taxes is a necessity for closing a gaping budget hole, not a Democratic agenda item to be used as a bargaining chip.

"Who are they compromising with?" asked Madigan spokesman Steve Brown. He said House Democrats would "take a hard look at the proposal," but also noted the chamber had already approved several pieces of legislation that he contended address Rauner's requests. […]

Durkin said Republicans expect "substantial compliance" from Democrats, warning that he would reject "reform light or anything that is significantly diluted."

Why should Madigan take the new Republican plan seriously? Democrats now need a three-fifths majority to pass a budget, Durkin said.

"The question is whether or not the speaker is committed to breaking the impasse, because he needs my votes," Durkin said. "His members are frustrated. I talk to them. There's pressure building up in the House Democratic caucus to get this to resolution."
* SJ-R…
"There is pressure building up in the House Democratic caucus to bring this to resolution [said House Republican Leader Jim Durkin]. If he is committed to breaking the impasse, he needs to work with us."

Because the General Assembly blew past its scheduled May 31 adjournment date without passing a budget, it now takes a three-fifths supermajority in the House and Senate to pass anything. Seventy-one votes are required in the House to pass a bill, with Democrats holding 67 seats.

Steve Brown, spokesman for House Speaker Madigan, D-Chicago, said none of the Republican proposals has been submitted yet as legislation.

"If and when they introduce bills or amendments, we'll take a look at them and see what improvements, changes have been made, over what the House has acted on previously and what the Senate has acted on," Brown said.
* Sun-Times…
"If he's committed to breaking the budget impasse he needs to work with us, and work with me," Durkin said of the speaker. "If he doesn't talk to us nor work with us, to me it is just a reflection on his desire to do nothing and to make sure that the governor is the one who will be hurt next year in the gubernatorial campaign." […]

Madigan spokesman Steve Brown said the package would be reviewed when filed, but noted that House Democrats had passed measures on similar "topics." He also criticized the governor for moving the goal posts.

"Well, you know the governor has been known to take different positions at different hours of the day and night and different days of the week," Brown said. "So, I guess we'll have to see how they validate that."
- Posted by Rich Miller 17 Comments


* Sun-Times editorial…
If you can get 90 percent in politics, you take it and do a victory dance. Unless, perhaps, you are Gov. Bruce Rauner.

On Friday, Rauner's secretary of education, Beth Purvis, said the governor supports "90 percent" of a bill passed by Democrats in the state Legislature to make school funding fairer in Illinois. But, she said, he wants more.

We can only wonder, as we have before, about the governor's notions when it comes to compromise.

Sign the bill when it reaches your desk, governor. Grab a win. […]

Politics is the art of the imperfect, where 90 percent can make for an excellent deal.
I've said it before and I'll say it again. That SJ-R headline was the worst in Bruce Rauner's 2+ years as governor.
- Posted by Rich Miller 22 Comments


* The other day, we talked about Facebook's new apps that allow targeting of legislative districts. JB Pritzker's campaign is using this new tech in its latest round of online advertising…
Today, the JB for Governor campaign launched new digital ads holding Bruce Rauner accountable for planning to veto an education funding bill he mostly supports. The new ads will be part of the multimedia Crisis Creatin' Rauner Campaign, designed to highlight Bruce Rauner's failed leadership and the Illinois families paying the price.

Rauner talked about fixing school funding reform for years, even forming a task force on the issue, and supports 90% of the bill, but is still cowardly abandoning the issue and his responsibility to Illinois families and students.

The digital ad campaign will hold Rauner accountable, with Facebook ads allowing Illinoisans across the state to contact their failed governor with a single click. This brand-new feature will ensure that Rauner is accessible to the Illinois families and students he is letting down. The ad campaign will also include banner ads on local online publications across the state.

"Bruce Rauner refuses to stand with Illinois families demanding he fix the school funding formula and invest in the education of our students. It is time he hears directly from them," said Pritzker campaign spokeswoman Jordan Abudayyeh. "Bruce Rauner has no idea what it means to lead and compromise, so much so that he can't bring himself to sign critical legislation that he 90% agrees with. Either his talk on fixing school funding was just another political stunt or Rauner is unable to put aside his stubborn agenda for the benefit of Illinois students. Either way, Illinois families are angry and it is time Bruce Rauner starts listening."
* The Facebook ad…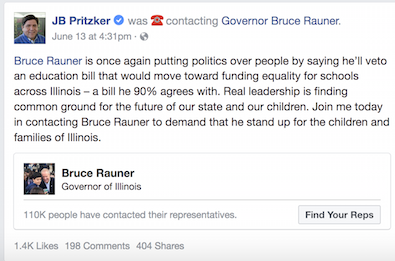 * The online banner ad…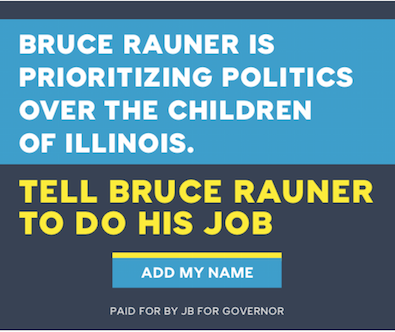 Thoughts?
- Posted by Rich Miller 7 Comments


* NBC 5…
It's been two weeks since the Illinois General Assembly adjourned — and more than two years since lawmakers have reached a budget compromise, and Wednesday NBC 5 has learned Gov. Bruce Rauner is expected call lawmakers back to Springfield for a Special Session next week.

The governor's office says it will not comment, however sources tell NBC 5 Rauner will announce a Special Session to begin June 21 for every day through June 30th. The new fiscal year begins July 1st.

By the governor calling the Special Session — the lawmakers would be paid $111 each day as well as 39 cents per mile to and from Springfield. The Chicago Tribune has estimated that adds up to costing taxpayers approximately 40-thousand dollars a day.
June 21st is next Wednesday.
- Posted by Rich Miller 29 Comments


[Bumped up to Thursday morning for visibility.]
*** UPDATE 2 ***  SB 2214, the Senate's budget bill, is now online. Click here to read it.
[ *** End Of Update *** ]
* From Sen. Bill Brady's (Bloomington) press release on his newly introduced spending package contained in SB 2214…
Brady's proposal includes a total of six budget related bills that contain a balanced $36 billion operating budget for FY18. Additionally, Brady's plan proposes appropriations to pay off remaining FY16 bills as well as the balance of FY17 appropriations. It also includes a hard spending-cap of roughly $36 billion in general funds.

"I have always said that any deal we pass must be fair to the taxpayers of this state, which is why my budget includes a four-year spending-cap of $36 billion. If our constituents have to live within their means, it's time for their state government to do the same," noted Brady.

Under the legislation, the state would be allowed to issue up to $6 billion in revenue bonds to significantly reduce the state's backlog of unpaid bills, saving the state millions of dollars on late-payment interest costs.

Brady's budget increases funding for K-12 education by $250 million for the new evidence-based school funding formula, as well as providing a $35 million increase for Early Childhood Education. The budget also includes $156 million in pension parity for Chicago Public Schools while reducing the controversial Chicago Block Grant by $200 million.
Yep, cutting the CPS block grant and coming up $60 million shy of the earlier agreed CPS pension payment will really go down well with the Democratic leadership.
The budget walk-through can be seen by clicking here.
The proposal would also make $1.6 billion in unspecified transfers out reductions and pension spending would be cut by well over a billion dollars.
* Meanwhile, here are the reform bills…
Pension Consideration – HB 4064
Pension – HB 4065
Property Tax Freeze – HB 4066
Citizens Empowerment – HB 4067
Worker's Compensation – HB 4068
Education Funding Reform – HB 4069
Notice that these are all bills introduced in their original chambers, so they have to start afresh (meaning three days of readings in each chamber) unless they find appropriate vehicles.
*** UPDATE ***  Sun-Times…
An appropriations measure was filed on Wednesday afternoon and five other bills will be filed on Thursday, according to State Sen. Bill Brady's office. Numbers released by Brady's office show the Republican plan shows higher revenue totals for sales taxes — about $75 million more — and less money coming from the personal income tax hike — about $230 million less.
* Crain's…
CPS says in a statement that the budget plan isn't a compromise at all but "part of Rauner's insistence that he gets all of what he wants to sign on to a bill, even if it means students living in poverty across Illinois get none of the state support they need."

Among other things, CPS officials say, moving to a per-pupil rather than per-district funding plan like the new legislation proposes would have cut funding for two-thirds of the state last year. CPS along might lose up to $400 million, they add, based on an earlier version of the legislation.
- Posted by Rich Miller 46 Comments


* House Democratic press release…
Parents worried their children could be exposed to lead in public school drinking water, and residents who may be unable to heat and cool their homes during extreme weather were among the citizens calling on Gov. Bruce Rauner to end his 700-day budget impasse Wednesday at a budget hearing in Chicago.

"Legislators are hearing directly from the victims of Bruce Rauner's budget crisis, and their message is clear: It's time for the governor to end this impasse," said House Speaker Michael J. Madigan. "While the governor wants to see these people as 'props' and calls their stories a 'sham,' House Democrats will continue to work to build consensus to end budget impasse."

Legislators on the House Appropriations-General Services Committee heard testimony from parents who expressed outrage that the governor's budget crisis might prevent the Illinois Environmental Protection Agency from being able to effectively screen for lead in drinking water. Recently, dangerous levels of lead were discovered in a number of public schools, prompting outcry from parents.

"If there were even a hint that the drinking water in the schools Governor Rauner and his wealthy friends send their children to, I'm sure the governor spared no expense to fix the problem, and waste no time patting himself on the back in front of TV cameras. But when it's actually happening in my neighborhood, to my children, Bruce Rauner would rather play games than do anything," said Emma Jones, a resident of Chicago's South Side whose children attend a school where high levels of lead were recently reported. "Our children's lives are just as important as yours are, governor. But our children's lives are at risk because you won't do your job."

Rauner's budget crisis has also jeopardized funding for the Low Income Home Energy Assistance Program (LIHEAP), which helps tens of thousands of Illinois citizens—including homebound elderly residents—cope with extreme heat and cold. Without this important service, low-income families could have a more difficult time finding the money to afford their rent, put food on the table, and provide other necessities.

"Governor Rauner has no idea what families like ours go through," said Isaiah Spencer, a resident of Chicago who relies on LIHEAP to heat and cool his home during dangerous weather conditions. "The governor needs to stop using families like mine as pawns in his games. The governor needs to do his job and negotiate a budget."

Rauner has insisted legislators rubber stamp his changes to pad the profits of big corporations and further enrich wealthy CEOs and big insurance companies before he will negotiate a budget. Democrats have worked to compromise with the governor in order to get down to the business of passing a balanced budget. While Rauner has talked about a property tax freeze, House Democrats went further and voted to cut property taxes. Acting on the governor's demands, Democrats have passed significant reforms to the workers' compensation system, voted to sell the Thompson Center and reformed the state procurement system. Democrats worked to pass a package of economic reforms that levels the playing field for small and medium-sized businesses in our communities and invests in businesses that invest in Illinois. But while Democrats have worked to find common ground with the governor the items he holds as pre-conditions to negotiating a state budget, the governor has refused to come back to the table.

"Where we can compromise with the governor without hurting middle-class families, we've worked to find common ground," Madigan said. "Working families, the elderly, students and their parents and so many more are being directly harmed by Governor Rauner's budget crisis."
- Posted by Rich Miller 34 Comments


* Click here for the background if you need to catch up. I'm told that the Senate will not file its budget plan until tomorrow morning, so we won't know the real details until then. I'm still waiting on the reform bills from the House, but they may be delayed too.
…Adding… The Senate is going ahead with its appropriations bill filing today. Stand by.
* This is a good point from Greg Hinz…
Rauner's office confirmed the governor is willing to sign this package if it passes the Legislature. Earlier, he had laid out general terms but not, to my knowledge, specifically promised to sign any package of legislation.
That's true. It's a major first for the governor, who has played coy for well over two years. Give him credit for that.
But it means Gov. Rauner is now on record supporting the Senate Democrats' tax hike plan with a couple of alterations: 1) Four years instead of permanent; 2) It won't be retroactive to January 1st, so they'll lose a bunch of revenues that will have to be made up in however they deal with the mountain of overdue bills (borrowing is most likely).
I'm told the Republicans won't introduce their own tax hike bill, but will instead insist that SB 9 be amended or a new version filed.
* From the Illinois Policy Institute's news service…
Illinois legislative Republicans on Wednesday unveiled a new budget plan that they say is balanced and includes meaningful reforms to grow the economy. It also includes tax increases.

At a news conference at Chicago's Thomson Center attended by several GOP senators and representatives, Republican lawmakers said their latest plan incorporates a number of tax increases that were part of the Senate's grand bargain, but with a few changes.

Senate Democrats approved a plan last month to permanently raise the income tax by 32 percent, from 3.75 percent to 4.95 percent, with no Republican support. Under the new GOP plan unveiled Wednesday, the increase would expire after four years. The four-year expiration date would coincide with a four-year property tax freeze that also is in the GOP plan. The income tax hike also would not be retroactive to Jan. 1, as the Democrat plan is, but would go into effect beginning July 1.

A family with annual income of $60,000 would pay the state an additional $720 a year under the GOP tax hike proposal, with their tax bills spiking from $2,250 to $2,970.

The property tax freeze includes an exemption on existing debt service payments as requested by Senate Democrats, but also would allow residents to lower or increase their taxes through voter referendum.
* Sun-Times…
Most importantly, Illinois House Republican Leader Jim Durkin, R-Western Springs, said Rauner would sign the new plan if passed. And he noted Republican votes are essential to passing a budget plan.

Beginning on June 1, a three-fifths majority is required to pass bills rather than a simple majority. That means any budget plan will now need 71 votes to pass and require Republican support.

"If he's committed to breaking the budget impasse he needs to work with us, and work with me," Durkin said of the speaker. "If he doesn't talk to us nor work with us, to me it is just a reflection on his desire to do nothing and to make sure that the governor is the one who will be hurt next year in the gubernatorial campaign."
Also, note that the Senate Democrats aren't as negative about the plan this afternoon as they were earlier in the day…
John Patterson, spokesman for Illinois Senate President John Cullerton, said there's hope the Republican plan "is a serious, real step toward" compromise. He said the Senate president will wait for the bills to be filed to review the details and see how to proceed.
* The bottom line here is that the Senate Democrats, the governor and both Republican caucuses have all unveiled their own plans. The odd man out here is Speaker Madigan. It's now his move.
- Posted by Rich Miller 21 Comments


* Say something nice about an Illinois politician you despise. No snark.
- Posted by Rich Miller 70 Comments


* I briefly mentioned the Jacobin Magazine story about Chris Kennedy yesterday. The mag describes itself as "a leading voice of the American left, offering socialist perspectives on politics, economics, and culture." Here's an excerpt…
To wit, Kennedy also appears to be a firm believer in the doctrine of centrist both-sidesism: that the problem with politics is that both major parties cater to their extremes, and what's required is a politician who will bravely walk the middle of the road.

"In the sixties and seventies, it was really a fight for the middle, that is . . . undecided voters, let's say independent voters," he told WGN Radio in 2014. "Today it's all about trying to motivate the extreme ends of the spectrum, trying to get hardcore liberals or hardcore conservatives to turn out, and that creates a gulf where we need a bridge."

Of course, Democrats have employed this kind of rhetoric as justification for drifting further and further to the right — despite the fact that the general population is far more inclined toward "extreme" left-wing policies than many politicians and commentators will have you believe. Kennedy's worldview appears to be one of reflexively tacking to the center at all costs — much like another recent Democratic politician for whom that tactic failed miserably.
Um, Hillary Clinton won Illinois by 17 points. She screwed up badly in Wisconsin, Michigan and Pennsylvania, but she most certainly didn't "fail miserably" here.
The hit piece was written by a reporter who lives in New Zealand, and it really shows.
* For instance…
While it's still early going, Kennedy has some key institutional backing for his run. He appears to have the backing of Democratic House Speaker Michael Madigan, who said Kennedy would make an "excellent candidate," and whose staffers met with Kennedy during the DNC last year.
That was almost a year ago. These days, Kennedy is trashing Madigan and being interviewed by long-time Madigan haters.
The piece also dredges up the Bill Ayers, Steven Salaita and James Kilgore controversies, which would probably only be important to extreme leftists. It also does things like try to make a big deal out of a $1,000 campaign contribution.
* I did find this interesting, however…
Along with the rest of his family, Kennedy has also continued to benefit from a piece of accounting wizardry that has inoculated his family's wealth from taxes. As Carol O'Donnell of Forbes outlined, the Kennedys have long used "dynasty trusts" to both protect their wealth from the greed of individual family members, as well as shield it from the government's busy hands.

But upon selling Merchandise Mart to Vornado Realty in 1998, the family also potentially avoided paying capital gains tax on the sale by entering into an "operating partnership unit" with the company, giving the Kennedys an ownership stake in Vornado. This also means that individual Kennedys have been reaping millions of dollars in dividends for years. Given that Chris Kennedy was the Vornado Realty Trust's executive officer from 2000 to 2011, it's likely he did, too.
The Pritzker family also has a lot of these sorts of trusts. We could all be learning much more about this subject in the coming months.
- Posted by Rich Miller 10 Comments


* Brian Mackey is in St. Clair County today covering a court hearing about a case involving human service providers who want to be paid without an appropriation, just like state workers, who also have a contract with the state…
The plaintiffs in that case include groups that provide services to people with disabilities, mental health problems and the like. (It also includes the social service organization run by Illinois First Lady Diana Rauner.) They argue that because the Rauner administration entered into contracts with them, they too should be getting paid — with or without a state budget.
* Follow along with ScribbleLive…
- Posted by Rich Miller 6 Comments


* Comptroller Susana Mendoza has been writing letters to the editor this week. From her letter to the Southern Illinoisan…
At high school graduation parties this month, after congratulating the bright grad and their proud parents, make a note to ask where they plan on attending college.

Thanks to the state budget crisis, the higher education destination of choice for many Illinois teens is "out of state." Every year, about 32,000 Illinois high school grads go out-of-state to college while only about 16,000 out-of-staters come here. That's a net loss of 16,000 college bound students to out-of-state schools. They're fleeing because they know the future of our state's higher education institutions is unpredictable.

Under Gov. Bruce Rauner, funding for public four-year universities has been cut by $1.4 billion, or 60 percent. Funding for community colleges has dropped by two-thirds, or nearly half a billion dollars.

By failing to fund MAP grants, Rauner has put more than 100,000 Illinois students at risk of being unable to complete their studies.

Funding cuts have caused state universities to eliminate 1,400 jobs since Gov. Rauner took office.

There are no short-term solutions — state universities can't fund capital improvements or borrow their way to temporary relief because downgrades from credit agencies have lowered their bond rating to junk status.

The impact of Rauner's policies extends beyond campuses. Our universities employ more than 175,000 Illinoisans and generate more than $28 billion in annual economic activity. Studies show every $1 invested in higher education generates $4 in economic activity. Every lost job represents a family, a homeowner and a neighbor. Every lost dollar hurts businesses and impacts funding for local schools, infrastructure and first responders. Corporate leaders should be up in arms about losing our best and brightest.
* The letters are "personalized" for the region. Here's her letter that appeared in the QC Times…
Western Illinois University's budget has been cut by 55 percent since 2015. Degree programs have been eliminated, more than 200 staffers have been let go so far and mandatory staff furloughs have been implemented. Student fees have been hiked and the school is making $20 million in cuts.

So what should our college communities and students do amidst Rauner's wreckage?

First, see how your local legislators have responded to the state's higher education crisis. Remaining silent while our historic public institutions are decimated is unacceptable. Though it was recently unthinkable, some won't survive to benefit future graduates without immediate relief.

We need a budget now. Legislators can stop the destruction taking place in their backyards and start rebuilding our state colleges and universities. The most important step is putting our communities ahead of Rauner's political agenda.

But don't just take it from me. Before they leave town, ask a college-bound senior what they think about the damage being done to our public universities. Their high school civics lessons will still be fresh in their minds – they can probably even explain how the state constitution says it's the governor's responsibility to introduce a balanced budget for the General Assembly to act upon – and they can truly put this unfolding tragedy in perspective for you.
* Related…
* Woman on Fire: The Illinois budget debacle has left both sides bruised, but state comptroller Susana Mendoza has emerged from the fight more powerful than ever
- Posted by Rich Miller 39 Comments


* JB Pritzker appeared on WBEZ this morning and was asked about the leaked FBI recordings of him talking with then-Gov. Rod Blagojevich in 2008. Pritzker repeated his claims from earlier that he knew before he ever announced that Gov. Rauner would "throw everything and the kitchen sink at me because, frankly, he's got nothing to run on and they are afraid, the GOP and Bruce Rauner, are afraid to run against me."
Pritzker also once again pointed what he considered to be the suspicious timing of the "leak," which he says occurred on the final day of spring session when the governor couldn't get a budget passed for the third time in a row. "So, at the close of the day with nothing to talk about, this is what they throw out there."
When reminded that a Tribune reporter had earlier said that these recordings didn't come from the Rauner campaign, Pritzker said…
"He said it didn't come from Bruce Rauner. He didn't say it didn't come from the GOP. He didn't say it didn't come from the Koch brothers' network. So, remember, they're all in league with one another. So, he only excluded Bruce Rauner [and] I don't think Bruce Rauner did pick up the phone and call them. So, this is a political hit."
An ILGOP official flagged this audio for me earlier today, saying Pritzker "goes full on conspiracy theory."
My own suspicion is that these tapes might've been leaked by one of Blagojevich's defense attorneys (or perhaps a defense lawyer for a different defendant in the same case). Whether the leak was conveniently timed or whether the Trib has had these tapes for a while and the reporters just went back to listen to them is perhaps something for the FBI to consider if it ever looks into this breach of a federal judge's seal.
The full interview is here.
* This is what the Tribune reporter said, by the way…
We don't ever talk about sourcing on these kinds of issues. I know the [Pritzker] campaign threw out a Bruce Rauner allegation. That's not correct. I can say that. […]

This is Tribune reporting going back over … We have had routes for information on this case. I mean for me personally I've been protecting sources on this case back to 2006.
- Posted by Rich Miller 18 Comments


* An analysis of the new Republican budget/reform plan can be read by clicking here. No legislation has been filed as I write this. I'll update with bill numbers when I get them. You can hear the entire GOP press conference by clicking here. The GOP press release is here.
* As expected, there was lots of hyperpartisanship on display at today's Republican press conference to unveil their new budget and reform plan, which they said would be signed by Gov. Rauner if it was passed.
House GOP Leader Jim Durkin, for instance, said Speaker Madigan's members should "no longer put up with Madigan's my way or the highway" approach. He said if an agreement could not be reached by the end of June, it would all be on Madigan's head.
Leader Durkin insisted that the Republicans would not settle for "reform light" and that the final plan must be in "substantial compliance" with the proposals set forth today. If the Democrats counter with something that is "significantly diluted," he said he and the governor wouldn't accept it.
Sen. Karen McConnaughay said that the two sides were "very close" on an agreement in the Senate, but that the bills the Senate actually passed "didn't reflect what we had been negotiating." McConnaughay said it was the Democrats who "walked away" from the talks.
Sen. Dale Righter insisted that the package presented today "are compromises," claiming "We're putting on paper what the Democratic majority said they needed in the meetings… So, we are already there."
* But is this really a compromise? The Senate Democrats ultimately rejected a four-year property tax freeze, but the Republicans say their four-year freeze is a compromise from Rauner's permanent freeze - except the governor has been saying for weeks that he wants a four-year freeze.
A local government consolidation bill has already passed, but the Republicans now say they want to allow voters to initiate referendums on their own to consolidate government. This is another demand from the governor's office, which had quietly threatened to veto the previous consolidation bill. Rank and file Republicans promised they'd push for a trailer bill if he agreed to sign it, and this proposal is apparently that plan.
The education funding reform bill "compromise" seems mainly targeted at Chicago, reducing many of the gains CPS made with the Democrats' bill.
And the term limits proposal expands the concept from the originally agreed (in the Senate) limit on legislative leaders to include all constitutional officers.
* The Republicans also want a "hard" spending cap of $36 billion over four years. The Senate Democrats' bill spent over $37 billion.
The budget proposal would also cut revenue sharing to local governments (which would, remember, have their property taxes capped) and transit agencies.
Again, we don't have a detailed analysis, so I can't tell you much more besides what's in the GOP analysis.
*** UPDATE 1 ***  Sen. Daniel Biss…
"Today's press conference was more of the same from Bruce Rauner and the politicians he controls. Our state and its people are suffering while Bruce Rauner, the well-connected and their millionaire friends will continue to be just fine. There aren't enough slick talking points, fancy poster boards or campaign commercials to change that. Until Speaker Madigan and Bruce Rauner sit down with each other - face to face - and hammer out a compromise, our state will continue down a path towards bankruptcy."
*** UPDATE 2 *** From Senate President Cullerton's spokesman John Patterson via text…
Hmm. Kinda speaks for itself. I don't think three-page press releases are what Illinois needs. I hope there is real legislative language coming to back this up, language that rank-and-file Republicans will support and that the governor is committed to signing. Bipartisan compromise is the only way out of this now that the May 31 deadline passed. But a Republicans-only press conference in mid June doesn't exactly scream bipartisanship. Where's this plan been hiding the last six months?
* From the Senate Republicans…
Sen. Brady will be filing the budget, and Sen. Barickman will be filing the school funding measure, this afternoon.

The reform components of the Capitol Compromise will be introduced in the House.
*** UPDATE 3 *** Greg Hinz…
Rep. Greg Harris, D-Chicago, Madigan's point person on budget items, was restrained.

"I'm glad they did it. I'm glad they just laid out their position," he told me.

But without review, the plan at first glance seems to be based mostly on old proposals, Harris added. "There are some things in there that Democrats and Republicans could support. There are some things that our caucus has not supported in the past. The devil's in the details. It will take some time (to review.)

Somewhat more negative was Madigan spokesman Steve Brown: "Most of these ideas have been considered by the House in the past. I'm not sure whether any of it is a compromise."

Neither Brown nor Harris would say when the House might vote on a budget, either the one that's already cleared the Senate or one of their own.
- Posted by Rich Miller 62 Comments


* Press release…
Today, Daniel Biss announced the endorsement of Congressman Brad Schneider (IL-10) in his bid for governor.

"I've had the distinct privilege of working with Daniel over the years, and quickly came to appreciate his intellect, his wisdom and especially his great character," said Brad Schneider. "I've watched him boldly step up and lead on issues like income inequality, women's health care, and protecting our environment. Put simply, Daniel possesses the qualities we desperately need in our next governor: he is honest about our problems, unafraid to challenge conventional wisdom with new ideas, and keenly focused on what the people of Illinois need. Daniel knows that by putting people first, we can tackle our state's challenges head on, and secure a better future for Illinois's children. Because of his track record and his character, I'm proud to support Daniel."

"I'm honored to have Brad's support in this race," said Daniel Biss. "Brad has always been a thoughtful and valued partner at the federal level, consistently demonstrating what strong advocacy on behalf of his constituents looks like. This has never been as urgent as it is today, as Brad is on the front lines of defending Illinois residents against Donald Trump's attacks. As a friend, an ally, and a leader, I'm excited to work with Brad on our critical mission to put people first, and take our state back."
* Sun-Times…
Schneider is throwing his support behind Biss — one of seven other Democratic candidates — in a swing district that saw narrow wins last year by Democrats U.S Sen. Tammy Duckworth and Illinois Comptroller Susana Mendoza. Rauner won the district by 12 points in 2014. […]

Another gubernatorial candidate, State Rep. Scott Drury, D-Highwood, is also in Schneider's district, and the two have hosted events together. Drury didn't endorse a candidate in Schneider's 2016 primary race against Highland Park Mayor Nancy Rotering.

Reached for comment, Drury noted he didn't ask for Schneider's support.

"We appreciate the work Brad does in Congress. Consistent with past practice, we did not seek his endorsement in this race," Drury said in a statement. "This remains a two-way race — those with proven loyalties to the Madigan machine versus our campaign. We like our odds."
Duckworth actually won that district by 11 points. Mendoza squeaked by with a 2.5 margin.
Either way, that means little in a primary.
- Posted by Rich Miller 32 Comments


* I've seen the responses by the ILGOP, the governor and most of the Democratic gubernatorial candidates to the Tribune's property tax appeals series. But, curiously enough, JB Pritzker has been silent. Perhaps it was because of his own issues on this topic, or perhaps he's still laying low after the release of the Blagojevich audio tapes.
Anyway, I asked for a response and here's what the Pritzker people sent me…
"The property tax system in Cook County is flawed. We need to look at ways to make sure that every county across our state is investing in and upgrading its technology to assist in evaluating the millions of properties being assessed. We also need to continue simplifying and making it easier for residents to appeal assessment inaccuracies even without the help of a professional. Residents need to know their rights when it comes to asking for a reassessment, and educating homeowners should be a priority. When studies show inequality, it's the government's job to put in place remedies that ensure every resident is being treated fairly under the system."
Your thoughts on this response?
- Posted by Rich Miller 24 Comments


The shooter at the GOP congressional baseball practice this morning is James T. Hodgkinson of Belleville, Ill., according to law enforcement officials. Hodgkinson, 66, owns a home inspection business. His home inspection license expired in November 2016 and was not renewed, state records show.

Hodgkinson was charged in April 2006 with battery and aiding damage to a motor vehicle, according to online records in St. Clair County, Illinois. The charges were dismissed, records show.
You'll know more when I know more.
*** UPDATE ***  WaPo…
Charles Orear, 50, a restaurant manager from St. Louis, said in an interview Wednesday that he became friendly with James T. Hodgkinson, whom law enforcement officials identified as the shooter, during their work in Iowa on Sen. Bernie Sanders's presidential campaign. Orear said Hodgkinson was a passionate progressive and showed no signs of violence or malice toward others.

"You've got to be kidding me," Orear said when told by phone. "I met him on the Bernie trail in Iowa, worked with him in the Quad Cities area."

Orear described Hodgkinson as a "quiet guy" who was "very mellow, very reserved" when they stayed overnight at a Sanders's supporter home in Rock Island, Ill., after canvassing for the senator.

"He was this union tradesman, pretty stocky, and we stayed up talking politics," he said. "He was more on the really progressive side of things."
His apparent Twitter feed is here.
* Belleville News-Democrat…
Two days ago, Hodgkinson posted an angry tweet about President Donald Trump on Facebook.

"I Want to Say Mr. President, for being an [expletive deleted] you are Truly the Biggest [expletive deleted] We Have Ever Had in the Oval Office," he wrote on Facebook.

Hodgkinson took a Democratic ballot in the primary election in 2016.

In 2012, Hodgkinson took part in a protest outside the downtown Belleville post office. He said he was part of a "99%" team drawing attention to the amount of money and political power the top 1 percent of Americans acquired.
* Rodney Davis was there, but not hurt…
GOP congressman: "I never thought I'd play a baseball game for charity, go to practice… and have to dodge bullets." https://t.co/o956SLUXGv

— CNN (@CNN) June 14, 2017
* I'm moving on to other things. I'd suggest you monitor the Washington Post's live coverage feed and check in with the Belleville News-Democrat.
Also, stay rational in comments or you'll be banned for life. I've already banned one commenter.
- Posted by Rich Miller 92 Comments


* The RTA wasn't the only transit entity hit with a Moody's downgrade yesterday. From Moody's…
Late yesterday, Moody's downgraded the Chicago Transit Authority (CTA)'s Sales Tax Receipts Revenue Bonds two notches from A1 to A3, and assigned a negative outlook. Also affected by this action are Series 2006 Building Refunding Revenue Bonds issued through the Public Building Commission of Chicago to refinance CTA's headquarters, with $67 million outstanding; the rating on these bonds was lowered to Baa1 from A2. The negative outlook connotes continued downward pressure on the rating and the possibility of another downgrade in the next 12-24 months.

The downgrades are driven primarily by the authority's exposure to the State of Illinois, which was downgraded to Baa3 from Baa2 on June 1, amid an extended political impasse in the Illinois General Assembly over how to balance the state's budget. After two years of failing to reach an agreement, and operating with substantial budget deficits, the state has allowed a backlog of payments owed to CTA and other public- and private-sector entities to rise to record levels ($14.68 billion in aggregate as of June 5, according to the state comptroller). This prolonged impasse is putting pressure on various entities like CTA that are awaiting payment from the state.

The State of Illinois also collects regional sales taxes that support CTA and other Chicago-area transit providers, and it also provides other forms of supplemental funding. Like the state itself, CTA faces a worsening pension funding burden. Failure to make required annual pension contributions could jeopardize the flow of funds to holders of some of the authority's debt, although to date CTA has made all required contributions.
* From the report…
Credit Challenges

» Economic and financial pressure caused by state and local governments' overlapping pension liabilities, which will limit the ability to increase revenues for capital or operating needs
» Exposure to credit deterioration of related governments including the state and Chicago
» State aid payment deferrals and absence of state plan to address backlog of unpaid bills
» Backlog of capital investment needs and large unfunded authority pension liabilities

Rating Outlook

The negative outlook incorporates the state's continuing credit deterioration, which threatens to exacerbate ongoing aid payment delays in coming months, barring an agreement to compensate for the state's recent revenue losses. It also factors in the Chicago area's economic vulnerability to tax increases needed to address pension liabilities, which could undermine regional sales tax revenues at a time when regional transit providers are trying to address deferred capital investment needs.

Factors that Could Lead to an Upgrade

» Stabilization of related governments' credit positions
» Sustained trend of improving debt service coverage
» Pledge of new or increased revenues
» More stringent legal protections for bondholders

Factors that Could Lead to a Downgrade

» Substantial shortfalls in pledged sales tax revenues caused by economic conditions or other factors
» Prolonged decline in debt-service coverage, whether from increased borrowing or revenue underperformance
- Posted by Rich Miller 12 Comments


* Leader Radogno is out of state visiting her grandchildren, so she can't be there today…
House Republican Leader Jim Durkin, Senate Republican Whip Karen McConnaughay and a group of Republican lawmakers from the House and Senate will hold a press conference on Wednesday, June 14, 2017 at 11:00 a.m. on the 15th Floor, Blue Room of the James R. Thompson Center.

The topic of the press conference establishes a path forward on the state budget.
* Meanwhile, Rep. Steve Andersson (R-Geneva) is the House Republican floor leader and called an "emergency town hall meeting" the other day…
Andersson said he disagrees with those who say no budget is better than a bad budget.

"Our cash flow would be so limited, that we may default on our debt," Andersson said. "Our bonds won't get paid. Our state employees would not get paid."

Instead, Andersson supports various plans to create a sustainable budget, one that is "a real budget, not a fake budget, not a feel-good budget."

Raising the personal income tax rate to 4.95 percent and the corporate tax rate to 7 percent, along with some other taxes, would help shore up the state's need for revenue to pay its bills, its pensions and support its programs, Andersson said.

"I do not want to raise taxes, but I was hired by you to govern," Andersson said. "If we do not do something, we will fail as a state in a year."
So, that looks like he essentially supports the Senate Democrats' revenue plan.
Andersson went on to say that he doesn't want a stand-alone school funding bill to put pressure on everybody to finally wrap things up.
* Meanwhile, we can cross next Monday off the possible special session day list…
The Illinois Republican Party is holding a Monday night fundraiser featuring all seven members of the state's GOP delegation to the U.S. House plus what organizers are calling a "special guest" in Gov. Bruce Rauner.

The event is called "Cocktails with the Congressmen" and tickets start at $100 per person, with $10,000 required to play "host" at the Rosemont outpost of Gene & Georgetti.

Those paying $2,500 or more per person will gain access to a special hourlong reception prior to the general reception cattle call. Along with Rauner, scheduled to attend are Republican U.S. Reps. Peter Roskam of Wheaton, Randy Hultgren of Plano, Adam Kinzinger of Channahon, Rodney Davis of Taylorville, John Shimkus of Collinsville, Darin LaHood of Peoria and Mike Bost of Murphysboro.
- Posted by Rich Miller 41 Comments