* I was waiting on her letter so I could post it, but yeah, this also happened today…
The Chief Procurement Officer just voided the $12.8 million no-bid consulting contract @GovRauner's administration gave out to McKinsey. HFS Director Norwood said the consultation was exempt from bidding process according to state law.

— Mark Maxwell (@WCIA3Mark) December 5, 2017
Not a banner week for the governor and it's only Tuesday.
* Rep. Greg Harris on Facebook…
Illinois's Chief Procurement Officer has just voided the multi-million dollar no-bid Medicaid consulting contract issued by the Rauner administration that was subject of our hearings last week. This Thursday we will be having hearings on the much larger $60+ billion dollar Medicaid MCO contracts.
*** UPDATE 1 *** Here's the pertinent part of the letter. Click the pic for a much better image…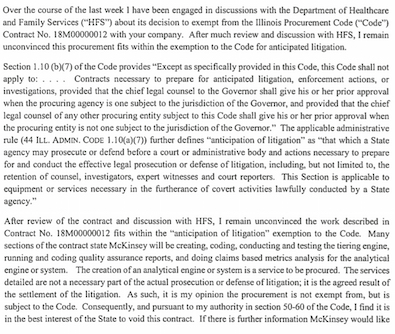 Seems pretty clear that the contract was not exempt.
*** UPDATE 2 *** From the comptroller's office…
As Comptroller Mendoza mentioned the last time she appeared before the Human Services Committee, our office has had these matters under review for some time and we are not surprised by the Chief Procurement Officer's decision to void the contract. We will watch the committee's hearings with great interest.
* Also…
REMINDER: Per @wcia3mark, a McKinsey partner "maintains a direct line of communication" with the highest levels of Rauner's office #twill pic.twitter.com/aPZ9gvdhVl

— Illinois Working Together (@IllinoisWorking) December 5, 2017
*** UPDATE 3 *** Press release…
The cancellation of a no-bid consulting contract inked by the Rauner administration in violation of state procurement law raises other red flags about the state's Medicaid managed care program, Senator Andy Manar said today.

"In my mind, all this does is raise more questions about the Rauner administration's handling of the overall $60-plus billion managed care contract. I think taxpayers are owed some explanations," said Manar, a Bunker Hill Democrat and chairman of a Senate appropriations committee.

The state's chief procurement officer on Tuesday voided the multi-million-dollar no-bid consulting contract between the Rauner administration and Chicago-based McKinsey & Co. The contract was for services related to the state's Medicaid managed care program.

The process of contracting with insurance companies to be part of the state's Medicaid managed care system has been cloaked in secrecy while costs ballooned without explanation. Manar said he and other state senators will be looking for answers from the administration during a Senate hearing at 11 a.m. Friday in Chicago.

The hearing will be streamed live at www.ilga.gov.
66 Comments





































































































































































































Sorry, comments for this post are now closed.