* Fundraiser invite…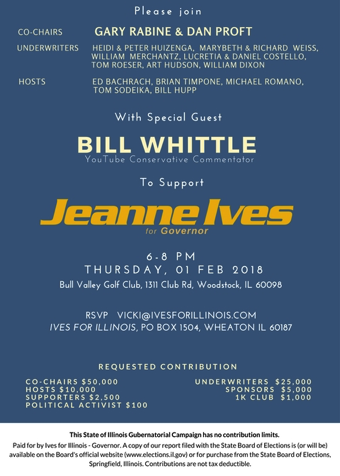 * I don't think I'd ever heard of Bill Whittle until today, when a certain helpful somebody sent me the invite and a link to this backgrounder…
While discussing "black America" during a December 2015 appearance on Molyneux's program, Whittle described African Americans who support the Democratic Party as literal slaves who prefer to remain in captivity. He said that that the party has "30 million" slaves and the "terms of their slavery are very simple — there's a word for somebody who is fed, and clothed, and housed, and whose health care is taken care of by another person, and that word is slave." Whittle then suggested that African Americans commit voter fraud on behalf of Democrats as a condition of their slavery, claiming, "On the voting plantation that the Democratic Party has set up in America, we demand two hours of work from you every two years. Every two years we demand that you go down to the voting places and vote, once, twice, three, four times, however [many] times as you can imagine, or manage, and that's the work we expect for you in exchange for keeping you in bondage."

During another 2015 appearance on Molyneux's show, Whittle compared the "Islamic invasion of Europe" to "inner cities" in America "that are absolutely toxic, violent, enraged, bitter, [and] racist." He went on to claim Black Lives Matter is "the street muscle" of the Democratic Party and that the group will make sure "everything's gonna burn" if welfare is reduced. Again drawing a comparison between Europe and the United States, Whittle said, "We have the exact same problem here with these same kind of communities. They're unemployable — unemployed and unemployable — they've been on assistance their entire lives, they've never had to work before," and he said that these people should get jobs because a job "beats the laziness" out of people and "disciplines" them into "civility."

Whittle called President Obama an "unqualified, unknown individual" who was elected "specifically and only because he is black" and said that electing Obama was "atoning for our slavery" during a January 2016 appearance on Molyneux's show. Moments later he said, "I didn't own any slaves, and therefore I'm not responsible for slavery. I'm not benefiting from slavery because I never owned any slaves," and he said, "There's nothing in this country that survived the Civil War that was the result of slavery." Continuing to discuss the Civil War, Whittle said the "greatest tragedy in American history" is "not slavery, it's not the Civil War, it's what happened after," before complaining about the philosophy of W.E.B. DuBois.

In 2013, Whittle published a video for PJ Media with the title "The Lynching" that discussed the February 2012 shooting of unarmed Florida teenager Trayvon Martin. Whittle suggested that George Zimmerman, who killed Martin, had an experience tantamount to a lynching. Whittle said that text messages found on Martin's phone, which he said were "not 'airable' here for extreme graphic content," showed that Martin was "violent and highly sexualized." What was "airable" on Whittle's video, however, was an image (warning: disturbing image) of Martin's body after he had been shot, which Whittle left on the screen for several minutes.

Whittle bizarrely labeled CNN anchor Don Lemon "racist" against white people because Lemon pointed out that President Donald Trump sounds different when he is using a teleprompter, as compared to when he speaks without one, during a March NRATV appearance.
…Adding… More oppo. From earlier this month…
Nationally-syndicated talk show host, Mike Gallagher is in Chicago to headline a fundraiser for GOP gubernatorial candidate Jeanne Ives.
* Who's he?…
Yesterday on Fox News' "Dayside," conservative radio host Mike Gallagher proposed that airports institute a "Muslims only" line for airport travelers during a segment Tuesday on racial profiling.
*** UPDATE 1 *** GOP state Rep. Grant Wehrli…
"Bill Whittle has a history of espousing racist ideas. That type of shameful rhetoric has no place in the Republican Party and Representative Ives should cancel her fundraiser with him."
*** UPDATE 2 *** Rep. Bourne…
Exactly. Civility and respect in our public discourse are more important than campaign contributions. Whittle's racially-charged comments are embarrassing and reprehensible. Rep. Ives should do the right thing - cancel her fundraiser. #twill https://t.co/dw7UN4jSax

— Avery Bourne (@AveryBourne) February 1, 2018
*** UPDATE 3 *** SGOP Leader Brady…
Bill Whittle's racially infused rhetoric shouldn't be tolerated in the Land and Party of Lincoln. Representative Ives should disinvite him from her event. #twill https://t.co/Wzyrc1RTkh

— Bill Brady (@Bill_Brady) February 1, 2018
*** UPDATE 4 *** He gone…
.@JeanneIves spokeswoman says Bill Whittle has been disinvited after backlash from other Republicans. https://t.co/6vM2vl6Zg9

— Mark Maxwell (@WCIA3Mark) February 1, 2018
*** UPDATE 5 *** Press release…
The Ives for Illinois campaign was unaware of the remarks made by Bill Whittle, reported in Capitol Fax. Whittle was a guest of the event organizer. His comments are obviously offensive and objectionable. Whittle has been disinvited from the event. Representative Ives, additionally, disavows any endorsement from Mr. Whittle. A video of Whittle speaking in support of Ives has been pulled from the campaign's social media pages.
*** UPDATE 6 *** Hmm…
Rauner campaign weighs in on @JeanneIves having to disinvite controversial radio host with history of racist remarks to her fundraiser: "This just shows how unelectable Representative Ives really is." #ILGov @GovRauner

— Mary Ann Ahern (@MaryAnnAhernNBC) February 1, 2018
101 Comments














































































































































































































































































































Sorry, comments for this post are now closed.