* Politico…
A new Public Policy Polling survey shows political newcomer Marie Newman in a statistical dead heat with longtime Congressman Dan Lipinski. The poll, made available first to POLITICO, showed 43 percent of those surveyed supported Lipinski and 41 percent backed Newman — the two percentage points were within the margin of error. The automated poll of 648 likely Democratic primary voters was taken Feb. 27-28. […]

The numbers reflect a huge jump in Newman's name recognition since October, when she only logged 18 percent in a Normington Petts poll. Since then, various groups, including NARAL, Planned Parenthood and SEIU have backed Newman, and a superPAC targeting Lipinski has helped drive up her name ID and his negatives. While Lipinski has more money in his account than Newman, over the last few weeks, the Citizens for a Better Illinois political action committee spent nearly $700,000 on ads attacking Lipinski. Newman had the help of veteran Democrats U.S. Reps. Jan Schakowsky and Luis Gutierrez who publicly rejected Lipinski, calling his views opposing abortion rights and votes on immigration too conservative for his district. The AFL-CIO has backed Lipinski and he has the support from dozens of mayors and village presidents in the 3rd Congressional District.
Citizens for a Better Illinois is a NARAL front. One of its ads is here.
* From the methodology page…
The survey was conducted from February 27-28, 2018. PPP surveyed 648 IL-03 likely Democratic primary voters. The margin of error is +/- 3.9%. This poll was conducted by automated telephone interviews.

* The breakdown of those who participated in the survey are:

o 55% women, 45% men
o 16% Hispanic or Latino, 71% white, 7% African-American, 6% other
o 31% aged 18-45, 46% aged 46-65, 23% older than age 65
During the last Census, the district was 66 percent white, 25 percent Latino and 5 percent African-American. However, that's probably not how the actual voting breaks down.
* The most interesting crosstab to me…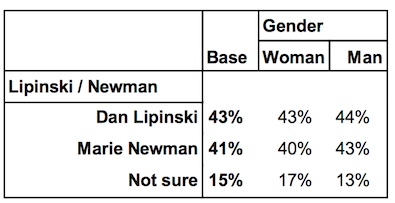 *** UPDATE *** Press release…
United for Progress, Inc., has launched a new television ad, "Don't Be Fooled," which highlights Marie Newman's record of fly-by-night campaign exaggerations, misstatements, poor management, and policies that will hurt Illinois workers.

"A member of Congress can't deliver progressive change in Washington without character and experience. And Marie Newman unfortunately has neither," said United For Progress, Inc. Treasurer Bruce Goren. "She claims to fight for workers and yet took a stand against 14,000 airline workers in her own district. She shamelessly lied about her record as a nonprofit leader and business owner. She claims to be a progressive and yet has no record of fighting for progressive change. We ran this ad because voters in the 3rd District deserve to know the truth: Marie Newman would be a disastrous choice for Congress."

"Don't Be Fooled" will begin airing March 7th.
* Ad…
* Script…
If Marie Newman has her way, subsidized foreign airlines will take away U.S. jobs. But that's not the only thing fly-by-night with Marie Newman. She says she set up a charity for bullied children. But the IRS has no record of it. The restaurant she ran was cited for over a dozen health code violations. Her experience for public office? Dropping out of the race for Library Board. Don't be fooled by the flimflam. Send Marie Newman and her out-of-state attack dogs packing.
Kinda scattershot, but yikes.
Back-up documentation is here. The group has reported spending about $160K so far attacking Newman and supporting Lipinski. Craig Duchossois and Jerry Reinsdorf are contributors.
75 Comments
































































































































































































































Sorry, comments for this post are now closed.