* Press release…
State Representative Helene Miller Walsh (R-Mundelein) was sworn into serve the 51st legislative district of Illinois on August 18th, 2018.

Helene is currently the Chief Operating Officer of Leenie Productions, LLC, a multi-media production company. In addition to her business, Rep. Miller Walsh is involved in various philanthropic endeavors, and she has held leadership positions on several campaigns for Northwestern's Prentice Women's Hospital. Having experience working as a business leader while contributing to various philanthropies in the community, Miller Walsh brings a valued perspective and unique skill set to the General Assembly.

Rep. Miller Walsh was appointed to serve on the following committees in the House of Representatives:

Economic Opportunity
Elections & Campaign Finance
Human Services
Labor and Commerce
International Trade and Commerce
Unemployment Insurance Subcommittee
* She does have some unique skills, and her Facebook page proves it. Or at least it did before she scrubbed it. Here's some stuff you haven't seen unless you followed her. Opining on Roy Moore…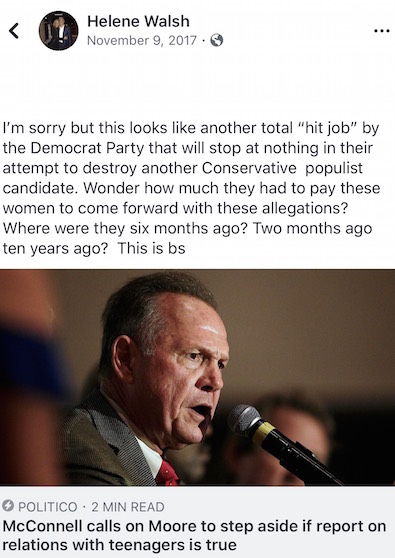 * As it turns out, this video was deceptively edited…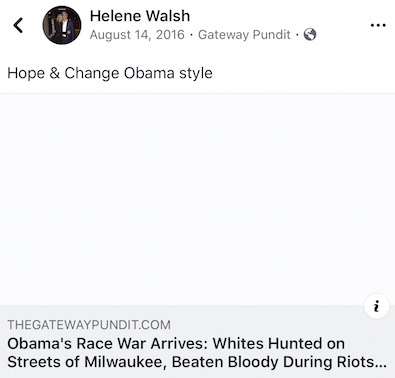 They really like them some Gateway Pundit up there in Lake County.
* Classy…
By the way, House Republican Leader Jim Durkin was McCain's state campaign chairman in 2000 and remained a friend.
* Rep. Miller Walsh is on the right. The guy on the left is Paul Nehlen…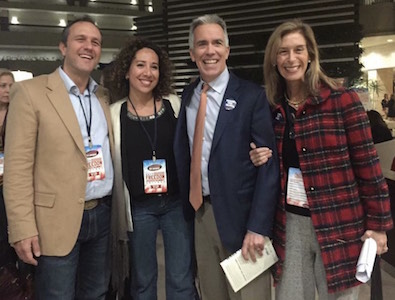 From the Atlantic…
After BuzzFeed published an article documenting Nehlen's mobilization of online followers against the "Jewish media," he tweeted out pictures of top media executives at CNN, NBC, and The New York Times with little stars of David superimposed on their faces. "Do the people pictured seem to have anything in common?" he wrote, before apparently deleting the tweet. […]

"Poop, incest, and pedophilia. Why are those common themes repeated so often with Jews?" he tweeted.
63 Comments




























































































































































































Sorry, comments for this post are now closed.