* WGN's Tahman Bradley took a look at some of the more "extreme" candidates running as Republicans in Illinois this year. Here's one…
In Illinois House District 51, local Republicans chose Helene Miller Walsh to fill the vacant seat. She's married to conservative firebrand Joe Walsh, a former congressman. Helene Walsh, like her husband, has expressed controversial views, some of which were reportedly posted on Facebook.

"I don't even know what hate speech is," Walsh said at a recent League of Women Voters candidate forum. "You're allowed to say whatever you want in this country. … That's called free speech."

When asked whether Walsh represents the values of Illinois Republicans, Schneider said, "The Illinois Republican Party does not put pressure on from the top down. We let the local legislators choose their individuals in those races."
Saying "I don't even know what hate speech is," is kinda like saying "The Mafia doesn't exist."
Also, state-level Republicans don't put pressure on locals when it comes to legislative appointments? Really? That's a laughably false assertion.
* Anyway, back to Rep. Walsh, who campaigned in Vernon Hills with Gov. Rauner and comptroller candidate Darlene Senger over the weekend…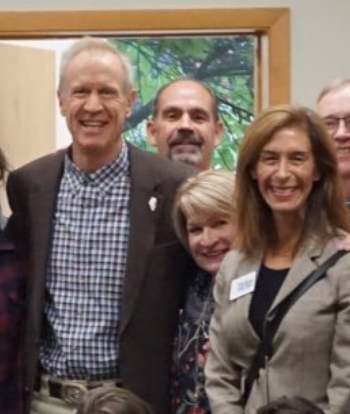 …Adding… That's Republican House candidate Ken Idstein just behind Rauner. Idstein is a candidate backed by Dan Proft. Because of Idstein's tight relationship to Proft, the House Republicans are staying out of the race.
* Background…
16 Comments















































Sorry, comments for this post are now closed.