* Bernie…
AARON MERREIGHN of Riverton, who ran for lieutenant governor last year under the Conservative Party banner, says he'll run as a Republican next year for state representative in the 87th House District, now represented by Rep. TIM BUTLER, R-Springfield.

"Our Republican Party's still falling apart," said Merreighn, 36, who works in human resources for the Illinois Department of Revenue. […]

Butler said Merreighn "needs to make up his mind on which party he wants to be in."

Merreighn said he "left the Republican Party last year" when he became running mate to then-state Sen. SAM McCANN. Their ticket got 4.2 percent of the statewide vote in November.

Merreighn ran as a Democrat for precinct committeeman in 2014 and was listed on a Libertarian Party of Illinois news release when he ran for Riverton village trustee in 2015. He was not elected in either race.
If he loses maybe he'll run on the Green Party's ticket.
*** UPDATE *** Democrat, Libertarian, Conservative, Republican and… the Veterans Party? Yep…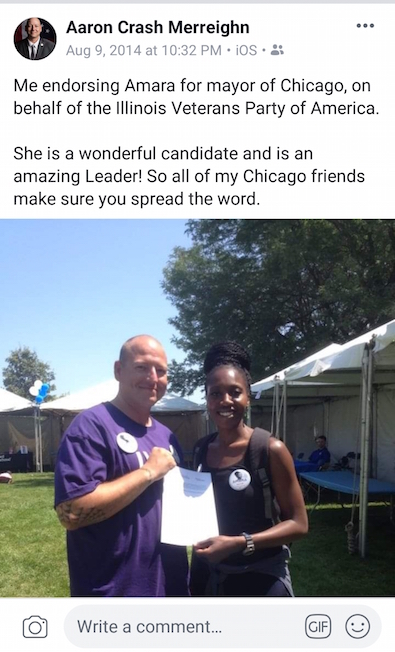 And, yes, it's a thing.
18 Comments





















































Sorry, comments for this post are now closed.