* Illinois News Network…
After a heated debate, calls of racism, and shouting, the Illinois state House of Representatives voted to require all publicly held companies in the state to have at least one woman and one African-American on the company's corporate board.

State Rep. Chris Welch's bill, which passed Friday, would require any publicly-traded company headquartered in the state to have at least one woman and at least one African-American on its corporate boards starting in 2021.
Maybe I missed something, but I heard no explicit "calls of racism."
The bill is here.
* To the debate…
Rep. Tony McCombie (R-Savanna): No disrespect, Representative, but is this a real bill?

Rep. Chris Welch (D-Hillside): This is a real bill.

McCombie: Who writes this stuff? I mean this is, this is getting crazy here. Just because you have the super majority, the super-duper-duper majority doesn't mean you have to keep continuing to pass bills that haven't passed over the last three or four different years. This is blowing my mind. You guys are gonna put your governor, our governor on the books for being the biggest business busting person in the nation.

Welch: No, I think Rauner has that title already.

McCombie: You are putting him on a spot here that is not going to help him, I'm telling you. I strongly urge, this bill is really quite offensive. I agree with Davidsmeyer, why are we not talking about seniors, why are we not talking about different religions, why are we not talking about people that are disabled? Why are we getting in, why are we continuing to get in the private businesses? Destroying our ability for this state to grow. And we all agree in this room, every single person we agree that we have to grow our way out of this mess. I strongly, strongly urge a No vote and, you know, Representative, you have always been one that comes forth with a bill that sometimes I disagree with and then you come back and you change a mandate to a 'may' and it's a better bill. This is a bad bill. This is a horrible bill. I don't even, you guys gotta get it together here. No offense, but this is, this is something else. I urge a No vote.

Rep. Will Davis (D-Homewood): The previous speaker said 'No offense.' I'll just say 'Offense taken' in that respect. Offense is already taken. I often say when I sponsor diversity bills that I wouldn't have to do them if people would act right. We wouldn't have to do these kind of things if all of us act right.
* Leader Davis went on like that for a while and Rep. Steven Reick (R-Woodstock) decided to add his own "contribution"…
I don't care whether you are offended or not by the fact that we are against this bill. The fact remains that you're not gonna get anything in this country in the way of being treated equally if you're gonna take offense at every damned thing that comes up.
Whew.
* The response from Rep. Margo McDermed (R-Mokena), who sits down the row from Rep. Reick…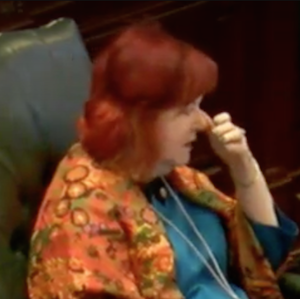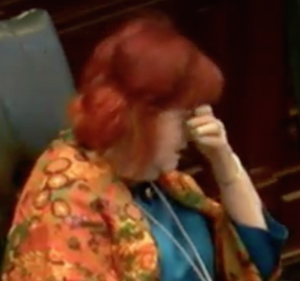 Agreed.
* But the Republicans were not finished…
Rep. Deanne Mazzochi (R-Elmhurst): Just out of curiosity, if we set a precedent with this bill, could we then pass a bill saying that we mandate Christian men be represented on a corporate board?

Rep. Welch: You have the right just like I did to file your bill. If you like that, file the bill.

Mazzochi: Can we mandate that conservative Republicans have to have a seat at the table on corporate boards?

Welch: You can certainly file that bill.

Mazzochi: Well, I'm asking, if that bill gets filed would you then support it?
* All heck kinda broke loose…
Welch: Listen, Representative, I'm not gonna stand here as a black man with a five-year-old daughter and be ashamed that I'm fighting for her to have a seat at the table… If you believe corporate Republicans and conservative Republicans have a right [to be] at the table, file the bill! We can debate it, just like we're doing here today. But I'm not going to be ashamed to stand here and fight for the people that sent me here! Let's stand up for our people! You should be ashamed of the arguments coming out of the other side today.
And that's when Mazzochi asked if Rachel Dolezal, the woman who claimed she was black and wasn't, and whether a white woman from South Africa would also qualify.
McCombie eventually rose to defend herself, saying people who know her understand she wasn't trying to make this about race, and Welch said he wanted to make a change to the bill and pulled it out of the record. Several minutes later, Welch said he had changed his mind and asked for a "Yes" vote.
* House Republican Leader Jim Durkin rose to clarify…
Durkin: Rep. Welch, let's make this perfectly clear that this doesn't apply to any privately held corporation, correct?

Welch: It applies to publicly held corporations. […]

Durkin: I've been down here many years when sometimes the debate on this floor gets heated. And I think sometimes our emotions carry over. And I just witnessed it and I think it's best for us to take a deep breath and I want to talk about my caucus. This is a bill that is important to us because we believe in the free market system. And we traditionally have. We disagree about how we are to manage corporate America. We take the position that we think government should take a step back, let those entities make decisions on their own. We believe that the more that government micromanages the private businesses and corporations in Illinois and in this country is not the best way for us to move forward and to grow our economy. So I speak on behalf of the caucus that our objections are nothing more than we just have a difference of agreement of how our free market, our private markets should work. And I hope that we do not turn this matter into something that I've gathered through this last hour of how this debate went because that doesn't reflect my caucus.
Durkin went on to say "There clearly are places and times when there has to be some oversight," of business but, on the whole, Republicans are for free markets. He called Rep. Welch a "gentleman" and said "Let's just take a vote." It passed with 61 votes.
* But it wasn't over yet. Rep. Rita Mayfield (D-Waukegan) rose at the end of Friday's session to give this speech…
I'm extremely disappointed that two women, two founding women of our House Democratic Women's Caucus chose to vote 'No.' These are individuals who stood before the Women's Caucus and said they would stand up for women, they would stand up for our rights, they would stand up for us across the board. But yet they chose to vote 'No' on a bill that would've empowered women. I'm extremely disappointed with their vote.
* Politico…
The bill passed 61 to 27 with a few Democrats opposed, including Kelly Burke (Evergreen Park), Anna Moeller (Elgin) and Deb Conroy (Villa Park). Conroy is co-chair of the House Dem Women's House Caucus. Dem Rep. Rita Mayfield (Waukegan) called out the women who opposed the measure in a point of personal privilege after the vote.
A check of the roll call shows that Burke, Moeller and Conroy did not vote either way on the motion. No Democrat explicitly voted against the bill.
In the end, taking a walk or voting "Present" have the same impact as voting "No." They do not necessarily have the same intent, however.
…Adding… As Rep. McDermed points out in comments, she voted "Yes" on the bill.
53 Comments






























































































































































Sorry, comments for this post are now closed.