* A circle can't fit where a square should be takes a look at the capital bill…
In Springfield, $350 million is earmarked for the Capitol complex, but it's unclear for what. Messages left for the Capitol Architect on Wednesday were not immediately returned.

There's also $122 million for the long-shuttered State Armory, which is right across the street from the Capitol in Springfield.

"The funding included in Rebuild Illinois will allow the state to return the Armory to a usable space and that work will include new HVAC, plumbing, electrical and an entirely new roof and renovations to the interior space," Central Management Services Deputy Director Mike Deering said. "But right now we don't have a determination of what agency or what it will be repurposed for.

"It's just not usable, the water is turned off, all the different utilities, it needs to brought up to speed and for a safety standard," Deering said. "It's much needed for that facility." […]

The plan includes $3.1 billion over several years for school construction. In the first, first year there'll be $200 million available for grants. It goes up from there to $450 million the second year, $500 million each for years three and four. Year five there'll be $800 million in grants awarded and each year after that there'll be around $660 million available for school construction grants.

For higher education buildings, Eastern Illinois University is getting a new science building for $118.8 million.

"After a couple of decades we've got funding … for a new science building," said Butler who's a graduate of EIU. "There are so many high schools in the state of Illinois that have much better science facilities than EIU does and that's a shame. There are tarps that are over some of the equipment to make sure the ceiling doesn't fall on some of the equipment."
* Mark Brown has an exhaustive list and this tidbit…
I'm told state representatives were instructed to designate $2.5 million-$3 million worth of projects for their districts, while senators were allotted $5 million-$6 million, not to suggest everyone was treated equally.

Although many of those "member initiatives" are detailed in the legislation, H.B. 62, others are lumped together in large multi-billion categories with more specific appropriations expected to be disclosed later. […]

Individual legislator's names are not listed with the earmarks in the legislation.

Sen. Ram Villivalam (D-Chicago), the first Indian-American elected to the Senate, said he pushed for the new Pan Asian community center, which he envisions as a place for the area's diverse and fast growing Asian population to come together for services of common need. He expects it to be located on the North Side or north suburbs with Skokie emerging as an early favorite.

I didn't spot any obviously egregious taxpayer boondoggles in my first reading of the bill, which is not to say they aren't in there.
Those member projects lists have been leaked in the past, so we'll just have to see if that happens again.
…Adding… Daily Herald…
State Sen. Cristina Castro confirmed she will receive $6 million in member initiative money. The former Kane County Board member said she isn't giving any to Longmeadow. She's committed her dollars to projects brought to her by local officials during the state budget process. […]

[Republican Sen. Don DeWitte] received "an awful lot of" funding requests for local projects. … DeWitte and fellow Republican state senators expect to receive about $4 million each from the member initiative pool.
* Click here for a decent explanation of how the new revenues will be divvied up. It was put together by a group affiliated with Local 150 of the Operating Engineers. Here's a couple of charts…
Distribution of Anticipated New Annual Revenues from Increasing Motor Fuel Taxes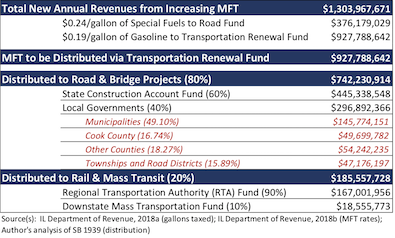 * Related…
* Pritzker's Budget Funds Roadwork For South Suburban Airport: In May, Kelly reported that land acquisition and planning for the airport was 90 percent complete. The state so far owns 89 percent of the land where it will sit and is poised to secure the rest once all other details are in place. All FAA approvals are in place, except for the final, detailed construction plan by the contractor. What's needed, she and the other elected officials said in a letter to Pritzker, was the funding to wrap up the final leg of the project. The new budget gave them $162 million to do that.

* Lawmakers pass bill for infrastructure - Granville mayor is pleased by the news

* Illinois Central College lands $5.1M in capital bill

* SIU Carbondale gets about $140 million in construction, upgrades in capital bill

* ISU staff optimistic to receive government funding; Money will be used for renovations

* Northlight Theatre receives $927,500 from newly announced statewide arts funding
23 Comments »




































































This is not Facebook, so uncivil comments, profanity of any kind, rumors and anonymous commenters will not be tolerated and will likely result in banishment.