* Press release…
Today, the Illinois Sheriffs' Association (ISA) filed suit against Governor Jay Pritzker and the Illinois De- partment of Corrections for their refusal to accept transfers of parole violators or convicted individuals from jails across Illinois.

On March 26, Gov. Pritzker unilaterally suspended all admissions to IDOC facilities in response to the global COVID-19 pandemic. At the time, the leaders at IDOC said they needed time to prepare and install proper intake procedures to reduce the spread of the virus from inmates transferred out of County Jails. However, no such preparations have been made or implemented, despite repeated discussions between members of the ISA and IDOC

Rather than working together with the Sheriffs to find ways to uphold the law while reducing the spread of COVID-19, IDOC has simply shut its doors.

This has left the Sheriffs to bear not only the burden of protecting their detainees and county-sentenced inmates from the threat of the virus, but also those who rightfully should be in the custody of IDOC at a time when space and inmate population are critical components to battling the spread of the virus. Jails continue to accept new arrestees and manage the spread of the virus simultaneously.

Since March 26, IDOC officials have repeatedly denied requests from Sheriff's Offices to transfer individ- uals to the agency's custody. Currently there are 100's of individuals being held in jails across Illinois in- stead of a state correctional facility simply because Gov. Pritzker and IDOC have decided to wall them- selves off rather than work with their fellow law enforcement partners to address the issue.

The task of safely housing detainees amid this unprecedented pandemic is challenge enough for Illinois Sheriffs without having to also shoulder IDOC's responsibilities as well.
- Posted by Rich Miller 13 Comments


* Gov. Pritzker today talked about tomorrow's Phase 3 reopening, including this…
We will also be posting recommendations for houses of worship, providing more guidance for houses of worship in phase three. Having received many plans and ideas from responsible faith leaders, IDPH has reviewed many detailed proposals and has provided guidance, not mandatory restrictions for all faith leaders to use in their efforts to ensure the health and safety of their congregants. This includes suggestions on capacity limits, new cleaning protocols indoor gatherings of 10 persons or less a reduction of activities like sharing food, and the safe conduct of outdoor congregating. The safest options remain remote and driving services, but for those that want to conduct in person activities, IDPH is offering best practices.
That's an interesting development, considering the US Supreme Court now has a case before it.
* Back to Pritzker…
Additionally with phase three, horse racing will be returning to Illinois tracks, boosting the industry in a key season, especially for thoroughbred and harness racing. The Department of Agriculture has worked with the IDPH with the Illinois racing board and industry leaders to develop guidelines for racing, allowing those whose livelihoods depend on these races to get back to work and allowing spectators to watch from home and place wagers online and over the phone.

And while it's still at least a few weeks off, I want to affirm that the three metrics that have brought us from phase two to phase three will be the same as those that will move us into phase four. Just as this 28 day period of tracking started when we move from phase one to phase two on May 1, our next health metrics calendar will restart tomorrow and run for the same period, meaning that regions that meet the metrics could move into phase four possibly as early as Friday, June 26. That's the earliest possible date and we will be watching the metrics closely in hopes that we will move forward expeditiously, but our goal is and always has been to keep people safe from this coronavirus while we restore more of our normal activities.

So it's important that we remain careful about continuing to wear face coverings washing hands, maintain six feet of distance, wiping down surfaces using hand sanitizer and other mitigations. Let's not move backward, but instead, let's move forward together.
Please remember to pardon all transcription errors.
* Nursing homes…
Some long term care facilities opt out of the free assistance of IDPH response teams, sometimes because they choose to take their own specimens using IDPH swabs, or because they choose to work with their county or city health department instead. Others work with their local hospitals and health centers to source and conduct tests.

To date, we've sent about 45,000 test kits out in 200 shipments, up from 18,000 swabs to 68 facilities back in late April. Still others have declined the free visits, and even the free testing supplies from IDPH entirely.

As I've explained, these are largely private entities. And even as we work to ramp up regular testing of all our long term care residents and staff, my administration has received some pushback from owners and industry representatives, making it difficult to secure compliance across the board. […]

(L)ong term care residents are some of our most vulnerable Illinoisans. That's why strong compliance from many isn't good enough to counteract any heel dragging at any privately held nursing homes.

The Illinois Department of Public Health is today filing a rule requiring each facility to develop its own individualized testing plan and document an established relationship with a testing lab, whether it's a commercial lab, a local hospital lab or our state labs. This new rule will require nursing homes to conduct testing, when experiencing an outbreak, when an outbreak is suspected. Periodic testing even when there is no sign of an outbreak in line with new federal guidance issued this week, or when directed by IDPH or their local health department to do testing. The rule also mandates compliance with infection control recommendations, at large test results should be used to identify asymptomatic cases to confirm infection in symptomatic cases to re evaluate quality indicators to follow up on infection control programs, and to support decision making.

To be clear, this rule doesn't deviate from our existing priorities. But it gives IDPH, a regulatory agency, additional teeth in securing buy-in from these private entities administrators who declined to provide a testing plan will be found in violation of the rule. The challenge of protecting elderly Illinoisans who live in congregate settings, many of whom have underlying conditions is evident in the heartbreaking percentage of illness and death that have been seen nationally in LTC facilities. COVID-19 is unrelenting. And it has visited its worst effects on older Americans. But our state will continue to use every resource at our disposal, and the collective medical experience from across the nation to protect our seniors throughout this crisis.
In response to a question, the governor said violations would typically be a fine, but could involve licensure issues.
* Will you file another IDPH rule like the one you withdrew under pressure from JCAR?…
We're continuing to look at that, but I will say that what we've been left with because of the inaction by the legislature is the removal of licenses, which is something we didn't want to have to pursue.
* So as of right now if they don't follow they could have their licenses revoked…
They could
* Is there any sort of metric of nursing home residents that have died of unrelated unrelated to COVID maybe from other illnesses that kind of were exacerbated by maybe lack of visitors or something like that?…
Dr. Ezike: When you're dealing with this population that obviously has the major risk factor of being elderly and has the additional risk factors of having multiple comorbidities. It's really hard. I don't think there are any individuals in that group that don't have 123 multiple of those high risk factors so I think all of those fatalities as unfortunate as they are would absolutely be COVID deaths. In terms of someone die of a broken heart. I don't know how to assess that so I don't really think there's a metric that I could give that could really get to that. I just mean it's being counted as it's a separate subset of people who have died in nursing homes during this time of unrelated illnesses. I don't think there are any that would satisfy that criteria where they had no other medical problem that they were completely healthy, and that, you know, this infection was just a coincidence and that there was not something related to the COVID I think all every one of these deaths had a direct tie to the COVID infection and that spurred on again, they had other conditions definitely but this COVID absolutely had some kind of contributory role.
* A Chicago Church has asked the Supreme Court to overrule your stay at home order, do you have any concerns about this action or the fact that churches continue to hold services with millionaires like Willie Wilson paying their fines?…
Well, multiple federal judges have reviewed and upheld the approach that we've taken with our executive orders with regard to houses of worship. So you know these courts have recognized that there's a public health crisis that's ongoing, and the need to take steps to protect public health, as we have, including as related to religious services I think we all are aware of circumstances in which there have been infections that have been spread during religious services that were held with many people packed together, the attorney general's office will be filing a response as required in the case that you're referencing.
* How will you protect and provide relief to workers who don't feel safe returning to work next week in phase three?…
Well the first thing we're doing is imploring and providing guidance to employers that the employees should look at to all of that is available again on our DCEO website and employees that find that employers are not following that guidance should report that their employers are not following it. And of course that should be reported either to the Attorney General's workplace enforcement office or the Department of Labor, both of which had the ability to enforce it.
* For employees who just might not feel safe going to an office yet next week. What do you advise those? I know you said private businesses should use their discretion…
Private businesses need to use their discretion in fact, especially when it comes to the most vulnerable people who have pre-existing conditions employee should make those, you know, to the extent they are able to make those known to their employers so that their forbearance can be given to them for that. But you know it obviously what we're looking for here is a common decency. That should come from employers, and then of course we'll rely on enforcement wherever we need to.
* Some other states including somewhat Democratic governors are making deep budget cuts rather than counting on federal help. Why are you plotting a different course? Are you prepared to make more cuts in this budget if the only help you get is Federal Reserve loans that have to be repaid?…
So, you know, as I've said all along this is not a time for governments state governments particularly to be cutting services, especially a government like ours where agencies have been hollowed out over a number of years. As you saw, I've attempted heartily to try to build back up some of those agencies, but I've known and I think everybody else is known, it would be a multi year process to do that because it took many years to slash and burn those agencies. So, look I also recognize that if the federal government does not step up to the plate. Then we're going to have massive cuts. Everybody understands that we will have to revisit this right, but the legislature will meet for sure in November for a veto session, and perhaps some time in between, and we'll be evaluating whether or not the federal government did do what I think everybody hopes and expects that they will do. Again, we're not in a unique position, and what other states have done, certainly is. Some states have put forward cuts that they might put into place. If they're unable to get support from the federal government, what we've said is look we'll be working very hard to do that. But our sincere hope is that making cuts now would be so bad for working families and for people who've been out of work now as a result of COVID-19 that what we'd like to do is maintain state government as it is. Again, still hollowed out to some degree, as it has been over the years and. And then we'll manage through as the next month or so reveals whether the federal government will step up.
* The Restore Illinois website today says the central region is not meeting one specific metric for phase three reopening, which is the hospital admission change. Is that one metric alone enough to delay moving to a new phase does the state have flexibility in determining how to use those metrics?…
Actually the updated numbers from today's numbers when those got added in I think in the last hour, you'll find that as it happens, central region is now meeting all those requirements. But even if it had been the number from yesterday, it's very, again that the idea here is stable, and you know when you talk about 2%, that's stable.
* With the start of phase three coming tomorrow, how long will it take to gauge whether loosen restrictions lead to any increase in infections hospitalizations or deaths. How is IDPH prepared to respond if that occurs?…
Once again, the whole purpose of each phase and the reason there's a 28 day period involved in each phase is to monitor when you make the changes. Yes, we all have to watch in one day, two days seven days even 14 days isn't enough. We see that in other states it sometimes takes three weeks even more before you really start to see the effects of an opening up. So that's why we have a 28 day period for each phase and a monitoring period of 14 days or seven days depending on which metric you're looking at.

It's possible that if we have a surge a spike, and we need to quell that spike, we might potentially have to move backwards in the phases. That's not something any of us wants to do, but certainly wouldn't allow a region of the state to move forward, if it wasn't meeting the metrics.
* Could restrictions be loosened in between that next phase just as the restaurants and bars you offered up last week?…
That's not our intention, but it always is true that more information becomes known and it allows us perhaps to make adjustments, and as we learned for example about outdoor dining, you know that if you maintain the social distance, and again this is from experience, also the advice of epidemiologists that as we've learned more, I've always said that we can change the playbook as we go. But it's not our intention and when we think that the science is pretty good. That's dictated where we have gotten to and where we're going. And I would remind everybody that Illinois was just named as the only state in the United States that was meeting the guidelines that were set by the Federal plan for reopening that was put together by Dr. Fauci and presented as the federal government's plan.
* Do you plan on eating outside at a restaurant this weekend, why or why not. And once again, are you going to be cutting your hair and going to a barber shop?…
You can tell I need to have my hair cut, that's for sure. I don't have any plans to dine outside over the weekend, although I did, my wife's birthday was this last week and we have a little patio in our house so we did dine outside just our family together. I'm gonna get my hair cut at some point. I just, I don't have an appointment yet and I understand that appointments are hard to come by at this point, so I'll get to it as fast as I can.
* Is Friday going to be the last of the daily press conferences and are we moving to weekly next week?…
I don't think we've made any decisions about that. I mean, our intention is to make sure that you are regularly updated and as you've seen I've been here every day. I think we've made one adjustment. And that was to allow all of you and all of my staff to have weekend days off, but we're still providing the information that you're seeking over the weekend. And again, we'll always have press conferences when there's a need to make sure that we get information out but right now the plan is to continue as we are.
* Today five churches in Lake County filed a lawsuit against your administration. [garbled] Christian Assembly of God says they run a food pantry out there, which gets state funding, 30 volunteers feeding 1200 people a week, but they can't have more than 10 people on Sunday for phase three. How do you respond to that discrepancy which they say, just frankly is not fair to them?…
Well as regards of food pantry you know I was in East St. Louis yesterday at a food pantry and like many nonprofit organizations they've had to make adjustments in order to keep their patrons safe you know to keep the people who use the food pantry safe. I know that lots of organizations have made those adjustments, it isn't. Nothing is directed here at at a religious organization that happens to have a food pantry it's really the idea here for everybody for everything and food pantry specifically is just to make sure that those who get served are served in a safe environment so you know we provide guidelines for different kinds of food service, and organizations, you know in grocery stores and so on. So I think those would apply here too.
I'm sorry maybe the pastor is saying they have 30 people in working the food pantry. If they can have 30 people to work a food pantry, you're going to find so they can only have 10 people in a service. Yeah, and the discrepancy there has frustrated the pastor…
Well, again, we have guidelines that are now available for the afternoon on the or will be this afternoon on the dceo website. And those are our best recommendations. We're not providing restrictions. We're simply providing the best recommendations that we can for keeping people safe. So we hope that the pastor will follow that guidance and those recommendations for his services his or her services
But if there's no restrictions then you're not going to be asking for any law enforcement?…
As you know, I have never encouraged any police enforcement or any other kind of breaking up of gatherings. What I have said is that pastors should use their judgment and the science and data, and should follow the recommendations that have been made, but I realized that some have ignored that.
* A couple of questions on IDES, Republicans, held a news conference today calling for an audit, the Auditor General to audit, what went wrong, your response to that?…
Well I think I've been very transparent about what the challenges have been and, indeed, if you look at virtually every state in the United States, you can look in the Midwest, Michigan and Missouri and Indiana and Wisconsin. I mean all have had the same challenges. T their challenges of staffing their challenges of the systems that were put in place. Nobody expected to have 10 or 20 times the number of filings that have been made, as have been made over the last two months. And again, we've been trying to build that ship and float that boat at the same time. And we're doing the best we came in 1.2 million applications have been filed and. And those filings have gone through so there are people who remain there's some people that need arbitrations there's some people who have challenges because they put something wrong into the system they need to take out of the system. And you can't make easy alterations once you've applied, you may have changed your name for some reason from the last time that you were receiving unemployment to this time. And so those are some specific circumstances that people have to talk to somebody about or use the chat bot that exists online.

You throw an audit though I mean is that a political move by there, I think, I mean I look I, of course that's the right of anybody but I will just say that we've been very transparent about what the challenges are. If their goal is to figure out what didn't work right. I have stood here, I don't know how many times over the last two plus months and told people what hasn't worked right and how we've been trying to address it. And again we brought in some of the biggest, most robust companies in America, to help us rebuild those systems, so that we could on the fly, make sure that we're meeting the needs of people across Illinois, but there's no doubt about it like many other states. Some people have. It has taken longer to file and get claims delivered upon than any of us would like
* What might reopening schools look like, what do you tell juniors who are going to enter the senior year and Greg Bishop wanted to know, how do you ensure parents that their kids are going to get a quality education?…
I have a junior in my own home and so this is a relevant question to to those of us who have a junior.

It's unfortunate that we can't see that far into the future with this virus. What we are trying to do is to set the foundation for any outcome. My hope and desire is for us to be to have all of our kids back in school in the fall and I know some schools have already chosen across the nation. Some states have chosen to do that, some are in the position that we are still considering you know whether it is safe for our kids. But the most important thing is the kids and the people who work with the teachers and the administrators and the paraprofessionals, we have to keep all of them safe and so to make sure that we have the right conditions for that is what we're looking to do.
* A study by the University of Chicago [garbled] found that uninsured and undocumented residents are most likely to be in need of COVID-19 testing and yet there's still a lag in testing in areas where they live. What is the state doing to remove testing ability for them, and your message to the undocumented people still fearful to be tested?…
I can't speak to all undocumented communities, I mean I absolutely agree that we need to make sure that testing is available to everybody. First I would say all testing that we are involved with and I think we have over 260 sites across the state. All that testing is free.

So anybody who needs a test that meets the criteria can go get a test and then those criteria have expanded vastly, to be clear, an undocumented resident of our state has the ability to get a test there's no citizenship requirement and you're not required to fill out a form that reveals your citizenship. There may be some federally qualified health centers that have a form with that question on it, you're not required to fill that out in order to get a test. So that's one thing and then providing the health care that's needed by undocumented residents is also something that we are doing in the state, making sure that people have the ability to get cared for if they get COVID-19
* There's a huge gap in information about the types of workers getting sick with COVID-19 throughout Illinois. As public figures trying to contain the spread of the virus, how is this impacting the state's ability to track and prevent more of the outbreaks. And does the state plan to do anything about this. Also, why is more information not made public?…
Is this a question about, I'm sorry about the careers of the people who are identified? Sounds like types of workers getting sick, types of workers? And we have a very good idea because we know that some outbreaks are taking place in certain work settings. For example, and you all have heard about, for example pork processing or other meat processing plants is one example.

Dr. Ezike: IDPH is a master collector of information. We have millions of pieces of data that come in to us every day from all different sources. In terms of the actual data regarding people who are being tested and people you know obviously some of those tested will then be positive. Again, whatever is put into our, our databases is what we have. And so I think it is imperative that everyone hears that those forms, whether there's a form that an individual has to fill out whether it's a healthcare professional that's assisting with papers being filled out whether it's in a doctor's office, whether it's in the drive thru sites like everything that's put in there. And that's what we have so if people just say I'm just going to write my name, and I'm going to leave off the date of birth or I'm going to leave off the address. Then when we're trying to figure out who this positive case belongs to. We put it in this bucket that has no address until we're able to chase down that information and we don't know if this is belongs to one of the riffs, which of the Restore regions it belongs to or, you know, which county had this positive. So, again, all of that information is essential, the more information, we have, the more information that's given to us, the more that we have to be able to put out in terms of identifying types of occupation, a location. We do know from some of our outbreak investigations that you know you have a specific location when you've gone through the, the contact tracing and the interviewing where you've tried to go back and think of all the places, work with the person to identify all the places that they've been. And then, you know, you would say maybe oh I went to, you know, I went to the grocery store on this day I went to a place of worship on this day I went to this health club, this place to get you know hair, nails massage. So when we get all that information. And then if you get a cluster of people that in that same timeframe all identify like a specific locale. That's how we then can put things together like an like an investigator to say, Wow, there were around the same time, we have all these people that frequented this one location, and then you try to hone in, then you try to go to that location find other people who may have been there at the same time. So again, once we get the critical information that allows us to do further investigation to have more and then we have more data fields populated in our database and then we can put out summaries of more more intense information. So again, the data that we get is what we can give out and so we want to implore everybody to be very comprehensive in all the forms they're filling in that involves individuals that involves local health departments that involves hospital personnel lab personnel everyone to work together so we can have as much data so we can answer all these questions.

Gov. Pritzker: The most important data, though, that we we nearly always get is, of course, how to contact the person with their test results
* Large office buildings, reopened after weeks standing by mostly idle, researchers are worried about the potential for bacteria that causes Legionnaires disease being in the pipes. So what guidance do you have for building managers and for people who are returning to work in those buildings?…
Well there are lots of buildings that you know that are in areas that have had legionnaires or Legionella detected in their pipes. You know, there's one obviously terrible circumstance in Illinois of the Quincy Veterans Home where there are staff at that home too, so workplace where there's Legionella. But in terms of dealing with Legionella, I mean this is a problem that the state has dealt with for many years. It's not like we need new guidance about how to deal with legionnaires or Legionella. So it's not really a new endeavor.
* Two very important metrics to get the state to phase four, even more widespread testing available to everyone regardless of symptoms and contact tracing on more than 90% of cases. To that end, she has two questions. What's the next big testing metric? How will the state get there with federal support of the National Guard sites going away. Does the State have a large order of testing supplies or test machines coming in?…
We have, there are many testing machines that exist in the state and of course, as I've talked about before, contracting with the existing owners of those, they may be hospitals, they may be doctors or others, or commercial Labs is part of our effort to scale up, obtaining swabs. You've heard me say this over and over, how will we scale up. These are all the same things that we've been doing. But more and more and more in terms of what our goals are. We need to do many more than we are. I would point out that we're currently as I've said many times we're among the large states, second highest in terms of per capita testing. We're the third highest in overall testing among the big states and so we're gonna you know and again. The goal is to get to a much higher number and you've seen us do that. I mean, back when, at the, near early on when I talked about us needing to get to 10,000.

It took us a couple of weeks a few weeks before we were able to get from where we were to that 10,000 number, but we moved pretty quickly from 10,000 to 20,000, we're averaging out about 23,000, a day but you've seen [garbled] hit 27 and 29,000 so you know we're going to keep ratcheting that up. And the goal here is to make sure that everybody, whether it's nursing homes at our priority locations gets tested on a regular basis, but also as we are reopening many businesses across the state that the businesses where there are more at risk, individuals that they also have the testing available to them, and then the doctors.

OK, how many people have been hired for contact tracing. How long will it take for them to be trained, will the state have enough people by the time by the end of June to move into phase four. So, just a clarification when we think about the metrics to move into phase four, they are the same metrics that we needed to graduate, if you will, into phase three. So, the information regarding the metrics around contact contact tracing. Those are, I guess, internal goals that we all know that we need to the more contact tracing the more aggressively we can identify cases and identify potential cases and have people stand down before they have the chance to infect others so that's not what's going to hold other people back. We're working aggressively to get that online and to get people hired and to get the curriculum. We have some pilot, local, local health departments that we're starting with first, and then we're going to expand. So, we will not have the contact tracers in every part of the state next week, but we will branch out and keep growing until we get the full capacity that we need. But again, that is not going to hold the state back, but we know that that is an important part of the master plan in order to keep our state safe to be able to quickly rapidly identify people who are positive, and be able to identify their context so that they can stand down before they potentially infect someone else.
* An emergency rule filed May 22 suspends the 30 day time frame for an IDPH inspection that arises from a nursing home complaint, except for allegations of abuse and neglect. Why was this rule needed does it apply to inspections by local health officials?…
So at the state level, I think the feds understood that, in the midst of this pandemic that we were going to be focusing on COVID response and trying to address the nursing homes as they are clearly the highest risk setting for the entire state for the whole country for the whole world. And so they wanted us to focus on the COVID response, but of course made that exception for things that would be considered an immediate jeopardy. So for things, essentially it means some offensive so egregious that you could immediately have to suspend a license. So, other things have been put on the back burner. As we progress that that might be loosen but again we're following the federal, the federal guidelines.
* Governor we've heard from people who say they're not going to return to restaurant or bar jobs but stay on employment until something else comes along. Well, those who make that decision run the risk of losing their unemployment benefits…
Well that's a decision the federal government would make. There are regulations around that. You know it's able and available I think is the standard here. That's not really a decision that will make at the local level.
* Churches gyms theaters, they all seem to think they can operate in a way that's safe. To what extent are you rethinking one to let them open to more people and customers instead of just 10 people?…
Theaters and gyms you're throwing those together, well those are a bit different, gyms tend to be smaller. Although I know there are some that are quite large. And we have provided guidance for certain activities at gyms and fitness centers. But theaters, I think there's a common belief that the experts seem to tell us anyway that it would be difficult for us to open theaters in the near future in phase three.
* How are malls moving forward during phase three and will business in malls operate differently than other businesses?…
Dr. Ezike: So most of the guidance, were thinking of businesses as solitary individual businesses. And so the the rules that applied in terms of capacity. How many people could be in the store how many people per 1000, square feet? So those I think would continue to apply for individual stores.

And then if they happen to be within the context of a law I don't think the rules change. So I think it's still the rules that are prescribed in the guidance, I should say, the guidance that is prescribed for individual businesses, whether it's a personal care facility, the same rules would apply in terms of what services can be done. I think some of the things that might be hard to implement would be some of the recommendations surrounding like extending the hours so that you have lower population density, if you will, in any one establishment at the time. Your ability maybe to flex the hours might be limited by the by the hours of the mall in general, but otherwise I think the individual facilities and businesses follow the same rules that are prescribed on our website.
* Governor there's been a growing COVID-19 outbreak at the Pulaski County Jail which also serves as an immigration detention center in rural Southern Illinois. Recent reports from ICE state now 29 detainees have tested positive for the virus. This is in a county with multiple challenges in regards to access to health care. In response, there have been calls from advocates and public health professionals for IDPH to inspect detention centers and ensure the health of those who are held by ICE, how do you respond?…
Dr. Ezike: That is a federally run facility but in Pulaski County, the local health department has been involved with that. We have offered consultation. We have reviewed the methods that have been employed surrounding that outbreak. We actually did see that they have taken the appropriate measures to mitigate the outbreak, so we are partnering with our local health department. Obviously anything that happens within our state affects all the residents of the state in terms of the employees that work there and go home every returning to their communities. And so we have been partnering again with the local health department's. We feel that a lot of the measures and steps in the mitigation strategies that have been employed have been appropriate. And so we continue to follow that outbreak.
-30-
- Posted by Rich Miller 16 Comments


* Press release…
The Illinois Department of Public Health (IDPH) today announced 1,527 new cases of coronavirus disease (COVID-19) in Illinois, including 104 additional deaths.

Coles County: 1 male 80s
Cook County: 2 males 40s, 2 females 50s, 3 females 60s, 7 males 60s, 1 unknown 60s, 8 females 70s, 10 males 70s, 7 females 80s, 7 males 80s, 9 females 90s, 6 males 90s, 2 unknown 90s
DeKalb County: 1 female 70s
DuPage County: 1 male 60s, 1 male 70s, 1 female 90s, 1 male 90s
Kane County: 1 male 60s, 1 female 70s, 1 male 70s, 1 male 80s, 1 female 90s, 1 male 100+
Kankakee County: 1 male 90s
Lake County: 2 females 60s, 2 males 60s, 1 male 70s, 4 females 80s, 1 male 80s, 1 female 90s
Macoupin County: 1 male 80s
McHenry County: 1 female 80s
Sangamon County: 1 female 80s
St. Clair County: 1 male 60s, 1 male 70s, 1 male 80s, 1 female 90s
Tazewell County: 1 male 90s
Union County: 2 males 70s
Whiteside County: 2 females 90s
Will County: 1 male 50s, 1 female 70s, 1 female 80s
Winnebago County: 1 female 90s

Currently, IDPH is reporting a total of 115,833 cases, including 5,186 deaths, in 100 counties in Illinois. The age of cases ranges from younger than one to older than 100 years. Within the past 24 hours, laboratories have reported 25,993 specimens for a total of 829,966. The preliminary seven-day statewide positivity for cases as a percent of total test from May 21–May 27 is 8.3%

*All data are provisional and will change. In order to rapidly report COVID-19 information to the public, data are being reported in real-time. Information is constantly being entered into an electronic system and the number of cases and deaths can change as additional information is gathered. Information for a death previously reported has changed, therefore, today's numbers have been adjusted.
* Dr. Ezike…
As of midnight, 3649 individuals were hospitalized with COVID-19 and of those 1,009 patients were in the ICU and 576 patients were on ventilators
…Adding… Dr. Ezike…
Among those that have passed associated with COVID, almost 44% of those were in long term care facilities.
- Posted by Rich Miller 5 Comments


* I asked yesterday if you were planning to eat at a restaurant soon. Are there any other public activities you plan to do when the state moves into Phase 3 tomorrow?
By the way, I checked with the governor's office today and all regions are still on track.
…Adding… The governor just confirmed that all regions are on track.
- Posted by Rich Miller 73 Comments


[The following is a paid advertisement.]
The deadline to let voters decide if we should reshape our constitution and redistricting process has passed, but our fight continues. Fixing the foundation of our democracy is too important and we still can move forward toward a better redistricting process.
The Illinois Redistricting Collaborative, a diverse coalition of 34 organizations, is committed to standing with the 75% of Illinois voters who want an independent citizen-led commission.
Lawmakers can stand with Illinois voters and our diverse, statewide coalition by committing to passing meaningful legislative reforms before next year's decennial redistricting.
Gerrymandering is voter suppression and we must end it. We can join the ranks of people in both red and blue states across the country who have made improvements to their redistricting process.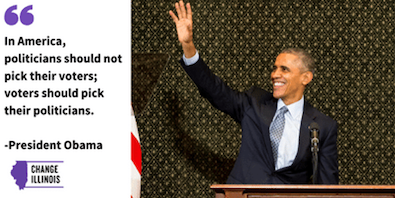 Learn more by visiting changeil.org/get-involved.
- Posted by Advertising Department Comments Off


* Mark Maxwell…
An Illinois Republican who plans to retire from the legislature and run for statewide office threatened a lawsuit to take down a personalized video message recorded by former Governor Rod Blagojevich.

When state Representative David McSweeney (R-Barrington Hills) found out that a video of Blagojevich wishing him a happy retirement was making the rounds in statehouse circles in March, he sicced his lawyers after the online celebrity shoutout company Cameo to take it down.

Court records filed in Cook County show attorneys for Baron App, Inc., which does business as Cameo, appeared in court to respond to McSweeney's filing on April 3rd. The video has since disappeared from the company's popular website. […]

John Bambanek, a Champaign Republican who ran an unsuccessful campaign for the Illinois state Senate in 2012, purchased the video and authored the script. […]

The letter from McSweeney's attorney suggests he suspects House Republican Leader Jim Durkin or his inner circle may have had some role in sponsoring the video message. The cease and desist letter instructed Bambanek to preserve any documents of communications he may have had with Durkin, Rep. Grant Wehrli (R-Naperville), and four other legislative and political staff members.

"I've never had a conversation with Jim Durkin in my life," Bambanek said on Wednesday. "Nobody put me up to it."
Bambanek is described in the article as "an online provocateur," but he's also one in real life. I doubt he was put up to this.
- Posted by Rich Miller 38 Comments


[The following is a paid advertisement.]
Underscoring the importance of kidney health to communities across Chicagoland and the state of Illinois, the Illinois Kidney Care Alliance (IKCA) announced today that the Illinois Hispanic Chamber of Commerce (IHCC) has joined the coalition.
Currently, more than 30,000 people in Illinois suffer from kidney failure; IKCA's mission is to connect these patients with the resources they need and to fight for them when policy changes are necessary. IKCA's strength comes from its membership, consisting of health advocates and professionals, community groups, providers, and businesses focused on raising awareness about kidney disease. The addition of IHCC brings another strong advocate to the team and will provide additional resources for the group as it continues to expand.
For more information, follow us on Twitter, like us on Facebook, or visit our website.

- Posted by Advertising Department Comments Off


* Kind of a reach by Politico…
A DEM DISSES STAY-AT-HOME ORDER

Democratic Sen. Michael Hastings is pushing back against Gov. J.B. Pritzker's Restore Illinois plan. Hastings wants to open up gyms and fitness centers —operations considered "high-touch" — ahead of Phase 4. Finding the right "balance" between health and economy "is a daunting task," he says in a two-page memo to Pritzker. "Fitness and health club professionals agreed that while distancing may be a part of our new normal, wellness and connection remain more important than ever." Page 1, Page 2 … Asked if he was a gym rat, Hastings told Playbook: "I have a lot of constituents who are gym-goers and friends who are gym-owners. They're all struggling in their own way." The Democrat from Frankfort says Pritzker's team has "committed to me that they will be working on my recommended solutions." Until now, it's been Republicans who have led the political charge against the governor's stay-at-home order.
Such melodrama. Hastings isn't leading the charge against the order. Here's what he told me yesterday…
I have been in close communication with the Governor's office regarding this issue. They have been extremely understanding and are very engaged regarding this issue. I am hoping for positive news in the future.
He's gonna have to wait, though. From the governor's office…
Health clubs and gyms are high risk environments that public health experts have recommended fully re-open in phase four of the Restore Illinois plan. In phase three, accommodations were made to allow outdoor fitness training in groups of 10 or fewer and one on one training. As the state's health metrics continue to improve and the virus is further under control, the health experts suggest we can move forward with reopening health clubs and gyms in phase four with proper health protocols in place. Illinois has proven that a data driven approach works and we will continue to follow the plan laid out by the experts.
* Bruce Rushton of the Illinois Times checked out the legislative protest last week…
You can't believe everything you see on TV — I would talk to people and find a voice of reason. I started with folks who had just finished speaking with another reporter.

"I'm asthmatic and pushing 60; if I catch the virus, I'm at greater risk," I began. "None of you are wearing masks. This is my job. I have to work. What do you say to someone like me?"

"Stay home!" people yelled. And worse. The crowd around me grew larger, and closer. A few pulled masks from pockets to prove that they were equipped and responsible. One man drew near and asked why, if I was so worried, I stood within six feet of all these protesters. It seemed pointless to point out that I wasn't the one who'd advanced. Nor did I bring up a recent National Institute of Health study showing that droplets from loud talk can remain airborne for 14 minutes. There was plenty of shouting all around, with no discernible wind.

"I'm not a bank robber, I'm not a kid," someone yelled into a PA system. "I don't need a mask." I spoke with a maskless woman who asserted that she could just as easily get the virus standing in this crowd as at the medical lab where she works. She didn't want to discuss precautions taken by her employer.
* Racing soon?…
Illinois' struggling horse racing industry could be back off to the races as soon as next week without any spectators in attendance, but Gov. J.B. Pritzker said he's not quite ready to pick up the starting bugle just yet.

The governor's office said Wednesday evening it was in the home stretch of implementing a plan to resume fan-free operations at the state's three racetracks, with health protections in place for workers.

Hawthorne Race Course had already bolted from the starting gate, though, with the Illinois Harness Horsemen's Association announcing the track in west suburban Stickney will reopen June 6 for drivers and trainers, but not railbirds.

They could be off and running even sooner at Fairmount Park in downstate Collinsville, where the Illinois Horsemen's Benevolent and Protective Association says they've gotten clearance for thoroughbred racing to "resume as early as June 1." […]

"I don't think it'll restart on June 1. I think live horse racing will restart. I can't tell you what date, but again, it will be like other spectator sports where it would have to run without spectators, at least to begin with," Pritzker said.
* This was pretty cool to see last night…
Illinois gets a shout out in new Ford TV spot pic.twitter.com/Jl6BiF1EzT

— Rich Miller (@capitolfax) May 28, 2020
* Speaking of which…
Rivian has reopened its Normal plant and says it remains on track to deliver its first electric vehicle order by 2021.

The plant was temporarily closed because of the coronavirus pandemic, although some contractors remained on site to work on projects related to updating the former Mitsubishi auto plant.
* But…
Ford Motor Co. temporarily paused production at its stamping plant in Chicago Heights on Wednesday for sanitation after an employee at the facility tested positive for COVID-19. […]

It is the automaker's fourth plant that has faced disruption tied to the coronavirus since the company resumed production last week.
* On to tourism…
The road trip is poised for a comeback.

At least, that is what tourism officials and experts say could occur this year as travelers look to destinations within driving distance amid continued concerns over the coronavirus.

This could bode well for centers of tourism and hospitality in Illinois looking for a comeback this summer to make up for spring losses.

"I think we're going to see a lot of people traveling regionally, so being able to drive places and not having to go through the process of flying and everything that might come with that additionally," said Nick Thomas, director of the School of Hospitality Leadership at DePaul University. "So being able to go places in close proximity, two-, four-, six hour range, which for places like Chicago, that's great, because we have so many people that live in the kind of that driving time zone."

A survey recently commissioned by the U.S. Travel Association found 68% feel safest when traveling in their car. About 45% said they are more likely to travel by car after COVID-19 has passed. Nearly one-third said they would be willing to drive up to 300 miles to reach their vacation destination.
* More…
[Choose Chicago, the organization charged with boosting Chicago's image] is now throwing its efforts into showcasing Chicago as a safe place where reopening protocols are based on public health and science, says board chairman Glenn Eden, an executive vice president with the public relations firm Weber Shandwick.

Its new campaign, called "Tourism & Hospitality Forward," encourages hotels, restaurants, museums and other attractions to pledge to keep "socially responsible" health and cleanliness measures top of mind for both visitors and employees, and to prominently display that info on websites and other communications.

Unlike some places that have hurtled toward a rapid reopening with a patchwork of measures, Chicago wants to be viewed as an intelligent destination that visitors can trust, Eden says.

"The science will always prevail," he says.
Coronavirus tab for Chicago Public Schools now up to about $44 million

CVS opening hundreds more drive-thru testing locations

COVID-19 spurs union pushes among Chicago-area essential workers. 'We're not just burger flippers. We've been essential.'

Illinois stores everywhere but Chicago can start reopening Friday. Here's what to expect in phase 3.

Legal marijuana was supposed to help communities hurt by the war on drugs. But COVID-19 may crush efforts to diversify Illinois' largely white weed industry.

2 Cook County judges diagnosed with COVID-19

Coronavirus economic toll mounts: 41 million have sought jobless aid

As non-COVID-19 patients return to Chicago-area emergency rooms, doctors see skyrocketing blood pressure and other side effects of delays in care. 'It's terrible, and it's frightening.'

Staffer at Springfield convention center where state House met tests positive for COVID-19

Illinois' coronavirus death toll passes 5,000 as US tops jarring milestone of 100,000 fatalities

What's the recovery rate for COVID-19 in Illinois? That number is now available. But it's complicated.

Chicago restaurants test COVID-19 surcharges as costs mount, but customer backlash forces one to retreat

Chicago to allow "shared streets" program for residents to walk and bike in neighborhoods
* Sun-Times live blog…
These 8 Chicago streets will close to most traffic for social distancing

Chicago-area woman survives coronavirus — and 21-day coma

Two Cook County judges test positive for COVID-19

41 million have lost jobs since virus hit, but layoffs slow

Illinois coronavirus death toll eclipses 5,000

Movie theaters pressure Pritzker to loosen up and allow them to open at 50% capacity

Steering a middle course between COVID-19 hopes and fears
- Posted by Rich Miller 20 Comments


* AP…
Roughly 2.1 million people applied for U.S. unemployment benefits last week, a sign that companies are still slashing jobs in the face of a deep recession even as more businesses reopen and rehire some laid-off employees.

About 41 million people have now applied for aid since the virus outbreak intensified in March, though not all of them are still unemployed. The Labor Department's report Thursday includes a count of all the people now receiving unemployment aid: 21 million. That is a rough measure of the number of unemployed Americans. […]

In Illinois, 58,359 people filed for first-time claims for unemployment benefits last week, down from the 72,780 filings a week earlier. Since mid-March, nearly 1.1 million Illinoisans have filed for jobless benefits.

First-time applications for unemployment aid, though still high by historical standards, have now fallen for eight straight weeks. In addition to those who applied last week, an additional 1.2 million applied under a new program for self-employed and gig workers, who are eligible for jobless aid for the first time. These figures aren't adjusted for seasonal variations, so the government doesn't include them in the overall data.
*** UPDATE *** IDES…
The Illinois Department of Employment Security (IDES) today released new statewide data showing the department processed 58,263 new initial claims for regular unemployment benefits during the week ending May 23. The department has now processed 1,302,154 claims for unemployment benefits from March 1 through May 23. This amount is nearly 12 times the number of claims the department processed over the same period last year, when IDES processed just 102,000 claims for regular unemployment benefits.

The Pandemic Unemployment Assistance (PUA) program has processed 88,965 initial claims in its two weeks. PUA provides 100% federally-funded unemployment benefits for individuals who are unemployed for specified COVID-19-related reasons and are not eligible for the state's regular unemployment insurance program, the extended benefit (EB) program under Illinois law, or the Pandemic Emergency Unemployment Compensation program (PEUC), including independent contractors and sole-proprietors. Up to 39 weeks' worth of benefits are potentially available under the program for COVID-19-related unemployment claims.

IDES processed 39,414 Pandemic Emergency Unemployment Compensation claims (PEUC), which provides up to 13 weeks' worth of 100% federally funded benefits to individuals who have exhausted their regular state unemployment benefits. PEUC is potentially available for weeks beginning on or after March 29, 2020 and continuing through the week ending December 26, 2020.
- Posted by Rich Miller 7 Comments


* Politico…
The Clean Energy Jobs Act, which was a premiere piece of Gov. J.B. Pritzker's Covid-derailed budget, still remains popular among the electorate, according to a new poll. The proposal, which would convert Illinois to 100 percent renewable energy by 2050, has the support of 82 percent of Illinoisans, according to a survey conducted by Global Strategy Group for the Illinois Clean Jobs Coalition. Rep. Ann Williams, who plans to introduce the bill again later in the year, says it would put "thousands of people who have permanently lost their jobs back to work — we can no longer wait to act on climate change." The poll shows 98 percent of Democrats support the idea, 60 percent of Republicans and 84 percent of Independents. The proposal has high support in Chicago, 93 percent; and Cook County, 85 percent; and then declines some in outlying areas. Northern and central Illinois show 71 percent support; and southern Illinois has 76 percent. The survey was conducted May 18-21 by interviewing 600 residents statewide by landline, cell phone and text and has a margin of error of +/- 4.0 percent.
Toplines are here. Let's go through some of them. I've left out the Lori Lightfoot responses because the MoE was just too high. But you can see them for yourself.
* Favorability…
JB Pritzker 53% Favorable 43% Unfavorable
Democrats in the state legislature 45% Favorable 44% Unfavorable
Donald Trump 39% Favorable 59% Unfavorable
Republicans in the state legislature 37% Favorable 46% Unfavorable
* Job approval…
JB Pritzker 56% Approve 40% Disapprove
Democrats in the state legislature 45% Approve 43% Disapprove
Donald Trump 39% Approve 60% Disapprove
Republicans in the state legislature 38% Approve 47% Disapprove
* Job approval for handling the coronavirus pandemic…
JB Pritzker 60% Approve 38% Disapprove
Donald Trump 40% Approve 58% Disapprove
* Who do you trust more to deal with the coronavirus?…
Pritzker 63%
Trump 37%
* In thinking about the impact of the coronavirus on you, which are you more worried about?…
You and your family's health and well-being 69%
You and your family's financial situation 31%
* In thinking about the impact of the coronavirus on the country, which are you more worried about?…
The impact of the coronavirus on the economy as a whole 55%
The impact of the coronavirus on people's health 45%
* As you may know, there is some discussion about beginning to re-open Illinois, where some, but not all, restrictions and guidelines are loosened. Generally speaking, do you support or oppose beginning to re-open Illinois within the next few weeks?…
Strongly support 37%
Somewhat support 31%
Somewhat oppose 21%
Strongly oppose 11%
* Which of the following two factors contribute the most to the negative impact of the coronavirus pandemic?…
People ignoring social distancing guidelines 68%
Federal government reacted too slowly to stop the spread 64%
Too many people without adequate health care 31%
State government reacted too slowly to stop the spread 31%
High levels of pollution which make people more susceptible to coronavirus 4%
Burning fossil fuels which makes people more susceptible to coronavirus 2%
There's lots more, so click here.
- Posted by Rich Miller 37 Comments


* Fox News…
An Illinois church has filed an emergency request with the Supreme Court, challenging Gov. Jay Pritzker's closure of houses of worship during the coronavirus crisis a day after another congregation in California made a similar move.

The case will be handled by Justice Brett Kavanaugh, based on geography, and he has asked the opposing state officials to respond by Thursday evening, just as Justice Elena Kagan asked of the California church that filed an emergency request on Tuesday.

Elim Romanian Pentecostal Church and the Logos Baptist Ministries filed the emergency order citing precedent in a 1947 Supreme Court case "Everson v. Board of Education." In that case, the Court wrote that "Neither a state nor the Federal Government can set up a church… Neither can force nor influence a person to go or remain away from a church against his will." […]

Both Kagan and Kavanaugh alone can decide these cases, or refer them to the full court.
* From the church's request…
Three decisions,from the Fifth and Sixth Circuits,have enjoined such orders as unconstitutional, see First Pentecostal Church of Holly Springsv. City of Holly Springs, Mississippi, No. 20-60399, 2020 WL 2616687 (5th Cir. May 22, 2020); Roberts v. Neace, No. 20-5465, 2020 WL 2316679 (6th Cir. May 9, 2020); Maryville Baptist Church, Inc. v. Beshear, No. 20-5427, 2020 WL 2111316 (6th Cir. May 2, 2020), and two decisions,from the Seventh and Ninth Circuits, have denied injunctive relief, see Order, Elim Romanian Pentecostal Church v. Pritzker, No. 20-1811 (7th Cir. May 16, 2020) ("Circuit IPA Order," attached hereto as Exhibit A); South Bay United Pentecostal Church v. Newsom, No. 20-55533, 2020 WL 2687079 (9th Cir. May 22, 2020).1Thesedecisions also differ as to whether such orders trigger strict scrutiny under Church of the Lukumi Babalu Aye, Inc. v. City of Hialeah,508 U.S. 520 (1993), and Emp't Div. v. Smith, 494 U.S. 872 (1990). These contradictory decisions demonstrate serious confusion exists within the federal courts as to the correct constitutional standards to apply to emergency executive orders restricting religious worship. Thus,this application presents important questions of federal law which have divided the circuits and should be settled by this Court.
*** UPDATE *** With a big hat tip to a commenter…
As southern Illinois prepares for Phase 3 of the state's reopening plan, COVID-19 cases in Jackson County are on the rise.

Bart Hagston, administrator of the Jackson county health department, said most of the cases are connected to a local church that has been holding in-person services in defiance of public health orders.

"We have seen an uptick in the number of cases over the last several days. Most of those cases are tied to an outbreak associated with a church in Jackson County," he said.

The name of the church is not being released to the public.
- Posted by Rich Miller 85 Comments


* Fox 32…
A Republican lawmaker says he will try to put something on this fall's ballot that has never been there before: a referendum giving Illinois voters a chance to fire their governor.

Governor JB Pritzker seems unconcerned, perhaps because there is not much time left to meet all the requirements for a first-ever recall election in Illinois.

After the arrest and impeachment of Rod Blagojevich, the Illinois Constitution was amended to allow voters to throw out a governor in the middle of his term. An outspoken critic of Pritzker wants him to be the first ever.
"Not much time left"? Time has nothing to do with this. The recall process is not tied to the November election. If Rep. Skillicorn can convince 30 legislators, at least 15 of them Democrats, to sign an affidavit and can then obtain 636,825 valid petition signatures within 150 days, the State Board of Elections sets the date for a special election, which would be "not more than 100 days" after the petitions are certified. It's all right here in the state constitution.
Skillicorn is unlikely to get any Democratic buy-in from his colleagues in the legislature, but even Republicans are loath to sign the petition. So far, Skillicorn confirmed he has signatures from State Reps. Brad Halbrook (R-Shelbyville), Blaine Wilhour (R-Beecher City) and Darren Bailey (R-Xenia), who was voted off the House floor — with help from 12 Republicans — during lawmakers' first day of special legislative session last week for not wearing a mask.

A GOP source who asked not to be named pointed out that Bailey has introduced more than 100 bills during the current General Assembly and has passed none of them.

"Allen's energy would probably be better spent in his district this summer," the source said. "He hasn't had much success passing a bill so I don't think he will be able to build a coalition on this issue."

Even if he were to get past the affidavit stage, gathering 636,825 signatures within 150 days would be an enormous challenge, especially as social distancing measures to defeat Covid-19 are still ongoing. Former Gov. Bruce Rauner was able to gather 591,092 petition signatures for an ultimately unsuccessful ballot measure for legislative term limits while he ran for governor in 2014, but Rauner had spent lavishly on the effort using his personal wealth.

Skillicorn described his effort as "grassroots" and said he's "only worried about the 30 legislators at this moment," saying thinking about gathering hundreds of thousands of signatures was "premature."
Halbrook, Wilhour and Bailey? That's not even the entire Eastern Bloc, for crying out loud.
- Posted by Rich Miller 27 Comments


* Hopefully, there's nothing to worry about here…
Attention members and staff –

I have just been made aware that a member of the BoS Center staff has tested positive for COVID-19. This individual was NOT located in a space that was used for the special session or the public viewing area, and at this time it appears this individual had no interaction with any member or other staff person. This person worked one 8-hour shift on Thursday, May 21.

In an abundance of caution, I encourage everyone who has not already done so to be tested for the virus, monitor your health in the coming days, and isolate from interaction with others for 14 days after the conclusion of session. This is consistent with CDC guidance for those who believe they've been in close proximity with a COVID-positive individual, as well as our discussions prior to the beginning of special session.

It was an unprecedented step to hold session at the BoS Center, which greatly minimized the chance of exposure to the COVID-19 virus. This incident notwithstanding, I am not aware of any other person who has tested positive. I am working directly with BoS Staff and have asked that all BoS staff members get tested immediately and ensure that appropriate contact tracing efforts are underway.

Jessica Basham, Chief of Staff

Office of the Speaker

Illinois House of Representatives
- Posted by Rich Miller 19 Comments


* This is true unless or until somebody sues, and nobody can really predict what the judiciary will do…
Illinois State Comptroller Susana Mendoza wants to clear something up: state lawmakers will not be receiving pay raises.

"Some state legislators seem to think they'll be getting a pay raise this year. The answer is no, they won't," Mendoza says in a new video released by her office.

"So when you hear false rumors or assumptions that Comptroller Mendoza will have to pay legislators more this year, you tell them you heard it straight from the person whose job it is to cut the checks in Illinois: Legislator raises this year will be zero," she says in the video's conclusion.

The video message was prompted by ongoing confusion and misinformation among lawmakers and the public over whether or not lawmakers gave themselves a pay raise, or a cost-of-living adjustment (COLA), in the Fiscal Year 2021 budget they approved Memorial Day weekend.

Although these raises are included in the budget by law every year, this year lawmakers voted to dedicate zero dollars to raises – which means they will not receive raises, Mendoza said.

"…the General Assembly voted to make the COLA zero, and I'm glad because it's the right thing to do, especially amid the COVID-19 crisis that has really hit our state budget hard," Mendoza says.
The video is here.
The Illinois Supreme Court has ruled that cost of living adjustments are an integral part of compensation. The state constitution does not allow any change to compensation during a legislator's term of office, up or down.
- Posted by Rich Miller 21 Comments


* Gov. Pritzker is in East St. Louis today and he and local officials talked about the challenges they've faced and what they've done. Dr. Ezike is not in ESL with the governor today. The audio/video connections aren't great, so there could be some transcription issues. Your pardons will be more appreciated today.
The governor then spoke about George Floyd in Minneapolis, Ahmaud Arbery in Georgia, Brianna Taylor in Kentucky and Christian Cooper in New York City…
…and countless others whose memories we cannot allow time to erase events that echo what we have seen happen to too many people, too many times in too many places. And yet we as a people have not yet found the humanity to stop these vile horrid acts from happening. To truly contend with the racism that permeates our society, and then to root it out as a white elected official, I feel a special responsibility to speak out today and to own the obligation that I have to shape public policy in a more equitable direction. Being black in America cannot be a death sentence. But it is in some ways it is. And it's dangerous to pretend otherwise.

We must actually do something to change that reality, to make it so that men like George Floyd are not killed on a street corner gasping for air in broad daylight. One moment alive, and the next moment, gone. People deserve to breathe. They deserve to live. George Floyd's family should not have woken up today in a world without him in it. This investigation requires all possible accountability and transparency to deliver the closest thing [garbled] but it will never bring George Floyd back.

I'm especially saddened that amidst all the other challenges that we are facing right now, people of color have this extra burden to bear. As they have for too long. This moment must become a call to action for Illinoisans, for Americans to see the humanity in every person no matter their race, their religion, their socioeconomic status or their sexual orientation. To George Floyd to his family, may his memory be for a blessing.
On to questions for the governor: The first question has been asked at least half a dozen times and always answered the same way. Federal guidance strongly warns against allowing visitors in nursing homes.
* There still are nursing homes that still haven't tested their residents or staff yet for COVID-19 …Where are the tests and shouldn't nursing homes be a priority for test to protect the most vulnerable in our society?…
They are a priority and I think actually there's an article today about the challenges [click here]. There are more than 1200 nursing homes in the state. If you think about the numbers of people that are represented in those nursing homes, you're talking about more than 20,000 people. Indeed, it's actually many more than that staff and others. And so in order to be able to test all of those people we're only doing about averaging about 23,000 a day. And that's statewide in every capacity. So that includes all the other congregate settings in which we're testing. So in order to do it, you know, we've got it set aside tests which we've done, and then go and get to every single one of those facilities. … We're also starting with the facilities that don't have COVID-19 in them so that we can keep it out. If you find one or two people have it you can you can segregate them, get them to isolate and save the facility from having an outbreak. In the facilities where there are outbreaks, we are testing staff first and separating the residents in those, and ask the private owners of those nursing homes to do that to separate the residents so we're getting to it. And again, I'd like to do it all at once. If we had the national leadership on this subject, if we had the supplies available we could do this much more quickly, but we're getting to it as fast as we can.
* The CDC says that the current antibody test is wrong half the time [not quite, but close enough I suppose]. What is the status of antibody tests in Illinois. How many have been done. And just the fact that up to half of them could be wrong does this affect any of the day's policy decisions?…
So, from very early on what we've said is, although we receive the serology information, in other words, the results of those tests, we set those tests aside. We actually have a committee at IDPH that has reviewed and come up with their own view of what to do with those serology tests. John O'Connor is correct, half of those tests seem to be inaccurate. So what does one do. Well if we could segregate the ones that we think are inaccurate. In other words, there are different types of serology tests and know which ones are accurate, we're trying to go through and figure that out. We could then take the accurate ones and determine some things. But I must tell you it's something I said several weeks ago in one of my press conferences serology tests, tell you, perhaps whether somebody had COVID-19 but it doesn't tell you whether they're immune from COVID-19. Even though, originally that was the hope and thought, it's still not proven that if you have the antibodies that you can't get it again. And so that's the challenge here so we've put those aside, we're looking at trying to keep keep people from getting COVID-19 in the first place. We're certainly looking at all of the studies that are being done of serology tests around the world, not to mention around the United States, and we'll make some decisions based upon the results of those in those research projects.
* What are you doing for communities like East St Louis? Are you getting them enough testing. How about economic health and what are you doing to clear the gap that exists. This is a second part of the question. What are you doing to clear the gap that exists in downstate Illinois as far as lower case counsel or death counts and and you know what are you doing to help those communities that are frustrated by being having the same rules applied to them at not getting as much aid as cities like Chicago?…
Hopefully I'll remember all, I think there were three questions.

Let's start with East St. Louis. East St. Louis is very important to me. From the earliest moments that I came here I was just saying this to some folks earlier from the National Guard that East St. Louis is a community that's been forgotten, frankly. And so when I think about what we need to do to assist East St. Louis I think about trying to first create economic activity and have it put aside the moment, the moment we're in which is COVID-19 in which we need to secure people's lives and their health. But if you, and you've seen we have a facility here at the Jackie Joyner kersee Center, where people can get tested, and we provide free treatment and so on. So there's the and and we've worked together with St Clair County and other other facilities other hospitals.

But I'm thinking about the economics of this area. From the beginning my thought has been that we've got to make sure that people are able to start businesses that there are people that are able to get on their feet and actually get economic activity going in the communities of East St. Louis. So we've been trying to, we've had, we have low interest loans we have loans for communities of color, that are dedicated to communities like he's St Louis, that's one thing from an economic activity perspective. In this moment when so many people have lost jobs. So many people are struggling, you know, we've banned evictions across the state of Illinois. We've provided rent assistance for people. We've made sure that people have health care whatever they need available to them. We're trying to build up the resources of healthcare within communities of color in particular here, and so many I mean you really we could go through a whole big long list and I've got it to about the economic supports that we're providing for people, and particularly those who are most impacted financially by COVID-19 and those happen to be, guess what the same as the communities that have the highest rates of death, or the highest rates of COVID positive tests, and those are communities of color. So this has been a focus from early on, I think the minute that we heard and saw statistics that showed that in particular the black community had a higher incidence of death on a per capita basis than any other. That was the moment we began to put in testing sites everywhere that we could in black communities, and making sure that that we were educating people about the importance of washing your hands of putting a mask on, and so on, and focusing that on communities of color in particular. There were a lot of people who had been told and you can actually read articles about this where those [in] the foreign countries that run bots to convince Americans to fight each other. That one of the things they were promoting was with the black community was immune from COVID-19. And so there were many people who had heard this, that the black community was immune and then had not heard that no actually the black community is most susceptible in some ways, at least to the terrible consequences of COVID-19. So there's so much that we're dealing with at the same time to try to address this challenge and you St Louis and for communities of color across the state.
* Can you be a little bit more specific about where we're at with the contact tracing program, you know, how many people have been hired. When will the program be fully up and running. And also, can you address, people who are concerned about their privacy, and people who are unwilling to share sensitive information, what kind of questions can they be expected to answer?…
Sure. So let's start with, I did a press conference talking specifically about contact tracing I think about a week ago so I would refer you back since they're recorded online you can see everything that I said in my prepared remarks and answers to questions there.

Having said that, the goal with the contact tracers that we have in the state today, we already have contact tracing, just for people who don't understand because we were doing contact tracing before COVID-19 our contact tracing for HIV, for example, is one thing that was done for contact tracing. But we have across the state hundreds of people who are in contact tracing. We start with that as a base, these are community health workers that are in St Clair, SIUE, they're also all over in counties across the state.

So we start with that as a base. But when you need to do something as big as we need to do for COVID-19, what we need is technology so that we're all connected to the same database. That is everybody's got the same app, the contact tracers that there's privacy built into that, meaning that if someone tests positive and they have five contacts in the last 48 hours, that the five contact names and phone numbers which come from this person who was COVID positive, right, that those five contacts are contacted, but not told where they may have come in contact with somebody who's COVID positive. So the privacy is maintained for the patient. And then the contacts are made directly to the people who need to be contacted. It's an enormous endeavor, think about it today we had 1100 reported positive cases, in prior days we've had 2500 even 3000 on one day. Think about that, multiply that by three or four or five contacts over the prior 48 hours remember 2000 every day, times three or four or five, you know that's a lot of contacts to make. So you need more than the hundreds of contact tracers that we have. So what we're doing is working with local departments of public health, to make sure that they get contact tracing dollars, so that they can higher contact tracers and a few other community resource workers and so on, to make sure that we're contacting everybody. And then that we're providing those people with resources in the local community. Because if you have to isolate for 14 days, that may not be an easy thing for many people. And so if you need a hotel room, motel room to separate from your family for 14 days. We want to make sure you get fed, we have wraparound services, everything is taken care of for you. If you're going to remain in your own home and you live alone. We need somebody to deliver groceries and you know other services pharmaceuticals and so on that you may need. So that's all the case one last thing.

How big is it and how long is it gonna take? We're at about 30% of the contact tracing that we need today. We're doing about 30% of the contacts. We need to get above 60%. You might say why not 100%? Because there are many people who don't want to be contacted who never will answer the phone, you know, lots of reasons some, some people who are COVID positive, who won't give you names.

So we're going to get to hopefully about 60 plus percent, it's going to take us weeks and weeks I can't tell you how long I mean some people think it will take through August to do it. I'm hoping that we'll be able to do it much faster than that. But as we fast as we can. We're getting the dollars out to the counties, so that they can do the hiring that they need.

Sorry. It was a three parter or something and I wanted to make sure I gave you a full answer.
* Over the weekend, IDPH began posting a statistic called the recovery rate was 92% as of Tuesday. Can you explain that figure and what does it tell us about the nature of the virus?…
What we're trying to do is to make sure that people understand that when you get COVID-19. It is not a death sentence. When you get COVID-19. In fact about 80% of people who get COVID-19 are experiencing mild symptoms to moderate symptoms, and then recover. It's really 20%, or so, get it and have something more serious. That doesn't mean they're going to a hospital necessarily, but I think all of us at this point knows somebody who has had COVID-19 who has been sick at home, and had a hard time and then recovered.

Also, some of us know people who have had to go in the hospital, and then have passed away. And so, about 1% little less than 1% of people get COVID-19 passed away that's the international statistic anyway. So what we're talking about is, you know, trying to report a number that shows how many people have already had COVID-19 that have recovered. Now what I just gave you is a statistic of, if you took a snapshot at somebody of a bunch of people who got at the same time, you'd have 1% 18% and 80% roughly speaking, so the 92% is a reflection of many people who've recovered and have gone about their lives and haven't gotten COVID-19 again. So that's what we're trying to give a number we had not before provided a recovery number. But people have asked us to try to put that number out so we are.
* Would it be feasible for Chicago to serve as a hub city for NHL whenever it returns?…
So actually, as you know the state is the one that sets the parameters for any play that might exist in the state. And then the city of Chicago, of course has the ability to be more stringent than the state's parameters. So we've gotten contact by all of the major leagues right by NHL as well as MLB and NFL and so on. And, look, I am as anxious as I think many people are to get our sports up and running again. The problem is we can't put spectators in the stands today, there's just no way to do that safely. According to the doctors, what the leagues have asked is not for that, what they've asked is for the ability to run games. You know whether we're talking about hockey or baseball or football at this moment they're asking for the ability to run games televised with no spectators. Even that as you can imagine, think about two teams. You know all of the surrounding people that work for the team involved. It's a lot of people. So we've worked with them they've actually come up with reasonably good plans each one of the leaks. And I'm anxious, starting with baseball. To get baseball up and running again and I'm hopeful that we will be able to do that. Going into July, but NHL I can't answer what the timing will be when the Blackhawks will be added. But again, we're working with every League, NBA NHL included.
* Earlier this month, Las Vegas casino started offering sports book betting [garbled]…
So customers will ask, well how big it is and we're working on them. And we're also working on the ability for people to do it in person somewhere to sign up for the app to allow them to [bet].
* Personal care guidelines for massage therapy to last 30 minutes or less. Many massage therapists are commissioned by the hour…
[Paraphrase: The guidance may be more about keeping a therapist safe.] I'll bring that to the doctors I'm not making those individual specific decisions about massage therapy for example. But, but as it's raised here and I'm sure that people have communicated with IDPH on the subject or dceo as a hotline that you can call if you're in the industry. So I'll bring that back to the experts and raise the issue to them.
* What is the earliest point that you think a Chicago casino can be up and running? Do you have any thoughts for the mayor to consider about what the best location in the city would be? Also, can you provide an update about when Illinois existing casinos will reopen, and what specific social distancing requirements?…
I'm not going to dictate to the Chicago City Council, or the mayor when they would start. They have to contract with a lot of people before they could even begin to, they have to choose a site and then start building, but they also have to have a partnership with casino operator. So I can't tell you when that'll happen. But I would certainly encourage them to do it as soon as they can.

Now, Let me say that I'm not going to dictate the location of that either or try to discourage or encourage you know I'm very interested in making sure that that we create the most number of jobs, the sooner that they're able to get it up and running by the way, the better off the people of Illinois will be the people of Chicago to, because there's a benefit not just to the city of Chicago, but a lot of revenue that will come to the state of Illinois, some of which will come here to St. Clair County. As a result of its funding of infrastructure, because that's where a lot of those dollars will go.

And the last part of that question was, keep providing an update about what's specific. No, I mean I honestly, it's not something in phase three. There certainly are casino owners in the state of Illinois who have presented their ideas for that, but it does, it's not going to be happening in the next phase. So I have to admit I have not focused specifically on it and in the end. I don't know what the doctors will say or how long it will take them to kind of agree on something I know that we're everybody's looking at Las Vegas and wondering how they're going to be able to do it, they've got rules in place. And, you know, I have to say it looks difficult to me but I am anxious to see what the plans are that the casinos will present.
* Will live horse racing restart on June one, if so what might that look like?…
I don't think it'll restart on June one. I think live horse racing will restart. I can't tell you what date, but again it will be like other spectator sports where you would have to run without spectators at least to begin with.
* Today, Dr Willie Wilson sent a letter to President Trump and Attorney General William Barr asking them to intervene on behalf of churches to help those that desire to worship consistent with the recommendations or guidelines issued by the CDC. Your reaction?…
Well, we've done a lot to open churches to provide guidelines for churches and indeed we've asked churches to bring us their plans for how to open safely. I want as much as anybody to make sure that people who want to worship in church or a mosque or a synagogue, to be able to do that. I think it's an extraordinarily personal important thing to so many people across the state of Illinois. I also want to make sure that people people don't get sick doing it. And so we've [provided] guidance for drive up services. We are working with churches on outdoor services. And then the question is, what's the population that you could get inside? What's the capacity that you could have inside a church on any given Sunday, as they say any given day? One is having a service, and we just want to make sure that people are safe so you know we're doing that, the doctors are working on that. As you have heard Dr Ezike say she would like very much for services to go back to some sort of indoor services. So, I am hopeful that we will be able to accomplish something even more than we're already doing but we're working very hard to get there.
* The john deere classic is scheduled to begin July 6 in the Quad Cities. The PGA Tour has yet to announce that fans will be allowed to attend the event. Are conversations of any type you and your staff had with the PGA Tour about the event? And is there any scenario in which fans would be allowed?…
I can't answer that question. I know the PGA has been in touch with my staff the Illinois PGA has anyway. And I just don't know what the status of those discussions are.
* What does it mean for the future of health healthcare that a hospital Transformation Program [did not pass in the legislature], particularly for hospitals on Chicago's South Side that say they can no longer move forward but applying pressure now to the legislature. What can or should be done to help residents in these areas?…
This is extremely difficult because I want that transformation to take place as soon as possible. Four hospitals that were looking to merge for in total, a billion dollars in order to make that transformation, take place at this moment with so many things in flux about our state budget. It was nearly impossible for the General Assembly to go forward with a billion dollar program. And I know that that timing makes it very very difficult for those hospitals. We have a real challenge in the state simultaneously with the introduction of Obamacare, which has been so tremendous for expanding health care in our state. We also have had challenges for hospitals that now are doing much more outpatient and not inpatient, and so the result of that is the hospitals don't have as much business revenue coming in the door, as they were before Obamacare became the law. Now, so you'd have hospitals transforming trying to figure out how to operate with more outpatient procedures to specialize a little more and so on. And then along comes COVID-19, where now that some hospitals have closed. Here we have COVID-19 where we need more healthcare providers. And we have an outbreak and a pandemic and something that's really affecting much of the population. And so these things are kind of cross currents occurring with a budget that is, you know, has been very, very difficult, revenues dropping off and so on. So I just say there's a situation none of us wanted to be in. I'm hopeful that we'll be able to get to hospital transformation with the assistance again with federal government help to replace revenues that are lost. We want to get back to Transforming Health Care across the state so that everybody gets it, and that we have enough facilities.
* Question about movie theaters being reopening soon…
Yes, but not for phase three. It's something that we've contemplated for phase four, lower capacity and so on but not in phase three. And I know that the theater owners would like it to be in phase three it's just, it's very difficult to imagine it happening. Having said that, as we look at how we might do things in churches, you know, the kind of the seating, the way that seating works out in a church looks very much acts very much like it would in a theater, for example, and so we'll be looking at how we can work these out churches, and then move to the question of theaters.
-30-
- Posted by Rich Miller 16 Comments


The Illinois Department of Public Health (IDPH) today announced 1,111 new cases of coronavirus disease (COVID-19) in Illinois, including 160 additional deaths.

Clinton County: 1 male 60s
Coles County: 1 female 80s, 1 male 80s, 1 female 100+
Cook County: 1 female 30s, 2 males 40s, 3 females 50s, 4 males 50s, 8 females 60s, 14 males 60s, 7 females 70s, 20 males 70s, 17 females 80s, 13 males 80s, 8 females 90s, 4 males 90s, 1 unknown 90s
DuPage County: 1 male 40s, 1 male 50s, 1 female 60s, 1 female 70s, 1 male 80s, 1 female 90s
Kane County: 1 female 60s, 3 females 70s, 3 males 70s, 1 female 80s, 1 male 90s
Kankakee County: 1 female 80s
Lake County: 1 male 40s, 1 male 50s, 1 male 60s, 4 females 70s, 1 male 70s, 2 females 80s, 1 male 80s, 7 females 90s, 2 males 90s
Madison County: 1 unknown 70s
McDonough County: 1 male 80s, 1 female 90s
McHenry County: 1 male 80s
McLean County: 1 female 50s, 1 female 70s, 1 female 90s
Randolph County: 1 female 80s
Rock Island County: 1 female 80s
Sangamon County: 1 female 80s
Will County: 1 female 50s, 1 female 60s, 1 male 60s, 1 female 70s, 1 female 80s, 1 male 80s
Williamson County: 1 male 50s
Winnebago County: 1 female 50s

Currently, IDPH is reporting a total of 114,306 cases, including 5,083 deaths, in 100 counties in Illinois. The age of cases ranges from younger than one to older than 100 years. Within the past 24 hours, laboratories have reported 17,179 specimens for a total of 803,973. The preliminary seven-day statewide positivity from May 20-26 is 8.6%.

*All data are provisional and will change. In order to rapidly report COVID-19 information to the public, data are being reported in real-time. Information is constantly being entered into an electronic system and the number of cases and deaths can change as additional information is gathered.
I'll post hospitalization numbers when I get them.
…Adding… The governor said that, as of midnight last night, 3,826 are in the hospital with COVID-19, of those 1,031 are in the ICU and 592 are on a ventilator.
- Posted by Rich Miller 3 Comments


* CNN…
Antibody tests used to determine if people have been infected in the past with Covid-19 might be wrong up to half the time, the US Centers for Disease Control and Prevention said in new guidance posted on its website.

Antibody tests, often called serologic tests, look for evidence of an immune response to infection. "Antibodies in some persons can be detected within the first week of illness onset," the CDC says.

They are not accurate enough to use to make important policy decisions, the CDC said.

"Serologic test results should not be used to make decisions about grouping persons residing in or being admitted to congregate settings, such as schools, dormitories, or correctional facilities," the CDC says.
The guidance is here.
Of the $4.9 billion Illinois received under the CARES Act, the state took $2.7 billion and local governments were to receive $2.2 billion. Of that, Illinois' five largest counties — Cook, DuPage, Lake, Will and Kane — received $1.4 billion.

But before lawmakers gathered last week in Springfield, there had been a fight brewing over whether those five counties would be required to pass their funds onto their local governments, or whether those municipalities would be on their own to fight for a share that went to the state.

The budget implementation bill passed by the General Assembly over the weekend ended that debate. It stipulates that municipalities from those five counties are not, in fact, directly eligible for state CARES Act money, and will have to get their share of federal money through distributed from the counties.

Deputy Gov. Dan Hynes said the administration agreed.

"I don't believe it was the intent of the federal government to just give counties $300 or $400 million to spend," Hynes said.
The City of Chicago's federal distribution was included in that $1.4 billion, by the way.
* WAND…
The National Association of Theater Owners (NATO) of Illinois is submitting a plan to Gov. JB Pritzker that would allow movie theaters to reopen sooner than in Phase 4 of his Restore Illinois plan.

Under the governor's plan, theaters cannot open until June 26th at the earliest, with a strict limit of 50 people per auditorium, something NATO says is an arbitrary number, since some theaters can hold 1,000 people.

The proposed plan would call for theaters to be allowed to reopen with 50 percent of their seating capacity, which NATO says is the standard proposed by the governor for restaurants and bars.
…Adding… From the governor's office…
Indoor movie theatres are slated to reopen with public health guidance in phase four. Theatres are higher risk environments because people spend significant amounts of time in close proximity. Every phase of the Restore Illinois program is guided by the public health experts and listening to the experts has proven successful thus far. The administration looks forward to working with industry to ensure a safe reopening in a few weeks if health metrics indicate the state is ready.
* CBS 2…
Gov. JB Pritzker is asking the Illinois Appellate Court to vacate a temporary restraining order granted to a Clay County business owner and his tanning salon, essentially exempting them from the statewide stay-at-home order.

James Mainer and HCL Deluxe Tan had filed a new lawsuit on Thursday, seeking to have the governor's executive order declared null and void. At a hearing on Friday, Mainer and HCL Deluxe sought a temporary restraining order barring the governor from enforcing the order statewide, but instead Clay County Judge Michael McHaney granted an order only for Mainer and his business.

Mainer is challenging the governor's authority to extend his stay-at-home order beyond the first 30 days of his original disaster proclamation.
As support for their theory, plaintiffs cite a 2001 informal letter drafted by a member of former Attorney General Jim Ryan's staff. But this letter— which applied to an outbreak of foot and mouth disease affecting livestock in Illinois —has no binding effect and was superseded by a formal Attorney General opinion.
That new AG opinion is here.
* On to Tribune live blog headlines…
Cook County courts will remain in shutdown mode until July 6

Large majority of CPS students participate in remote learning, but more than 2,200 have had no contact with teachers

Jury trials again put off at federal court in Chicago

AP poll: Only about half of Americans would get a COVID-19 vaccine

CBOE to reopen trading floor, but with far fewer traders and a lot more rules

Congress shifts focus to overhauling Paycheck Protection Program

Deaths of more than two dozen residents of Far North Side nursing home tied to COVID-19: 'It seemed like there was nothing we could do'

Cook County Board President Toni Preckwinkle vetoes 'extraordinarily bad' plan to share coronavirus-positive addresses with first responders

The General Assembly adjourned its special pandemic session in the wee hours of a holiday weekend. Here's what you might have missed.

More space at restaurants, masks at daycares: Here's a closer look at Lightfoot's guidelines for phase 3 of Chicago's reopening plan

Chicago releases rules for restaurants to reopen during the coronavirus pandemic — but no date yet

Lightfoot announces plans to train hundreds of people to track the spread of the coronavirus

Summer camps are canceling and parents are scrambling: The search for sitters who embrace social distancing
* Sun-Times live blog headlines…
39 more die in Illinois of COVID-19 as all regions of state set to move to Phase 3 on Friday

Radiologists scrap fall event at McCormick Place

Pritzker ready to toast 'cocktails-to-go' — but Lightfoot wants a chaser

Nurse fired from Norwood Park senior home for pointing out COVID-19 safety issues: lawsuit

CPD Supt.: Stay-at-home order contributed to most violent Memorial Day weekend since 2015

Temperature checks on deck: Reopening guidelines usher in new normal

Isn't it time everyone had enough?

As doctors, we are taught 'First, do no harm.' That becomes harder during a pandemic

Nobody should ever liken a stay-at-home order to Anne Frank's hiding in an attic or a Japanese American internment camp

What we leave behind and what we welcome as city moves toward reopening

Cook County's death toll in less than five months surpasses last year's entire tally: 'We do not believe that these deaths had to occur'

Museum of Science and Industry cuts 84 jobs
- Posted by Rich Miller 2 Comments


[The following is a paid advertisement.]
The Illinois Kidney Care Alliance (IKCA) would like to express its appreciation to all of the Senators and Representatives who supported and approved the creation of the Kidney Disease Prevention and Education Task Force.
The task force that was orginally included in Senate Joint Resolution 49 will study chronic kidney disease, transplantations, living and deceased kidney donations, and disparity in affliction rates between Caucasians and minorities. It will also develop a comprehensive plan focused on early detection, preventative screenings and health equity to help reduce the burden of kidney disease throughout the state.
On behalf of the entire coalition, IKCA would like to thank our Illinois legislators.
For more information, follow us on Twitter, like us on Facebook, or visit our website.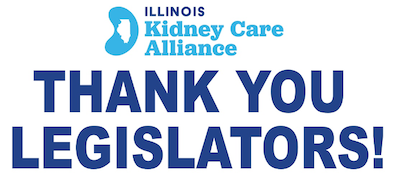 - Posted by Advertising Department Comments Off


* Brenden Moore at the SJ-R…
The Springfield Police Department has issued a cease-and-desist notice to a local restaurant that opened for dine-in service in defiance of Gov. JB Pritzker's stay-at-home order. […]

[Springfield Police Chief Kenny Winslow] said law enforcement often gets caught in the middle when seeking to enforce orders while understanding the struggle people are going through.

"We all empathize with the small business and the struggles that they are going through right now," Winslow said. "But on the other hand, how do you treat somebody different from those who are compliant and doing the right thing versus somebody who's openly defiant? … We get caught in the middle … we've gotten called by employees. … We've gotten calls by competitors. We've gotten called by the state. So everybody has an opinion on this … and again, we're not the jury on these. We're not the judge on these. We simply just forward that information to the appropriate (agencies) and they can take whatever enforcement action they choose to take."
Emphasis added because this is something that's often lost in the media circus surrounding the violators. Law-abiding competitors are often the ones lodging complaints.
* Meanwhile, this is from that NPR story we discussed yesterday…
Eating indoors at a restaurant: medium to high risk

Indoor dining "is still amongst the riskier things you can do," [Dr. Emily Landon, a hospital epidemiologist and infectious diseases specialist at University of Chicago Medicine] warns. The trouble is, says [Dr. William Miller, an epidemiologist at Ohio State University], "people tend to linger in restaurants. So even if spacing is OK, the duration of exposure is longer." Also, he says, talking "appears to lead to some release of the virus."

[Dr. Abraar Karan, a physician and public health researcher at Harvard Medical School] notes that one outbreak in Guangzhou, China, took place in a restaurant with no windows and poor ventilation, and the air conditioning appears to have blown droplets between tables.

What alters risk? [Dr. Andrew Janowski, a pediatric infectious diseases expert at Washington University in St. Louis] says the risk level depends on how well the restaurant has adapted for the pandemic. Eateries should reduce and space out seating, require servers to wear masks and offer easy access to hand-washing stations.

They should also provide single-use options for condiments so you don't have to touch shared ones, says Janowski. And they should close all self-serve areas like soda fountains or buffet tables.

If you do go to a restaurant, look for outdoor seating. Landon says she would go with only members of her household, because "I don't want to have to take my mask off in the close proximity of a bunch of other people."
* The Question: Do you plan to eat outdoors at a restaurant after your region enters Phase 3 (most likely this Friday)? Explain.
- Posted by Rich Miller 84 Comments


* From the American Health Care Association and National Center for Assisted Living…
Hello Rich – Below is the combined cost for COVID-19 testing of every resident and staff of assisted living communities in addition to nursing homes which would cost $672 million nationwide. Click here to download or view a pdf version.

Last week, I sent you cost estimates for testing all residents and staff in nursing homes just once which would cost $440 million nationwide. Today, we are building on that data to include the additional cost to test all residents and staff of assisted living communities, which AHCA/NCAL strongly supports, with an additional cost of $232 million.

Below are quotes from AHCA and NCAL as well as an explanation on the difference between nursing homes and assisted living communities. As we pointed out last week, ongoing testing carries unsustainable costs without continued support from federal and state governments. Please let me know if you have any questions. Thanks, Beth

Difference between Nursing Homes and Assisted Living Communities:

• Generally, assisted living communities offer person-centered care to individuals who need some assistance with activities of daily living, but who do not require round-the-clock skilled nursing care, like those residing in nursing centers.
• Many nursing homes are also known as skilled nursing rehabilitation centers, meaning they offer therapy to individuals following a hospital stay to help them return to the community.
• While assisted living communities may offer some therapy services on-site, they focus more on offering a home-like, long term care environment that maximizes independence.

AHCA/NCAL Statements On Why Assisted Living Facilities Need Support In Response to COVID-19:

• "For months now, we have been advocating for expanded and priority testing in long term care facilities to protect our residents and caregivers, but this is a significant undertaking and cost for them to shoulder on their own. Assisted living communities have yet to receive any direct aid, despite also serving vulnerable seniors. While building on support received from HHS, we are asking for additional consideration for all long term care facilities, whether it be in regard to additional testing, personal protective equipment, or funding." Mark Parkinson, President and CEO of American Health Care Association and National Center of Assisted Living
• "With seniors among those most susceptible to the virus, the assisted living profession, in particular, is facing historic challenges when it comes to our most sacred charge – the health and safety of our residents. Unfortunately, shortages of testing and PPE continue to be a challenge nationwide and because assisted living communities are not medical facilities, they have not been prioritized for testing or supplies. We encourage our elected leaders to prioritize our most vulnerable and those who care for them in long-term care settings as they allocate these critical resources." Scott Tittle, Executive Director of the National Center for Assisted Living
If you look at the chart, they claim 4,480,295 tests would be needed to test residents and staff one time. Over the past seven days, the average daily testing number was 386,318 (even though the President of the United States said a month ago that the country would soon be testing 5 million people per day). So, at that rate, it would take 11.6 days to accomplish the goal if the nation diverted all tests to nursing home and assisted living residents and workers. And it would cost $672 million. For one round.
According to the AHCA/NCAL, Illinois would need to perform 180,032 tests to cover all residents/employees. Over the past seven days, Illinois has tested an average of 23,587 people every day. So, it would take 7.6 days to test all residents and workers if the state diverted all testing to that purpose. And it would cost $27 million. Again, for just one round.
- Posted by Rich Miller 12 Comments


* Shot…
Lightfoot also called "fundamentally untrue" a Twitter claim by Chance the Rapper that Chicago Police have been more aggressive in enforcing the stay-at-home order in African-American neighborhoods than they have in predominantly white neighborhoods.

Lightfoot said she starts her day looking at two pivotal numbers — overnight violence and police dispersal orders.

"I can tell you, based upon the statistics we've been keeping now for weeks, those dispersal orders are happening all over the city. Yes, in white areas, in Latinx areas, in monied areas of the city," she said.

"Why the media doesn't report that with equal interest — well, I think there's probably some answers to that. But the reality is that the Chicago Police Department is active and engaged all over the city and doing it with an eye toward equity. And I would have it no other way as mayor of this city."
* Chaser…
Despite the mayor's claim that police have enforced social distancing equally across Chicago, data shows almost all arrests and citations for congregating have been issued on the city's South and West sides.

All 13 arrests and 11 of 13 citations have been issued in majority-Black and Latino neighborhoods on the South and West sides, according to public records obtained by Block Club Chicago.

Between March 20 and May 21, 13 people were arrested for violating the stay at home orders. Ten were Black, one was white and two were juveniles whose race and arrest reports were withheld.

Thirteen others received citations. Of those, 11 were located in majority-minority neighborhoods on the South and West Sides. Detailed reports and demographic information were not provided for the citations. […]

Block Club has requested the number of dispersals of groups per police district. Chicago Police did not respond to a request for comment.
Since the dispersal order statistics by police district are available to the mayor every morning, perhaps she can now make those reports available to the public.
- Posted by Rich Miller 40 Comments


[The following is a paid advertisement.]
The COVID-19 pandemic has thrust families and businesses in Illinois into crisis and put a spotlight on the costly and chaotic outcomes from delay in addressing global threats.
Illinois is hurting, families are in mourning, and people who have the least have been hit the hardest. Communities of color are bearing the brunt of the pandemic, suffering greater loss and greater financial strain.
We face unprecedented times, but Illinois is strong and will be ready to lead us through recovery with solutions that put the state back to work. As we emerge from this crisis, new and good-paying jobs will be key to the state's recovery.
Our recovery will be strengthened by the diversity of the many voices and communities that make our state strong and resilient. Equitable job creation for all Illinois residents, in particular for those who have been hit the hardest during this crisis, will be critical to building a strong economy and strong communities.
The Illinois Clean Jobs Coalition is committed to helping Illinois recover and building a better, cleaner, and more equitable future for us all and for generations to come.
For more information, visit ilcleanjobs.org.
- Posted by Advertising Department Comments Off


* Hilarious…
An Illinois lawmaker dissatisfied with Gov. JB Pritzker's handling of the large number of COVID-19-related unemployment claims is calling on his colleagues to support an effort to remove the governor from office.

Republican Rep. Allen Skillicorn, of Crystal Lake, said lack of staffing at the Illinois Department of Employment Security and its website's disclosure of sensitive information is evidence of Pritzker's "continued inaction."

After issuing a news release notifying residents of his initiative, Skillicorn told reporters in a video news conference Tuesday he "would actually prefer to avoid coverage."

"This is a nonpartisan issue. This is about the people of Illinois," he said. "This is not my voice, it's the voice of over 1 million people in Illinois that are now unemployed. … It's not about me. It's not about my party."
Narrator: "It's about him."
* Reminder of the constitutional requirements…
The recall of the Governor may be proposed by a petition signed by a number of electors equal in number to at least 15% of the total votes cast for Governor in the preceding gubernatorial election, with at least 100 signatures from each of at least 25 separate counties. A petition shall have been signed by the petitioning electors not more than 150 days after an affidavit has been filed with the State Board of Elections providing notice of intent to circulate a petition to recall the Governor. The affidavit may be filed no sooner than 6 months after the beginning of the Governor's term of office. The affidavit shall have been signed by the proponent of the recall petition, at least 20 members of the House of Representatives, and at least 10 members of the Senate, with no more than half of the signatures of members of each chamber from the same established political party.
- Posted by Rich Miller 42 Comments


As much of Illinois prepares for its next stage of reopening, Gov. J.B. Pritzker says numbers show the state may be coming down from a peak.

"We seem to have come off the peak," Pritzker said during his daily coronavirus press briefing Tuesday.

The state of Illinois is set to move forward into phase three of the "Restore Illinois" plan Friday, and Pritzker says that despite reopening more portions of the state's economy earlier this month, coronavirus case numbers and hospitalizations are continuing to trend in the right direction.

The comments echo ones made by Illinois Department of Public Health Director Dr. Ngozi Ezike, who reported the first week-over-week decline in COVID-19 deaths for Illinois so far this pandemic. Ezike said she hoped the decline marks the start of a "downward trend," but noted "until we have a definitive cure and vaccine, we must prevent further spread."
Statewide hospitalization stats. Remember, these are a snapshot in time (11:59 p.m. last night) pic.twitter.com/sY8IeKrgGj

— Hannah Meisel (@hannahmeisel) May 27, 2020
Only one state has met all of the criteria contained in guidelines issued by the federal government for safely reopening businesses and easing social distancing during the coronavirus pandemic, according to an analysis by ProPublica. Despite the lack of progress by the overwhelming majority of states, Donald Trump is still pushing them to reopen.

ProPublica based its analysis on state-level data, updated daily, for five metrics stemming from the guidelines for reopening issued by the White House and the Centers for Disease Control and Prevention. Its metrics are the number of positive tests per 100,000 people; the percentage of tests that are positive; the number of tests per 100,000 per day; the availability of ICU beds; and the number of hospital visits for "flu-like illness."

Thirty states have met only three of the goals or fewer, and three of them — Alabama, Alaska, and West Virginia — have met only one of the five.

As of Tuesday, Illinois was the only state to have met all five.
- Posted by Rich Miller 65 Comments


* Keep it Illinois-centric and respectful. Thanks
- Posted by Rich Miller 22 Comments