* 3:42 pm - Subscribers have known about this since September 15th. From a press release…
On the eve of the first public gubernatorial campaign debate, former Illinois Governor Jim Edgar today endorsed Bill Brady for Governor, saying Brady will restore fiscal discipline to manage the state budget, reverse out-of-control spending that threatens the state's financial solvency, and will support economic policies designed to bring greater promise and prosperity back to Illinois.

"Bill Brady is the candidate most qualified to change the reckless fiscal attitudes we've seen for too long in Springfield," said Edgar, the state's 38th Governor. "From discussing this with him, I know he will stop spending more money than the state takes in and bring fiscal responsibility back to state government. As a businessman, he understands the impact of state budget policy on job creation and will put in place policies that once again encourage business investment in our state."

"We need a change in Illinois government, and Bill Brady will bring that change. I strongly endorse Bill Brady for Governor," he said.

Brady said he's honored to have Edgar's endorsement, and pledged the same fortitude as the former Governor in addressing severe budget challenges. Edgar served two terms as Governor from 1991-1999 before retiring from elected office. He inherited a $1 billion state budget deficit and when he left office, the state had a checkbook balance of $1.5 billion.

"If I am fortunate enough to be elected Governor, I will follow the example set by Governor Edgar," Brady said. "He prioritized and cut state spending, curbed programs that were not producing the needed results, and returned fiscal discipline to Illinois government."

Edgar is the latest in a series of recent Brady endorsements. Others include the Illinois Chamber of Commerce, the Illinois Manufacturers Association, National Federation of Independent Business, Indiana Governor Mitch Daniels, former New York City Mayor Rudy Giuliani, the Illinois Fraternal Order of Police, ABATE, and former Governors Jeb Bush of Florida, Mike Huckabee of Arkansas, and Tim Pawlenty of Minnesota.
Neither man is running for mayor, so we'll see if the Chicago media covers it. Maybe they'll ask Edgar if he's endorsing Rahm, too.
Interesting that there was no big public event, however.
…Adding… Here's something else to chew on. Lisa Madigan has an Interwebtubes promo video. More like a lecture with annoying background sounds…
She's done lots of good stuff. It's just that nobody's gonna get through that gigantic list.
…Adding more… My favorite part is the end…
So! I hope you can appreciate the work that one can do as your attorney general, and believe that I have done a good job serving as your attorney general.
She sounded just like her father there.
…Adding still more… I think this is one of those five-minute "candidate talking to the people" videos for ABC7. They're popping up all over the place lately. This one was the most "fun," however.
…Adding still more… Well, they took the darned video down. Too bad. It was a classic. Wish I had saved it.
- Posted by Rich Miller 21 Comments


* Pulse Opinion Research just did a statewide survey of 1,000 likely voters on September 25th for Fox News. Governor…
Bill Brady 46%
Pat Quinn 36%
Rich Whitney 8%
Some other candidate 1%
Not sure 9%
US Senate…
Mark Kirk 42%
Alexi Giannoulias 40%
LeAlan Jones 7%
Some other candidate 2%
Not sure 9%
Just like Rasmussen, they didn't include the Libertarian Party candidates and millionaire Scott Lee Cohen. These people are goofballs. There's just no other way to say it.
Complete results and crosstabs.
Those xtabs show Alexi Giannoulias beating Mark Kirk with women 42-38, while Bill Brady is leading Pat Quinn with women 44-36. There's just no excuse for that poor showing by Quinn. He simply doesn't know what he's doing. And this is from TPM…
The internals of the poll show both Obama and McCain voters from 2008 supporting [Green Party US Senate nominee LeAlan Jones] in the same proportions, suggesting that support for him could be more a matter of pure protest vote as opposed to support being siphoned from Democrats.
The same is not true with the governor's race. Green Party nominee Rich Whitney is getting 9 percent of Obama's voters, but just 5 percent of McCain's voters. He is, however, taking 6 percent from both Republicans and Democrats. He's also getting 10 percent from those making more than $60K and 11 percent of people who say they are moderates.
* More toplines…
* Regardless of how you plan to vote, is Alexi Giannoulias honest and
trustworthy?

25% Yes
34% No
41% Not sure

* Regardless of how you plan to vote, is Mark Kirk honest and trustworthy?

18% Yes
41% No
42% Not sure
That's a big reason why Kirk hasn't yet put this away.
* As you already know, Rasmussen released its US Senate poll last week. In the past, they have always polled the governor's race whenever they've polled the Senate race. This time, though, they say they didn't do it. Odd. Anyway, we won't have new gubernatorial numbers from them until next week.
Also, we successfully Freeped PPP's site last week and their new Illinois poll numbers will start rolling out tomorrow I'm told.
* Meanwhile, the gubernatorial candidates will debate tomorrow at the Union League Club. We probably won't have live video unless I can rig up a quickie mirror site, but we will have raw video right after the debate ends.
* Other campaign stuff…
* New 'Super Pacs' bringing millions into campaigns

* New redistricting data suggests Republicans could gain ground

* Tribune: Third rail politics

* Fight for Jewish votes steps up in 10th Congressional District

* 16th District candidates split over health care reform

* Hare, Schilling ads spar over jobs
- Posted by Rich Miller 49 Comments


* 29 states have increased taxes and fees this year alone. Click the pic for a larger image..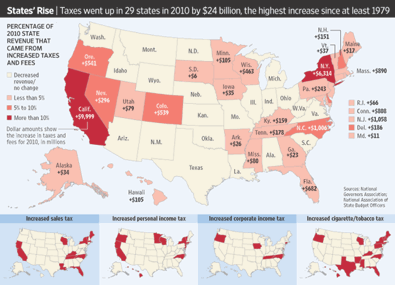 * Meanwhile, Illinois continues to drown in red ink. From the Tribune…
All the providers want is what the state owes them, but as Illinois faces a $4.6 billion backlog in bills and no money to pay them, most often what they get is just enough to survive. Enough to meet the next payroll, keep the doors open for one more month and make payments on loans keeping them afloat as they wait for the state to make good.

"Every day is a triage situation," said comptroller spokeswoman Carol Knowles. "There is a limited pot of money."

And the situation isn't getting any better. Knowles said the state has bills dating as far back as seven months and the backlog is likely to "worsen during the next several months." Gov. Pat Quinn's budget director, David Vaught, has acknowledged the state will end the year where it started — owing nearly $6 billion in unpaid bills.
And it's having a ripple effect on employment…
The Chicago-based nonprofit [A Safe Haven] has had to cut services and lay off workers
* Rep. David Miller, the Democrats' comptroller nominee, outlined his proposal to deal with the problem if he's elected…
Miller, a dentist from Lynwood, told the Tribune editorial board he would examine the backlog and move those owed money up in the line if they were about to go out of business and provide a unique service in the region, such as the only health clinic in a Chicago neighborhood or downstate Illinois county.
But Judy Baar Topinka didn't approve of the plan…
"You can't just group them into little sections of the state. That is social engineering, and that is unfair," said Topinka, who lost a bid for governor against Democrat Rod Blagojevich in 2006.
Her idea…
Topinka said she would aim to provide more consistency in how the bills are paid so providers could count on them, even if they are months late. She said she would target human service providers to be up first after the state's payroll and loan repayments are made under state law.

"You start with getting at those who are dealing with our most vulnerable citizens and try and give them something — if nothing else — predictability," Topinka said.
Frankly, I think Miller's idea is superior. And not just because he's my cousin.
* More carnage…
More than 100,000 Illinoisans hoping for Monetary Award Program grants to help pay for college have been denied since funds ran out April 19. […]

Of the applicants denied a MAP grant, more than 70 percent indicated a community college as their school of choice.
Newly released U.S. Census Bureau figures show the percentage of Illinois children with health insurance grew between 2008 and 2009. But about 5 percent of Illinois children were still uninsured last year.
The national average is 9 percent. But if the Republicans win control and make good on their promise to severely roll back Medicaid coverage, we could see that number creep up.
Thoughts?
- Posted by Rich Miller 51 Comments


* Bill Brady made a promise to Rockton voters this week that he can't possibly keep…
"At one point in time this was the tool and dye capital of the world practically and we have an opportunity to move back to that," says Brady
Yes, all will be flowers and butterflies if Bill Brady is elected. China, Mexico and India will no longer exist and we'll be just peachy. Keep in mind, however, that the plant he was speaking at moved into Illinois last year.
* Brady also made the same argument that many make about Indiana…
But other states are snatching our companies; Brady said Mitch Daniels, Indiana's governor, comes to Chicago four times a year to recruit businesses to the Hoosier state.
But Indiana ain't all roses and perfume, either…
Indiana's pool of workers shrank at a faster rate than did those of other states during the national recession, an expert told a committee of legislators and economic development officials Monday.

Graham Toft, of Growth Economics Inc., said this statistic is hurting Indiana's recovery efforts. […]

Tuft said Indiana's workforce peaked in January 2009 and since has dropped 140,000 workers – even briefly falling below levels from the 1990s.

"For some reason or another, experienced Hoosier workers are choosing not to stay in the workforce," Tuft said, noting similar reductions haven't been seen in other states.
And…
As surrounding states are seeing their unemployment rates drop, Indiana's remains unchanged at 10.2% — the same as it was a year ago.
Plus, we just beat them out on the Navistar deal.
* Illinois Statehouse News has a piece today about Pat Quinn's Downstate troubles and his recent state excursions throughout the region cutting ribbons on new construction programs. David Yepsen of the Paul Simon Public Policy Institute at Southern Illinois University at Carbondale comments…
Yepsen said it is going to be "a tough year for Democrats," especially downstate. He says Quinn's visits indicate the Democrat's commitment to that region.

"He could either write off the area or redouble his efforts here," Yepsen said. "And it looks like he is doubling down."

If Quinn's "campaign through governance" is effective, it could spell trouble for Brady.

"Brady needs a good margin," Yepsen said. "In traditional Illinois elections, the Republican needs to do well downstate and in the suburbs."
Brady is so far ahead in the region and has so outworked Quinn Downstate that it'll take a miracle to run the governor's fortunes around in that region. And I do mean a miracle. A few ribbon cutting ceremonies won't, um, cut it. And if the governor truly was "doubling down," he'd be spending campaign money in the region and developing a Downstate message. Right now, his Downstate message is the same as his Chicago message, and that isn't going to work.
* For some reason or another, the Peoria Journal-Star thinks this election could be more like 1990 than 1994. To prove their point, they re-ran one of their 1990 editorials today, which predicted, among other things, that Democratic US Sen. Paul Simon could be unseated by anti-incumbent fever.
Perhaps they should be clued in a bit…
* President George HW Bush's average approval rating in October of 1990: 57%

* President Barack Obama's current average approval rating: 45%

* Number of US House seats lost by the president's party in 1990: 8

* Number of US Senate seats lost by the president's party in 1990: 1
Unless literally everybody in the world is wrong, then, no, this isn't another 1990. Far from it.
* Related…
* Bill Brady Could Lift Death Penalty Moratorium If Elected

* Cohen Asks Voters for Chance to Prove He Can Improve State

* Candidates for Illinois Governor and Lieutenant Governor stop in Rockford

* Gubernatorial Debates Offer Illinoisans A Closer Look At The Candidates

* Brady Talks Transportation, Whitney Talks Education

* Gov. candidate Whitney defends big government

* Local teens weigh in on governor's race, political rallies, more

* State AG offices launching investigations into Ally Financial foreclosures
- Posted by Rich Miller 25 Comments


* We have a new TV ad in the US Senate race. Rate it…
Script…
Two candidates.

Mark Kirk: born in Champaign, attended college in Carlinville with mainstream Illinois values.

Kirk is a "deficit hawk" who's voted to cut taxes 40 times.

Chicago politician Alexi Giannoulias pushes for more spending…bigger government…promises to raise taxes to pay for it.

I'm Mark Kirk and I approved this message because I will spend less, tax less, and borrow less to put Illinois back to work.
Sweet is right that Kirk is attempting to build his lead among Downstate voters with this ad, among other things.
* Alexi Giannoulias' ad spending has caught some folks by surprise. He ended the last quarter with about a million dollars on hand, but he's spending money like he has a lot of it. And the national Dems have jumped in big…
POLITICO has learned that the Democratic Senatorial Campaign Committee has placed a $400,000 ad buy for the second week in a row in Illinois to boost Democratic nominee Alexi Giannoulias's bid against Republican Mark Kirk.

The two consecutive media buys, coupled with President Barack Obama's announcement last week that he will make a second fundraising stop for Giannoulias in October, indicate the party's continuing faith that it can keep hold of the seat that Obama vacated in his move to the White House. With almost a dozen Democrat-held seats in play this November, the party has to choose which races will get its financial assistance for the remainder of the campaign.

Nonetheless, national Democrats' latest investment on Giannoulias's behalf is less than some of the other ad buys for the Illinois Senate race so far – especially in the pricey Windy City media market. The DSCC has bought $250,000 worth of ad time in Chicago this week, compared to the Kirk campaign's $470,000 ad buy in the same market last week. Giannoulias' campaign put up about $450,000 worth of ads in the Chicago market last week.

A spokesman for American Crossroads, the cash-flush independent expenditure supportive of GOP candidates, confirmed it purchased a weeklong ad buy totaling $482,000 statewide last week.
* But Stu Rothenberg makes some valuable points…
You'd never know it from the avalanche of TV ads, direct-mail pieces and phone calls that voters will receive in October, but most campaigns have only another week or two to change the likely outcome of their contests.

Sure, the midterm elections are still five weeks away, but the combination of early voting in many states and the difficulty of cutting through the coming clutter means that the best opportunity for campaigns to change voter attitudes is quickly coming to an end. […]

Moreover, after weeks of advertising, voters already know the fundamental messages of the campaigns. A campaign trailing on Oct. 1 better have some killer new information in its October advertising if it is going to get attention from increasingly cynical voters. […]

A few elections will likely turn on late campaign developments, possibly an ad, a weak debate performance or an issue introduced at the last minute. And a big national news story can obviously have a significant effect on November's results.

But for most races, the die will be cast around the beginning of October. Either the early ads changed opinion or they didn't. And that is why the last month of most campaigns is actually less decisive than you may think it is.
Quite true.
* But Bob Creamer adds…
My consulting firm participated in a study several years ago that showed that one door to door contact within 72 hours of Election Day increased the propensity to vote by 12.5%. A second one in the same period increased turnout almost as much.
* The Tribune has posted its US Senate candidate questionnaires online…
* Dear NRSC,
Is this sort of blast e-mail to reporters really all that helpful?
Good morning –

In reporting on failed mob banker Alexi Giannoulias' fundraiser with Vice President Joe Biden in New York City today, please consider the following response from the National Republican Senatorial Committee (NRSC):

"Help from Washington won't save Alexi Giannoulias from his own record as a failed mob banker, and it won't change the fact that his risky behavior led to the loss of millions of dollars in the state's college savings program and the downfall of his own family's business. Illinois voters deserve a U.S. Senator who will restore accountability, transparency, and respect to this office – not another Blagojevich crony who wants to raise taxes for families and small businesses, increase spending, and loaned millions of dollars to known criminals." – Amber Marchand, NRSC Press Secretary
Sheesh.
* Related…
- Posted by Rich Miller 29 Comments


* The Chicago media is bound and determined to cover every rumor, every possible angle, every twist and microscopic turn of the Great Rahm Emanuel's triumphant return to Chicago…
* Sweet: Rahm might quit on Friday to launch mayoral bid

* Source: Emanuel close to deciding on whether to leave White House and explore mayoral run

* Emanuel decision near; likely to leave White House

* The Perambulations of Rahm Emanuel

* Rahm Must Decide Quickly on Mayoral Run, Obama Says

* The latest line on mayoral race: Rahm moving, maybe Gainer, too

* Sneed: Rahm Emanuel kept out of Chicago home by tenant?

* Rahm Emanuel Snubbing Luis Guiterrez?

* Gutierrez criticizes Emanuel on immigration

* Rahm "All But Certain" to Run for Mayor
Meanwhile, there are no articles on the governor's campaign in the city's news media today. No articles on the US Senate campaign. No columns. No editorials. The general election is five weeks from today.
They are amusing themselves to death with this media frenzy of theirs. It really is unseemly.
* The frenzy is so bad they're even recycling month-old stories about Emil Jones, for crying out loud…
Emil Jones Jr., the Chicago Democrat who retired more than a year ago as Illinois Senate president, said today that supporters and friends have begun collecting signatures on his behalf for a possible mayoral run.

In an interview with the Tribune, Jones said he is still "just looking" at getting into the contest to succeed Mayor Richard Daley, who is not running for re-election.

"A lot of my supporters want me to run," Jones said. "I enjoy my retirement, but I will only run if conditions are right."

When asked what those conditions are, Jones said, "I'm not going to tell you right now."
Everybody who believes that Emil Jones will actually run for mayor, please, raise your hands. Anybody? Hello? Bueller?
* And while few think that state Sen. Rickey Hendon is a "serious" mayoral candidate, he said yesterday that he's in the race to stay.
Hendon won every black Chicago ward in the lt. governor's primary, despite running against Art Turner, who was endorsed by both Chicago newspapers, some bigtime labor unions and Personal PAC. Now, I might agree that Hendon ain't exactly mayoral material, but he has long championed issues that truly resonate out there. Parking meters, red light cameras, free rides for seniors, the foreclosure crisis, etc. Remember his radio ad? Again, not exactly mayoral material, but he hit the, um, right notes for his community…
Love them or not, Hendon and Sen. James Meeks are the only two candidates out there with definable public policy stands. If anyone thinks that Rahm Emanuel's campaign will be anything more than safe, poll-tested bromides they're fooling themselves. But he's the superstar, so his every tiny move is somehow news. Kinda like when the Beatles used to get the girls screaming at their concerts when they'd just shake their legs a little bit…
For those not old enough to appreciate that clip, watch how these two little girls react to getting Justin Bieber concert tix from their parents for a more up to date example.
This is truly getting embarrassing.
- Posted by Rich Miller 46 Comments


* Downtown office vacancy rate drops, suggests tide is turning
The overall vacancy rate fell to 17.0% from 17.3% in the second quarter, which was the highest in more than four years, according to data from CB Richard Ellis Inc.

The rate could edge higher again, but is expected to slowly start moving landlords' way after a staggering upward run when rates climbed more than 5 percentage points in a two-year window after hitting 11.9% in the third quarter of 2008. New construction has since halted, easing supply concerns, and many companies have already made their big recession headcount cuts and are no longer shedding office space.
* BARTON LORIMOR: Carbondale unemployment at 7.4%; JaCo now 8.3%
* Harvest time for area farmers
* 'Burnham Plan II' up for final vote — and may be just as big as original
At its core, the plan represents one gigantic bet that a region often fractured with rivalries has grown up, that it is willing to put aside internal wars and unite behind some sensible goals to help metropolitan Chicago compete against other global centers that lately have been literally eating our lunch.

In that vein, it calls for keeping zoning power local but consolidating local governments and government functions to keep costs down. It urges fewer big-lot homes but more public park space — "People are willing to give up part of their backyard, but only in exchange for parks," CMAP Executive Director Randy Blankenhorn says — and less raiding of jobs and tax revenue by town against town.
* Daley: Chicago needs high-speed train from downtown to O'Hare
* Daley hopes Asian investors will bet on high-speed rail to downtown
"I think they are very interested — China, Korea, Japan, the Middle East — yes," Daley said today when asked if business people he met in China and South Korea might fund the effort. "There are many, many interests. You have to have a high-speed train from the international airport downtown. What that would do is that would rebuild our commercial market and our hospitality industry."
* Daley discusses high-speed rail after Asia trip
* Local educators, Obama agree: kids need more time in class
With the release of a new film called "Waiting for Superman," an extended school year with more core instruction for students has jumped to the forefront for many educators, reformers and policymakers. The documentary on the state of America's public schools was done by Davis Guggenheim, who also directed "An Inconvenient Truth."

America's top policymaker, President Barack Obama, addressed the issue in an interview broadcast nationally Monday, during discussion of America's decreasing educational competitiveness around the world.

In Illinois, and even locally, there are those who would agree with Obama's assessment that the idea of a longer school year "makes sense."
* Colchester lawmaker continues cancer treatment
State Rep. Rich Myers, R-Colchester, announced Monday he is beginning the next phase of his treatment for prostate cancer.

He said he will continue to provide constituent services, as well as attend meetings and events within the district. His treatment schedule may interfere with these activities from time to time, but he is "confident his constituents will understand."
* Ward Quaal, 1919-2010: Executive shaped Tribune Co.'s WGN-AM and WGN-TV
As news broke of Quaal's death, it also was learned that 1970s and '80s overnight WGN-AM host Jay Andres had died Monday morning of heart failure, surrounded by his wife, Virginia, and other family at his home in Sebastopol, Calif. Andres (born Joseph Hilbert Andres) was 86, just weeks shy of his next birthday.
* Tribune hires firm to explore suit against Morgan Stanley over buyout
* Paddock Publications to debut suburban business magazine
* No change in ride costs next year, Metra says
* Cook County Board to clash over Twitter ban
* Peraica, Schneider blow whistle with tweets
* District 300 OKs $6.3 million budget deficit
* Dist. 59 may investigate residency
* Schillerstrom highlights DuPage County's success
For example, Schillerstrom said the board has approved a $70 million long-term infrastructure program that will create thousands of jobs, ease traffic congestion, reduce flooding and improve services to county residents.

Meanwhile, the county has unveiled a proposed spending plan for next year "that continues our commitment to sound long-term financial planning," Schillerstrom said. The nearly $460 million budget is $5.4 million below last year's spending plan.

"Unlike the state, our fiscal year 2011 budget reflects the belt-tightening but maintains established programs and services," Schillerstrom said. "It is balanced and it does not ask the taxpayers for more money."
* Kane rethinking red-light cameras
* Kadner: Are 4 elected offices too many for 1 man?
Cook County Circuit Judge Mark Ballard on Monday issued an order stating that each time Price accepted a new position he "ipso facto" resigned from the previously held post.

That means Price, who was sworn in as a member of the Harvey School District 152 Board on May 9, 2007, vacated that position when he assumed the post of Harvey alderman on May 14, 2007.
* Harvey politician gets to keep 4 elected posts
* Sitting pretty in Schaumburg
The Village Board will consider Tuesday a 4.4 percent reduction to the 2010 property tax levy. In a double dip of potentially good news, residents could also see their garbage fees and vehicle stickers eliminated if the proposal is approved.

Village officials are following through on promises made to residents when they established a property tax last year for the first time in the village's history. Because sales and hotel taxes are higher than expected, officials said Monday that they believe they can make ends meet with less revenue.
* Sgt. becomes Hebron chief
* AFSCME offer will keep 8 East Moline staff employed
* Questioning school salaries
Information in the ITEF press release included a "Top 50" list of public school salaries and pensions. The top salary listed is Dr. Peter Flynn, the Freeport School District 145 superintendent, who is paid an annual salary of $187,973. The top annual pension was another District 145 administrator, totaling $115,508.76.
* Aventine to move corporate office to Texas
* Council approves loan to Quincy Transit Lines to help with delay in receiving state funding
* Interim supt: Jacksonville state schools too much like state agencies
* St. Louis Downtown Airport projects to create 178 jobs
* Mourners remember Staff Sgt. Powell at visitation
Powell, 25, a 2003 graduate of Pleasant Plains High School, was among nine service members who died Sept. 21 in a helicopter crash during combat operations in Zabul Province, Afghanistan. He was assigned to the U.S. Army's 101st Airborne Division at Fort Campbell, Ky.
- Posted by Barton Lorimor 6 Comments


* Um…
Senate candidate Alexi Giannoulias held a conference call [Friday] to take a couple shots at Mark Kirk for his vote on a small business loan bill. While the conference was happening, an AP reporter asked why Giannoulias was doing this on a conference call, not in person at a press conference. His answer? Bad hair day.
Go here to listen to the full quote. He got into a bit of a tiff with the AP reporter. And here's the AP's subsequent take…
Democratic Senate candidate Alexi Giannoulias wanted to rap his opponent over a vote in Congress, so he arranged a teleconference for reporters. Why not hold an actual news conference?

"I'm having a bad hair day," Giannoulias joked before explaining that he thought the last-minute conference call was more convenient for everyone.

Republicans used the quip to link Giannoulias to a certain ex-governor known for obsessing over his hair.

"Alexi and Rod: More in common than we thought," was the headline on a statement from the Illinois Republican Party.
Oops.
* Meanwhile, the Daily Herald appears to be catching on to the game that Bob Dold's been playing with them. The paper just called him out on a rating by a tea party group that appeared in a conservative magazine. Notes next to the rating claimed that Dold's campaign indicated "that he wishes to be viewed as a moderate."
Dold initially denied knowing anything about the request. A couple of days later, his campaign told me this…
We told them Bob is a fiscal conservative and a social moderate, and that he is pro-choice.
On Friday, Dold denied to the Daily Herald that his campaign asked to be ranked lower. But the paper was able to reach a member of the tea party group who was involved with its voter guide…
On Monday, Patriots member Joan Seifert, who spoke with Folino about the guide, confirmed Folino didn't want Dold to be rated highly by the group.

"They wanted to be sure he wasn't perceived as a conservative, and I was more than happy to oblige that," said Seifert, of Grayslake. […]

The group's director, Lake Villa resident Tony Raymond, admitted no one in the Dold campaign specifically said he wants to be "viewed as a moderate," as stated parenthetically in the voter's guide.

"That's our interpretation of why he wished not to be ranked highly," Raymond said.
So, he didn't ask to be viewed as a moderate, but his campaign did ask that he not be ranked highly.
The paper now appears to be getting more aggressive with Dold. The original hed on its story posted this afternoon was: "Dold, Seals at odds over tea party guide." It's now: "Dold: Campaign worker asked for low rating from tea party." ADDING: The hed now reads: "Tea party group: Dold campaign worker asked for low rating."
Maybe the DH ought to look into this as well.
* The Hill made this campaign its Race of the Day…
The National Republican Congressional Committee has already run an ad in the district, hitting Seals for his support of the recently-enacted healthcare law. "Pelosi's plan didn't go far enough for Dan Seals," the NRCC's attack ad said. "Oh no. Dan Seals said he supports the even more expensive public option."

Meanwhile, President Obama sent out an email appeal for Seals, who will also benefit from an upcoming Democratic fundraiser set to be hosted by First Lady Michelle Obama.

Seals is part of the Democratic Congressional Campaign Committee's "Red to Blue" program and the committee has reserved TV time in the district ahead of the fall. A Seals internal poll from earlier this month boasted a lead over Dold–49-36 percent.

The AFL-CIO also sent a mailer for Seals as part of a 2.5 million piece direct mail blitz for Democratic candidates across the country.
* But the Hotline says that national Republican support is light at the moment…
The NRCC is also spending a little bit on the seat vacated by Rep. Mark Kirk (R), who is running for the Senate. The NRCC is spending $56K on an ad targeting Democratic nominee Dan Seals (D). But that's hardly a drop in the bucket, given that broadcast TV in the Chicago media market costs millions.
* Related and a campaign roundup…
* President Obama, like wife, will headline Giannoulias fund-raiser

* Wave Of Third-Party Ads Adding to Dems' Woes: In Illinois, Treas. Alexi Giannoulias (D) has been attacked on TV with more than $1M worth of ads from the Chamber of Commerce, American Crossroads and the Committee for Truth in Politics. In addition, his opponent Rep. Mark Kirk (R-IL) had more than $2.8M more in the bank at the end of the 2nd quarter, and the NRSC has not yet begun to spend the $3.4M they pledged to the Kirk campaign.

* Kirk, Giannoulias split on gay marriage, 'don't ask, don't tell'

* Illinois GOP Tar Giannoulias With Anti-Petraeus Label

* Politicians' money woes strike a chord with voters - Candidates who've faced bankruptcy or foreclosure are finding that many people sympathize with their problems. And their opponents refrain from attacking on the financial front.

* Giannoulias-Kirk race pitches curveballs to voters

* The decision that could cost Democrats the Senate

* Walsh calls on Bean to attend upcoming candidate forums

* Seals outlines plan for illegal immigration

* Dold, Keats, Harris to keynote Palatine Twp. GOP meeting

* Hare, Schilling continue to trade barbs over debate format

* Shimkus, Bagwell outline positions in 19th District U.S. House race

* State treasurer candidates lay out priorities

* Treasurer Candidate Wants Money Literacy

* Treasurer candidate defends satellite offices
- Posted by Rich Miller 36 Comments


* Jim Edgar is low-balling…
Gov. Pat Quinn is in big trouble with Downstate voters, according to public opinion polls, but he says he is the candidate for Downstate. […]

"I suspect Downstate, statewide candidates probably are gonna see a 20 percent margin by Republicans," Edgar said.
As subscribers know, Brady's Downstate margin is much higher than 20 percent right now.
* Scott Reeder has two fine lines about Gov. Quinn…
His poll numbers in some downstate communities could make tooth decay look popular. […]

In many ways, Quinn's main political opponent isn't Republican Bill Brady. It is himself. And he's losing.
Can't argue with either of those.
* Because of the Downstate shellacking, Quinn is being shunned by the region's Democrats…
Gov. Pat Quinn seems like an unwanted man when it comes to campaigning on behalf of some Democrats involved in tight legislative races.

The governor, who is locked in his own tough battle against Republican Bill Brady, is viewed by some Democratic candidates as more of a liability than an asset on the stump because of his low poll numbers and his support for an income tax hike.

Take state Rep. Bob Flider, a Mount Zion Democrat, for example.

Flider, who is being challenged by Republican Adam Brown of Decatur, has repeatedly said he's against Quinn's plan to raise income taxes to help pull the state out of its financial mess.

There's no way Flider wants to stand on a stage with the governor, waiting for some Brown operative to snap a picture that, of course, later appears in a nasty campaign mailer.
* Downstaters are even confident enough to start floating names for Brady's cabinet…
"(State Sen. Dale Risinger, R-Peoria) would be a great choice whether it's a Republican or Democratic governor. He's well-thought of on both sides of the political aisle. People rely on him a great deal when it comes to transportation issues important to the state of Illinois," said Brad McMillan, executive director of Bradley's Institute for Principled Leadership.
Yes, that Brad McMillan.
* And legislative Democrats are being forced to resort to some extremely hard-hitting ads to hold on to power. The Democrats' job is made easier because the Republicans are backing some pretty strange candidates this year…
The more biting ad [by Democratic state Sen. Deanna Demuzio] shows veterans attacking [Republican opponent Sam McCann] as a "fraud" who "lies about his military career."

McCann has claimed in literature that he was a member of the Marines and got an "honorable discharge." He explained later that he signed up and took the oath, but was injured in an accident before going to boot camp. McCann previously promised to try to get a copy of his exact discharge papers, but said this week he has not received them.

He's clearly touchy about the subject.

"Why is it that the president doesn't have to display his birth certificate?" McCann said when asked about his discharge papers.
* Like just about every other political story these days, the retention race by Supreme Court Chief Justice Tom Kilbride is receiving scant media attention. Quinn's Downstate troubles certainly aren't helping Kilbride.
The campaign did get a smidgeon of notice in the New York Times, however…
In Illinois, business interests are campaigning against the chief justice after a case that removed a cap on malpractice liability, prompting him to run a television ad that opens with the declaration, "I am not a politician."
The opposition has posted some videos and press releases attacking Kilbride for wanting to retry a convicted murderer more than nine years ago. Kilbride, however, points to his support from police and prosecutors. No opposition ads have yet been spotted.
* Related…
* Fox Chicago Sunday: Bill Brady

* Patriot: Time for revolution - Rally in Downtown Peoria meant to focus on principles of Constitution

* Lawrence: Voters, now is not the time to check out

* Local, state officials warn politicians about sign placement

* Quinn, Brady split over some ethics issues

* Pat Quinn struggling to find clear message

* Cohen Wants Jobs Initiative Reinstated

* Green candidate for Ill. governor no longer believes capitalism 'a bad thing'

* Green candidate backs free college

* Green Party candidate for Ill. governor defends big government, taxes

* Democrats fear Midwestern meltdown
- Posted by Rich Miller 44 Comments


* Despite all my complaints about the news business today, the Decatur Herald & Review is doing a bang-up job covering the 101st House District race between Rep. Bob Flider (D-Mt. Zion) and Adam Brown (R-Decatur). This is from a recent editorial about that campaign…
At issue is a $250 contribution Brown's campaign accepted in June from Dunn Co., a local construction contractor. Before being named to run for Flider's seat, Brown voted on a couple of street reconstruction contracts that were awarded to Dunn Co. Another vote in favor of another Dunn Co. contact came a week after his campaign contribution.

All projects were bid out by city staff, and many of the votes appeared on the council's "consent agenda," which means they are considered a routine item. None of the votes by Brown swayed the decision in Dunn Co.'s favor.

Flider said that Brown is "misleading voters. The fact is, Adam Brown claims to be a fresh face, but he is just more of the same. Adam Brown's actions stink of pay-to-play politics, and that's something we need to leave behind in Illinois."

Brown's record as a city council member is fair game as he tries to move to the state legislature. But it's a stretch to call this anything like "pay to play" politics.
I agreed with this editorial in my subscriber-only publication last week. A $250 contribution is hardly serious graft. More importantly, though, this was a routine, perfunctory roll call. Brown played no role in who got what.
A buddy of mine called me this morning to agree with my assessment in last Friday's subscriber-only publication about the allegation…
With all the real corruption this state has faced, it's probably expected that everybody will try to paint their opponent as being on the take this year. But this sort of false claim needlessly poisons an already toxic atmosphere and will only make things worse.
But he also asked a question. What really is pay to play?
* The Tribune ran a pretty convoluted piece about Speaker Madigan involving himself in the choice of a village attorney for a town in his district and about Madigan representing and investing in a company that wants to develop some land near a planned tollway exit. Madigan's spokesman responded to my subscriber-only story with this e-mail today…
— Madigan's law firm does not represent developers at the stage that precedes development (in this case one firm has option on some land while another has asked the village about property, etc)

— and in more case does not represent a property until the real estate phase of the process, which of course has nothing to do with the host community.

— and Madigan's firm is not the exclusive property tax firm for either company

— and current practice has property tax law firms BIDDING for the work.
* The Question: What's your definition of "pay to play"?
- Posted by Rich Miller 32 Comments


* Thirty-six days before the election and Mike Riopell was just laid off by Lee Enterprises.
Lee owns the Post-Dispatch, Bloomington Pantagraph, Decatur Herald & Review, Quad City Times, the Southern Illinoisan, the Mattoon Journal-Gazette and the Charleston Times-Courier. Mike was a hard-working Statehouse reporter who really knew his stuff. His ejection will create yet another gaping hole in the press room.
* The American Journalism Review looked at this topic last year…
Many people running newspapers say they still want to cover state government. But as the news industry contracts, they say they feel forced to abdicate that role due to economic pressures.

"It's definitely a loss," says John Beck, executive editor of Illinois' Champaign News-Gazette, which eliminated its sole statehouse reporter position in January 2008. "It was not an easy decision to make, but we had to make it for economic reasons."

That's a decision shared by many of his counterparts across the country. More than 140 newspapers have cut back on their coverage since 2003, and more than 50 have stopped providing staff coverage of state government altogether.
Beck's coverage area is dominated by the University of Illinois. If there's a newspaper in Illinois which really ought to have a Statehouse reporter, it's that one. But, no. Instead, they rewrite press releases and reprint AP stories.
*The Illinois Times ran an article on this topic last month…
Rich Miller – an [Illinois Legislative Correspondents Association] member, the author of a syndicated column that runs in Illinois Times, and owner of Capitol Fax, an insider's newsletter and blog detailing Illinois politics – says his business has grown "exponentially" since he started it in the early 1990s but says Capitol Fax was never intended for a general audience but to supplement regular news coverage for the benefit of "political junkies."

"For them [traditional news outlets] to be cutting coverage is not only shortsighted but greed-based and moronic," Miller says, pointing to the state's budget deficit, imprisoned Gov. George Ryan and impeached Gov. Rod Blagojevich. "On a citizen level and a journalistic level, I'm just appalled by it."

[ILCA president Ray Long, the Chicago Tribune's Statehouse bureau chief] remains optimistic. "I think that we're just probably hitting the nadir and are about to climb back up," he says. "I believe that journalism is in the recovery mode and that will translate into more Statehouse reporters. … Every news organization understands that there has to be keen observance of a major legislative body like the Illinois General Assembly."

[Charlie Wheeler, former Statehouse reporter for the Chicago Sun-Times and now the director of a Statehouse reporting program at the University of Illinois Springfield] says that, going forward, news organizations must recognize that covering Statehouse action is a duty. "I would hope that the people who are in charge of these media properties would think about …some of the responsibilities that come with the First Amendment, freedom of the press privilege and realize that there is a certain responsibility they have to serve as the eyes and ears of their readers … and keep track of what's going on in state government. And you really can't do it from a distance."
Unfortunately, Ray and Charlie were wrong and I was right. I truly hate being right about stuff like this. But I long ago stopped underestimating the extreme stupidity and boundless greed of editors and newspaper owners in this state. They don't care about state news, and we can plainly see the results.
Oy.
- Posted by Rich Miller 34 Comments


[Comments opened and post bumped up from Saturday for visibility.]
* The Tribune finally catches up to a Pat Quinn campaign story that subscribers have known about since Wednesday…
Quinn's political circle is small and lately, unstable. Quinn recently parted ways with his longtime political consulting firm, AKPD Message & Media. Last week, Quinn dropped pollster Anzalone Liszt Research Inc.
Actually, Quinn's campaign didn't say that it "dropped" the polling firm. It quit. Imagine having to start all over with a new pollster this close to an election. Unreal.
* Meanwhile, time is fast running out for politicians to make their case on TV without all the other clutter, if it hasn't expired already. The Tribune reports that $3 million was spent on campaign TV ads this past week in Chicago, and claims the total could reach $7 million a week by the end of it all. Here's the Chicago media market breakdown…
* Alexi Giannoulias: $500,00 from campaign, and $200,000 more from the Democratic Senatorial Campaign Committee

* Mark Kirk: $363,000 from his campaign, and another $360,000 from Karl Rove's American Crossroads

* Gov. Pat Quinn: $450,000

* Bill Brady: $240,000

* Scott Lee Cohen: $100,000

* Debbie Halvorson: $334,000

* Bill Foster: $200,000
Keep in mind that the statewides are also spending money Downstate in varying degrees.
* ABC7 also did a story about the new TV ads…
* And here's a Rasmussen poll that I forgot to post [Friday]…
One-in-five Illinois voters (22%) consider themselves to be a part of the Tea Party movement. This is slightly lower than involvement nationally.

A new Rasmussen Reports telephone survey in the state finds that 63% do not associate themselves with the Tea Party, and 15% are not sure whether their views are in line with the movement.

Forty-five percent (45%) of voters in the state think the Tea Party is good for the country, which is right in line with national sentiments. Twenty-nine percent (29%) disagree and say it is bad for the country, while 14% feel it is neither good nor bad. Another 12% are not sure what kind of impact the Tea Party movement has on the country. […]

Forty-one percent (41%) of Republicans consider themselves Tea Party members, while 10% of Democrats and 21% of voters not affiliated with either major political party do the same.

Similarly, a solid majority of GOP voters and unaffiliateds feel the Tea Party movement is good for the country, while a plurality of Democrats disagree.
* Toplines…
* Do you consider yourself part of the Tea Party Movement?

22% Yes
63% No
15% Not sure

* Is The Tea Party movement good for the country or bad for the country?

45% Good
29% Bad
14% Neither
12% Not sure
- Posted by Rich Miller 21 Comments


* Carol Marin is a friend and colleague, so I'm not trying to pick on her today, but I wanted to use something in her column to make a point.
Her Sunday column is about how Rahm Emanuel may have trouble with black voters in a mayoral bid and how multiple black and Latino candidates could divide the field. Then there's this…
All of this could bode well on Feb. 22 for someone as strategic as Emanuel who, like Daley, is heavily favored by the business community and certain to be extremely well funded.

What it doesn't bode well for is the election in November, which is practically on a respirator as the mayor's race sucks away its oxygen.

It presents an enormous challenge for Democratic ward committeemen trying to focus voters on all the other races that matter: for governor, U.S. Senate and the wild-card battle for Cook County assessor.

"To be frank, I'm not sure that people are really engaged in this election period," said 3rd Ward committeeman and Ald. Pat Dowell.

"What I see out there, we'll have low voter turnout because issues are so complex . . . and nobody is talking about a real change," lamented 2nd Ward committeeman and Ald. Bob Fioretti.
A good part of the reason that the February mayoral primary has sucked all the oxygen from the Chicago-area political scene is the Chicago media's continued obsession with the topic. Yes, there's no doubt this is an extraordinarily unique occurrence and a big election with huge consequences.
But the general election is just 36 days away. Every story, every column, every editorial about the micro-turns and twists of Rahm Emanuel, et al is space and time that cannot be used to inform voters of the very real and very critical choices they face on November 2nd.
Illinois is ensnared in one of the worst crises in its history. We have two major party gubernatorial candidates who differ starkly on how to approach our future. We also have a wealthy candidate with a violent and murky past. The nation is mired in its worst economic period since the Great Depression and we have two US Senate candidates and several congressional candidates who need to be more closely examined. The General Assembly is broken and there are several candidates who claim they know how to fix it.
* Meanwhile, we get stories about how Emanuel is really drawn to the idea of running for Chicago mayor, or how Dick Durbin isn't endorsing Rahm yet, or how Terry Peterson really isn't Rahm's campaign chair, or how David Hoffman isn't running, or how Jesse Jackson, Jr.'s former girlfriend isn't talking to reporters, or columns about Ald. Sandi Jackson's side of the story.
* In the past, a frontrunning gubernatorial candidate who received the endorsement of the NRA would be big news in the city. This year? Almost total silence. But just about every angle on Sandi and Jesse's marital turmoil is in full view.
* Illinois Issues reports that the state is facing a $250 million interest payment on loans to keep its unemployment insurance fund afloat. You won't see much about that in Chicago, but there were at least ten different stories about Hoffman not running for mayor.
* When they do publish or broadcast stories about state issues, they're too often fluff pieces. Attorney General Lisa Madigan's striking magazine cover commands precious ink. The fact that if Bill Brady is elected he will rescind the capital punishment moratorium is all but ignored.
* Yes, they'll jump on juicy stories like the AFSCME negotiation allegations, but apart from that, we don't see much else. In its place, we get endless thumb-sucking pieces about Rahmbo and Jesse and Meeks and what it all "means." The Chicago News Cooperative believes there's enough interest in those tiny twists and turns to start its own paid newsletter. I wish them nothing but success, but I hope they use some of that newfound cash to help fund some stories about stuff that's actually important right now.
There is plenty of time to write about Rahm Emanuel's every burp. But time is fast running out to write about the campaign in front of our very noses…
"Would you please stop focusing on the mayor's race and focus on the Nov. 2 election," former State Comptroller Dawn Clark Netsch pleaded with reporters at a fund-raiser for Cook County Sheriff Tom Dart Monday.
They haven't listened yet, and I doubt they ever will. But you can bet a hundred dollars that after this campaign is over they will publish stories and columns about how they regret not covering this race better. Wouldn't it be preferable if they just started doing their jobs now instead of constantly playing with their shiny new toy?
- Posted by Rich Miller 51 Comments


* My weekly syndicated newspaper column is about the coming wave…
If you talk to Democrats in the Illinois Legislature, they'll tell you their latest round of polling is showing improvement in most of their races since the summer. The Republicans, however, believe they have history on their side.

The House Democrats say their candidates are sticking to a strict and intense precinct-walking program. That, plus the end of the Rod Blagojevich trial allowed them to stabilize their campaigns. They see polls showing their candidates doing better than they were and believe they've turned the corner.

The Democrats have a lot of things going for them that they didn't have during the big 1994 national Republican landslide. They're running in districts on a map that Democrats drew; there's no more straight-party voting; they have a tried-and-true incumbent protection program; and their gubernatorial candidate isn't doing as badly as their '94 candidate, Dawn Clark Netsch (although Gov. Pat Quinn is getting completely and totally blown out downstate). Democrats also have at least two statewide officials - Lisa Madigan and Jesse White - who will serve as "stoppers" for the party. And they have a president from this state who has managed to keep Illinois in his corner more than just about anywhere else.

But House Republicans point to recent history as a guide. About this point in the campaign two years ago, they thought they were doing OK against the Barack Obama Democratic tide. They believed their losses would be manageable. By mid-October, the Obama wave was in full force and there wasn't anything Illinois Republicans could do about it.

Pretty much the same thing happened in 1994. September polling showed problems, but the Democrats thought it could be contained and they derided the House Republicans for jumping into several new races where nobody gave them a chance. By the middle of October, the bottom fell out. And it was even worse come Election Day when Democratic voters failed to show up. The Republicans won just about every one of those contested races.

It's no coincidence that House Republicans say they're planning a move into new races in the coming days. They're following their own playbook.

Meanwhile, Senate Democrats say they continually adjust and monitor their likely voter polling screens to make sure they're not unduly surprised. And, so far, they like what they see. But one Democratic operative joked last week that his caucus rarely asks whether respondents approve of the General Assembly's job performance. The results were just too depressing.

A solid Democratic source who has seen two complete House Democratic polls of collar county districts says one showed a 14 percent legislative approval rating, the other came up as 12.

"The scary part," the Democratic source said, "is if (party leaders) blame all these losses on this wave, that means they think they haven't done anything wrong to cause this." Instead, the source argued, his party needs to come to terms with the fact that they're exacerbating the national party problem with their own mismanagement. "Illinois has created its own wave," he insisted.

A top state Republican who monitors just about every GOP poll taken in this state privately predicted last week that the wave could very well be bigger than 1994's. He has a point.

The populist anger seems more vicious and is far more organized via the tea partiers and the Internet. The 24/7 news media is more uniformly outraged and is aiming its anger right at Democratic leaders. Reform groups of all shapes, sizes and causes are far more bitter because of their legislative losses.

Downstate independents have completely abandoned Quinn. The usually pro-Democratic network of human service groups and their supporters are despondent over budget cuts and late state payments. And the state's economic problems under total Democratic control are infinitely more severe than they were 16 years ago, when the Republicans held the governor's mansion and all but one statewide office. The state's current unemployment rate is almost double what it was in 1994, and vast swaths of the Democratic base are the hardest hit. And then, of course, there's that monstrous state deficit, the mismanagement and the whole Blagojevich disaster.

Any Democrat who isn't ahead by double digits right now had better work like their very lives depended on it. And all Republicans who are losing by anywhere near that margin should do the same.

This has been the most fascinating state campaign season I've ever seen. And it's only going to get better.
* But Rep. Lou Lang disagrees…
September 24, 2010. Illinois Republicans are crowing that an electoral "wave" is going to sweep State Rep. Tom Cross (R-Owego) into the Speaker's chair in the Illinois House of Representatives–and it will be crow which the GOP will be eating on November 3, 2010.

Both national and local trends will keep House Speaker Michael Madigan (D-Chicago) in his post when the legislature reconvenes in January, 2011.

The negative national political headwinds have been blowing across the prairie state for months as the national economy continues to sputter and as the extremist Illinois Tea Party and national tea party movements have engaged in racially-tinged fear-mongering, outright distortions of facts, and character assassination of Democratic officials, scaring democratic and independent voters alike in the U.S. and in Illinois.

But the winds are shifting. […]

A stalling GOP momentum and hard-working Democratic legislative candidates reaching out to voters door-to-door will help Speaker Madigan (D-Chicago) hold on to majority in the Illinois legislature.

In January, we will have full plate of hot, steaming crow on which the Republicans can munch.
Thoughts?
- Posted by Rich Miller 40 Comments


* Recession over? Tell that to Illinoisans
Using bureau figures for personal income for all 50 states through the second quarter of 2010, USA Today calculated which states have done best and worst during the 12 months after the recession ended.

Illinois ranked 43rd, with a 0.4 percent decline in personal income since the recession ended.

During the recession — defined as beginning in December 2007 — personal income in Illinois dropped 2.6 percent.
* Bankruptcies soar despite stiffer laws, higher costs
The recession has left consumers in its wake. In the metro Chicago area, 48,510 individuals filed for bankruptcy protection last year — 39 percent more than filed in 2008, which saw a 46 percent increase from 2007. The increases were even sharper than the rise in bankruptcies nationwide (which jumped 31 percent in 2008 and 32 percent last year.)
* PJ Star: Some suggestions for the Constitution revolutionaries
* Windy City Times marks 25 years
* Warrenville wholesale credit union 1 of 3 seized by government
* Kadner: Scratch a ticket and go to college
* RTA official Crider profits off transit agencies
Beside being on the RTA board, the Rev. Tyrone Crider also publishes the Christian-oriented newspaper the Gospel Tribune, which is distributed to black churches in the Chicago area and claims a readership of 50,000 people.

Most of the money that the transit agencies under the RTA's purview have paid to the Gospel Tribune has been for advertising. Metra also has paid the Gospel Tribune to hold conferences to help minority contractors learn "how to do business with Metra."

Crider acknowledges that he's making money off the agencies he helps regulate.

He says he sees nothing wrong with that. And he says he asked a now-former attorney for the RTA about the arrangement and was told it posed no problem.
* Daley warns against bidding for 2020 Olympics
"You have to look at the world. They've never been in India, they've never been in Africa and they haven't been in the Middle East," Daley said while speaking at the annual Chicago Gourmet food event in Millennium Park. "So those three parts of the world will come first, before any bid."
* Evergreen Park Teachers Prepare for Strike
* Controversial senior housing project on hold without tax credits
* QC Times: Passenger rail service needed in the Q-C
* In My View: Normal's LEED worth following
* Heyworth schools to reopen this morning
* Decatur reports fewer crimes in '09
* Herald & Review: Tate & Lyle should honor company's roots
* Questions continue to swirl around FutureGen project
* CWLP gives contractor extra time to finish last details of Dallman 4
* Local home sales remain unchanged as interest rates continue to fall
* Tea Partiers preparing to meet in Marion
- Posted by Barton Lorimor 9 Comments