* This doesn't look too bad…
The University of Illinois flash index jumped from 106.5 in August to 107 in September — its highest level in more than six years.

The index is considered a barometer of the Illinois economy. The last time it was this high was April 2007, when the index stood at 107.4.

Generally, readings above 100 indicate the economy is growing, while readings below 100 show the economy is shrinking.

The index is a weighted average of Illinois growth rates in corporate earnings, consumer spending and personal income.

To reflect those, economist J. Fred Giertz looks at Illinois corporate income tax receipts, retail sales tax receipts and individual income tax receipts.

In September, all three components were up, when adjusted for inflation, from September 2012.
* There's a catch, of course…
However, a disconnect remains between the unemployment rate and other measures of economic activity such as the Flash Index and GDP. The national unemployment rate has fallen over the past year, but remains well above 7 percent, which is high in comparison to past recoveries.

"Unemployment in Illinois is even more dire than the national rate," said economist J. Fred Giertz, who compiles the index for the university's Institute of Government and Public Affairs. "The state rate is 9.2 percent. This is the same as one year ago, and the second highest in the nation; only Nevada's rate is higher."

The expanding Illinois economy has not experienced sufficient growth to reabsorb the unemployed while creating jobs for new workforce entrants.
* Economic growth for the past three years has been steady, but it's not strong enough…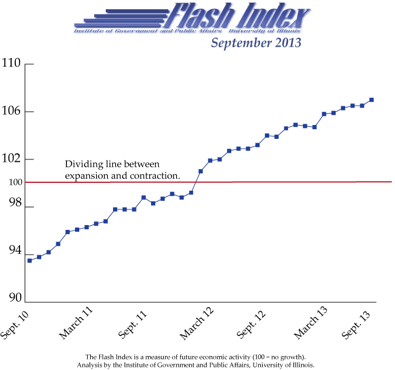 * To put this into some more perspective, the highest Flash Index rating since 1981 was a robust 120.3, way back in January of 1985. The lowest was an anemic 85.9 in April of 1983.
18 Comments





















































Sorry, comments for this post are now closed.