* The Illinois Policy Institute's "Director of Labor" Paul Kersey has penned an item for the "think tank" entitled "Union bosses silence ObamaCare critiques to pander to Democrat allies"…
Just a couple of weeks ago the AFL-CIO passed a sharp criticism of the Affordable Care Act, commonly referred to as ObamaCare, in a written document at its national convention in Los Angeles. This document was the last of a string of union complaints about the national health insurance law and the way that the Obama administration has implemented it.

But now that Congressional Republicans have started to address union concerns, unions have suddenly shut up. The silence from union lobbyists and activists is not particularly surprising, but it does reveal something about the real priorities of union officials: they'd rather stick to party politics than join forces with the other side to defend their workers. […]

The union establishment is heavily invested in the Democratic Party. Illinois union-funded Political Action Committees contributed more than $25 million to candidates between 2002 and 2012, and out of that more than 80 percent went to Democrats, which is fairly typical for union PACs.
* Since he mentioned the Illinois angle, I thought I'd point out that Director of Labor Kersey missed what should've been a noteworthy development.
Yesterday, the Illinois AFL-CIO's Executive Board passed a resolution on the Affordable Care Act…
RESOLVED, that the Illinois AFL-CIO urges President Obama and Congress to undertake immediate changes to the implementation and regulation of the ACA that will help millions of workers already part of effective, efficient health plans to keep the plans they have.

BE IT FURTHER RESOLVED, that non-profit multiemployer plans and other self-insured health programs should have access to the ACA's premium tax credits and cost-sharing reductions on behalf of working families, just as for-profit insurance companies will;

BE IT FURTHER RESOLVED, the administration rescind the ACA's corporate welfare provision, the belly button tax, in which workers and non-profit health plans unfairly subsidize the insurance industry:

BE IT FURTHER RESOLVED, that the employer responsibility rules should be fixed further by extending employer responsibility requirements to more employers, especially to construction companies with five or more employees as was provided by the Merkley Amendment included in the Patient Protection and Affordable Care Act;

BE IT FURTHER RESOLVED, we will view any solution that does not fully address the outlined issues as unacceptable and will do everything in our power to protect the Taft-Hartley and other self- insured plans we currently have in place.
A "think tank" should probably think. Just sayin…
* I put "think tank" in quotes because the IL Policy Institute is basically a large lobbying group. From their online lobbying disclosure report…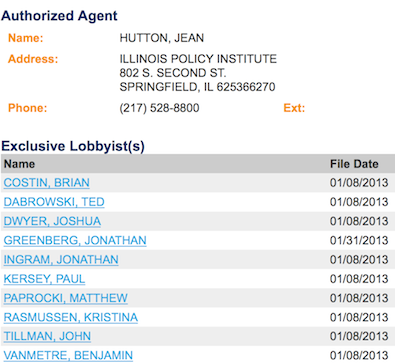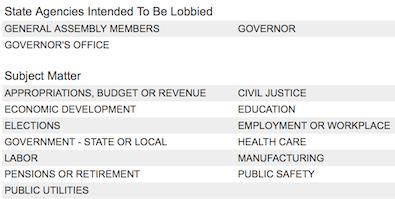 Notice that the group's "Director of Labor" is also one of its lobbyists.
And in case you lost count, that's ten registered Illinois Policy Institute lobbyists who focus on 13 rather broad policy issues.
* And that brings me to a recent Chuck Sweeny column…
Gov. Pat Quinn's spokesman Abdon Pallasch used to write for the Chicago Sun-Times. I don't think he was a journalism critic there, but in his new role working for the state, he has become one.

Pallasch, emailing the Register Star Editorial Page Editor Wally Haas from "il.gov" last week, took issue with a column by Scott Reeder that this newspaper ran. Pallasch rebutted points with which the governor's office disagreed. That's legitimate.

But Pallasch stumbled into the world of "not fine" when he questioned whether Reeder, who has covered state government for two decades for newspapers, is practicing bonafide journalism because he now works for The Illinois Policy Institute, a conservative policy and research organization.

"The Illinois Policy Institute is not a journalism organization nor is it independent," Pallasch wrote. He then "informed" us that the group is "a Koch Brothers-linked interest group that refuses to disclose where it gets its $3 million in 'donations' a year."

Pallasch also said "The Charles Koch Institute lists the Illinois Policy Institute as a 'partner organization' for its 'Liberty@Work' program. The Koch Brothers Institute lists internships at IPI."

And I say, so what? Uber-liberal billionaire George Soros funds liberal groups, and the libertarian Koch Brothers fund conservative groups. But in this country it has never been any government official's job to define what's journalism and what isn't.
* I wholly agree that it's not the government's role to define who is and who isn't a journalist. Abdon wasn't really doing that, however. He was just pointing out where he thought Reeder got stuff wrong and where his pay check originated. He has no legal authority to define anyone or anything.
But where Abdon (or Chuck) failed is not mentioning that Scott, who I've known for many years and always liked and respected, now works directly for a Statehouse lobbying outfit.
* So, if your newspaper is OK with running a lobbying outfit's stuff, that's cool. But perhaps it should be mentioned?
36 Comments











































































































Sorry, comments for this post are now closed.