================================================
*** UPDATE *** You can watch the full debate here.
================================================
Have a great holiday weekend and I'll see you Monday.
UPDATE: WHOA!!! Here are some must-see video clips from the debate.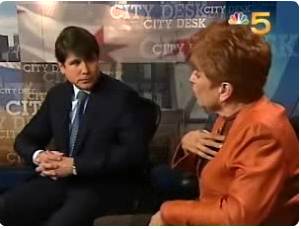 After watching these clips all I can say is Dick Kay is the best and he should reconsider his retirement. Everyone else who hosts a debate this year will be compared to Kay's effort, and they'll have a very high bar to hurdle. Those over-regulated, over-scripted, candidate-directed, self-important glorified press conferences that were the staple of the primary season have got to be rejected this fall.
- Posted by Rich Miller Comments Off


I happened to check my e-mail just now and saw that the governor signed the horse racing bailout bill. It's Friday before a three-day weekend at 3:50 pm. Hmmm. Do you think they're trying to bury this story?

Governor Rod R. Blagojevich today signed into law two bills designed to help protect thousands of jobs associated with the state's horse racing industry, and to help Illinois racetracks remain viable and competitive. The Governor signed House Bill 1918, creating the Horse Racing Equity Trust Fund, which will provide $36 million a year for racing purses and racetrack improvements for the next two years. In addition, the Governor signed House Bill 4377, which reduces the state tax due on bets placed at Fairmount Racetrack in Collinsville from 1.5% to .25%.
- Posted by Rich Miller Comments Off


The AP has a new computer game. The object is to balance a state budget. Played a couple of minutes. Could be fun, but I have real fun ahead.
I'll come back to the office and close comments at 5 pm. Until then, the lid should be on for any more postings.
OK, one more thing before I go. Congratulations, Aunt Janet!
Remember to check out Illinoize.
- Posted by Rich Miller Comments Off


The first debate is in the can.

Gov. Rod Blagojevich and State Treasurer Judy Baar Topinka traded barbs Friday over ethics, campaign finance and a host of other issues in a contentious debate, the first of the campaign for governor.

Topinka, a Republican, accused the Democratic governor of breaking promises and proposing empty programs. Blagojevich said Topinka was "against everything" and "not for anything."

During the taping of the debate for WMAQ-TV's "City Desk" program, Topinka repeatedly hammered Blagojevich about state and federal investigations into his administration's hiring practices.

"I still have a name; you're Public Official A," Topinka told Blagojevich. […]

Topinka assailed the well-funded Blagojevich about accepting money from people who get state contracts. The governor countered that Topinka takes campaign donations from banks that handle the state's deposits.

"Her hypocrisy is breathtaking," Blagojevich said.

Topinka again dismissed Blagojevich's newly announced $10 billion education plan, calling it a "gamble." When asked if she had an education plan of her own, Topinka promised she was working on one and would produce it this summer.

She didn't miss the chance to take a jab at Blagojevich by saying she's "not in a rush to buy off someone."
UPDATE: From a reporter friend:

You oughta track down a copy of the debate…after a slow start, she blistered him. From pillar to post.
- Posted by Rich Miller 21 Comments


The boom has been lowered.

One Cub and three White Sox have been disciplined for their participation in a brawl last weekend, according to Bob Watson, vice president of on-field operations for Major League Baseball.

Cubs catcher Michael Barrett has been suspended for 10 games and fined an undisclosed amount for starting the bench-clearing brawl by punching Sox catcher A. J. Pierzynski last Saturday in the second game of the intra-city series at U.S. Cellular Field.

Sox outfielder Brian Anderson was suspended for five games and fined an undisclosed amount for his "aggressive and violent actions."

Sox third base coach Joey Cora was suspended for two games and also fined.

Pierzynski was fined, but not suspended.
The Cubs start the fight and two Sox players are suspended? And why the heck would AJ be fined? Because he didn't fall down when he was sucker punched?
And after admitting he made a huge mistake, the cowardly sucker-puncher immediately appealed his suspension.
Oy.
I was at that game and I said then that not only should Barrett have been tossed out immediately (the umps took forever to make the ruling) he should have been arrested. I saw a Chicago cop that I know at the game, and I demanded that he uphold his sworn duty and go onto the field and arrest the fiend. (OK, that's a joke, just to be clear.)
UPDATE: From a Major League Baseball press release:

White Sox catcher A.J. Pierzynski has been fined an undisclosed amount for his conduct during the incident.
His conduct? He was punched!
Jerks.
- Posted by Rich Miller 21 Comments


UPDATE: The responses to this question were so good that I decided to build my syndicated newspaper column around them. My apologies to those who didn't make it into the piece. Almost all were good, but space is limited. Also, some arrived after I finished. I won't be working Monday, but you'll be able to find the column here.
——————————————————————————————-
Sweet says momentum is building for Obama '08:

Chatter is increasing among supporters of Sen. Barack Obama about him jumping into the 2008 presidential race as he cranks up his political operation.

Obama is now being helped by Washington public affairs strategist Minyon Moore, a Chicago native and veteran of the Clinton White House, who will serve as an unpaid adviser to develop an outreach plan for African Americans.

Obama (D-Ill.) is also adding to his team another Democratic strategist, Anita Dunn, to fill in through the end of the year as chief of his HOPEFUND political action committee.

Dunn, an adviser to '08 possible contender Sen. Evan Bayh (D-Ind.), is close to Obama's chief of staff.

The 2008 talk is not being stoked by the freshman Obama camp, but is surging from all sorts of backers who see no reason for him to pass up this cycle. One thing Obama's popularity and big political war chest bring — he would not have to mount a White House bid in order to be considered for vice president on a ticket.
Do you think he should run?
UPDATE: Let's add another question into the mix… Do you think he should run for governor in 2010 instead?
UPDATE: Sweet updates her column. Obama's "Hope Fund" has a million dollars cash on hand.
UPDATE: From Obama's spokesman: "The money in Hopefund can not be used in a federal campaign"
- Posted by Rich Miller 73 Comments


This is one of the more blatantly political state mailers that I've seen since Lee Daniels was around.

Republican House Minority Leader Tom Cross fired off a letter to Democrats earlier this month that rips … Democrats.

Cross doesn't see the missive as political, so the postage was paid by the state, not his campaign fund.

Myron Brick, chairman of the Will County Democratic Party, said it appears the letter dated May 12 was sent to all of his party's precinct committeemen. Brick received one, too.

In the letter, Cross shreds "the Democrats" for raiding the pension fund, stuffing the budget with pork projects and continuing an "unprecedented streak of borrowing and spending." […]

Cross said the letter was sent to about 2,000 officials of both parties in Will, DuPage and Kendall counties, just as previous reports from him have been sent to the same group. […]

Dan White, executive director of the State Board of Elections, said the letter appears to abide by a state law that prohibits using public funds on campaign literature. Cross would have had to call on letter recipients to vote for or against a specific candidate or a ballot proposition for it to be inappropriate.

Even so, Brick had one piece of advice for Cross: "If the bottom line is so important to him, he shouldn't waste stamps."
- Posted by Rich Miller 14 Comments


If you're gonna sue somebody, you have to expect to be deposed, and you're supposed to answer the questions. Chief Justice Thomas sees things differently, however.

Illinois' highest-ranking judge refused to answer 15 questions at a deposition he gave last month — including what medications he takes and whether it is fair to criticize public figures like President Bush.

Chief Justice Robert Thomas faced the grilling in his defamation suit against a suburban newspaper, the Kane County Chronicle. On Thursday, under orders from a Cook County judge, Thomas answered most of them, though some of his answers were immediately placed under seal.

During the April interview — given under oath — Thomas invoked his position as chief justice as a reason not to answer. But legal experts said deposition witnesses are supposed to talk.

"It's highly inappropriate," said Ronald Allen, a professor at the Northwestern University School of Law. "Unless there's some privilege, then he should answer. End of story."

Thomas — a former kicker for the Chicago Bears — sued the Chronicle in 2004, alleging columnist Bill Page wrote false stories about his role in the case of Meg Gorecki, the former Kane County state's attorney whose law license was suspended for four months. According to Page, Thomas agreed to a lower penalty for Gorecki if her supporters backed a judicial candidate he favored.

Thomas says he suffers "stress" and a damaged reputation because of the stories.

"I have been terrifically stressed out as a result of that," Thomas said in the deposition. "You kind of feel like your blood pressure's going up."
His reputation is so "damaged" that he was elevated to Chief Justice. Must be a difficult life.
UPDATE: Chief Thomas had a different outlook when speaking to the graduating class at St. Ambrose University this month:

"God is a God of restoration, and he is calling all of us to restoration. If there are broken friendships or hurt feelings, go to that person before this day is out," he urged.
I highly doubt that Thomas talked to Bill Page after that speech. Maybe he should heed his own advice.
- Posted by Rich Miller 5 Comments


- Posted by Rich Miller Enter your password to view comments


OK, I've relented. But from now on Morning Shorts won't be nearly as long as before. That was just getting out of hand.
· Friday beer blogging and Friday deer blogging.
· Green Party candidate says the guv's education plan is a "bigger disappointment than the 'Da Vinci Code.'"
· Dick Kay's last City Desk show is this weekend. Too bad it's a holiday weekend, because not many people will see it, but NBC5 usually posts the programs online. I'll put up a link next week. The show should be great because it's a debate between Blagojevich and Topinka.
· Luntz has advice for Republicans on immigration (pdf file - hat tip: Kos).
· Map your Zip Code's political donors. (Hat tip: Jake)
· Backyard Conservative: "An invitation to corruption on our dime."
· The fake news that isn't funny
· "While no association between marijuana smoking and cancer was found, the study findings, presented to the American Thoracic Society International Conference this week, did find a 20-fold increase in lung cancer among people who smoked two or more packs of cigarettes a day." Good thing I quit.
- Posted by Rich Miller 7 Comments


My Sun-Times column this week is about the governor's new education/lottery plan.

I figure Gov. Blagojevich's new education plan will probably end up like that bench-clearing brawl at White Sox Park last weekend: a lot of hype, a flood of media analysis, much huffing and puffing from all corners — all over an initial punch that didn't even knock down the intended victim.

''No. Not at all,'' A.J. Pierzynski said the next day when asked whether he was still feeling the dastardly sucker punch thrown by Cubs catcher Michael Barrett.

I'm just not convinced yet that this education plan will ever amount to anything other than much-ballyhooed political fisticuffs.
The paper now has a permalink to all of my columns, which can be found here.
Also, Steinberg isn't pleased with the plan.

Did Gov. Blago and the Rev. Meeks really need eight hours to agree upon that plan? My third-grader can spout that strategy at a moment's notice: Let's eat all the cookies now and not worry about spoiling dinner.

The whole point of government is to restrain the public's childlike yearning for immediate gratification, not offer new ways of indulging it. What's next? Come winter, the governor will suggest we heat the schools by setting them on fire.
- Posted by Rich Miller 9 Comments