* While others may have slobbered over Mayor Daley's endorsement yesterday of the Blagojevich/Cross mass transit bailout plan, Kurt Erickson kept his head and asked questions…
As the General Assembly returns to action Wednesday to deal with a financial bailout of Chicago-area public transit systems, observers say the lack of agreement on other top issues makes it a virtual certainty that the already record-setting overtime session will drag into December, and perhaps beyond.

Along with the mass transit funding, lawmakers are pressing for passage of a statewide construction program. But, there remains no consensus on how to pay for either of those proposals. […]

But, its prospects in the Senate remain dim, with a bloc of downstate lawmakers pledging to reject the bailout if a separate statewide construction program isn't put on the table.

"I refuse to support one without the other. We need jobs. We need to fix our crumbling schools and bridges," said Senate Majority Leader Debbie Halvorson, D-Crete, who is running for a seat in Congress.
* But when Daley talks, the Chicago media always plays it up. Don't get me wrong. Daley is very important. But the actual roll call is much more important, and it's not there yet…
Mayor Richard Daley Tuesday came out in favor of a measure in Springfield that aims to provide enough money to keep the Chicago Transit Authority running , insisting he's optimistic about its passage despite questions surrounding its feasibility.
* More…
Now that Illinois House Speaker Michael Madigan (D-Chicago) has folded his hand in the legislative poker game that has stalled long-term funding for mass transit, so has Mayor Daley.

Following Madigan's lead, Daley today endorsed a plan by Gov. Blagojevich and Illinois House Minority Leader Tom Cross (R-Oswego) to redirect at least $385 million a year in state sales taxes on fuel to mass transit. The mayor said he's optimistic the plan will pass both legislative houses at Wednesday's special session.
* Listen to all of Daley's press conference at Chicago Public Radio, or just hit the button below…
[audio:cityroom_20071127_newsintern_Chic.mp3]
* To get a small idea of how politically volatile the new bailout proposal is, read this commentary by former state Rep. Cal Skinner…
Say you are from Downstate, also known as anything outside of the six-county Chicago metropolitan area served by the Regional Transportation Authority.

$385 million [GRF transit bailout] divided by the state's population of 12,831,970 (Commerce Department figure) is what?

$30.

So, an opponent could send a mailing to a Downstate legislator's district saying anyone who voted for this deal voted to force a family of four to send $120 to Chicago.

Or robo calls could be made. Even cheaper.
Whatever you may think of Cal, he's right.
* More transit and session stuff, compiled by Paul…
* Blagojevich's CTA 'rescue' took from other programs

* Editorial: Capitol…your tax dollars at work or maybe not

* Lawmakers could talk road improvements
*** UPDATE 1 *** Metro Networks' Springfield bureau chief Ben Yount has an excellent analysis that you can listen to at the Illinois Farm Bureau site or below…
[audio:LegisforIFB1126_14278.mp3]
*** UPDATE 2 *** Fox Chicago's Senior Political Editor Jack Conaty scored an exclusive interview with Speaker Madigan yesterday that I just noticed thanks to a commenter here.
Madigan told Conaty that it was "very, very sad for Illinois government" that some leaders demand a "linkage" between a mass transit bailout and a capital casino plan. Madigan also patted himself on the back for making "a major concession" on the transit issue.
Conaty asked Madigan if we are now "at the end of that unfortunate legislative drama or is this simply one more act?" Madigan's reply…
"This is simply one more act because of the politics of Rod Blagojevich. The politics of Rod Blagojevich is not a politics of conciliation. It's a politics of confrontation, conflict."
"Despite the optimism in Chicago," Conaty says, "the funding crisis at the CTA is likely to continue."
Click the pic for Conaty's full story…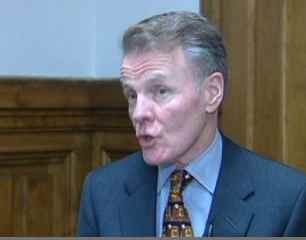 …Adding… Many thanks to Fox Chicago for their prominent placement of my blog on their political news page.
*** UPDATE 3 *** The Tribune editorialized on gaming expansion again today. Take a look.
*** UPDATE 4 *** Cogent analysis from the SJ-R's editorial board…
For some reason, and we suspect it is about as straightforward as a long Russian novel, Madigan now has decided to abandon the Hamos plan and sign onto a measure being pushed by Blagojevich and House Republican Leader Tom Cross. That plan would rely on about $385 million in existing sales tax money from gasoline receipts in the Chicago area to bail out Chicago transit. But that money is already in the state budget, which means it would either need to be replaced or blow a big old hole in that budget. No one seems to have a plan for replacing the money. The plan is opposed by many for that reason and by others because it does not deal with a capital plan.

We suspect Madigan knows he signed onto a poison pill of a bill. It's almost sure to die. And, so, if you were hoping for a resolution of this mess as a Christmas present, you better go to the second item on your list. We're asking Santa to give the feds extra patience in dealing with our screwed-up state so they don't yank that $6 billion from our stocking.
35 Comments








































































































Sorry, comments for this post are now closed.