* The very weird circumstances surrounding Rep. Paul Froehlich's alleged use of helping people with property tax appeals in exchange for campaign assistance have gotten even weirder…
Tina decided to do it herself. It's a simple process. Fill out and sign this form and the Board of Review will decide whether or not you get your taxes lowered. But what happened in Tina's case is now at the center of an internal investigation at the board.

And here's the mystery. Tina filled out her tax appeals form as she's supposed to right up here. But after she handed it in, somebody filled out the bottom of the form claiming to be her attorney. When shown the form, Price said she was surprised, adding: "I'm very concerned, and I have no idea how this came about."

The attorney who signed Tina's form is R. Tamara de Silva. On one day in June, she filed a bundle of appeals on behalf of property owners. But here's the catch, many say they've never heard of her.
De Silva did some "work" for Froehlich, according to the story, but it's not clear if this woman was one of them. From what I've heard, de Silva just all of a sudden started showing up at the Board of Review and nobody really knew who she was.
She's also connected to political operator Victor Santana, who also apparently did work for Froehlich and is tied closely to Board of Review Commissioner Joe Berrios…
[Berrios] declined to talk about his former employee, political operative Victor Santana, whose name came up repeatedly when property owners were asked about who they worked with to file appeals, according to hearing transcripts and board staff.

Gray testified in a June review board hearing that Santana's fee was $1,000 apiece for his work on appeals for 2006 and 2007. But only property owners or attorneys can legally file appeals, board staff says.
That second graf may or may not connect the dots as to why an actual attorney was brought in to deal with these cases. We'll see. This is all under investigation right now.
The Cook County Board of Review reversed itself Wednesday and took back controversial tax breaks awarded last year to four Schaumburg properties.

In a move officials say is rare, the board increased the assessed value of the properties, which have a connection to either state Rep. Paul Froehlich (D-Schaumburg) or Victor Santana, a political operative with ties to both Froehlich and Board of Review Commissioner Joseph Berrios.

Commissioners have been investigating whether Froehlich used influence through Santana or anyone else to get tax breaks for businesses in Froehlich's legislative district. Two of the four property owners donated more than $36,000 to Froehlich's campaign fund.
Walking back the dog?
Very, very weird.
* Our next item is a different sort of weird. GOP gubernatorial candidate Dan Proft has sent out a press release slamming the Democratic General Assembly for failing miserably on the budget, resulting in a downgrading of the state's bond rating by Fitch. So far, so good. But then…
"Rather than advancing system change ideas, if the Springfield political class believes increasing Illinois' bond debt is sound fiscal policy, then I propose that state legislators be compensated in state bonds.

"Instead of flourishing while Illinois taxpayers are fleeced, it's time the Springfield politicians feel directly the financial impact of their bad policies, bad choices and general political cowardice."
Um, huh?
I don't see how paying legislators with state bonds would hurt them, unless the bonds are impossible to sell. And they won't be. Here's the least incendiary aspect of David Ormsby's response…
…the bonds would be a boon to their income – due to the higher interest rate. Anyone who holds Illinois bonds would earn more money tomorrow than yesterday.
I told Proft yesterday it would be more appropriate to pay legislators as if they were state vendors. That way, their checks would be six months late.
* And then there was this and this tiny bit of breathless weirdness. No comment except a slight smirk and a gentle reminder that I criticized Speaker Madigan within that piece in question…
Leader Cross wasn't the only one putting his party over his state. The House Democratic Speaker refused to push the income tax without significant GOP support because he was so worried that an all-Dem tax hike could cost his party seats in 2010 - even though the Democrats have ten seats to spare.
* This is definitely not weird, but I might get a little weird at the event, depending on how much wine there is. Forewarned is forearmed.
* Heard any other weird things lately?
…Adding… The Washington Post has taken notice of our attempt at helping Amazon's customers…
Amazon customers are letting their opinions of [Rod Blagojevich] be known by attaching tags to the book to help direct others to the title. You can search books on Amazon by tags, words you type into a tag search box, which take you to books that have been similarly designated.

For instance, the three books appearing under the tag "moron" are: "Joe the Plumber: Fighting for the American Dream" by Samuel J. Wurzelbacher and Thomas N. Tabback, "Sarah: How a Hockey Mom Turned the Political Establishment Upside Down" by Kaylene Johnson, and Blagojevich's "The Governor."

Customers have hit "The Governor" with 78 derisive tags, among them: "delusional," "crook," "fraud," "twit" and "weasel."
Heh.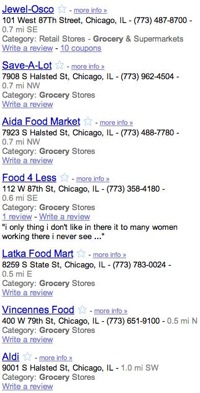 * That image at the right represents just some of the grocery stores near the proposed Wal-Mart at 83rd and Stewart in Chicago. The rest are here.
I'm not sure you can call that area a "food desert," even though it's been referred to as such time and time again.
Still, as one commenter noted here yesterday…
If the Food4Less & jewel were getting the job done, then why did walmart sell 4 days worth of produce from a typical supercenter in 3 hours?
Ald. Burke makes this point…
"They can build 14 stores here. All they have to do is make a commitment to the rights of working men and women in Chicago to organize," Burke said.
Chatham area residents deserve the jobs and fresh food the store would bring.
* The Question: Do you think Wal-Mart should be allowed to open more stores in Chicago? Explain fully, please.
* Recommended by a pal at Google, here's a comparison of web search volume between Capitol Fax and the Chicago Sun-Times. I'm in blue and the Sun-Times is in red…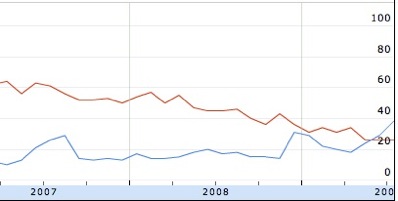 Looks like a bit of a jump by us at the end.
* And here's the search volume comparison between some of the Republican candidates for governor Dillard is in blue, Proft is in red, Brady is in orange and Murphy is in green…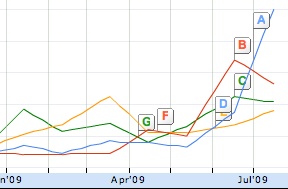 Dillard appears to be skyrocketing, but check out Proft's numbers. Not bad.
* Mark Kirk, Alexi Giannoulias and Lisa Madigan search comparisons can be found here.
Thoughts?
* The other day I was surfing around as usual and a couple of tweets on Mark Kirk's US Senate campaign Twitter page jumped out at me…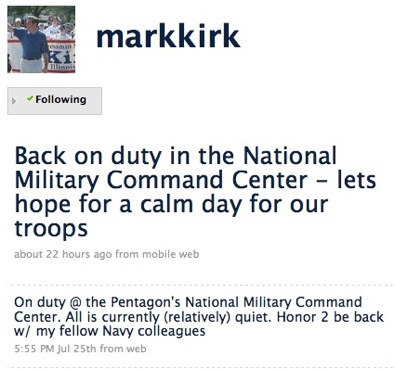 Being the son of two (now retired) Department of Defense civilian employees, I've long been aware of and sensitive to the military's campaign restrictions…
It is DoD policy that a member of the Armed Forces (hereafter referred to as "member") is encouraged to carry out the obligations of a citizen. While on AD [Active Duty], however, members are prohibited from engaging in certain political activities. Subject to the guidelines in enclosure 3, the following DoD policy shall apply:

1. General

a. A member on AD may:

(1) Register, vote, and express his or her personal opinion on political candidates and issues, but not as a representative of the Armed Forces.

(2) Make monetary contributions to a political organization-

(3) Attend partisan and nonpartisan political meetings or rallies as a spectator when not in uniform.

b. A member on AD shall not:

(1) Use his or her official authority or influence for interfering with an election; affecting the course or outcome of an election; soliciting votes for a particular candidate or issue; or requiring or soliciting political contributions from others.

(2) Be a candidate for, or hold, civil office except as authorized in subsections D.2. and D.3., below.

(3) Participate in partisan political management, campaigns, or conventions.

(4) Make campaign contributions to another r of the Armed Forces or an employee of the Federal Government.
Kirk is a Naval Reservist, and he appeared to be on duty when those posts were made, and his Twitter site is clearly a campaign site…
Be sure to check out our Senate campaign splash page at www.kirkforsenate.com
11:36 AM Jul 23rd
* So, I called the Pentagon. The first person I talked to wondered aloud whether Kirk had violated any rules by disclosing his location while on duty.
That wouldn't be a good thing.
But the other question I had was whether this violated some sort of anti-campaigning rule.
I had asked the Kirk campaign for comment around the same time, and eventually received this e-mail, which I then forwarded to the Pentagon…
"Congressman Kirk did not post while on duty. In situations when he is unable to use Twitter, (i.e. while on reserve duty) a staff member posts a preapproved tweet."
* Meanwhile, the Navy expects to issue a statement by the beginning of next week. In the interim, they offered me this…
"We're aware of the tweets by Congressman Kirk during a recent drill weekend here at the Pentagon and we're going to be looking into the matter."
Whether or not Kirk or a staffer posted those tweets, I'm still not sure he should've done it, so I'm wondering what you think.
Have at it.
*** UPDATE *** Actually, those regs posted above are a bit dated. Here is a more recent military directive…
4.3.3. Any member on active duty who is permitted to be, or otherwise not prohibited from being, a nominee or candidate for office as described in subparagraph 4.2.1. may NOT participate in any campaign activities. This includes open and active campaigning and all behind-the-scene activities. For example, such members described in this paragraph who are candidates or nominees may not:

4.3.3.1. Direct, control, manage, or otherwise participate in their campaign, including behind-the-scene activities.

4.3.3.3. Publish or allow to be published partisan political articles, literature, or documents that they have signed, written, or approved that solicit votes for or against a partisan political party, candidate, issue, or cause.

4.3.4. Those members included in subparagraph 4.3.3. who are nominees or candidates for office must:

4.3.4.1. Take affirmative, documented efforts to inform those who work for them and those whom they control that they (the nominees or candidates) may not direct, control, manage, or otherwise participate in campaign activities on their own behalf.

4.3.4.2. Take all reasonable efforts to prevent current or anticipated advertisements that they (the nominees or candidates) control from being publicly displayed or running in any media. This includes Web sites devoted to the nomination or candidacy. Web sites created before entry on active duty may not be updated or revised and may be ordered shut down as the Secretary concerned may direct.
Oy
Thursday, Jul 30, 2009 - Posted by Rich Miller
* The clueless Daily Herald editorial board continues its clueless ways…
The [Cook] county board voted to give sheriff's police the option of writing a $200 ticket for possession of small amounts of marijuana. This departs from state law, which requires suspects to be booked, jailed and slapped with a criminal record.
Um, no. State law allows local governments to hand out the tickets. If memory serves, that goes all the way back to Jim Thompson's era.
* By the by, Glenview apparently has the ticket option. This is from a recent police blotter…
Joseph Gizzi, 18, of 2413 Saranac Lane, Glenview, was charged with possession of between 2.5 and 10 grams of marijuana late Friday after police stopped the vehicle in which he was a passenger on the 1500 block of Milwaukee Avenue. Bond was set at $1,000 pending an Sept. 3 court date.

Jesus Rodriquez, 21, of 103 Main St., Northfield, was issued tickets for possession of marijuana and drug paraphernalia July 17 after police stopped him around 10:30 p.m. at 9th Street and South Branch.

Flavia Stavri, 19, of 7827 Beckwith Road, Morton Grove, was issued a ticket for possession of less than 10 grams of marijuana July 22 after an officer stopped him around 7 p.m. at Rugen Park, 2941 Harrison St.

After officers stopped a vehicle around 11 p.m. July 22 on the 9700 block of Milwaukee Avenue, Tomasz Dmyterko, 19, of 50 Stacy Court, Glenview, was issued tickets for possession of less than 10 grams of marijuana and minor in possession of alcohol and Alan Koszyk, 19, of 8440 W. Ciara St., Niles, was issued a ticket for possession of drug paraphernalia.

James Westhoff, 18, of 630 Locust St., Winnetka, was issued tickets for possession of less than 10 grams of marijuana and possession of a fictitious identification card after officers stopped him Friday evening outside Chestnut Wines, 1762 Waukegan Road.
Last I checked, Glenview was not in chaos.
* Exelon gets OK to build solar plant on South Side
Development of the $60 million, 10-megawatt photovoltaic array is contingent on getting federal loan guarantees from the U.S. Energy Department. Chicago-based Exelon has said it wants to finance 80 percent of the project with help of a loan guarantee.

Exelon would pay $110,000 a year to lease the land, and agreed to help clean the site of remains from its former industrial use, said Brian Granahan, a spokesman for Environment Illinois, an advocacy group supporting the project.

"Chicago is far behind other major cities with solar energy and this would give us five times what we now have," Granahan said in a phone interview from Chicago's City Hall. "This has gotten a lot of support to both get rid of an eyesore and expand renewable energy."
* South Side Solar Plant Closer to Reality
AUSTIN: It's ten more jobs than what we had before. But it also will help create training for these type of jobs. So these things are what we would be left with, moreso than just the ten jobs.
* Illinois coal plants are being threatened with lawsuit
Environmental and health advocates figure they've waited long enough for Midwest Generation LLC to stop pollution from its six coal plants in Illinois.

So five different groups have banded together and announced their intent to file a Clean Air Act citizen lawsuit in 60 days. They say the power plants were built decades ago and have not brought their pollution control efforts up to U.S. Environmental Protection Agency standards. While the groups singled out the two generating stations in Chicago, the Powerton plant in Pekin is flagged as a violator, as well.
* Rep. Phil Hare: Clean energy act would create U.S. jobs, oil independence
* Gov expected to double charter limit
ROCKFORD — Gov. Pat Quinn is expected to sign a bill Thursday that would double the state's charter school limit, from 60 to 120.
* Suburban schools to benefit from cafeteria grant program
Several suburban school districts and social-service groups are among those that will share $3.6 million in federal stimulus funds earmarked for cafeteria improvements, Gov. Pat Quinn's office announced Wednesday.

A total of 84 districts will receive the competitive grants, which will be used to improve the quality of the meals served at the schools, increase energy efficiency inside cafeterias and increase participation in school meal programs.
* Chicago area sees upswing in home foreclosures
The number of Chicago metropolitan area homes hit with a foreclosure filing spiked 30 percent in the first six months of the year compared to the same period a year earlier, according to a RealtyTrac report that signals rising unemployment is driving up foreclosures here and in other markets.

The Chicago area ranked 39th among metropolitan areas with 63,573 properties receiving a foreclosure filing, or one in every 59 homes, the data released today showed. That was a 22 percent increase over the July 2008 to December 2008 period. The report said much of the new foreclosure activity across the country may be more related to unemployment rather than fallout from subprime and adjustable rate loans.
* Towns see rise in renovations
A number of factors may be behind the upswing in remodeling, local building experts said, but the anemic housing market surely has played a major role. Though the Chicago area reported its fifth consecutive month-over-month improvement in sales of existing homes in June, sales are down 8.5 percent compared with this time last year, the Illinois Association of Realtors said. Prices rose slightly from May to June this year, but the median price was 18 percent lower than a year ago.

Meanwhile, new construction has nearly ground to a halt — in Bolingbrook alone permits for new home construction plummeted from 111 in 2006 to 45 in 2008 and only nine so far in 2009. So many homeowners who had hoped to trade in their existing house for a newly built one a few years ago are staying put and sprucing up for when the housing market recovers.
* Affordable housing: reality vs. illusion
Since 1995, 47 percent of the TIF money spent on affordable housing has gone to developments that typically serve the higher end of the affordability scale — the young teacher, for example, rather than the poor, single mom, according to an analysis by the Chicago Coalition for the Homeless.

Only 27 percent of the units created with TIF funds went to the poorest Chicagoans, those earning less than $20,000, arguably the neediest group.

The report also found that just a fraction of the total amount generated by the city's 158 TIFs — $2.9 billion between 1995 and 2007 — went to build affordable housing.
* Homes not priced to sell to low-income
Instead, half of those homes — about 3,200 — are being sold or rented to people who earn more than the city's median income. In some cases, those higher-income people are buying those properties using city subsidies that were a focus of a Chicago Sun-Times investigation.[…]

But the coalition says the city is sitting on as much as $520 million from its 158 TIF districts that could be spent on affordable housing right now. During a press conference today, its members plan to call for a city ordinance that would require 20 percent of the TIF money that the city collects each year to be invested in affordable homes.
* Roberto Maldonado steps in as 26th Ward alderman
* Car dealer getting tax break from Matteson helped mayor's campaign
* Oak Lawn issues layoff notices
Nearly 40 Oak Lawn employees could lose their jobs after a sweeping plan to close the multi-million dollar gap in Oak Lawn's budget was secretly approved by Oak Lawn's village board. […]

Officials had hoped Oak Lawn's six employee unions would agree to a number of concessions, including an increase in employees contributions toward their health insurance premiums.

But the unions rejected that offer and several other stipulations - which some officials point to as the reason for the layoffs.
* Pregnant women should be first in line for swine flu vaccine: panel
* Study: Tanning beds definitely cause cancer
* Rod Blagojevich's book: Ousted governor's work, due in September, available on Amazon.com
* Judge: FBI's Blago tapes won't be made public
* Web site helps Burr Oak graves search
* Sheriff launches Burr Oak headstone database

* Cemetery database online but incomplete

* Texting while driving? Stop before you kill
When "drivers of heavy trucks texted, their collision risk was 23 times greater than when not texting," reports the AP.
* Not everyone comes home
Since last fall, more than 2,900 "citizen soldiers" from Illinois — nurses, police officers and chemical engineers — have performed the ground-level work to help Afghanistan's beleaguered government fend off an extremist Islamic insurgency.[…]

In all, 17 Illinois Guard troops have died during the deployment, and the losses weigh heavily as the troops head home and their families and friends prepare to welcome them with hugs and homemade signs.
* Governor to proclaim Buehrle Day to honor Sox pitcher