* New Jersey Gov. Chris Christie is heading to Illinois next week…
The trip coincides with advertisements that [Christie's] administration began running Tuesday in publications including the Chicago Tribune and the State Journal-Register in Springfield, encouraging businesses to relocate and invest in New Jersey, Christie said. […]

"If [Gov. Pat Quinn] wants to tank his economy, that's just fine," Christie, a 48-year-old Republican, said in an interview at Bloomberg News headquarters in New York on Tuesday. "I'll go and try to collect as many businesses as I can, and every job that I create, that I take from Illinois, which comes to New Jersey, will be a net plus for us." […]

Christie characterized Quinn's move to raise taxes as a "typical bait and switch" after the Illinois governor campaigned saying "he might raise taxes about half as much as he wound up doing."

Christie said Quinn did it because "he got in bed with the public-sector unions in order to win election by half a point."
According to the Sun-Times, Christie's ads were paid for by taxpayers. No word yet on the cost. Here's the radio ad if you haven't heard it…
The print ad is here. Christie's taxpayer-funded photo is prominently displayed in the state's newspaper ad, which would be illegal under Illinois law if Quinn tried to do the same thing…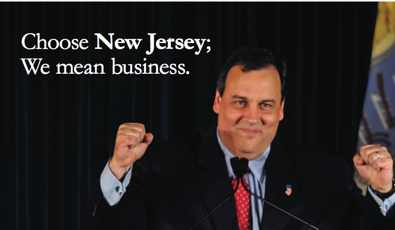 Caption?
* When Gov. Christie arrives, reporters need to keep in mind that in spite of his rhetoric to the contrary, he's reduced his budget deficit by just $200 million.
* Also, while we're on the topic, a Wisconsin company just announced that it's opening a new plant in Illinois…
American Aluminum Extrusions Co. intends to open a plant at the former Warner Electric site, creating 130 jobs by 2013.

Village President Dave Krienke believes the Beloit, Wis.-based aluminum manufacturer would initially create 60 jobs and could have its first line running by July 1.

"We have a great opportunity here — this is a company that's going to be a leader in its field, and I see growth in its operations for many years to come," Krienke said Tuesday. "You know we need jobs and we need people working … to spend their money in our community. This could create a great economic incentive for Roscoe.".
* But, all is not wonderful, of course…
Illinois taxpayers donated more than $1.3 million to 10 nonprofit causes last year, but many charities have yet to see the money.

The Crisis Nursery of Champaign County is still waiting to get its share of $44,771 donated to a statewide Crisis Nursery Fund on 2009 tax returns. It's supposed to get more than $6,300, said Executive Director Stephanie Record.

And Feeding Illinois, which oversees the state's eight food banks, has not received the $100,246 given by taxpayers for hunger relief.

"We were supposed to get it in July," Record said. "Like everything with the state, it was held up a little bit. That's frustrating."
* Roundup…
* Illinois customers now have four choices for electricity - More alternative suppliers enter the market

* Museums, zoos see visitors drop 3% last year

* Chicago HIV agency closes, cites financial woes

* David Vite: Gov. Quinn needs to OK Main Street Fairness Act

* Tweaked Gateway Arch plan has gondolas to IL

* Waukegan weighs proposed foster home: A proposal to transfer ownership of a foreclosed property on South Park Avenue to a Chicago-based agency that provides housing for foster children is scheduled to go back before aldermen next week after running into opposition late last year.

* Rockford schools to face painful budget solutions
33 Comments


































































































Sorry, comments for this post are now closed.