*** UPDATE *** Good news…
A federal judge today said a Chicago Tribune reporter does not have to turn over her notes from an interview of a juror in the William Cellini trial who apparently concealed her felony background during jury selection. […]

At a hearing today, U.S. District Judge James Zagel said Sweeney did not have to turn over her notes because Chiles did not say anything of merit.
[ *** End Of Update *** ]
* ABC7 says Rod Blagojevich is claiming to have a drug abuse problem…
Blagojevich's attorneys also asked that the ex-governor be included in a prison residential drug abuse program. Successfully completing that can shave as much as a year off a sentence, but to qualify Blagojevich would have to show a documented pattern of substance abuse in the 12 months before his arrest three years ago.

"It wasn't mentioned during the first trial, it wasn't mentioned during the the second trial at all, even when he testified, so I think that you have look at that a little skeptically," said Cramer.
You will recall that Scott Fawell recommended that Blagojevich apply for admittance into the program in order to take some time off his sentence. Blagojevich ought to be asked publicly about details before that request is granted.
* And the Tribune looks at why Rod Blagojevich may have wanted to be imprisoned in Colorado…
At first blush, Blagojevich's request for a prison 1,000 miles from Chicago would seem to be an odd one, especially since attorneys said his family doesn't plan to move to Denver. Blagojevich's legal team on Tuesday did not explain the reasoning behind the choice. But Sam Adam Jr., a former attorney for Blagojevich who remains close to the ex-governor, said Blagojevich opted for the Colorado prison because of its reputation and proximity to Denver and its airport.

"My understanding is that it has fewer fighting outbreaks and gang problems," Adam said. "And since this is not going to be a camp, you have to consider who goes there."

While Blagojevich's lawyer acknowledged the former governor would have preferred a federal prison camp and its lesser restrictions, he likely wouldn't qualify for that because he was sentenced to more than 10 years in prison — the usual cutoff for camps.

Larry Levine, a prison consultant who served time himself, said that the Littleton institution also offers some perks not available at a similar facility in Milan, Mich., the closest low-security federal prison to Chicago. It has a smaller inmate population than Milan, one additional day a week for families to visit and perhaps most importantly, a camp that Blagojevich could move to in a few years, Levine said.
Blagojevich's family isn't moving to Colorado, so they'll have to fly out to visit him. That could be costly…
Scott Fawell, former chief of staff to former governor George Ryan, served four years at a prison in Yankton, South Dakota.

He says Blagojevich's preference of a prison in Colorado - more than a thousand miles from home - will be a costly one.

"We tallied it up. It was about $21,000 for Andrea to come and see me on a regular basis," said Fawell.
* Meanwhile..
A federal judge is scheduled to hear arguments on whether a juror's criminal record entitles convicted Springfield powerbroker William Cellini to a new trial.

After Cellini was convicted Nov. 1 of trying to shake down a Hollywood producer for a campaign donation, it was revealed that a juror hadn't disclosed two felony convictions.

Cellini's attorneys say that juror cannot be trusted and compromised the verdict. Prosecutors argue the juror wasn't automatically disqualified.

Judge James Zagel has set a Wednesday hearing.
More…
The newspapers' plight has garnered support from the Chicago chapter of the Society of Professional Journalists, which has criticized Zagel's rulings on media issues in the past. The organization's leadership said it objects to the reporters' notes being used to do work that should be done by court officers.

"There isn't anything the Tribune found that the judicial system and law enforcement couldn't have found on their own," said Beth Konrad, a past president of the Chicago chapter and a Loyola University Chicago journalism professor. "You can't have a journalist acting as an arm of the courts."

The situation also is being monitored nationally by First Amendment advocates, who argue that the public's faith in both the court system and an independent press could be eroded if reporters are forced to surrender their work product.

"The last thing you want as a journalist is to be seen as an operator for the government, the judiciary or the defense," said Lucy Dalglish, executive director of the Reporters Committee for Freedom of the Press. "How are citizens supposed to trust you if they think you're working for someone else? They need to know you're operating independently."
* And while I may live to regret this, how about a caption contest? Here's Judge James Zagel…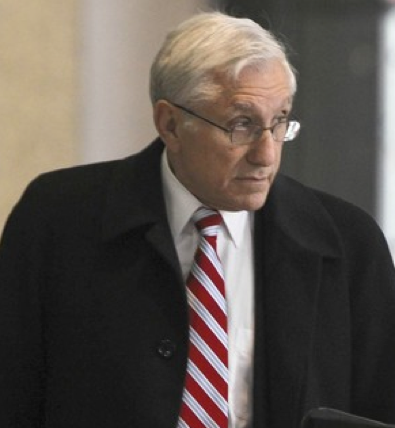 Winner will get a free ticket to a big party I'm throwing early next year. Sorry, but I can't be more specific than that.
* Related…
* Brown: Strict rules for Blagojevich's prison stint
121 Comments










































































































































































































































































































































































Sorry, comments for this post are now closed.