* The constant media drumbeat about how public employees need to essentially be punished for their "lavish" pensions isn't working, according to the Tribune's latest poll…
Illinois voters overwhelmingly blame politicians for creating the state's public employee pension mess, but like elected officials, they're divided about plans to fix the problem, a new Chicago Tribune/WGN-TV poll shows.
What that lede doesn't mention is that Illinoisans don't blame public employees for the pension mess…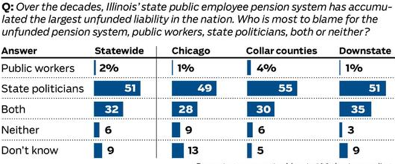 Just 2 percent of Illinoisans think the mess is solely the fault of workers…
Brian Foggs, a 29-year-old from the Chicago Lawn neighborhood, blamed politicians for the pension mess, not state workers.

"These people aren't being unreasonable. They just have to take care of bills," said Foggs, a poll respondent.
And less than a third blame both politicians and workers.
* On to the solution…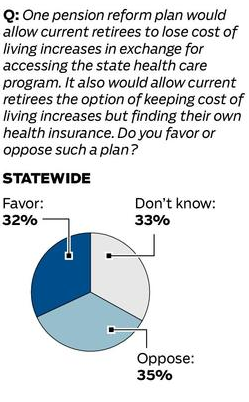 Keep in mind, that's the Democrats' proposal. And their own party members don't support it…
Democratic voters opposed the plan 38 percent to 32 percent, but Republicans were slightly more in favor than against, 35 percent to 32 percent.
The Tribune's proposal, which the House Republicans have adopted, is a lot harsher to workers.
I've said it before and I'll say it again, Rep. Mike Fortner's plan definitely needs to be considered.
* This was a quickie poll question. The consequences weren't totally laid out. We need better numbers. But when less than a third of the population supports an idea, it may be time to rethink that idea. And it also means that even harsher ideas should be looked at with much suspicion.

More…
The proposal also drew 55 percent opposition from white suburban women, moderate voters that include so-called soccer moms especially concerned about education. Only 28 percent of that group backed the cost shift. Among independent voters, a key demographic that influences state elections, the idea was rejected 44 percent to 31 percent.
The Chicago Democrats have really shot themselves in the foot with that plan.
29 Comments






















































































Sorry, comments for this post are now closed.