* The Illinois Policy Institute has a new Internet video called "Contagion" which makes some dire claims about what the right-wing "think" tank claims is escalating labor unrest. You gotta watch it…
* Script…
Big labor is on the move in Illinois. Emboldened by the success of the Chicago Teachers Union strike, unions across the state are now waging, or threatening to wage, strikes of their own.

Why do unions erect roadblocks to reform? Remember that the explicit purpose of a union is to protect the employment status and benefits of their members, not to improve the quality or nature of the service that their members provide.

In fact, what we are now seeing may be the early stages of an outbreak of labor unrest that could consume the state.

The billion-dollar-question is: Will Illinois' lawmakers confront these labor monopolies, contain the outbreak, and pass desperately needed reforms? Or will politicians once again succumb to the politically convenient in hopes that a federal bailout will save them from tough decisions?
* OK, five districts outside Chicago are mentioned in that ad. The state has 868 school districts. So, that's about half a percent. And this is rampant labor unrest?
Not quite.
And if you look at the Institute's own list, you'll see that these strikes were pretty short. Lake Forest High School (one-week strike), North Shore School District 112 and Prairie Grove School District 46 (mere one-day strikes), Champaign (settled before strike). Yes, a hotbed of furiously angry communists, for sure.
By far the longest was in Evergreen Park, which lasted two weeks. From the Southtown Star…
The lessons of both the Chicago teachers' strike and the just-settled one in Evergreen Park School District 124 are that teachers are tired of being made the scapegoats for public education's ills and that animosity between them and their employers is growing. […]

We draw two conclusions about the strikes in Chicago and Evergreen Park. The school boards forced the teachers to walk out by making demands they saw as politically popular but that were unrealistic. And faced with strong parental support for the teachers, the boards blinked because the unions would not.

The national debate over public education and the power of teachers unions has teachers more united than ever, and if our local results are any measure, parents value teachers more than the critics. That's a losing hand for school boards, and pushing teachers to strike and keeping kids out of class is the worst bet of all.
* So, publicly attacking teachers and subjecting them to ratings which have been widely debunked by experts have maybe led to a handful of strikes in Illinois, and maybe more are coming. But check out the oh so scary poster…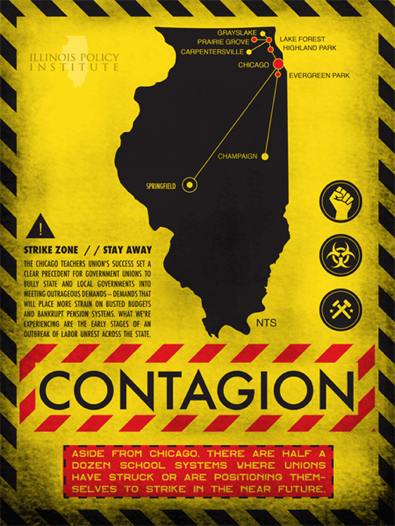 I get so tired of large groups of people being demonized like this.
* Do teachers unions have their faults? Heck yes they do.
But, to me anyway, the people at the very top are most at fault. I've never been a fan of the industrial model for education. Hate it, actually. As I was traveling home from Galena not long ago, I found myself wondering if a relatively new building out in the middle of nowhere was a school or a prison. It was a school.
I happen to like the concept of charter schools, not because I think they are a panacea, but because I believe they can offer kids incredible alternatives to the one-size-fits-all industrial model. That link, by the way, goes to a French immersion charter school in Kansas City that my best friend's children attend. My friend died a couple years back, and we wanted to help his widow and the kids come to Illinois, but there's just nothing like that school anywhere here. So, they stayed put.
Why can't we have these same choices in Illinois? What's keeping us back?
Well, fear, for one…
Gov. Pat Quinn isn't buying everything charter schools are selling. The governor invited education scholar Diane Ravitch to speak to a civic group in Chicago. Ravitch told the audience that charter schools are no better than traditional public schools, except that they allow the private sector to make money off education.

Ravitch, a former U.S. assistant secretary of education who served in appointed capacities under presidents George H.W. Bush and Bill Clinton, says charter schools were intended to help the poorest, least-able students, but they're being used now to skim the kids who are easiest to educate.

"And my fear, having attended segregated schools in Houston, Texas, is that we are returning to a pre-Brown vs. Board of Education society, in which segregation will be based on class, not on race, in which the charter schools will take the most motivated children, and the public schools will become dumping grounds," she told the City Club of Chicago, after an introduction by the governor.Ravitch is the author of The Death and Life of the Great American School System: How Testing and Choice Are Undermining Education.
I think the segregation fear has some legitimacy. But that can be overcome with reasonable regulations. The stuff about people making money off of schools doesn't really bug me too much as long as the schools are well-run. The beauty of charter schools is the diversity they can potentially offer - and do offer in places like Kansas City.
There are downsides. Charter schools don't perform all that much better on standardized tests. But I don't like basing education on testing anyway. In Chicago, the charter schools are mostly non-union. But there's nothing preventing the CTU unions from trying to organize those teachers.
All I'm saying here is let's stop with the demonizing, please, and get on with truly changing the way we educate kids.
36 Comments











































































































Sorry, comments for this post are now closed.