[The following is a paid advertisement.]
The cable industry is asking lawmakers to place a NEW 5% tax on satellite TV service. HB 5440 is not about fairness, equity or parity – it's a tax increase on the 1.3 million Illinois families and businesses who subscribe to satellite TV. They cannot afford another NEW tax – not now and not in this economy!
HB 5440 Will Hurt Illinois Families and Small Businesses
• Satellite TV subscribers will see their monthly bills go up 5%.
• This tax will impact every bar, restaurant and hotel that subscribes to satellite TV service, which will translate into higher prices, decreased revenues, and fewer jobs.
• Rural Illinois has no choice: In many parts of Illinois, cable refuses to provide TV service to rural communities. Satellite TV is their only option.
HB 5440 Is Not About Parity or Fairness
• Cable's claim that this discriminatory tax is justified because satellite TV doesn't pay local franchise fees could not be further from the truth. Cable pays those fees to local towns and cities in exchange for the right to bury cables in the public rights of way—a right that Comcast and Charter value in the tens of billions of dollars in their SEC filings.
• Satellite companies don't pay franchise fees for one simple reason: We use satellites—unlike cable, we don't need to dig up streets and sidewalks to deliver our TV service.
• Making satellite subscribers pay franchise fees—or, in this case, an equivalent amount in taxes—would be like taxing the air It's no different than making airline passengers pay a fee for laying railroad tracks.
Tell Your Lawmakers to Stop The Satellite TV Tax

Vote NO on HB 5440
- Posted by Advertising Department Comments Off


* I kidded Tom Cross a little last night about this story, which is too cute not to share…
"We definitely like to have lunch together. We were at Cracker Barrel not too long ago," [Gov. Pat Quinn] told reporters Wednesday. "I ate carrots, lots of carrots, green beans. And we were eating healthy."

The same was true for Cross (R-Oswego), as they chatted about pensions, gambling and capital spending at the Cracker Barrel off Weber Road in Bolingbrook off Interstate 55, a location Cross said he chose and the governor readily complied.

"I had turnip greens, pinto beans, fried okra, and I must've had green beans. I did have one of their nice biscuits. This was my idea," Cross told the Sun-Times.

"The governor sat down at the table and said, 'Excellent. I don't need a menu,'" Cross said. "We're just a couple of Cracker Barrel guys."
"We're just a couple of Cracker Barrel guys."
If only session could be this cordial.
Wait. I'd be out of a job.
Never mind.
Continue bickering!
- Posted by Rich Miller 33 Comments


* The setup…
Democratic leaders in the Illinois General Assembly are backing legislation that would require some corporations to reveal their income-tax bills.

Senate President John Cullerton and House Majority Leader Barbara Flynn Currie will announce their support Tuesday for the measure. Tuesday is the first day of the Legislature's fall veto session.

The Chicago Democrats want publicly traded corporations to post online the amount of corporate income taxes they paid two years prior to publication. The lawmakers say that would reduce potential competitive disadvantage to businesses that must publicize expenditures.

Officials say two-thirds of corporations pay no income taxes because of deductions, tax breaks and "loopholes."
The proposal is here.
* The Question: Should public corporations be required to disclose the amount of Illinois state income taxes they pay? Take the poll and then explain your answer in comments, please.
…Adding… Just to clear up some confusion in comments, you cannot FOIA this info, it's not publicly available to anyone and state income taxes are not broken out as a completely separate category in SEC filings.
- Posted by Rich Miller 84 Comments


* I've looked over his filings this morning and they're a complete mess. From the Sun-Times…
Former Cook County Board President Todd Stroger is blaming an accounting error for the sudden disappearance of $500,000 from his campaign filings this year without an accompanying explanation of where the money went.

The money, which was left over from the campaign in which Stroger lost re-election to current board president Toni Preckwinkle, was invested in Amalgamated Bank by Friends for Todd H. Stroger for President of the Cook County Board campaign. The money appeared on campaign filings in the first quarter of the year but wasn't reported in the second quarter, said Jim Tenuto, assistant executive director at the Board of Elections.

A board staffer noticed the discrepancy and sent Stroger a letter asking what happened to the money, "which is something we routinely do," said Tenuto. "This is not an investigation or an accusation, it was more of an administrative issue," he said.

Stroger said Monday evening the money was used to pay campaign bills and an accounting error was to blame for the discrepancy.
* OK, if you go back to the end of 2008, Stroger reported $526,747.08 in investments and $465,227.33 in outstanding debt, including $350,000 to himself, which he incurred in 2006.
On April 11, 2009, Stroger appears to have cashed in those investments and deposited the money into his campaign account. On June 30th of that year, he reported no investments on hand and $640K in the bank. He also reported just $115,227.33 in debt, having paid off his loan to himself.
On August 21st, 2009, Stroger put $500,000 into a couple of CDs.
Stroger entered the 2010 campaign with $152,554.92 in cash on hand, then raised another $294,685.00 during the first half of the year. He spent $341,107.73 and was left with $106,132.19 plus his $500K in investments.
But then he filed an odd amended return for the first six months of 2010. The only expenditures listed in the amended return were for a $500,000 deposit into an Amalgamated Bank of Chicago investment fund on June 30th. But he also shows a receipt of $621,632.19 from Amalgamated Bank of Chicago on the same day.
And that's pretty much where I gave up. The investments, as noted above, eventually "disappeared" without explanation. They appear to have existed at one time, but it's gonna take somebody with more time than I have to figure this one out.
Very weird.
- Posted by Rich Miller 31 Comments


* A new coalition says it wants Illinois to remain the only state that doesn't allow some form of concealed carry law…
"I can't fathom the idea of going to the mall and just thinking that under that coat over there, or in that purse, there might be a weapon," said Ald. Ricardo Munoz of the 22nd Ward. "We cannot allow concealed carry to be the law of the land."

Coalition members cited pressure from the National Rifle Association and gun-rights activists across Illinois for their growing concern. They worry state lawmakers could attempt to push through a law during the legislative veto session that starts this week.

With 36 lame duck legislators, the General Assembly is ripe for last-minute deals between outgoing lawmakers and those willing to trade votes to ensure majorities on other issues, said Cook County Commissioner Larry Suffredin.

"While we don't expect that the concealed carry bill will come up, it may because there will be a lot of horse trading going on in the final days of this old General Assembly," he said. "We need to remind those who have stood with us that they need to stay fast with us and make sure that we oppose concealed carry."
Suffredin is right that the bill is not expected to come up. But he's also right that there will be some serious horse trading in the coming weeks. So, from his perspective, this move was probably prudent.
* More…
Valinda Rowe, spokeswoman for gun-owner advocacy group Illinois Carry, acknowledged that there is a divide between Illinois' urban and rural residents on gun control issues. But she said her statewide organization's constituents come from all walks of life.

"Our members are made up of all different political backgrounds - we have conservatives, we have liberals, we have libertarians, that all support the Second Amendment," Rowe said. "We're not talking about mentally ill people or those who are a danger to themselves or others. We're talking about law-abiding citizens."

The house bill would require gun owners to obtain concealed carry licenses and take firearm safety courses. It would also prohibit concealed weapons in most government buildings, including schools and libraries. The bill fell six votes short of the required three-fifths majority in a house vote in May.
Try very hard to stay civil in comments, please. I took a quick look at some of the comments on stories in other publications about this development and some were downright bizarre. We don't want that here.
- Posted by Rich Miller 40 Comments


[The following is a paid advertisement.]
The State of Illinois faces another budget crisis and severe cuts are on their way. The currently proposed budget would leave a $200 million shortfall for Illinois students and educations. Outside experts agree that Illinois is falling behind. Illinois already ranks dead last in the nation in the amount of school funding provided by state revenues according to a recent NEA study. 
The Center for Tax and Budget Accountability finds that states provide an average of 51% of the funds for education. Illinois provides only 30%.
In these harsh economic times for the state, we cannot afford to lose a dime. Still, satellite companies are currently exploiting a corporate tax loophole and taking their profits out of Illinois. House Bill 5440 will close this loophole and ensure everybody pays a fair share to support our students and communities. Twelve other states have successfully closed similar tax loopholes on satellite providers and in turn have worked towards more balanced government budgets.
HB 5440 would generate up to $75 million in additional revenue for the Illinois education fund and provide critical backing for schools, early childhood education, and financial assistance for college students.
The status quo isn't working. Close the loophole and support our students. Vote YES on HB 5440!

- Posted by Advertising Department Comments Off


* A friend pointed me to a chart at Daily Kos yesterday which shows presidential results by states ranked most Democratic to least Democratic. Since 1992, Illinois has been in the top eleven of the most Democratic states (ten, if you don't include the non-state Washington, DC). Click the pic for a larger image…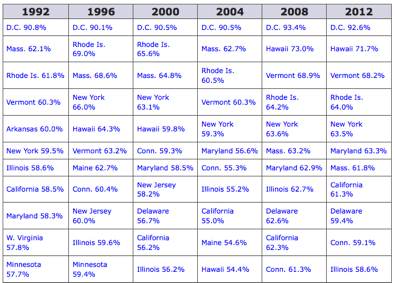 Our average over the past six elections is ninth. Yet, we had ten years of Republican governors in the time period covered, although there haven't been any in a decade.
- Posted by Rich Miller 17 Comments


* Former Gov. Jim Edgar was asked about whether he backed the 2012 Republican campaign mantra of "Fire Madigan"…
No, it's been the governors. I mean, the governor leads. Madigan, I think he's probably victim to his own success and his own legend. That how powerful he is, so everybody figures he's responsible for everything. Madigan my first four years as governor just fought me tooth and nail.

I used to have him down for lunch all the time. He's a real cheap date – just give him an apple, that's all he wants for lunch. We'd try to keep it from ever getting personal and we'd sit around and try to figure out how can we compromise. That first session when I was governor, when he was going to prove some things to me, we went an extra 30 days and I pretty much got what I wanted. The next year he beat me up a little more but we always knew where the other guy was and we always tried to find out what was the common ground. We also knew if we told the other guy something, he could take it to the bank. I think what happened with Blagojevich and Madigan was he thought Blagojevich lied to him and there's nothing that upsets Mike Madigan more. It became much more personal and I think everything got ruined by that a little bit.

But Madigan, the last two years I was governor, when he came back after losing the speakership, he told the press, "I tried to fight the governor, I'm not going to do that anymore. I'm going to try to work with the governor and if we can agree I'm going to be his best supporter." And in the last couple years on most things, especially fiscal things, he was my biggest supporter in the legislature. And I think he was very supportive to George Ryan. But the trouble was, with George, George wanted him to go along with spending. And I asked the speaker one time, I said, you were a fiscal conservative with me, now you're a big spender. He said, "You know my members. They like to spend money. I'm going to follow the governor. I'm not going to stick my neck out." So I think the fact that we had governors who kind of took their eyes off the bottom line – for a long time Madigan went along with that as the speaker. I think it was only when he had a complete break with Blagojevich that he began to tighten up on the budget stuff and then it was really too late. Too little, too late.

But again, it goes back to the governor's got to provide that leadership. The governor is the 800-pound gorilla in Illinois government and if he's not, then the way this system is designed it doesn't work very well. And that's what I think we've seen the last 10 years it just hasn't worked very well.
Discuss.
- Posted by Rich Miller 25 Comments