* From the New York Times…
A Times investigation has examined and tallied thousands of local incentives granted nationwide and has found that states, counties and cities are giving up more than $80 billion each year to companies. The beneficiaries come from virtually every corner of the corporate world, encompassing oil and coal conglomerates, technology and entertainment companies, banks and big-box retail chains.

The cost of the awards is certainly far higher. A full accounting, The Times discovered, is not possible because the incentives are granted by thousands of government agencies and officials, and many do not know the value of all their awards. Nor do they know if the money was worth it because they rarely track how many jobs are created. Even where officials do track incentives, they acknowledge that it is impossible to know whether the jobs would have been created without the aid.
Oy.
* More…
Caterpillar has received more than $196 million in local aid nationwide since 2007, though it has chastised states, particularly its home base, Illinois, for not being business-friendly. This year, Caterpillar announced a new plant in Georgia, which offered $44 million in incentives. Local counties chipped in free land and other aid, including $15 million in tax breaks and $8.2 million in road, water and sewer repairs.

The company, whose profits are soaring, recently froze workers' pay for six years at several locations, arguing that it needed to remain competitive. A spokesman for the company, Jim Dugan, said it employed more than 50,000 people and invested billions of dollars nationwide.
Yes, the company has invested lots of money. But now maybe some of you understand why Senate President John Cullerton wants publicly traded corporations to disclose their state income tax payments.
* And if you still don't, there's this from the NYT's database…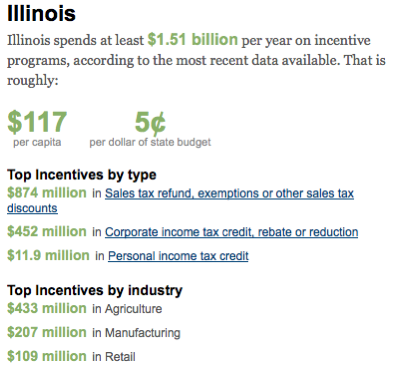 Notice that almost a quarter of those incentives go to agriculture. Farmers can't exactly leave.
Also notice that the incentives are higher than the amount of revenue generated by last year's corporate income tax hike.
* But as much money as we're paying, check out the far higher per capita rate in Indiana…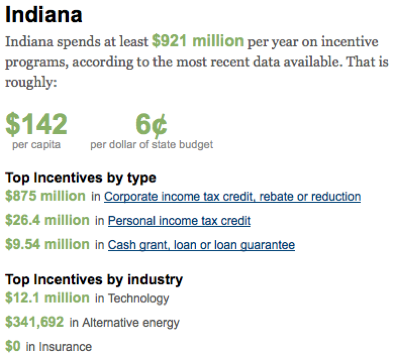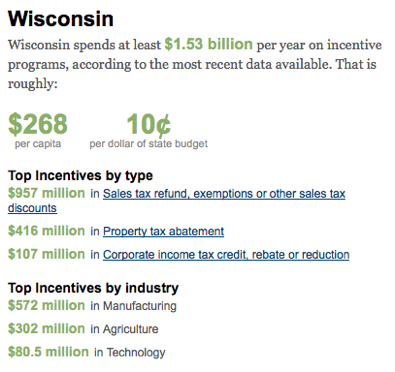 It's a function of the game. When your neighbors are doing it, you have to try and keep up.
37 Comments














































































































Sorry, comments for this post are now closed.