* As you already know, 17 Democrats and five Republicans filed to run for the 2nd Congressional District. In such a huge field, any extra votes Robin Kelly could get from getting the top of the ballot spot would be helpful…
Former state Rep. Robin Kelly of Matteson will get the first spot on the ballot in special Democratic primary for the seat once held by former Rep. Jesse Jackson Jr.

The Illinois State Board of Elections conducted lotteries for the first and last spots on the Feb. 26 primary ballot.

Kelly won out among five candidates who submitted their petitions at the 8 a.m. opening of candidate filing at the elections board last week. In a separate lottery, management consultant Joyce Washington won the bottom spot on the Democratic ballot among five contenders who submitted candidacy petitions in the final hour before the filing deadline concluded at 5 p.m. on Monday.
* In other news, this is a very small buy, but still quite interesting…
U.S. Rep. Aaron Schock's vote for last week's fiscal cliff deal already is drawing heat.

A group called the Jobs and Progress Fund plans to spend more than $16,000 on television attack ads in Mr. Schock's downstate district starting today, Crain's has learned.

"Washington has a strange effect on politicians. Just four years in Congress, and Aaron Schock has voted for massive tax increases and mountains of debt," according to a transcript of the ad. "It's . . . well . . . shocking."

According to the Ohio Secretary of State's website, a group called Ohio First for a Better Government registered as a nonprofit corporation in Dayton on March 8, 2011, and changed its name to Jobs and Progress Fund Inc. last month.

Ohio First is registered with the IRS but its annual tax return is not yet available, according to Guidestar.org, a website that tracks nonprofit data.

The group was incorporated by David R. Langdon, a prominent attorney in Cincinnati for several conservative nonprofit groups. He did not respond to a request for comment.
* Meanwhile, in LalaLand…
Tea Party favorite Joe Walsh says conservatives are losing the "war" for U.S. voters and encouraged his backers at a South Loop rally to engage in civil disobedience to defy the Affordable Care Act or new gun regulations.

At his most aggressive, he told dozens of supporters to "defy and or break the law and engage in civil disobedience" if faced with federal health care law restrictions or new gun laws.

He paraphrased Thomas Jefferson in saying, "We may have to shed blood every couple hundred years to preserve our freedoms."

The one-term McHenry County congressman, who lost his re-election bid to Democrat Tammy Duckworth in November, openly contemplated breaking away from the Republican Party during a Wednesday rally at Blackie's, 755 S. Clark St.

And in the end of the rally he began organizing a statewide movement he said would "scare Republicans and Democrats."
A pic from the event…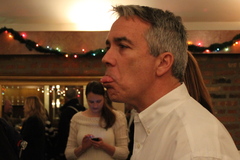 Caption?
* And one has to wonder whether the father lobster would allow this…
As President Barack Obama tries to avoid fallout from his Cabinet and national security nominations, one potentially controversial post remains vacant.

Amid tension with America's Roman Catholic leaders about a health care mandate that requires religious employers to provide insurance coverage of contraceptives for employees, Obama must find an ambassador to the Holy See who would please the pope as well as his own political supporters.

"Filling the slot tends to be a special headache for Democratic presidents," Vatican expert and papal biographer John Allen wrote in a column this week for the National Catholic Reporter.

Allen said Vatican diplomats have their sights set on a number of Catholic scholars and politicians, including an Illinoisan: U.S. Rep. Dan Lipinski, a socially conservative Democrat who opposes abortion rights and the health care mandate.

In an interview, Lipinski told the Tribune he has not been offered the job but would welcome consideration.
* Other stuff…
* Poll: The Tea Party May be Over; Voters Sour on Movement: The new poll reveals only eight percent (8%) now say they are members of the Tea Party, down from a high of 24% in April 2010 just after passage of the national health care law.

* Freshman Rep. Duckworth hopes to be 'calm voice' on gun issues

* Bustos gets seat on House Agriculture Committee
28 Comments



















































































Sorry, comments for this post are now closed.