* Actions have consequences, and the governor's plan to close prisons has resulted in some negative consequences…
Inmates at six Illinois prisons will be bunking in gyms in the coming weeks as part of the state's ongoing struggle with overcrowding.

With more than 49,000 inmates packed into space built for 33,000 prisoners, Illinois Department of Corrections Director S.A. Godinez notified the union representing prison employees on Wednesday of the pending changes.

Prisons in Vandalia, Danville, Centralia, Canton, Vienna and Hillsboro are affected.

"The gymnasiums in those facilities will be temporarily set up as dormitory units for minimum-security inmates," Corrections spokeswoman Stacey Solano said in an email Thursday. […]

The state has shuttered the Tamms Correctional Center in southern Illinois and is moving to close the all-female Dwight Correctional Center. The loss of more than 1,000 beds at a time when the prison population continues to grow has raised concerns about a rise in violence.
* And…
The union representing Illinois prison workers is denouncing what it says is a return of "circuit riders" — hardcore, sometimes brutal inmates shipped from prison to prison to keep them out of trouble — after prisoners suspected in an attack last week were transferred to less-secure lockups, The Associated Press has learned.

In a letter Wednesday to Department of Corrections Director S.A. "Tony" Godinez, a regional director for the American Federation of State, County and Municipal Employees demanded an end to transfers until Godinez negotiates safety concerns with the union. […]

Caumiant's letter said it's a violation of Corrections' administrative guidelines to move maximum-security inmates to facilities with lower levels of security.

"What's more," Caumiant said, "it is the height of irresponsibility to put employees of the receiving facilities in the position of taking inmates with no immediate knowledge of the violent crimes they have committed against employees and other inmates."
* AFSCME is using guard attacks as physical proof that Quinn's contract negotiations are causing real harm…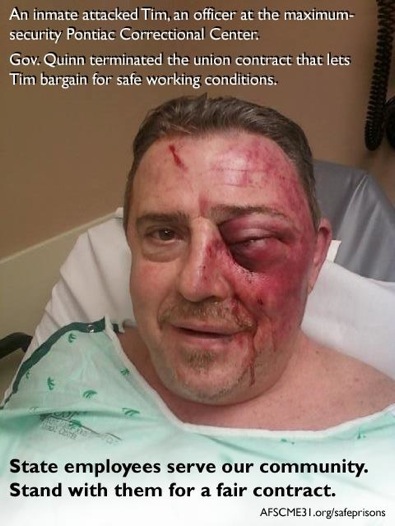 …Adding… AFSCME video…
* Related…
* Quinn adds to one prison as he closes others; Critics wonder if governor has an actual strategy
41 Comments


























































































































Sorry, comments for this post are now closed.