* Another poll result from the Paul Simon Public Policy Institute. Click the pic for a larger image…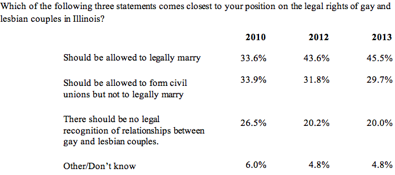 * From the Institute…
"I think it is widely believed that Illinois is a fairly liberal state on the social issues front and these results certainly provide some empirical support for that perception," said John S. Jackson, visiting professor at the Institute.

"The additional perception is that Chicago and the suburban collar counties are more liberal than downstate and our results also tend to support that view although even downstate provided a plurality or a majority in favor of the liberal position on all of these issues [abortion, gaming, medical marijuana] except gay marriage, where the most popular response downstate was in favor of civil unions," he said.
* Gay marriage is up for a vote in the Senate today, where it's expected to pass (keep an eye on the live session blog post for updates).
But some Downstate Democrats are trying hard to distance themselves from their party's position. From a press release…
State Sen. Bill Haine (D-Alton) and state Rep. Dan Beiser (D-Alton) each filed an amendment to the Illinois Constitution, that would only allow marriage to be between a man and a woman.

"The family unit is the most important part of our community," said Haine. "Strong families make sure that their children are taught good manners and are given the tools they need to succeed. Our community understands and values the traditional family, and I will continue to defend the values we hold dear."

Haine introduced Senate Joint Resolution Constitutional Amendment 8 and Beiser introduced House Joint Resolution Constitutional Amendment 4, both stipulate that only marriage between a man and a woman will be recognized in Illinois. Either SJRCA 8 or HJRCA 4 would need to pass both the Senate and the House of Representatives before it will be placed put on the ballot in the next general election. To be added to the constitution, the amendment must be approved by 60 percent of voters and would become effective as soon as it is approved.

"There is a lot of discussion right now about changing the definition of marriage in Illinois, which would fundamentally alter communities across the state," said Beiser. "Such a big change should not be pushed on the people on Illinois, unless they demonstrate that they want it. That is why I believe this issue must be brought before every voter. We must stand together and defend our values."
32 Comments































































































Sorry, comments for this post are now closed.