* Kurt Erickson with the scoop…
In a new memo obtained Tuesday by the Herald & Review's Springfield Bureau, the American Federation of State, County and Municipal Employees union said an ongoing impasse in its talks with the Quinn administration has workers preparing for the possibility of a strike.

"(B)ased on management's continued insistence that employees must dig deeply into their own pockets to pay for the state's fiscal woes, there's no longer much reason to believe that this contract can be settled at the bargaining table," the memo notes.

"In the coming weeks, if your bargaining committee believes that progress at the bargaining table appears to be at an end, it will ask you to vote to authorize a strike," the two-page memo adds. […]

In the new memo, AFSCME said the administration continues to demand no wage hikes in all three years of the proposed contract and major increases in health care premiums for current workers and thousands of state retirees.

The union, which represents about 40,000 state workers, has agreed to take no raises in the first year of the contract.
* And here's the memo. Click the pics for larger images…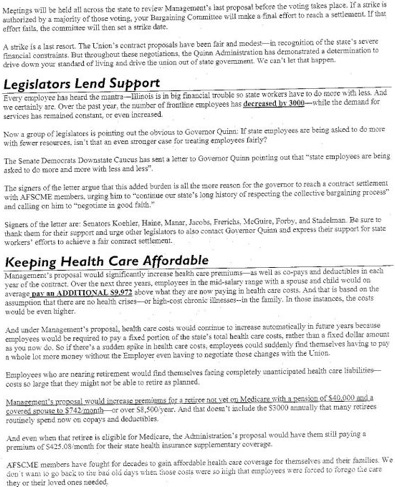 49 Comments


















































































































































Sorry, comments for this post are now closed.