Looking at the extremes, out of 801 census tracts in Chicago, there are five areas that have over 90% of the adults who are college educated.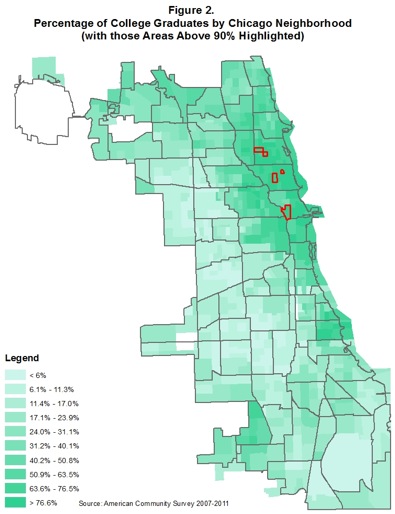 Not surprisingly, those five areas are all located in affluent sections of the North Side: two census tracts in Lakeview, one census tract each around Sheffield Avenue and the Park West area in Lincoln Park, and one census tract in River North.

In fact, college graduate-majority areas are largely confined to the North Side along the lake, Hyde Park and Beverly.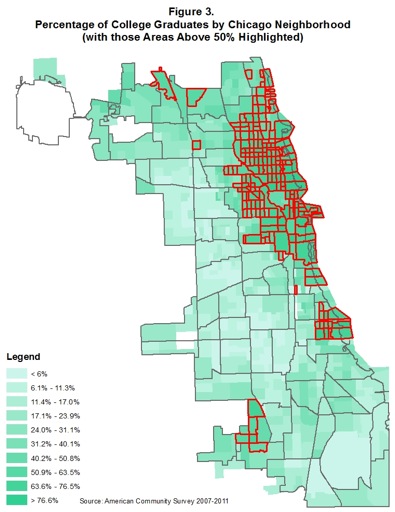 On the other hand, there are 55 census tracts where fewer than 5% of residents are college graduates. Again, not surprisingly, virtually all of these areas are located in the West (West Humboldt Park and Hermosa), Southwest (Little Village), and South (Back of the Yard, Englewood, New City, and Marquette Park) Sides of the city.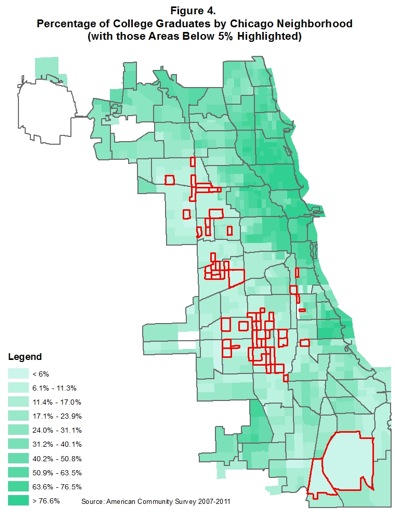 This heavy concentration by formal education is not solely about simple division of economic status. If higher income leads to better housing, given that there is plenty of good housing stock spread across the city, we should have far less concentration by educational level. Anyone who has seen small studios and one-bedroom apartments in Lincoln Park and Lakeview can testify that even in these affluent areas, some conditions are far less than desirable. And yet, they are fully occupied by those who long to fit into these neighborhoods.

Conversely, West Humboldt Park, Hermosa, Gage Park and Marquette Park have more than adequate housing options available at fraction of the cost of living in Lincoln Park or Lakeview. This means educational attainment is one of the major determining factors for supply and demand in residential selection: Those with similar levels of education seem to seek similar lifestyles (and living in a certain neighborhood is just as much of a status symbol as cars, clothes, or any other consumption patterns).
31 Comments




























































































Sorry, comments for this post are now closed.