* From the Chicago Phoenix…
With mounting urgency, activists are calling on Speaker Michael Madigan, who rules the Democratic majority in the House, to help secure the final few votes needed to pass the bill into law. Democrats hold 71 seats, while GOP lawmakers hold 47. […]

"Madigan commands a super-majority, but is unwilling to spend political capital for gay equality," said Bob Schwartz of the Gay Liberation Network, an LGBT rights direct action group. "As with other legislation, if Madigan wanted the marriage bill to pass, it would already be law."

However, Madigan spokesman Steve Brown told Chicago Phoenix the bill's chief sponsor will determine when it will be called.

Harris, has long been mum on how many votes he's secured and his timeline for the bill, but said he is close to having secured the 60 votes required for victory. A government source among those backing the bill pegs the current count at 58.
It's quite correct to say that if Madigan wants the bill to pass it'll pass. He says he wants it to pass. The question now is when.
* The reported head count and Harris' reluctance to move his bill both combine to suggest that Gov. Pat Quinn's head count is probably off…
Gov. Pat Quinn Thursday called on Illinois House members to take action on a same-sex marriage bill that's been dormant there for more than 80 days, adding that he thinks the votes are there to send the measure to his desk. […]

"I believe a majority exists to get this bill passed through the House onto my desk so I can sign it into law." […]

"I think, you know, it's time to vote," Quinn said. "We've waited now three months, and it's, I think, plenty of time for people to reflect on it. And now it's time to pass it."
If Rep. Harris isn't moving the bill, they don't have the votes, for whatever reason. I think some of the people Quinn believes are "Yes" votes are actually not quite there yet. But it'll pass if the Speaker wants it to.
* In other news, using an out of state civil rights leader and a long ago special teams football player to counter robocalls by local ministers probably won't sway many minds, so don't expect the new robocalls by gay marriage forces to accomplish all that much…
Two pro-gay-marriage robocalls — one by a former Chicago Bears player and another by a civil rights leader — are expected to go out in the districts of Illinois House Black Caucus members on Monday, urging support for gay marriage legislation that's still awaiting a vote in that chamber in the waning days of the session.

One of the calls features civil rights leader Julian Bond; the other, onetime Bears player Brendon Ayanbadejo. […]

Several Republicans have committed to crossing over and voting "yes," potentially leaving the Black Caucus with critical sway over the issue. […]

In recent weeks, some members of the Black Caucus have come out in support of gay marriage, including Illinois Rep. Ken Dunkin (D-Chicago), who signed on as a co-sponsor to the pending bill.

The calls will target constituents in 17 House districts that include Dunkin's; Monique Davis; Will Davis; Marcus Evans; Mary Flowers; LaShawn Ford; Esther Golar; Chuck Jefferson; Derrick Smith, and Art Turner, in addition to others.
OK, first of all "several Republicans" equals three: Two publicly, one privately.
Also, "some members of the Black Caucus" equals one: Rep. Dunkin.
* More…
But after many African-American churches and Chicago's Catholic Archdiocese led by Cardinal Francis George stepped up their anti-gay marriage campaigns, house members representing predominantly black districts have publicly denounced the bill.

"My constituents have let me know in no uncertain terms that they object to that legislation," said Rep. Monique Davis (D-Chicago).

Representative Bob Rita (D-Blue Island) said he leaned toward voting for the bill last winter.

"But seeing as the Cardinal and different reverends coming out in opposition, I'm looking closer at it and taking a more neutral stance," said Rita.
* Meanwhile, things got a little rough at dueling demonstrations in front of Rep. Jim Durkin's district office….
One man who disputed IFI's message began yelling during Americans for Truth about Homosexuality President Peter LaBarbera's speech. The man broke one of the IFI protester's signs before police intervened.

"Disagreement does not equal hate," said Peter LaBarbera, in response to the man.

Smith addressed the scuffle later in the program.

"They're the ones bullying us and intimidating Christians into silence," he said. "I say no more."
* But…
A group of teenage boys stopped by the protest briefly and returned later with signs they scrawled on pizza boxes and the back of a guitar.

"God hates hate," read one. "Equality above all!" said another.
That's the future, folks.
* In contrast, here's a sign from a rally at Rep. Stephanie Kifowit's office…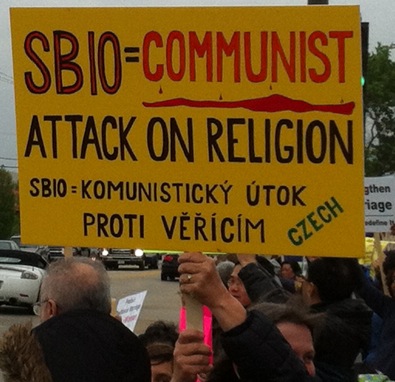 That would be the past.
* Related…
* Illinois same-sex marriage supporters fight back on robocalls

* Hate speech or religious freedom? Debated at Chicago Heights marriage rally (video)

* Protestors on both sides of gay marriage issue rally in Aurora

* Protesters spar over marriage bill in three suburbs
20 Comments



























































Sorry, comments for this post are now closed.