* This is definitely not good at all, but it's not quite as horrible as the headlines make it out to be…
* Audit: Less than half of state road fund spent on roads
The trouble with the headlines is the way money is classified. From the Auditor General's report…
In FY12, IDOT noted that Transportation Bond Series A Fund expenditures paid for $419.3 million in road construction costs, and over $2.67 billion over the 10 year audit period.
Yet the interest payments on those bonds were classified as "Non-Direct Road Construction Expenditures." That seems odd.
* Also, the General Assembly stopped paying state police and secretary of state salaries out of the Road Fund a few years ago, so things are different now. There was a big problem, however…
In 2010, lawmakers stopped the practice of using road fund money to pay salaries in the secretary of state's office and state police, but health insurance charges to the fund didn't go down by a comparable amount, auditors said.

State officials said a single employee, who no longer works for the state, was responsible for calculating the health insurance charges that should be made to the road fund. Auditors said those calculations weren't based on actual insurance costs.

Auditors also found the road fund was billed for $54 million more in workers' compensation costs than it should have been during a three-year period. State officials said this was because lawmakers capped the amount of general fund money that could be used for workers' comp costs.
I'm not so sure that throwing one guy under the bus is legit here. It seemed back then that it was a deliberate act. From the audit…
Department of Healthcare and Family Services

Road Fund expenditures by HFS during the audit period totaled more than $1 billion and were for Employer Contributions for Group Health Insurance. Payments for Group Health Insurance by HFS began in FY06 at a cost of $126 million. These expenditures increased in each of the next six years. In FY12, expenditures for Group Health Insurance were more than $165 million.
* Response…
Gov. Pat Quinn's office and the Illinois Department of Transportation disputed the findings, saying auditors should have included costs such as road construction bond payments, snow removal and other safety upgrades required by the federal government when they calculated the amount spent on "direct road construction."

Spokeswoman Jae Miller said about 75 percent of the Road Fund goes toward IDOT expenses. She said that's a "significant increase" over previous administrations.
* But this is from the audit…
Senate Resolution Number 788 asked auditors to examine the uses of the Road Fund, including the amounts used for "direct road construction costs." Since IDOT did not have an established definition of direct road construction expenditures, auditors worked with IDOT and selected certain detail object codes established by the Comptroller and appropriation codes to identify direct road construction expenditures.
Oy.
In addition to decreased funding available for direct road construction and an increase in non-direct road construction costs, the costs for road construction are also increasing. Exhibit 3-9 shows the average construction costs by type of work per mile. According to IDOT, between 2002 and 2012, the average costs for every type of construction increased.

New construction has more than doubled from $4.02 million/mile from 2002-2004 to $8.91 million/mile from 2009-2012. Increasing construction and non-construction costs combined with declining revenues has caused IDOT to express concern over the number of roads needing repair. IDOT stated that the backlog of State roadway miles in need of improvement is expected to grow significantly through FY18 unless additional revenues are made available. Even if Road Fund revenue was stable, the increase in construction costs would cause a decrease in the amount of direct road construction projects that could be completed.
The high price of commodities is surely contributing to this problem.
The chart…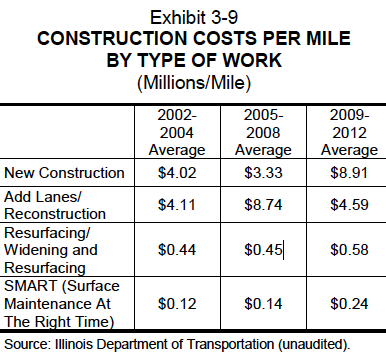 Discuss.
20 Comments



























































Sorry, comments for this post are now closed.