* The governor's budget office has posted its new three-year projection as required by law. Here's the projection for revenue losses due to the expiration of the temporary income tax hike. These are fiscal years and the first line is for personal income tax receipts and the second line is for corporate receipts…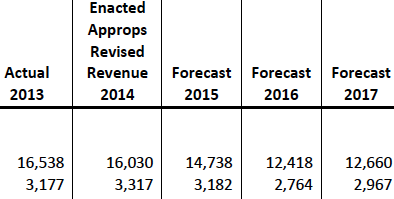 * Without changing any state laws or programs, GOMB is projecting a $1.9 billion deficit in FY 2015, $4.1 billion by 2016 and $4.6 billion by 2017. And the state's bill backlog is projected to grow to $16.2 billion by the end of FY 2017.
The budget office's spending projections (which you can see here) use existing law with existing programs, and calculate savings from the pension reform bill in FY 16 and 17. So, they're projecting increases all around. But those increases won't exist without those income tax revenues.
* From Voices for Illinois Children…
According to GOMB projections, revenue losses due to the scheduled decrease in income tax rates will lead to budget shortfalls of $1.9 billion in fiscal year 2015 (which begins in July 2014), $4.1 billion in FY 2016, and $4.6 billion in FY 2017. Closing gaps of this magnitude would require draconian cuts to programs and services that are essential for the well-being of children, families, and communities across Illinois.

The state's investments in early childhood education, K-12 education, and higher education — which have eroded over the past five years — would be significantly undermined. Programs such as child care assistance, afterschool programs, child protection services, and a wide range of community-based services for families, people with disabilities, and seniors would be in serious jeopardy.
* From the Senate Republicans…
Because the major portion of the 2011 tax hike is set to expire automatically, the budget office was required to assume that the state will lose those dollars. The drop in that revenue coupled with the anticipated spending growth has the potential to create the largest deficits the state has ever seen.

The figures released by the Governor's office clearly reveal that without a decrease in spending, the state will be forced to choose between higher taxes and massive deficits. Ever since the tax hike was imposed during a lame-duck legislative session in 2011, Senate Republicans have warned that significant spending reductions were needed to allow for the tax increase to expire as promised.

The projections from Quinn's budget office reveal the Governor plans to continue to increase state spending regardless of whether or not the state has any money.
Not quite. The projections, as explained above, were put together using existing laws and programs.
40 Comments























































































































Sorry, comments for this post are now closed.