* Press release number one…
Republican candidate for Governor Kirk Dillard today joined fellow State Senator Dave Syverson (R-Rockford) in announcing legislation that would require state Constitutional Officers and state lawmakers to carry the same standard health insurance benefits that citizens are now required to carry under Obamacare.

"Far too often, legislators pass laws effecting everyone else, but then exempt themselves," Dillard said. "Most citizens believe that their elected officials should play by the same rules as they are required to. This has never been more evident than when you talk to people about Obamacare."

Obamacare exempts certain classes of people from its requirements, in effect creating separate classes of insurance coverage. "Governor Quinn and the Democrat legislature created the Illinois Health Insurance exchange," Dillard said. "If they truly believe this is the best health plan for the citizens of Illinois, then they should be willing to be covered under the same health plan."

Syverson agreed, and stated, "if this is the law of the land, then we should not be above that law". Syverson further noted that not enough has been said about the limits of the ObamaCare plans. "While proponents of Obamacare have focused on getting people covered, many of those who are signing up are just now discovering how limited their coverage truly is."

The Affordable Care Act defines four new types of health insurance plans for individuals and families that are ranked from the most expensive out-of-pocket costs for consumers to the least expensive: Bronze, Silver, Gold, and Platinum. All of these plans offer the same minimum level of benefits.

The "Benchmark" plan — the plan subsidies are based on — is the Silver Plan. This plan is touted as the best coverage available for Illinois citizens. It is the benefits of the "Silver" plan that this legislation would require elected officials to carry.

Under ObamaCare, the "Benchmark" Silver plan, individuals will have a $3,000 deductible per person. This plan will also require co-pays to see a physician, to use the emergency room, to be admitted into a hospital, and to have surgery. It would also require prescription drug co-pays of $50 per month and per drug if it's a preferred brand name. The non-preferred co-pay is $100 a month per drug.

In addition, the insured individual under the Silver plan is required to pay 20% of all costs until the insured person reaches the annual out-of-pocket limit of $6,350 for an individual or $12,700 for a family. These costs do not include the premiums, which are an addition to these costs.

"While some elected officials feel that having out of pocket limits this high would hurt them financially, it's no worse than what the people they represent would be affected by," Dillard emphasized. He concluded by saying, "We also believe all of our Congressional Representatives who passed this law should be required to have the same benefit package as they are requiring their citizens to carry. This is about fairness, leading by example, and showing the public that their elected officials are not above the laws they pass."
* Press release number two…
Republican candidate for Governor Kirk Dillard today said the fact that a former gang member hired by the Illinois Department of Corrections had been issued a handgun flies in the face of the Quinn administration's claim that he had no administrative role. Xadrian McCraven was fired only after a Sun-Times investigation became public.

"So much for the Governor's claim that McCraven never had any management or security duties," Dillard said. "Then why on earth was he given a gun?"

Dillard last week called on Governor Pat Quinn to fire Illinois Department of Corrections Director Salvador Godinez, after the Sun Times disclosed that IDOC hired McCraven, a former gang member with a lengthy criminal record. Department of Corrections documents obtained by the Sun Times through the Freedom of Information Act show that McCraven turned in his weapon upon being fired from his post.

"It's really a sign of Pat Quinn's total mismanagement that law-abiding citizens are having a hard time getting their concealed carry permits, but the Department of Corrections issued a Glock pistol to a former gang member they hired," Dillard said. "Pretty much sums up what's wrong with Springfield these days."

Dillard has called on the Governor's Inspector General to investigate the circumstances under which McCraven was hired and whether any political influence was exerted to secure his employment.

Dillard noted that McCraven's 24 arrests and documented gang connections make it unlikely IDOC followed its own internal procedures in conducting a complete criminal background check.

In addition, Dillard has filed a resolution calling for Auditor General Bill Holland to determine whether IDOC hiring procedures were followed.
Discuss.
*** UPDATE *** A Department of Corrections spokesman says the Dillard press release is untrue. McCraven was not issued a firearm by DOC, the spokesman said. He wasn't authorized to have one by the state agency, either.
Ready, fire aim?
*** UPDATE 2 *** An e-mail from DOC's chief of staff sure seems to indicate that Dillard's claim is true…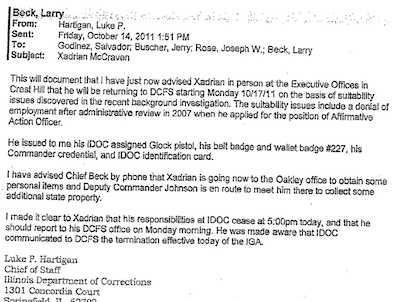 *** UPDATE 2 *** According to DOC, the e-mail refers to a five-week inter-agency detail in 2011. He was issued a gun and a badge at that time. But then a background check was done and the detail was terminated. The second job was a "non-sensitive" job. CMS apparently told DOC that they had an employee who needed to be placed due to a grievance process win and asked if they had a spot and he was given one that didn't include a gun or a badge and where he had no access to confidential or classified info, etc.. He didn't have a gun during that six-month period.
Sorry for the initial confusion.
46 Comments









































































































































Sorry, comments for this post are now closed.