* Sen. Kirk Dillard has offered up several explanations for why he voted against a pension reform bill last year after voting for a very similar bill just months earlier.
But he has now offered up another reason via a quote used by the Illinois Education Association in its first mailer to members on Dillard's behalf…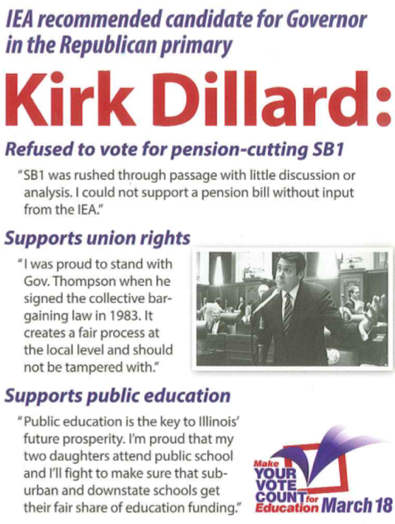 The full mailer is here.
* From earlier this week…
Gubernatorial candidate Bill Brady lashed out at competitor Kirk Dillard, accusing him of allowing politics to guide his "no" vote last December on a landmark — but controversial — pension bill.

Dillard responded by saying essentially that Brady was envious.

"It's sour grapes on the part of Mr. Brady, I have a long, long history in interest in public education," Dillard responded Tuesday. "The IEA support is much much more than my pension vote." […]

"He sold out on pension reform," Brady told the Sun-Times." There's no question. His campaign wasn't going anywhere. His Lt. Gov. (Jil Tracy of Quincy) voted for it. He's used every excuse in the book. He was trying to throw life support to make a political decision which amongst Republican primary voters is really hurting him when you talk to them."
31 Comments




























































































Sorry, comments for this post are now closed.