* After claiming weeks ago that gay marriage had faded as an issue, the AP now has a story about how the issue is impacting some legislative races…
But on the GOP side, two of the toughest primary challenges involve state Reps. Ron Sandack of Downers Grove and Ed Sullivan of Mundelein, two of three House Republicans who broke ranks to vote in favor. The third, former House Republican leader Tom Cross, gave up his seat to run for treasurer.

Sandack is being challenged by Downers Grove High School teacher Keith Mathune and Sullivan by Mundelein bus driver Bob Bednar. Both are being helped by conservative family groups hoping the four-way GOP governor primary lures social conservatives to the polls.

Illinois Families First, a political action committee started by conservative activist Paul Caprio, is working with local religious groups to campaign against Sandack and Sullivan — including raising money and organizing robo-calls.

Another conservative activist, Dan Proft, has directed $13,500 from his political action committee, Liberty Principles, to pay for direct mailk criticizing Sandack's gay marriage vote.

Matune has criticized Sandack for his vote and for accepting campaign contributions of both opponents and proponents of same-sex marriage.

"I am a pro-traditional marriage person," Matune said. "I … believe that the residents of our district would not vote (as Sandack has)."
* The Daily Herald looked a bit closer at the Sandack-Matune race…
Campaign advertisements in the 81st state House race continue to question the honesty of candidate Keith Matune, who is challenging incumbent state Rep. Ron Sandack in a bitter race for the Republican party's nomination in the March 18 primary.

The campaign has been contentious from the start as Sandack and Matune, both of Downers Grove, compete for votes from residents of the 81st District, which includes parts of Downers Grove, Naperville, Lisle, Darien, Westmont and Woodridge.

The race has turned into one of the top handful of GOP primaries in the state. And with incumbent state representatives Jeanne Ives of Wheaton and Sandra Pihos of Glen Ellyn facing tough primaries, too, DuPage County has become a Republican battleground in Illinois.

One recent campaign mailer sent in the 81st District questions Matune's honesty concerning his reply to a Daily Herald questionnaire that asks all candidates if they have ever "been arrested for or convicted of a crime."

Matune said he has never been arrested. But the mailer cites documents showing he was arrested in 1992 in Indiana and charged with public indecency, to which he pleaded guilty in 1993.
* And the Tribune focused on social media…
In one recent exchange, Matune tweeted his contention that Sandack is more sympathetic to the Democratic party than to Republicans.

"Sandack is against term limits for (House Speaker Michael) Madigan," the tweet reads. "The contradiction suggests that he seeks higher office and doesn't want to be limited by term limits!"

After a local attorney tweeted his support for Matune's position, Sandack fired back the next day.

"You're wrong," the tweet reads. "I want term limits 4 all legislators. I've had a TL bill for 2 years now. Look it up. #factsmatter."
* But that's not even the half of it. I told subscribers about this mailer earlier today. It's just too wild not to share with everybody. The mailer, sent by Dan Proft's Liberty Principles PAC, attacks Rep. Ron Sandack. It includes one of the most over the top images I've ever seen. Click for a larger pic…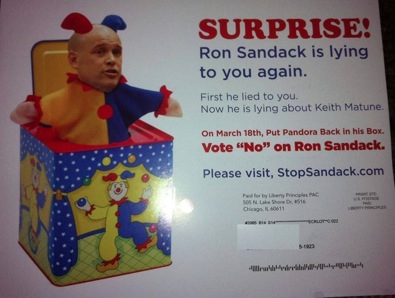 * Let's zoom in…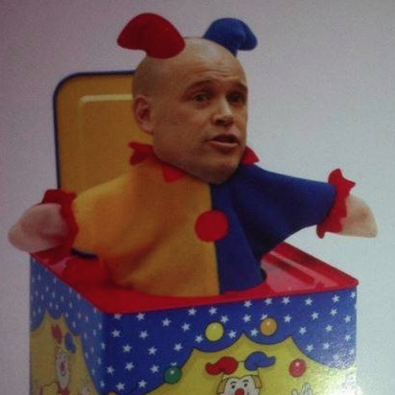 Oy.
74 Comments





























































































































































































































Sorry, comments for this post are now closed.