* After Republican outrage that Sen. Andy Manar's school funding reform plan would provide a windfall to Chicago, it turns out that Chicago wouldn't do all that well. From the State Board of Education's analysis of the plan, which weights poverty rates much heavier on school funding…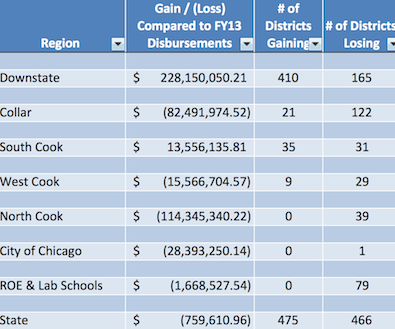 * Finke…
Manar said the numbers show that the poorer school districts in the state fare better under his revised formula. By poorer, Manar said, that includes both districts with high numbers of students from poverty backgrounds and districts that have lower property values that do not generate enough tax revenue. […]

Manar said that the "most striking thing in the (report) is how far downstate districts lag behind in terms of funding. Downstate is very different than it was in 1997 when the current (funding) law was put in place and we have to account for those things to a better degree than we do today."

That argument did not necessarily play well with Republicans who represent school districts in the suburban Chicago area. Sen. Matt Murphy, R-Palatine, said school districts in his area already supply 90 percent of their funding from local property taxes. Yet, under Manar's revised formula, they would lose state assistance, with one district dropping $13 million in state aid.

"If that narrow amount that we get from the state is cut, what do people in my district, who already have high property taxes, do if they want to maintain the current funding level?" Murphy asked Manar at a committee hearing Wednesday. "It sounds like you are telling my constituents to raise their property taxes."
* AP…
Schools in Palatine, Murphy's hometown, would see an 87 percent decrease in overall state aid under the funds — about a $13 million dip compared to how much they received in the 2011-12 school year, the year the state board used to make the calculations.

Similarly, schools in Skokie and Evanston in Chicago's northwest suburbs would lose 85 percent of state aid under the new formula. Meanwhile, Galesburg schools could stand to gain a 30 percent funding boost — about $5 million more a year than they receive now.

Schools in Red Bud, an Illinois suburb of St. Louis, would see an 83 percent decrease.
* Erickson…
State Sen. Dave Luechtefeld, R-Okawville, said many of the schools in his Southern Illinois district would gain under the proposal. He acknowledged it would be a tough vote for lawmakers in areas that would be losing state funds.

"It may not end up a Republican-Democrat issue," Luechtefeld said.

The measure won approval in the Senate Executive Committee on a 10-3 vote with Luechtefeld voting "present." He said the overhaul needs more work.

Republicans said the changes might be made more palatable if the state eases back on some of the programs and paperwork it requires of local school districts.

It remains unclear whether the House will take up the proposal if it emerges from the Senate. The plan was developed through a series of hearings in which the House was not involved.
Discuss.
50 Comments





















































































































































Sorry, comments for this post are now closed.