The US Chamber of Commerce Foundation put together a little pamphlet looking at municipal business regulations in 10 major American cities. They combine all the information into a somewhat arbitrary aggregate index, but some of the specific findings are striking.

For example, if you want to start a professional services business in Chicago you are basically facing a dystopian nightmare:
* If the accompanying chart doesn't make you sick to your stomach, I don't know what will…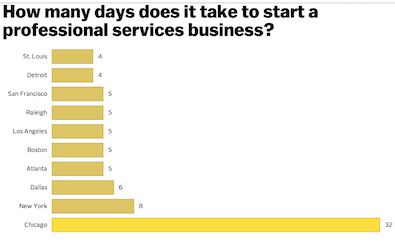 32 days compared to five in heavily regulated San Francisco?
42 Comments





























































































































Sorry, comments for this post are now closed.