* As expected…
Gov. Pat Quinn today signed into law a pension measure backed by Mayor Rahm Emanuel that would cut benefits and raise the retirement age for workers in two of the city's pension funds.

Today was the deadline for Quinn to act on the legislation, and he had been mulling it over since lawmakers sent it to him in April. The bill presented a bit of a political quandary for the re-election-seeking Quinn. That's because it requires the city to make higher yearly pension contributions, which Emanuel has said he would seek to pay for through a property tax increase. Quinn has campaigned on reducing the property tax burden.

Quinn received cover in the form of a separate bill he signed last week that will allow the city to raise 911 fees on land lines and cellphones by up to $1.40 a month, to $3.90. If the City Council increases the fee by the full amount, it would generate an estimated $50 million a year – which could put off the need for a property tax increase until after next year's city elections.
* Rauner's response…
Gubernatorial candidate Bruce Rauner today criticized Gov. Pat Quinn for breaking his promise to Chicago homeowners by signing a law that will force City Hall to raise their property taxes.

"I would have vetoed this law – but Pat Quinn likes to raise taxes and left homeowners holding the bag again," Rauner said. "This should have been a no-brainer – veto the bill, don't squeeze Chicago families even more."

Despite pledging to lower property taxes for homeowners, Gov. Quinn broke yet another promise by signing the Chicago pension bill into law, thereby forcing City Hall to raise property taxes on hardworking Chicagoans. Even if the city diverted $50 million in new 911 emergency phone tax revenue to pay for the pension bill, City Hall would still face a massive shortfall over the five-year phase-in, paving the way for a massive property tax hike.
It also should be noted that the 911 tax will only cover the first year of the pension reform legislation - because it's just a $50 million tax and sunsets in a year.
* From the ILGOP…
Tim Schneider, the Chairman of the Illinois Republican Party, released the following statement this afternoon following Gov. Pat Quinn's signature of the Chicago pension legislation:

"Pat Quinn just signed the hardworking taxpayers up for five straight years of property tax hikes.

"He said he 'read the fine print,' said his 'conscience' guided his decision, and then he signed the bill anyway.

"It shouldn't surprise anyone: Pat Quinn has spent the last five years putting government first and the taxpayers last in every decision he's made. Illinois families already struggle with some of the highest property taxes in the country, forcing seniors out of their homes and doing real damage to our business climate. And despite all that, Pat Quinn just put them on the hook for hundreds of millions more.

"It's clear that we need a major change in Illinois, starting with a governor who will finally stand up to tax hikes, not sign them."
* Gov. Quinn's signing statement…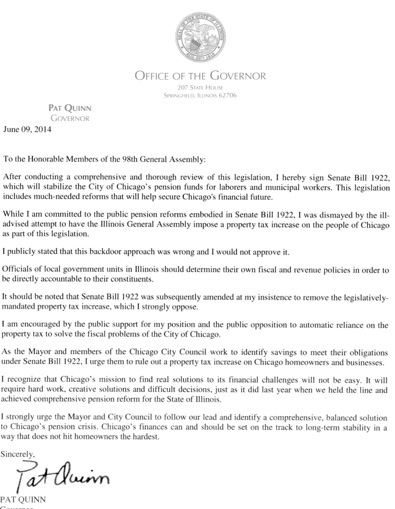 * Mayor Rahm Emanuel…
Since day one, my administration has worked to strengthen the City's finances by making the necessary cuts and reforms to spending, which have resulted in reducing the structural deficit by half. Finding a long-term solution to our pension crisis is a critical piece to securing Chicago's economic future.

Working with 30 union leaders who were willing to compromise and be part of the solution, and with the General Assembly and Governor Quinn, we have taken a big step in addressing Chicago's pension crisis. This pension reform and retirement security plan marks a significant step forward for Chicago. It ensures that we can continue to deliver the services that residents rely upon, safeguards the retirements that 61,000 workers and retirees expect, and respects our taxpayers.

This balanced plan relies on efficiencies and savings as part of a long-term funding solution, and I intend to work with City Council in the coming months to find alternative options to replace property taxes as the source of the City's first pension payment.

Today's action is another step toward correcting the series of financial challenges that have been building over the last few decades. I thank the Governor for his leadership, the General Assembly, and our partners in labor who worked with us to reach a responsible long-term solution that will allow us to chart a stronger future for Chicago.
* From the We Are One coalition…
"Mayor Rahm Emanuel's pension-slashing plan, now signed by the Governor, is wrong for Chicago. This is no victory for the Mayor, but a huge, missed opportunity to find a truly fair, constitutional solution.

"Senate Bill 1922 would slash the value of pensions by one-third within twenty years of retirement. It inordinately hurts women, people of color, and low-income workers and retirees, disrupting and harming our city's communities.

"Our coalition has presented numerous alternatives that would rebalance our tax code and ask those who can most afford it — the wealthiest among us — to pay their fair share. Unfortunately, some elected officials have chosen to ignore the constitution and these fairer revenue alternatives, opting instead to slash the retirement life savings of our city's public health professionals, teachers' aides, librarians, cafeteria workers, and other public employees and retirees.

"The Mayor's plan is unfair and unconstitutional, and our unions intend to seek justice and will be preparing to file suit."
60 Comments



















































































































































































Sorry, comments for this post are now closed.