* Click the pic for a larger image…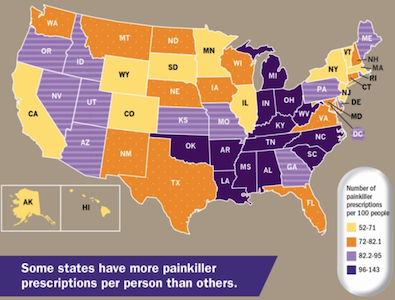 * From the Scientific American article…
The rate of prescriptions that doctors write for painkillers varies widely by state, with states in the South having some of the highest rates, according to a new report from the Centers for Disease Control and Prevention. […]

In 2012, there were 259 million prescriptions written for opioid painkillers in the United States, which is enough for every adult in the country to have a bottle of pills, the report said.

Southern states — particularly Alabama, Tennessee and West Virginia — had the most painkiller prescriptions per person, the report said. For example, in Alabama, there were 143 prescriptions for opioid prescriptions written for every 100 people. That's about three times the rate seen in Hawaii, which had the lowest rate among U.S. states, with 52 prescriptions per 100 people.

The rate of prescriptions for oxymorphone, one type of opioid painkiller, was about 22 times higher in Tennessee than in Minnesota, which had the lowest rate of prescriptions for that drug, the report said.
The full study is here.
* While Illinois is definitely on the low side both nationally and regionally, 68 out of every 100 Illinoisans had a pain-killer prescription in 2012.
In Indiana, though, 109 pain-killer scripts were handed out in 2012 for every 100 people. In Kentucky, it was 128 per 100 people. In Michigan, it was 107 per 100 people
Wow.
63 Comments




























































































































































































Sorry, comments for this post are now closed.