* Texas Gov. Rick Perry was supposed to be in Chicago this week for his second job-poaching mission. He canceled due to a meeting with the President.
But his office also shopped around an op-ed, which claims in part…
In Texas, we rejected President Obama's flawed demand to expand Medicaid because we know it's a broken system that isn't built to handle its existing caseload, let alone a massive crush of new people. We recognize the simple truth that expansion will undoubtedly lead to higher costs for states already struggling to meet mounting budgetary demands, and will crowd out other essential government functions.

Other states have rushed headfirst into expansion despite massive problems with their existing programs. In Illinois, for example, by the time expansion is complete, one out of every four Illinoisans will be dependent on Medicaid, which was only ever intended to serve as a safety net for those most in need. This makes it even more troubling that Illinois officials only recently realized that roughly 250,000 people had been receiving Medicaid services for which they did not qualify.
* Coincidentally, WalletHub has a new study on Obamacare and Medicaid expansion which looked at 44 of the 50 states. One of its results…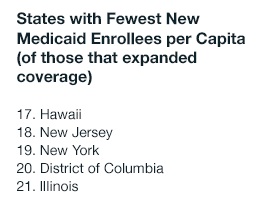 So Perry's overheated rhetoric about Illinois Medicaid expansion is off-base.
* Then there's this…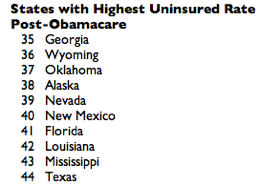 The study found that 24.81 percent of Texans have no insurance, the worst in the nation.
Heckuva job, Ricky boy.
* Gov. Quinn's office sent this response to Crain's before Perry canceled…
While we welcome Gov. Perry's contributions to Illinois' booming tourism and hope he plans to visit us soon, businesses here should be skeptical of his economic pitch. Compared with Texas, the Illinois workforce is much better paid and educated, healthier and better protected if injured on the job.

Texas' record of late includes some of the nation's worst outputs of air and water pollution accompanied by concern about the reliability of its power grid.

While Texas has no income tax, it must rely heavily on sales and property taxes that hit part of its population extremely hard.

After all that, the average tax burden for a business is fairly close in the two states.

Gov. Perry can sell the appeal of wide-open spaces. We think most Illinois businesses will remain convinced that our amenities such as transportation, education, workforce training and quality of life help them get the job done.
* But I really wish Quinn and Mayor Emanuel would watch this next video. It's about a young woman who tried to set up an innovative little business in Chicago and was thwarted at every turn, so she headed south to Austin. The video is truly a must-watch. If the Illinois Policy Institute just focused on stuff like this and dropped the goofy histrionics, I'd be in their corner 100 percent…
Lots of background here.
Look, I get that Illinois Democratic politicians can't stand Texas Republicans like Gov. Perry. But, we're talking Austin here. It isn't some right-wing bastion. Get with it, people.
102 Comments

















































































































































































































































































































Sorry, comments for this post are now closed.