* From Facebook…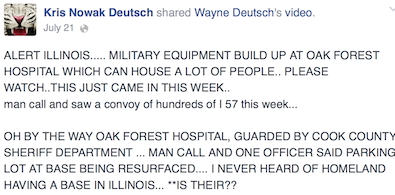 The accompanying video is here.
* Phil Kadner…
"The immigrants are coming! They're bringing children from Central America here!"

That was the cry that arose from some panicked Southland residents this week after more than 100 military vehicles suddenly appeared on the campus of Cook County's Oak Forest Health Center, 159th Street and Cicero Avenue.

"I'm almost 100 percent positive they will be shipping all the illegals from Mexico by the hundreds of thousands there …" one man emailed, sending a photo of the vehicles to illustrate his point.

Others called the SouthtownStar convinced that teenage immigrants from Central America soon would be camped out on the grounds of what used to be Oak Forest Hospital.
Earlier this week, Illinois Review received several queries about military vehicles suddenly showing up at the now-closed Oak Forest Hospital at 159th and Cicero Avenue. Speculations were running wild, as some thought the National Guard was preparing for a citizen uprising, while others suggested that the federal government was transferring unaccompanied minors from the southern border to house in Oak Forest.

The hospital, deemed as an emergency shelter by Homeland Security, was used to house homeless victims after the Katrina hurricane.
Actually, those Katrina refugees were housed in Tinley Park.
* As it turns out, the vehicles were moved to make way for parking lot improvements. From the Illinois National Guard…
Parking Lot Improvements Underway at Crestwood Armory

Vehicles temporarily parked at nearby health center

Crestwood, Ill. – Construction is scheduled to begin this week at the Illinois Army National Guard's Crestwood armory parking lot, 13838 S. Springfield Ave in Robbins, Ill.

The $1.5 million project will upgrade and rehabilitate the current parking lot. Construction includes drainage improvements, on-site storm-water management and improvements to the current loading ramp. It will also include new lighting, paved concrete areas and an additional gravel lot for parking.

The project will last four to six months. Throughout the project, military vehicles will park at the Oak Forrest Health Center in parking spots leased by Cook County.

Additional construction at the Crestwood armory includes improvements to the Field Maintenance Shop's driveway approaches. A future construction project will include interior improvements to the armory.

The Crestwood armory is home to multiple Illinois Army National Guard units including Company B, 405th Brigade Support Battalion; Battery B, 2nd Battalion, 122nd Field Artillery Regiment; Company G, 634th Brigade Support Battalion; Company F, Recruit Sustainment Program; 1744th Transportation Company; 108th Signal Company and Joint Force Headquarters Medical Detachment.
* Back to Kadner…
As for the sight of military vehicles scaring people, imagine what life would be like in a country where those vehicles are manned by hostile government forces intent on doing harm to anyone considered a threat to those in power. There are a lot of nations like that in the world right now.

We're lucky. And sharing some of that good fortune, or at least showing people a little kindness, might not be the worst thing that ever happened to this country.

Why there's so much fear among so many in a nation that has so much (even in the aftermath of the Great Recession) is both baffling and troubling.
76 Comments



































































































































































































































Sorry, comments for this post are now closed.